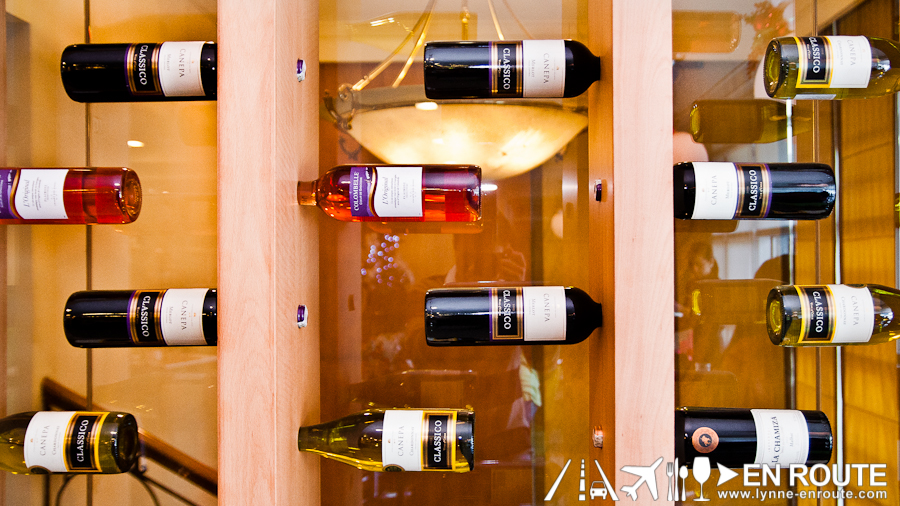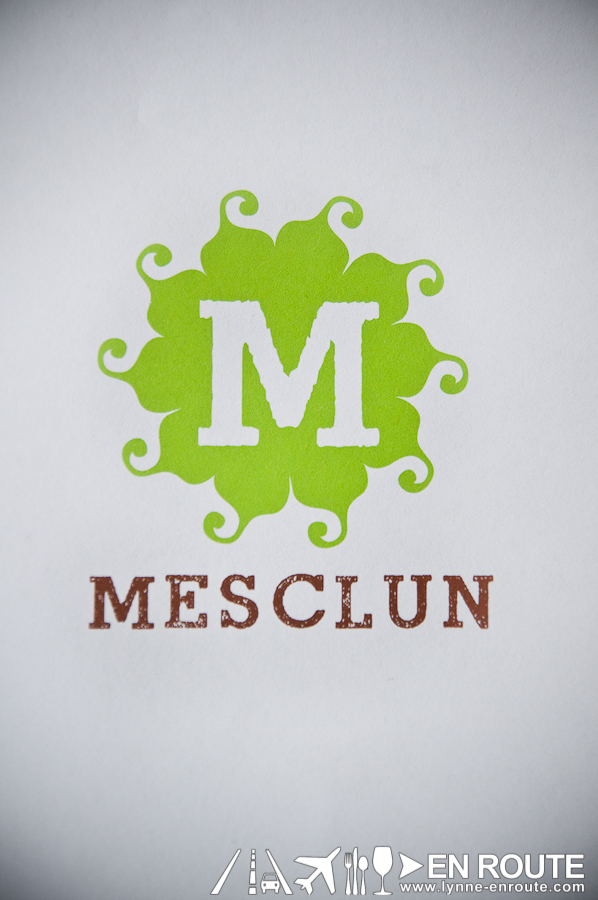 When people first hear the term "hotel restaurant", there are a few words that pop out:
Exquisite
Extensive
Extravagant
Exclusive
Expensive
After all, the very hotels that come into mind would be those like The Peninsula, Sofitel, Banyan Tree, or Shangri-La. So the restaurants that are associated with it such as Escolta, Spiral, Senju, Red, or even the Champagne Room of Manila Hotel carry with it heft price tags for its food selection, making hotel dining something reserved for few occasions.
Not all hotels, or hotel restaurants for that matter, have to be associated with opulence or synonymous adjectives. Mid-range hotels may have something worth your while where you can go more often, and satisfying your comfort food cravings at the same time.
This seems to be the proposal when En Route was invited to try out Mesclun in Linden Suites in Ortigas Center, Pasig City. Mesclun is the brainchild of Chef Katrina Khun Alcantara, the same chef behind the cult favorite Chuck's Deli.
Related Posts:
For starters, Mesclun in Linden Suites does not ooze with swanky facade that comes as standard issue to the more high end hotels. Yet its simple setup with personal touches give it a charm and warmth that will make you feel more comfortable and at home.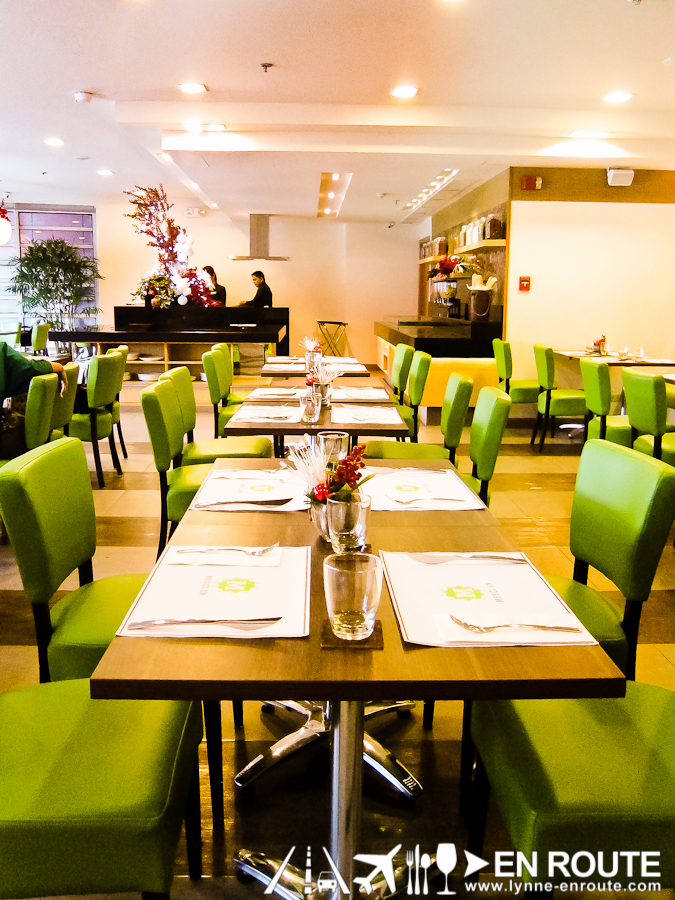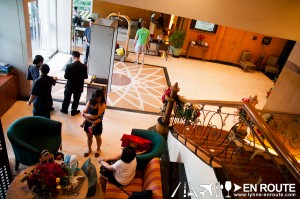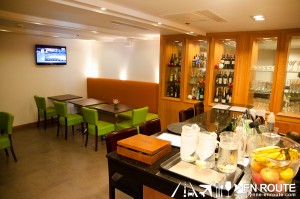 Mesclun offers two menus: One for the morning and noon (11:00am to 5:30pm), and one for the evening (6:00pm to 11:00pm). Some items are common on both menus, but this was a tasting session of some of the best of both.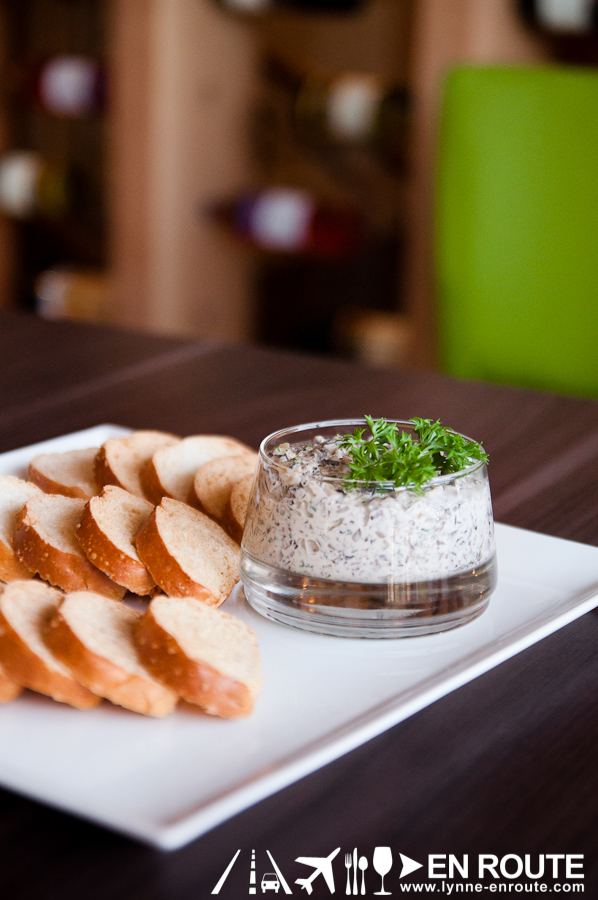 Start it off with some Mesclun Salad (PHP 245.00): Mesclun greens with peaches, speck, cherry, tomatoes, feta cheese and walnuts in raspberry, balsamic vinaigrette.
The sour of the vinaigrette, sweetness of fruits, and neutral flavor of lettuce and tomatoes accentuated by textures of the cheese is actually a meal full of flavor in itself. Vegan eaters will not feel shortchanged with this.
And speaking of other vegan wonders, the Mushroom Duxelles (PHP 395.00, Dinner Menu Only), gives a good argument to say that going non-meat might not that be bad at all. This was a blend of truffled portobello mushrooms turnedd into a spread, all for the purpose of enjoying it slathered over home-made bread.
Anything with truffle flavors has never failed to excite food lovers, and this appetizer is a must staple before gorging into the other entrees.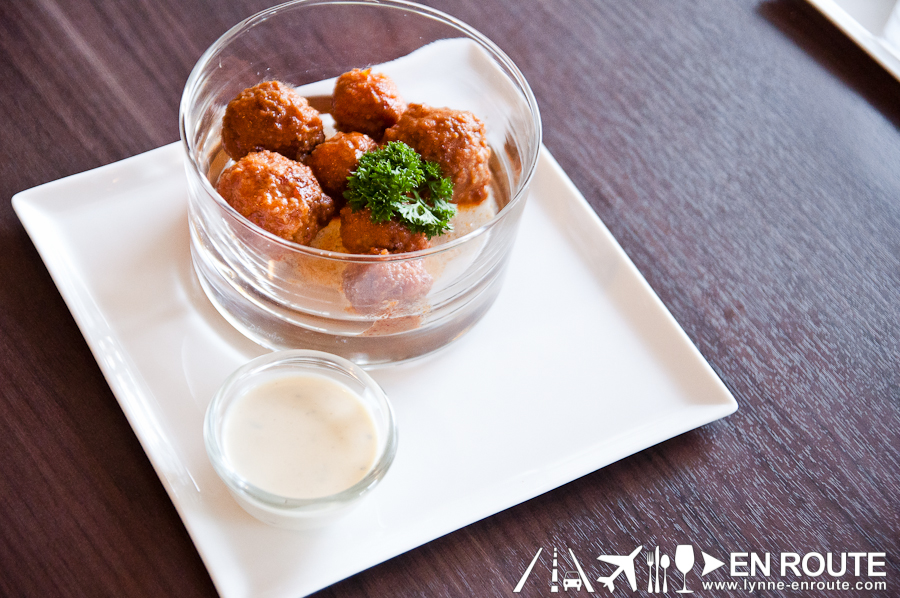 Other crowd favorites were the Buffalo Chicken Balls (PHP 395.00, Dinner Menu Only) that shares the same recipe as the boneless buffalo tenders found in Chuck's Deli's "The Buffy" Sandwich. Six pieces seemed to be lacking for the buffalo wing goers of the group.
Progressing more into Mesclun's menu are some of their takes on pasta dishes, both traditional and fusion. Traditional comes in the form of Mac n Cheese, more specifically, Mac n 4 Cheese (PHP 495.00). It is fontina, emmenthal, mozzarella and grana padano, and zested up with a hint of lemon. The lemon works quite well, with just enough zest citrus notes to break the saltiness of the cheese. It does come quite pricey for something that people may consider just a Mac N Cheese variant.
If there was one pasta that was value for money and was a crowd favorite, it is their Sisig Spaghetti (PHP 245.00). Filipinos love sisig, and this twist on a Filipino original was executed right with cream sauce, spice, and topped with chicharon. Everyone kept on asking for more of this.
Interestingly, this was not the first encounter with a sisig pasta. the very first one was at the now closed Hyphy's in Robinson's Galleria. That one had a more savory, fatty taste. Mesclun's version was more balanced with the cream.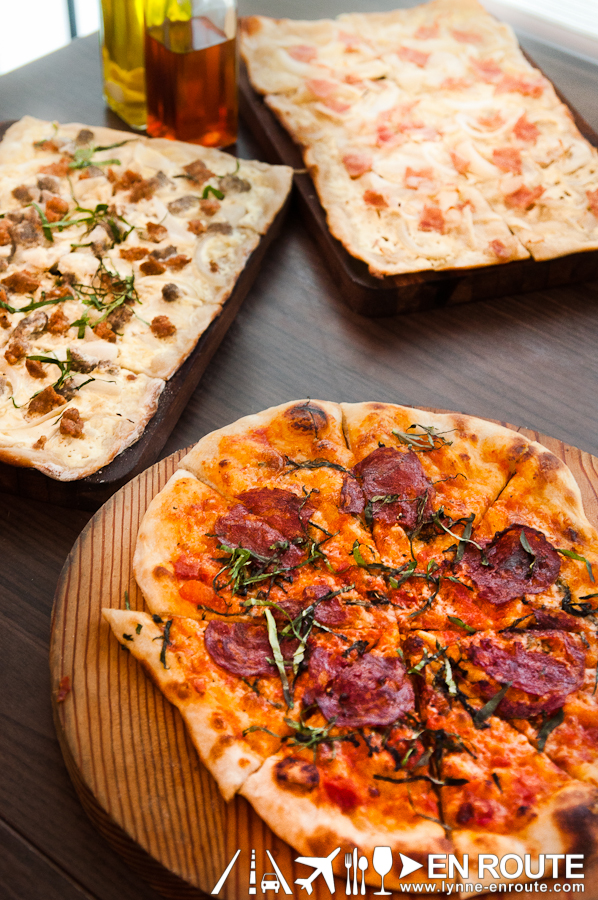 If Chuck's Deli's home-made bread was a sign of their bread making prowess, then the crust of their pizza selections would be superb. Great pizzas always start with a great dough for the crust. While you may go for the popular meaty ones like Sausage, or Bacon, or even the pepperoni ones, it was the Four Cheese Pizza (PHP 345.00) that stood out: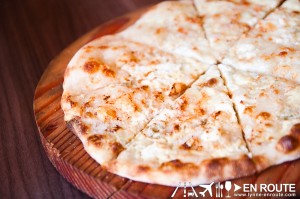 Unassuming with not even a hint of excitement in its colors, this ensemble of Cream sauce, mozzarella, fontina, gorgonzola and goat cheese topped over freshly made dough is what comfort food is all about. A few four cheese pizzas like the ones in Baker's Hill in Palawan are on this list, but Palawan is just a wee bit too far to satisfy a four-cheese pizza craving.
Main entrees of the wild fowl kind? Duck Confit (PHP 995.00) is for you. Considering its price tag, this is almost 5-star hotel price range. But it does not disappoint once you drive a knife into that crunchy skin. it may even seem dry at first, but surprisingly, comes out quite juicy. This is complimented with a side of mashed potatoes. The Grilled Pompano (PHP 555.00) actually feels lackluster beside the confit. At least it provides a more heart friendly meal with its side of mango-tomato salsa.
Desserts also abound with crepes and ice cream scoops, but you may want to get a box of Paulene's Chocolat Suisse. These are the same delectable confectionery available in Chuck's Deli. Their rich flavors will be the best way to finish off your ordeal at Mesclun.
What Mesclun proposes is that you join them to enjoy great tasting cuisine at a fraction of the price, with a more at-home feel. It fits well with Linden Suites and the Ortigas Center Business District, and will work as a great mainstay for lovers of food looking for great wares in the area.
Related Posts:
Mesclun is located at the second floor of the Linden Suites, San Miguel Avenue, Ortigas Center, Pasig City, Philippines
Tel Nos. +632-638-7878
Parking: There are paid parking slots Pearl Drive. This is recommended as Linden Suites parking slots can get filled up really fast.
Comment on this and Share it on Facebook!
comments
Powered by Facebook Comments