You say kabob, I say kebab.  (To-mah-to, to-may-to.)  Better yet, we collectively call anything skewered as barbecue.  More commonly spelled as BBQ.
Thanks to our friends at Myfoodtrip, we were able to try out Kebab Factory in the Burgos Circle of Fort Bonifacio and add to our list of Indian-Persian restaurants.  It was one of those drizzly nights when we were out for a run.  We made sure to work up an appetite before getting a taste of some grilled meat.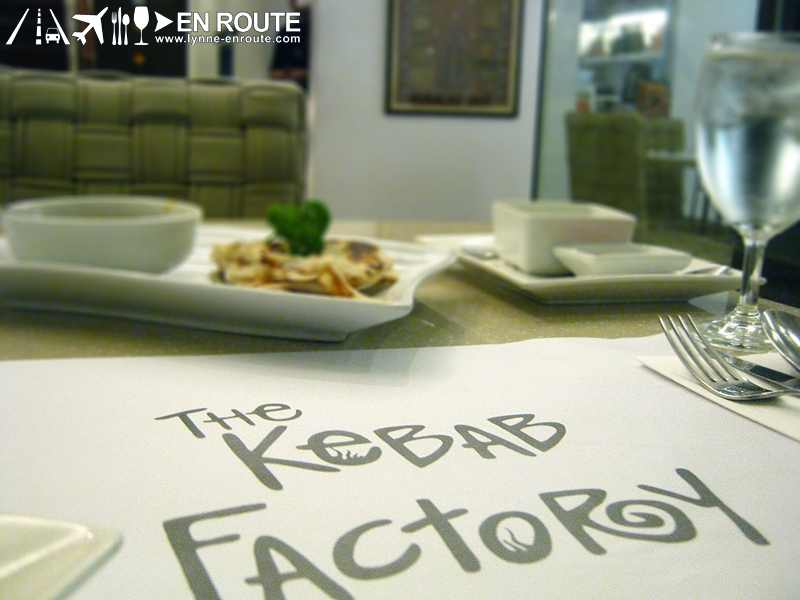 We began with an order Roti Bread (Php130), basically a form of unleavened bread.  Commonly served with curry, Kebab Factory's version of the roti was fluffy and the curry had just the right bite for us. Best to eat it while the roti's still warm.
And the entire visit would have been pointless if we didn't sample their kebab!  We chose the Sultani Beef Chicken Kebab(Php350). Best for those who cannot choose between beef and chicken.  It was a pleasant surprise that the serving was big.  The meat was cooked through but wasn't dry.  Charring was just right and the amount of vegetables wasn't too much that you'll feel it was more onions and bell pepper than beef and chicken.
We were so full afterwards so we washed the meal down with some Indian Tea with milk and cardamom (Php65) – spicy milk tea, for lack of a better term (not hot, just flavorful).  Cardamom is usually a spice with a strong flavor and aroma used for food and drink or medicine.
Good thing we ran a few rounds before that meal.  Didn't realize a barbecue could be that heavy. 😛
Seems simple enough to make though if you know how to work a grill.  We even tried to do our own kebab version.
Kebab Factory is located at 154 C Forbeswood Heights, Burgos Circle, Fort Bonifacio, 1634 Manila, Philippines.  To contact them, dial 024034159 or e-mail them at [email protected]. They also have another branch on the 2F Atrium of the SM Megamall.
Comment on this and Share it on Facebook!
comments
Powered by Facebook Comments