This might be one of the best desserts to come out this 2012.
Home-made wares actually are one of the best ways to find hidden gems. Just look at these:
Over the past few months of this writing, Facebook feeds from friends were raving about this cheesecake from Indulgence by Irene. And lo and behold, it was actually a crafted product by Irene Co, wife of Richard Co, who runs Tales from the Tummy, a food and travel blog.
And over the weekend, a sample was given and Richard himself swore that it goes so well with wine. That was enough reason to be convinced to try and give it a shot.
As well as have a little dainty amateurish pictorial at home using whatever props were in the kitchen.
These are the 4.5-inch pieces worth PHP 200.00 each. There are also 9-inch variants at PHP 900.00.
Interestingly, a fancy cheesecake was purchased from a known dessert shop in Libis for about PHP 1,100.00 just a day before this writing. After trying it, that fancy cheesecake felt like a rip-off.
This cheesecake is value for your hard earned money.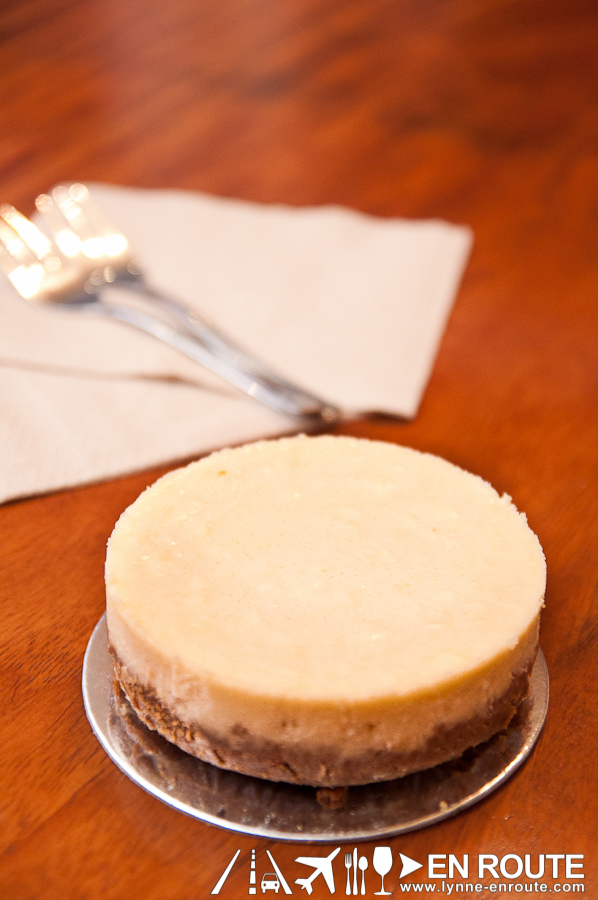 First for tasting was the famous Queso de Bola cheesecake. On first glance, it looks a lot more yellow than the regular cheesecake you may find in stores. It also has more resemblance to a New York cheesecake, being all plain with no toppings.
Upon slicing, the difference between any run of the mill cheesecake and Irene's Queso de Bola cheesecake becomes apparent. the knife does not sink as easily. It is very rich and thick. Word has it that it is 50% Philadelphia Cream Cheese and 50% Queso de Bola (or Edam cheese as the world knows it). Just hearing its ingredients can make you anticipate what taste it will have.
And the taste? Spectacular. The balance of saltiness, cream, and the consistency of the flavors all throughout the cake lends it as a crafstmanship of labor, love, and uncompromising ingredients. The whole slice doesn't melt at the slightest pressure from your tongue. This is a cheesecake you will savor, much to the delight of your senses.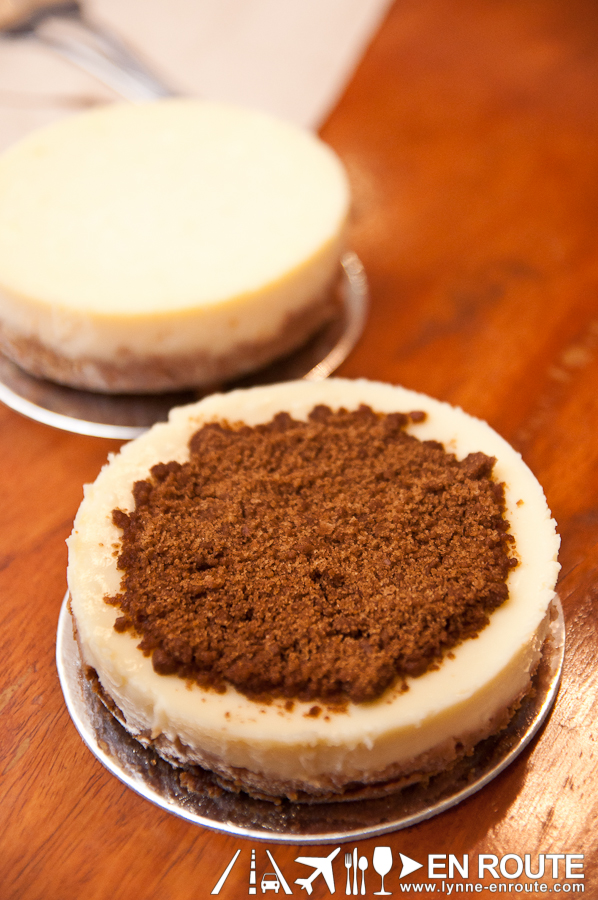 The chocnut cheesecake will rake its own set of fans. Those who like a sweeter kind of dessert will bask in the nostalgic flavor of chocnut while having a mix of the same cheesecake consistency.
The sweetness may overwhelm the other flavors of the cheesecake, so if you want more of the salty-creamy cheesecake flavor, go for the Queso de Bola. As a matte of fact, the Queso De Bola Cheesecake seems to be more in demand.
And did Richard's promise that these cakes will go well with wine hold true? Consider it as an essential, at least based on En Route's alcohol standards.
Given that the people behind En Route do not really have much experience in tasting wine compared chugging it down through a beer bong like those found in frat party drink-a-thons, not much can be said about what is the best wine to pair with this, but the ones tried were some Australian Shiraz and a Cabernet Sauvignon from Spain. Those are not bad options.
This has got to be part of your holiday festivities. And if this goes well this Christmas, who knows? It might be a year-long thing.
Indulgence by Irene
For Orders: 
Contact numbers:
0922-8303900 and 0917-6225800
Place orders at least 1 day in advance
Pick up Points:
Astoria Plaza, Ortigas
Magallanes – early mornings and late afternoons
Note: As of this writing, the demand has shot up wee bit higher than expected, so calling 2 days in advance might help.
Comment on this and Share it on Facebook!
comments
Powered by Facebook Comments