It's been long overdue as it is already past the second half of 2013. Nevertheless, it is a great way to recap some of the tasty memories of 2012 that are now probably lost in accumulated lipids.
Started off as a criticism of how burgers are cheaper than salads, and now has morphed into a celebration of the tastiest morsels this side of En Route. We are not to blame if hunger pangs are triggered by these selected pictures.
It's been around for quite some time, but it was only sampled last 2012. Combining the savory, comforting taste of ground beef with the luxurious creaminess of foie gras. One of the more indulgent burgers in Manila.
And how to up the ante: Look at this foie gras the size of a marble inside a burger of choice beef and pulled pork in DB Bistro Moderne:
Selecta Magnum Ice Cream Bar arrives in Manila: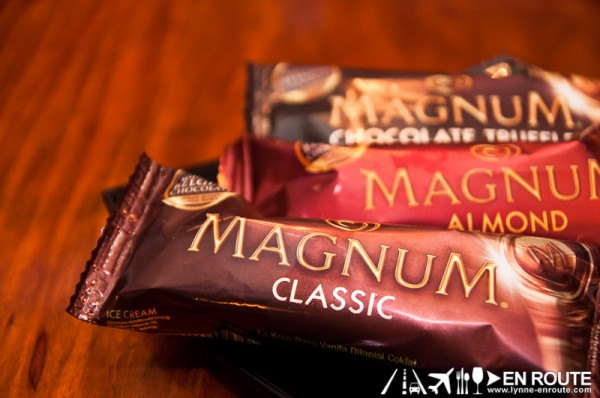 Well whadd'ya know? It's only been in Manila for just over a year. And look at how it has easily been buried into almost-non-existence in the discussion, when back then it has gained a notorius reputation from haters sprawling over social media how can anyone have the gall to pay too much for an ice cream bar.
That hate is probably just misunderstood envy from not having one of their own at that particular moment.
Not yet in Manila. What a shame. But if the droves of rabid fans of the brand during its one-day-shop was an indication, there must be good enough reason to bring it here. It really is in the end, just a burger. But a burger not made in the same way most fastfood joints make it: freshly packed and cooked upon order.
And that makes the world of a difference.
 Indulgence by Irene Queso De Bola Cheesecake:
Ok. It was too obvious that so much fun ensued during the amatuerish photoshoot at home of what looks to be a plain, mundane cheesecake.
Oh wait. What's that other one? Yeah. That's Chocnut topped all over it. Oh, and it is rich and creamy, too. Oh, and it costs even less than the artisan cheesecake you may find in that snobbish patisserie. Oh, and it uses fresher and more premium ingredients than any other cheesecake you may find plastered all over the metro!
Ohhhh….. I need to have one.
Shawarma Bros Lamb Platter:
First a disclaimer: yes we are related to one of the owners. But that isn't the reason why it is here. Why not just let their constant coverage in TV, Print, and Facebook posts prove that Shawarma Bros is one of the most sought after food trucks in Manila?
Best with a cold beer. (BTW: The Bro's occasionally challenge customers to a beer chugging contest. Drink faster than them, and your meal is free. A word of caution: One of them drinks like he has no tonsils so any beer flows in within 1.5 seconds like it was pumped in him like gasoline. Hard to beat).
Hong Kong Street Food:
Ah. Hong Kong. Arguably the culinary capital of the eastern world. While it may have Michelin Star Dimsums and fancy romantic Victoria Harbor views, it is down in the streets where you will find the greasiest, tastiest morsels.
Like lobster balls steamed, thrown in light batter, then deep fried. Genius.
What is that boiling, brown, skin-like thing that smells like mud, anyway?
 Yung Kee's Roast Goose:
More Hong Kong food fare. The institution that started off as a food cart in the streets that now is a food empire. It has its own multi-story building. Who knew that you can build an empire out of roast goose?
Wonder also how their family feud is doing? The metaphor of never killing the goose that lays the golden eggs surely applies to this.
Some say the price of their steak is too high.
No it isn't.
Arguably one of the finest steak houses in Manila. Examine your steak here before you have it cooked. You will see the marbling of that "Super Prime" Rib-Eye covering the meat like a thousand thread-count silky pillow.
Also, never eat beyond medium doneness. All that fat will just burn off and your steak would have been ruined. For those who are too careful about eating steak medium rare, never fear about ordering it here in that doneness. As a matter of fact, it is highly recommended. You will not regret it at all.
But if you will have to really ask how much it is, then yes it is worth mentioning you have to save for that special occasion.
Wagyu Corned Beef from Mr. D's Artisanal:
It just gets bigger and bigger.
Here is one kilogram worth of Philippine raised Wagyu Beef (by Kitayama Farms. God bless their soul), cured for one week, slow cooked for five hours to get that pull-with-our-fork softness guaranteed to make you frown the next time you open that can of mystery meat you purchased from the grocery.
Damn. I gotta go look for Mr. Delicious to go get some.
Last but not least:
Yabu: House of Katsu and their Kurobuta Pork: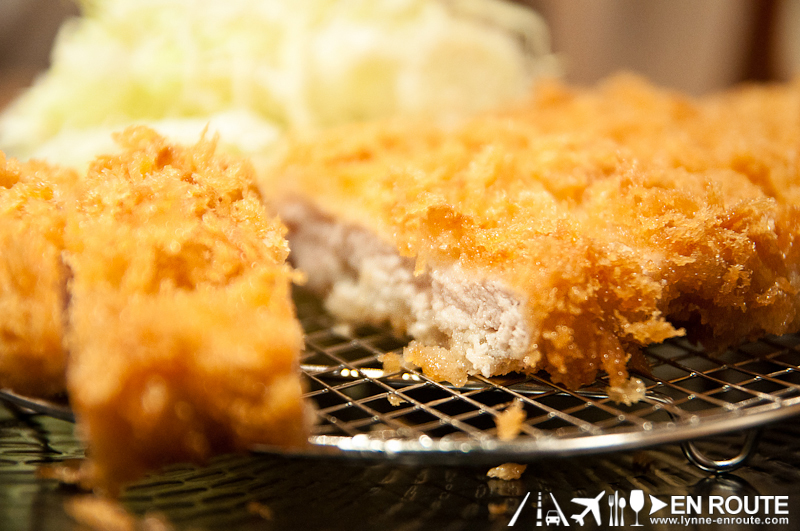 It's like the wagyu of pork. Pillowy-soft, seasoned and breaded to greatness, and fried to timely perfection. This is the restaurant that triggered the sudden Tonkatsu craze in Manila, having restaurateurs either imitating the menu, or getting other world known franchises or brands to come to the Philippines and wage war on the katsu battlefield. And how has it fared after the flour and breading has settled? It has more chains than any one of them, and still growing. That says a lot.
Let's see how 2013 goes after this!
Comment on this and Share it on Facebook!
comments
Powered by Facebook Comments