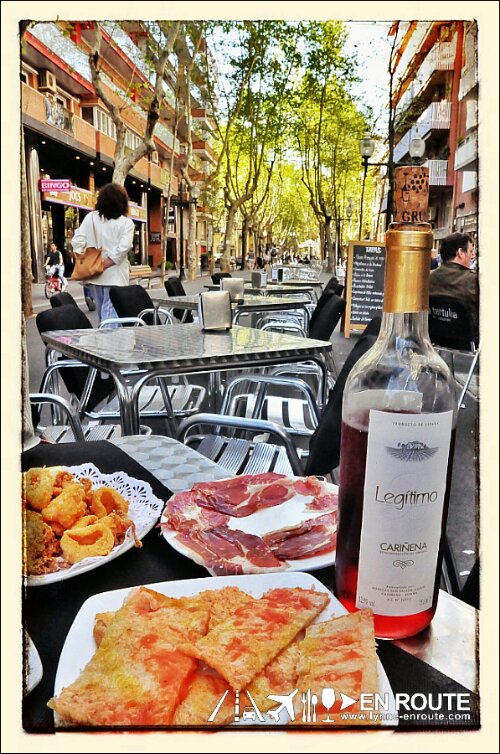 ¡Hola!
Ray: Freshly fried squid, some bread with tomatoes and olive oil, iberico ham in almost every corner, a bottle of rosé wine that costs less than a glass of wine in Paris.
All this while surrounded by the green leaves that is a sign that spring has come, with lively people coming from the beach front, and basking in that cool spring breeze.
This is the life!
While people watching is somewhat of a national sport in Paris, I have decided to bring that sport here in Barcelona, and watch people from all walks of life walk, run, bike and skate their way around here.
Yes. In here, roller-blading is still much in, and is a form of transportation. As a matter of fact, I haven't seen anyone overweight wearing those shoes with wheels. I actually miss my street hockey high school days. Wonder if I can go buy a pair and bring it back to Manila?
But if there is one thing I can bring back home, is the lesson that if given a nice, wide and open spaces with lots of trees and pleasant looking surroundings, people would rather walk. Somewhat like walking In a golf course on your way to work.
Another lesson I learned is that I should get as much iberico ham as possible. These things are fantastic!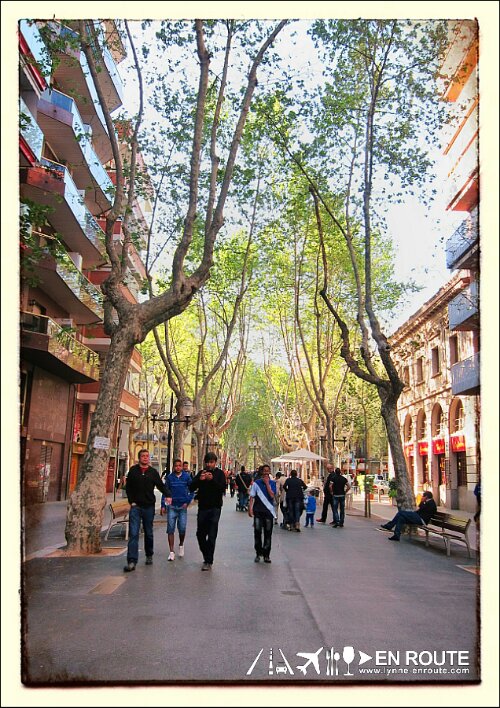 Lynne: Barcelona has the perfect weather for me. Just the right amount of cold and lots of great sunshine. And the wide tree-lined streets are so beautiful! We need more of these back home. People really need to be encouraged to walk more. Hey, it lessens the chances of being overweight. Besides, you need to burn off all that iberico ham.
Ray's been enjoying himself after discovering that wine and sangrias made in Cava are a lot cheaper here. It's easier on the pocket, that much I can say.
We've been warned so many times about pickpockets that I've been so paranoid every time we go to a new neighborhood. Our neighborhood, near the Rambla de Poblenou area was so charming that I was able to relax a bit. What's great about it is that it's near the beach, has lots of little gems of restaurants, bakeries, gelaterias, and charcuterias nearby. Plus, shops that are not as expensive as the ones along Las Ramblas (imagine Champs-Elysèes Barcelona style). And the afternoons come alive when school is out and all the kids and families are walking by and enjoying the sunny spring weather.
Comment on this and Share it on Facebook!
comments
Powered by Facebook Comments