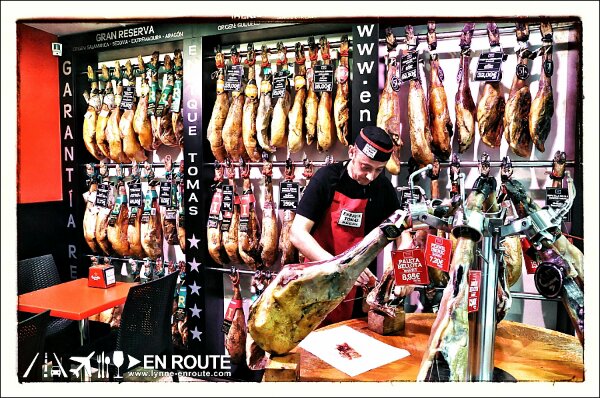 Ray: I am in Iberico ham heaven.
Forget about La Sagrada Familia for a while. Forget about the works of Antoni Gaudi even just for a day. This wall, in itself, is a masterpiece.
There are lots of these 'jamoneria' around Barcelona, and all of them presenting different kinds of iberico ham. Little did I know that even their curing and breeding methods are of endless varieties.
So apparently the best of the bunch are these lineage of pigs that are fed with a diet of pure acorns, which they sometimes call Jamon Iberico Bellota. These can cost quite a lot. Just 100 grams of these thinly cut meat costs about 12 Euros ( about 650 PHP as of this posting). But after sampling the different kinds, I can see that there is a difference in the flavor.
For those who know Yabu: House of Katsu, it's like the Kurobuta pork or the wagyu of jamon ibericos.
Good thing wine here costs only 3-6 Euros a bottle. Gotta buy some for the ferry ride to Civitavecchia, en route to Rome. Heard the ferry ride can charge an arm, a leg, and two toes for food.
Wonder how the wife is holding up with all this food?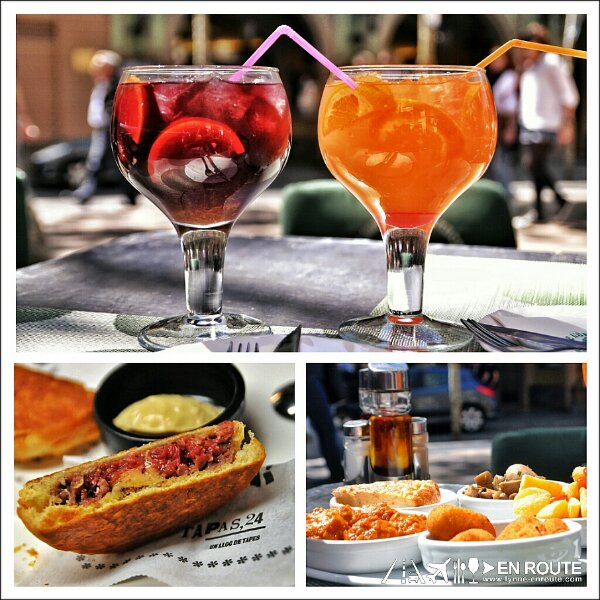 Lynne: Barcelona was supposed to be the shopping stop. After the food and touristy stuff of Amsterdam and Paris, I was gearing up for some retail therapy (From what, I don't know. Maybe get a bag or a pair of shoes after all the walking?)! We figured it would be our most affordable stop after Paris and before Rome.
Instead, it was food we delved ourselves into. Barcelona's food is also known as Catalan cuisine. Like the French, they always have bread, but they like it with some olive oil and some tomato. This is usually paired with an order of Jamon Iberico.
My favorite restaurant there was Tapas 24. We didn't order jamon though, but we did have their Mcfoie burger!!! Yes, it deserves 3 exclamation points! They also had this stew of different sausages wih tiny pasta noodles. It's a mixture of really strong sausage flavors and that meaty taste was just the comfort food we were after.
Tapas serving sizes are just right to share for two. That way, you can try more than one dish. (Unless it's already a tapas platter.) For pasta dishes, they kind of left me wanting something else so maybe I should wait for the Italy leg of the trip.
Comment on this and Share it on Facebook!
comments
Powered by Facebook Comments