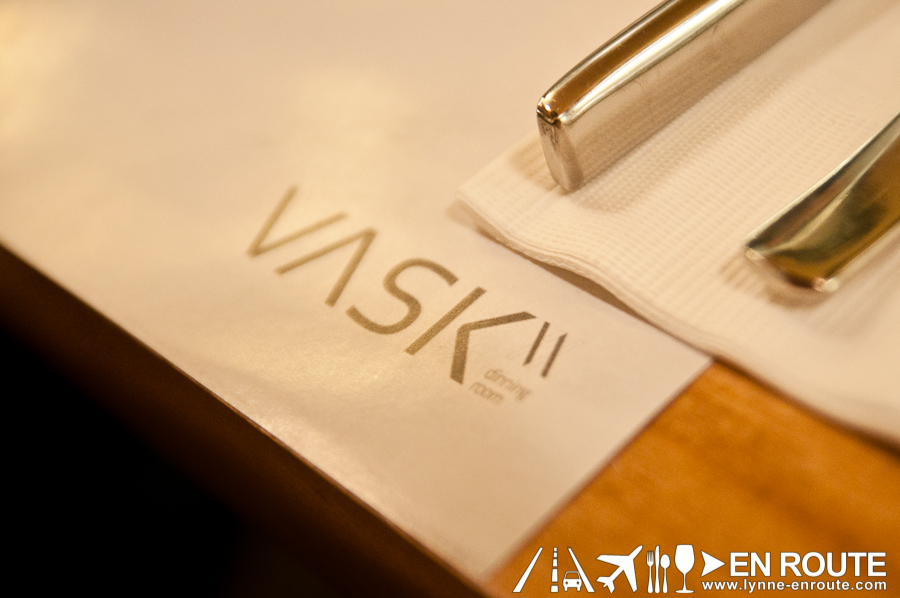 After a Tapas Food trip in Barcelona, having more tapas bars in the metro is a welcome sight.
You have probably heard it through the grapevine, if not the newspapers that have featured the latest and revolutionary restaurant that has taken the Manila food scene by storm. Vask Tapas Bar and Restaurant brings some Spanish cuisine mixed with the personal molecular gastronomy touch of its head chef J. Luis Gonzalez.
Chef J. Luis Gonzalez has had his skills honed by some of the world known chefs, most particularly Ferran Adria of El Bulli fame (El Bulli was rated the Number 1 restaurant in the world before it was converted into a culinary school and museum).
Ferran Adria's influence shows in the cuisine, where Vask takes on a fusion of classic Spanish tapas and its experimentation of molecular gastronomy (very much like The Goose Station, which is just one block away from Vask.).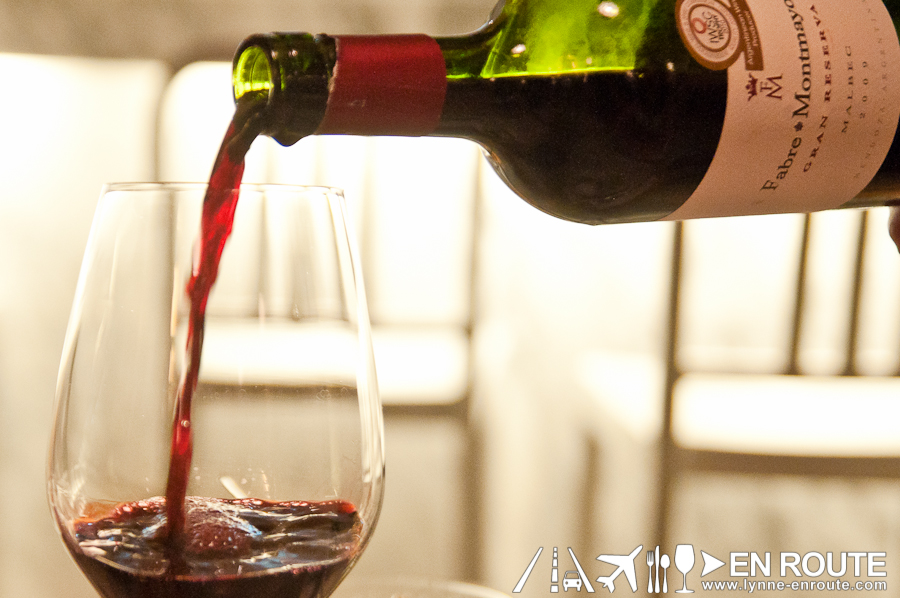 Speaking of storm, no stormy night in August could have stopped this visit to Vask. And after a little mess in the reservation (Confirmed reservation through mobile phone text message not translating to the reception guest list), it was all good for a nice dinner partnered with a relaxing bottle of wine.
Vask is separated into three major areas: The Tapas Bar, the Dining Room, and the Al Fresco Lounge. You can pretty much grab anything out of the menu from wherever you are seated.
The great thing of seating at the Tapas Bar is that you can see the tapas that are offered and get one on the spot (At approximately PHP 95.00 each), you can have a nice view of the skyline from the Al Fresco Lounge, and you can have a comfortable dinner for the night at Dining Room. It is recommended to try the degustation menu.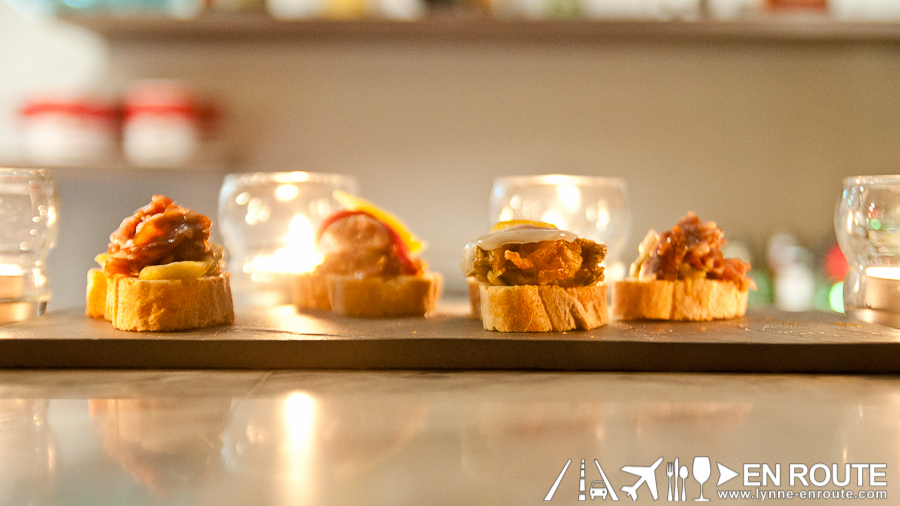 Like other degustation menus, Vask Tapas Bar will offer a menu that will change occasionally. The great thing about this is that it pushes the kitchen to look into merging previous creations with fresh ideas, or make something out of nowhere altogether. This August of 2013, this was the Vask Degustation Menu (at PHP 1,950.00)
(Full sized menu for Vask this August 2013 here)
Trio of Appetizers:
From right: Spicy Crispy Mussels, Mango Foie-Gras Mousse Caramelized, Crispy Baby Calamari: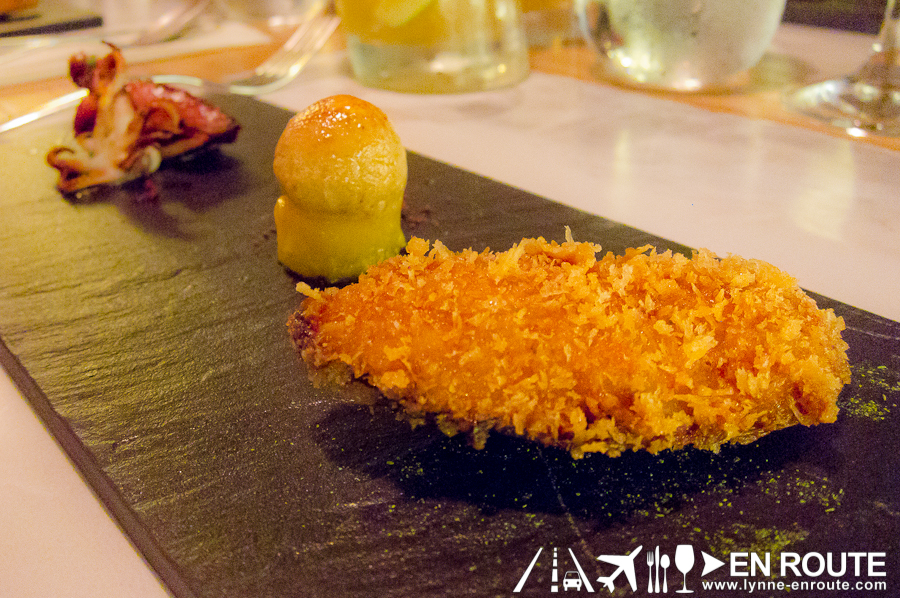 The servers at Vask recommended to eat this from right to left. From a personal standpoint, it wasn't that much of a difference. But the flavors were fantastic! What usually was a grimy, uncleaned mussel tasted fiery and crunchy. The mango-foie gras combination was divine with the creaminess of the foie-gras balanced bythe sweetness of a well picked mango, and the calamari? Cooked crispy yet able to retain the tenderness of the baby squid. Delicious.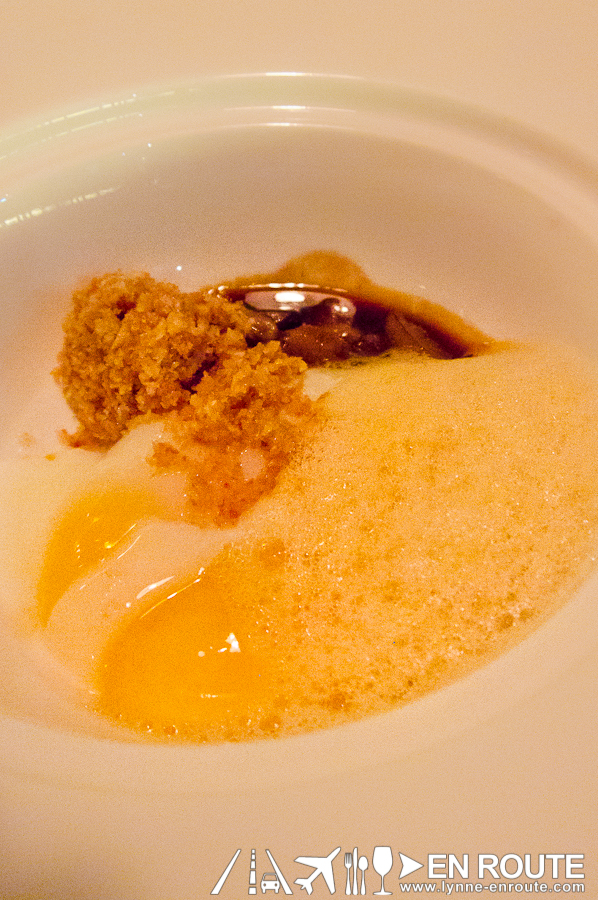 Huevos, Hongos y Cebolla, (62 deg Celsius sous-vide egg, Porcini Mushroom, Garlic, Bread crumbs, Port Wine Sauce, Onion Foam)
And here is Vask's introduction to its molecular gastronomy part. Onion foam. Not everyone will sense this unless you take a scoop of the foam and stuff it into your mouth. Not to mention the mouthful of ingredients that accompany it. The staff encouraged to mix it all up for great results.
What is most noticeable? There is something about having that egg in that exact temperature that makes it really creamy, and then its texture complemented by breadcrumbs. What else balances it out? The mushrooms. It is a very umami-like cream dish that whets your appetite for the next course.
(Pulpo a la Gallega) Octopus, Potato, Olive Oil, Paprika:
This dish was quite a story-teller. Coming in a bowl enclosed with what looked like a cake cover, it was unveiled with it spewing smoke as the cover was lifted. Basically the smoke was to enhance the octopus's flavor.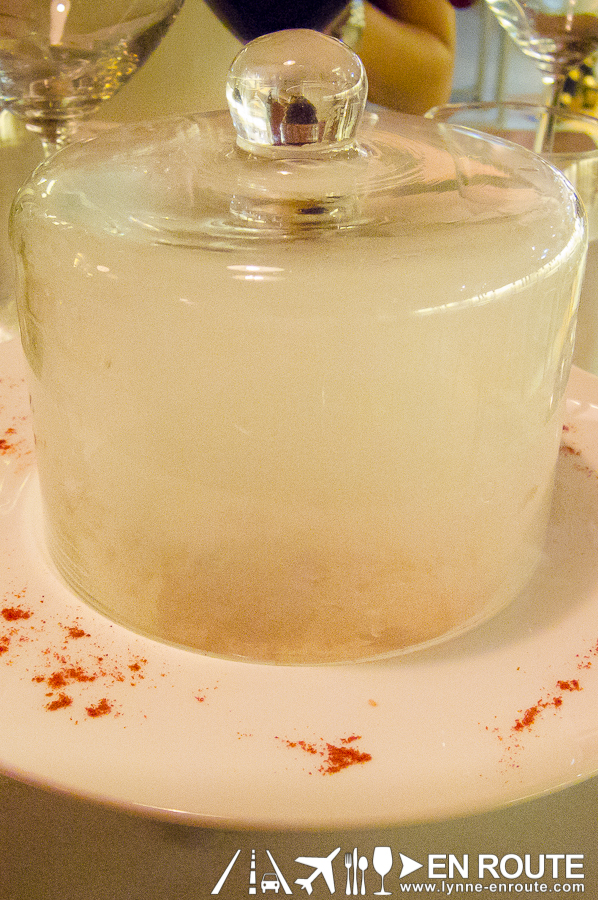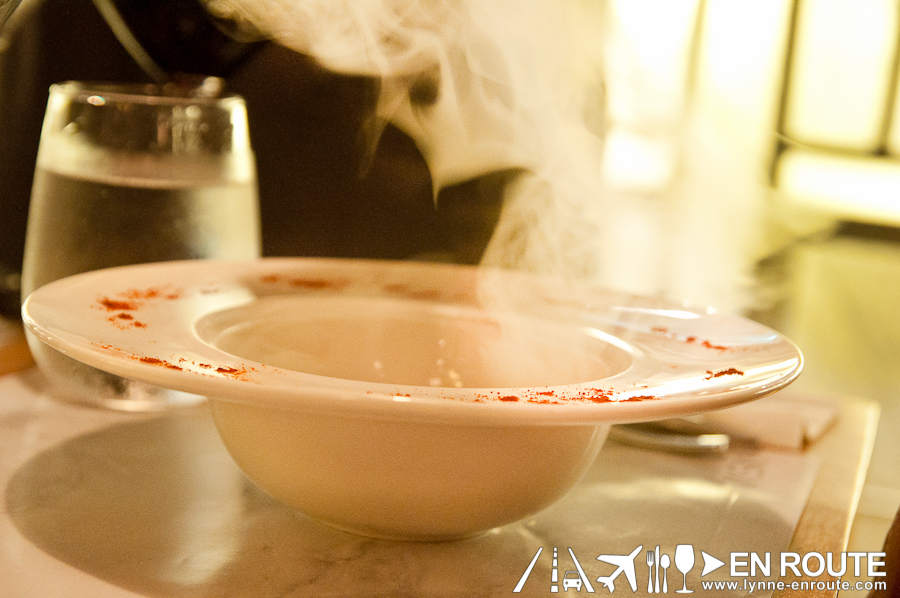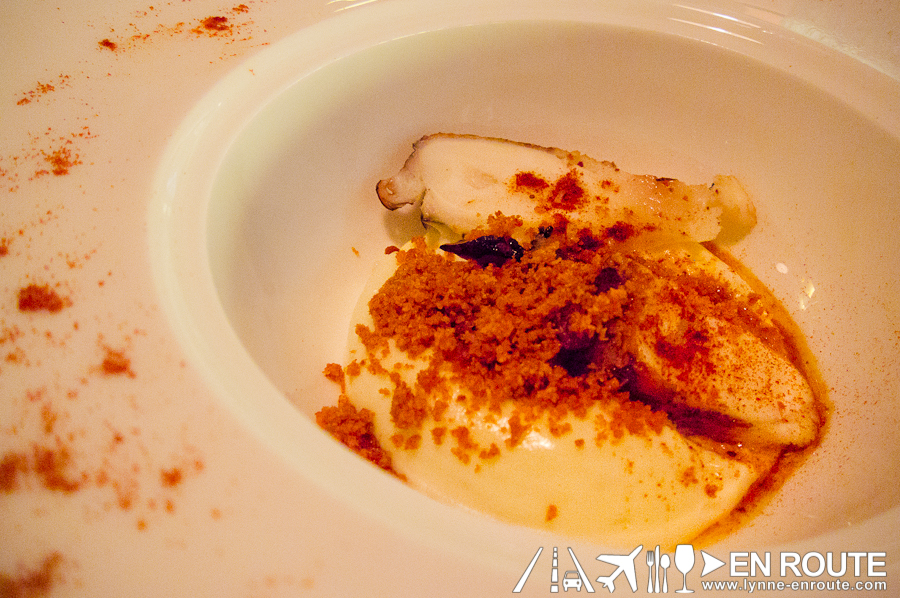 It enhanced it alright, albeit a bit too much. The first bite from the octopus can give an overwhelming taste of the smoke. If not taken with the other components, it can throw the whole dish off. Perhaps a little less smoke the next time? But about the octopus itself, no question that this is one of the best cooked arthropods you will get on this side of Manila. It is tender with the right amount of chewiness. Make it shine further with the creaminess of the mashed potato.
Scallops and Black Ink Risotto: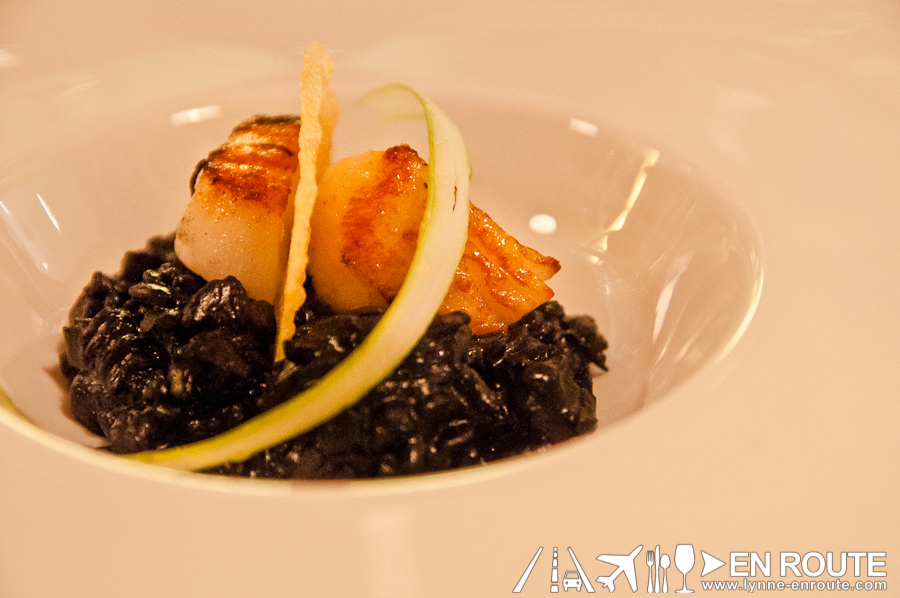 This one was more straightforward. Black ink risotto is very much a part of Spanish cuisine, and this dish was very generous with the ink. It was pretty much staining the lips of all the eager diners as they take a sliver of the scallop with every forkful. One question really comes out: Why can't this be made more available everywhere? It is fantastic!
What else is fantastic? This:
U.S. Tenderloin with Mushroom textures: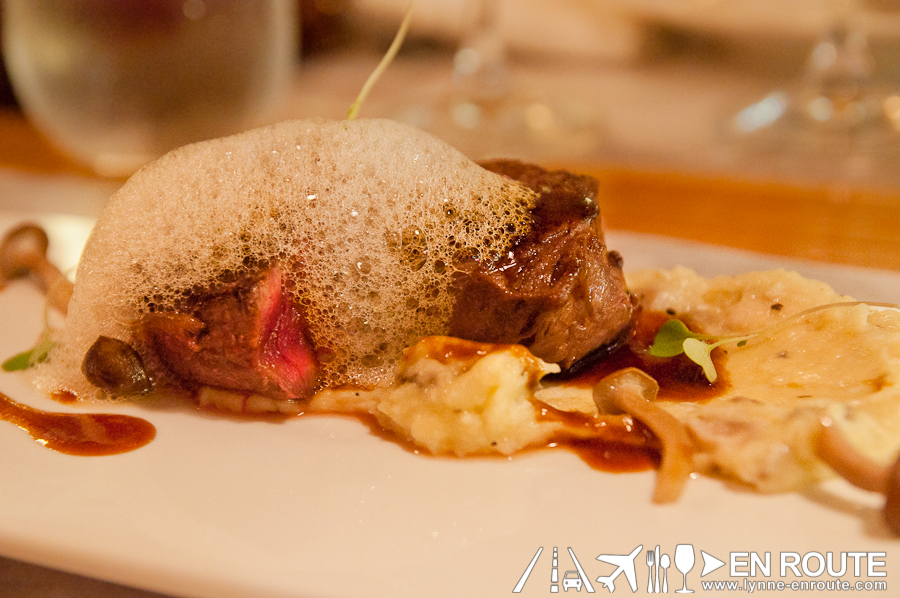 What a dish. U.S. Tenderloin grilled to your liking, and then a showcase of various mushrooms manipulated in different forms: raw, mashed, sauced, or foamed. Taste each version individually. Take a time to let it play on your palate. This mushroom manipulation is an exercise on skills that can now be done in the cuisines of today. Tenderloin is soft and tasty, and mixing it with the umami taste of mushroom makes the meat shine.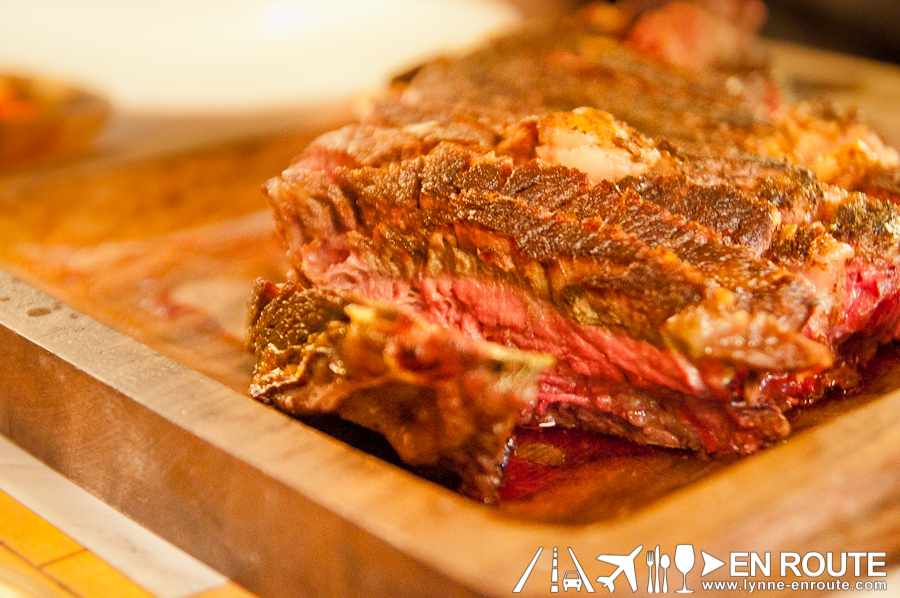 Want more out of meat? You can order a slab of Rib-Eye steak from the a la carte menu. Rib eye, having a different characteristic than tenderloin, will have more pronounced meaty taste with inherent marbling. No doubt, a great tasting cut done well by Vask.
Chocolate and Cookies:
This was quite complicated for a dessert. But the resulting taste is a good coffee pick-me-upper, with chocolate and nuts. The ginger hazelnut cookie was overwhelmed by the other strong flavors. Still, its crunch with the coffee and chocolate make for a classic finish to a degustation.
Extra Olive Chocolate Truffle:
Wait, there's more! Heavy chocolate truffles with a touch of extra virgin olive oil. Take as one gulp, then have a swig of the wine you ordered.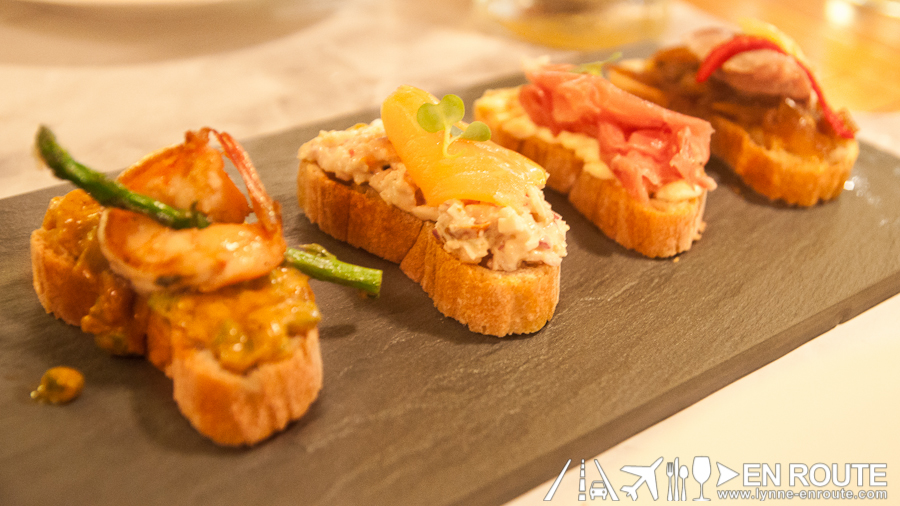 This is the beauty that is Vask. Modern influences infused in the classic Spanish tapas and dishes this side of the metro. It is a bold statement that there is a growing appreciation for experiencing the craftsmanship of people that bring in the inspirations of the world food scene to the palates of Manila. It is worth that visit for that special moment where a visit to one of the metropolis' newest food scene entry can give a taste of what else there is that the world has to offer.
Related Posts:
Vask is located at the 5th Floor of the Clipp Center, 11th Avenue corner 39th Street, Fort Bonifacio Global City, Philippines
Tel. Nos. 0915 507 7047
Comment on this and Share it on Facebook!
comments
Powered by Facebook Comments