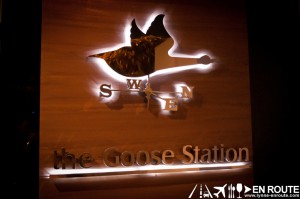 Haute cuisine is rare to find in the Philippines, given their intimidating dining settings and steep price tag one has to pay, which normally is inversely proportional to the serving sizes.
But with the advent of a more competitive foodie scene and the continuous searching for new and exciting flavors, small places pop out to provide such kind of dining experience. This is the degustation objective of The Goose Station.
The dining area is small and intimate sitting only about 25. Great for special occasions or one of those romantic evenings. The attention waiters give in prepping your table, setting your napkin, and serving water with complimentary bread is a signal that you are to be in your best social behavior.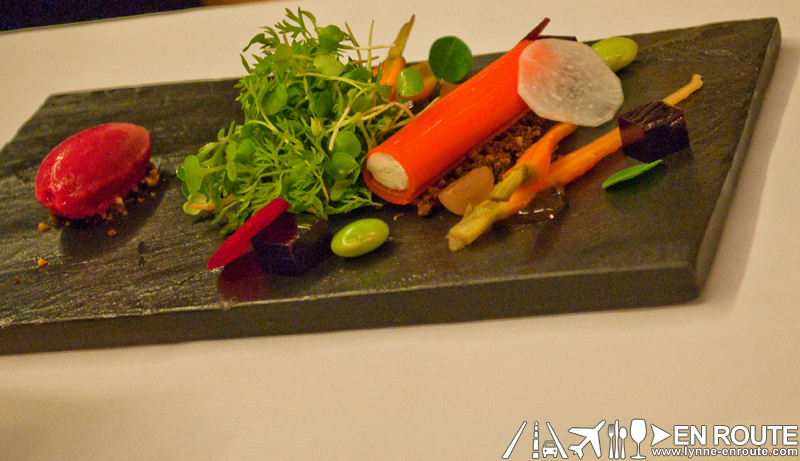 The Goose Station has a menu that changes every quarter, so there is reason to always return to sample what the chefs have in store. There is an ala-carte menu, and for that night, there is the six course Express Menu (PHP 1,800.00) and their Special Menu (PHP 2,500.00), a nine course menu that combines a sampling of their current chef's recommendations.
Surprisingly, the only goose in the menu was goose foie gras. It left one of our companions primarily disappointed as he thought this was the reason for the name of the place (it is after all a play at the word "degustation"). This however, will only be temporary as the food began to arrive, and the only way to properly describe it is one by one…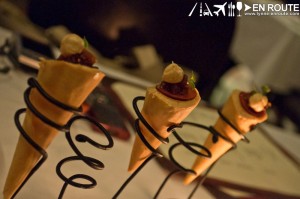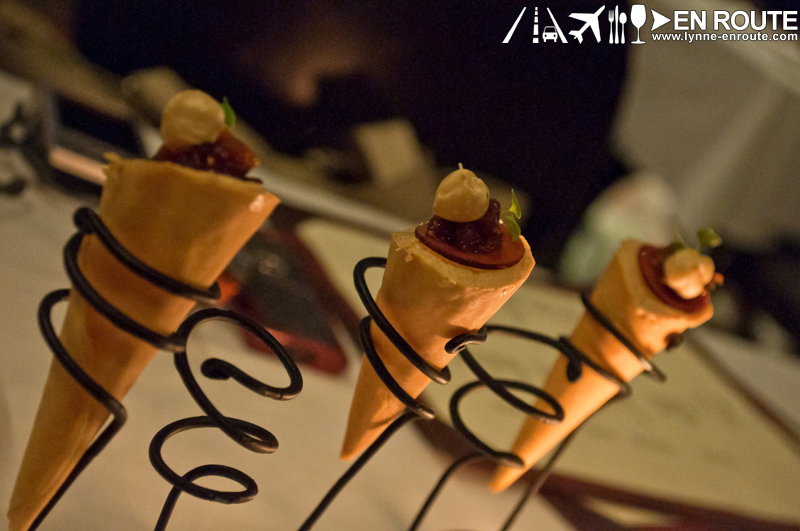 For starters: Duck Foie Gras with strawberry jam and micro arugula:
Soft buttery texture of duck foie gras complemented by the sweetness of strawberry jam. The mix of buttery and fruity taste is finished off by the delicate crisp of the cone, like some salty barquillos.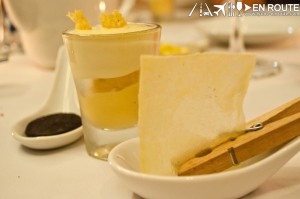 Trio of Snacks:
Potato Chip: Translucent. Light, crispy and moderately salted. the presentation made it look like it was a chip to be eaten bit by bit.
Something that resembled a warm mais con hielo: Creamy and sweet coconut texture at the top, Soft chewy glutinous rice at the bottom.
Black Olive Oreo: Now this can be mistaken for real Oreo so the salty olive taste may surprise people expecting chocolate and sugar.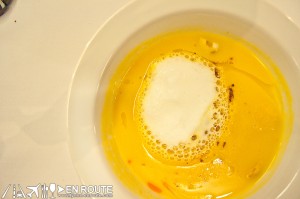 Soup: Roasted squash soup with corn, allspice froth, chorizo de bilbao, and hazelnuts.
The soup itself seemed watery in consistency, but the taste complemented with the spice was impressive. Digging some chorizo or hazelnut at the bottom added fun dimensions depending on which combination you try as you sip the soup.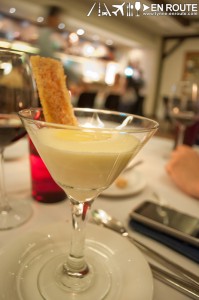 Deconstructed Eggs benedict: slow cooked poached egg drizzled with truffle oil and cream, with piece of breaded bacon:
The whole food is overpowered by truffle oil flavor, but mixing the glass will give small egg consistencies. Breaded bacon is light and crunchy, and is fun to dip into the mixture.
By this time, the dinner can become very filling. The egg is heavy and its aftertaste can be a bit weary on the taste buds. But there was still more, and quite frankly, each serving was becoming more generous in terms of size…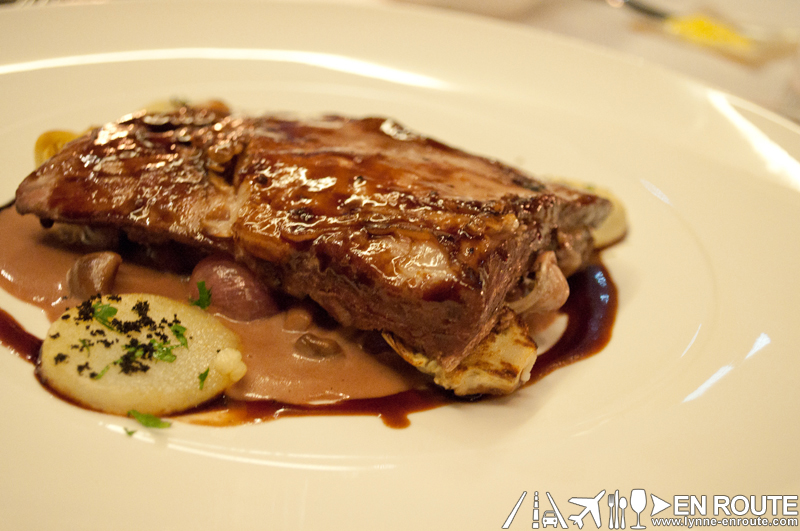 Grilled lamb in a bed of mushroom gnocci, shallots and red wine sauce:
This has got to be one of the tastiest and softest lamb around. It cutls like butter and melts in the mouth with no gamey or unclean taste. The sweet shallots and mushrooms with the sauce was the perfect flavor to enhance the lamb. For lamb lovers, it is worth a try.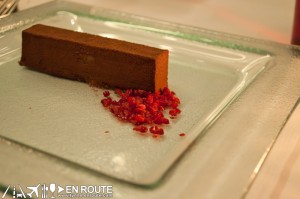 Chocolate candy bar:
The Goose Station's signature dessert and the perfect sweet finish to a good dining experience. Crispies topped with praline hazelnut cream covered in fine chocolate powder. The creamy consistency and fulfilling sweetness is heavenly. If too sweet, ask for coffee to complement. Very similar to Restaurant 101's Louis XV.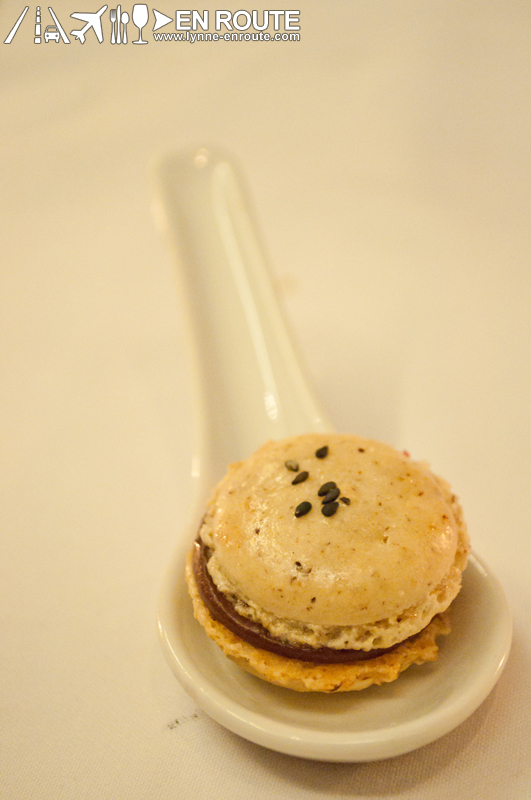 A special treat not part of the course! Burger Macaron:
Like the black olive oreo, this can be misleading. Thinking it was really made of burger when it is actually a chocolate cream with a sliver of mango to replicate cheese and a leaf of mint for greens. The play of the creaminess, sour notes and minty sensation was an absolute winner!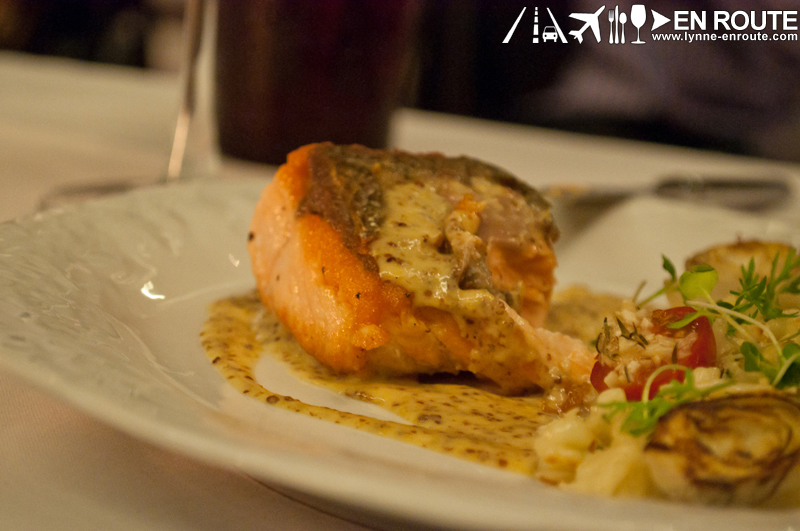 There are other items on the menu such as salads and seafood, and even duck confit! Reviews from other websites rave about the 24 hour steak for the main course so there is even greater reason to return (You will see that this blog is filled with so much love for steak).
In the meantime, this one night degustation affair with The Goose Station leaves a lasting impression with a yearning to return for more.
The Goose Station is located at the G/F, W Tower, 39th Street, Fort Bonifacio Global City, Taguig. Reservations strongly recommended. Tel Nos. +632-556-9068 or +63917-854-6673. Major credit cards accepted.

View Larger Map
Comment on this and Share it on Facebook!
comments
Powered by Facebook Comments