Don Papa Rum has got to be the best thing that ever came out of the Philippine wine and spirits industry this year. This gem from the Negros region of the Philippines has wowed the market and made a believer of international critics. Much so, they are now a staple at a lot of bars.
Adding to its appeal is its small batch production, ensuring that each batch is within standard that has made Don Papa world known. Ownership of even one bottle is very special.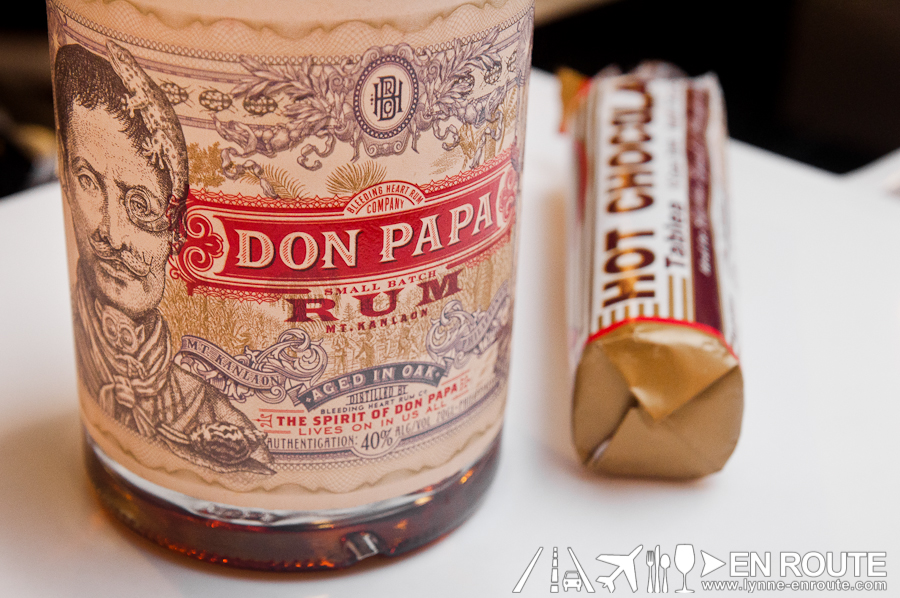 In line with the Christmas season, Don Papa Rum has brought with it tidings of comfort and joy with this holiday hot drink that should warm up those chilly nights. Incorporating native Filipino cues into this season of giving, it has come up with a fantastic recipe:
Peppermint Papa:
1.5 oz. of Don Papa Rum
1 oz of Kahlua
¼ oz. of Creme de Menthe
1 unsweetened chocolate tablea
¾ cup hot water
whipped cream
Optional: Candy sprinkles or strawberry syrup for toppings. We used cinnamon 🙂
Directions:
Melt the tablea in hot water and reduce if you want it thicker (or in our experience, add one more tablea. More chocolate = more Christmas cheer)
Mix in the Don Papa Rum, Kahlua, and Creme the Menthe
Top with a mountain of whipped cream and sprinkle/drizzle desired toppings
Add a sprig of mint on the side (Because it looks pretty)
Other tips for taste: Creme the menthe can be strong depending on the brand. Adjust to taste. Some can already work with 1/5 oz and still get that peppermint flavor.
Spreading the good cheer.  Happy Holidays!
Comment on this and Share it on Facebook!
comments
Powered by Facebook Comments