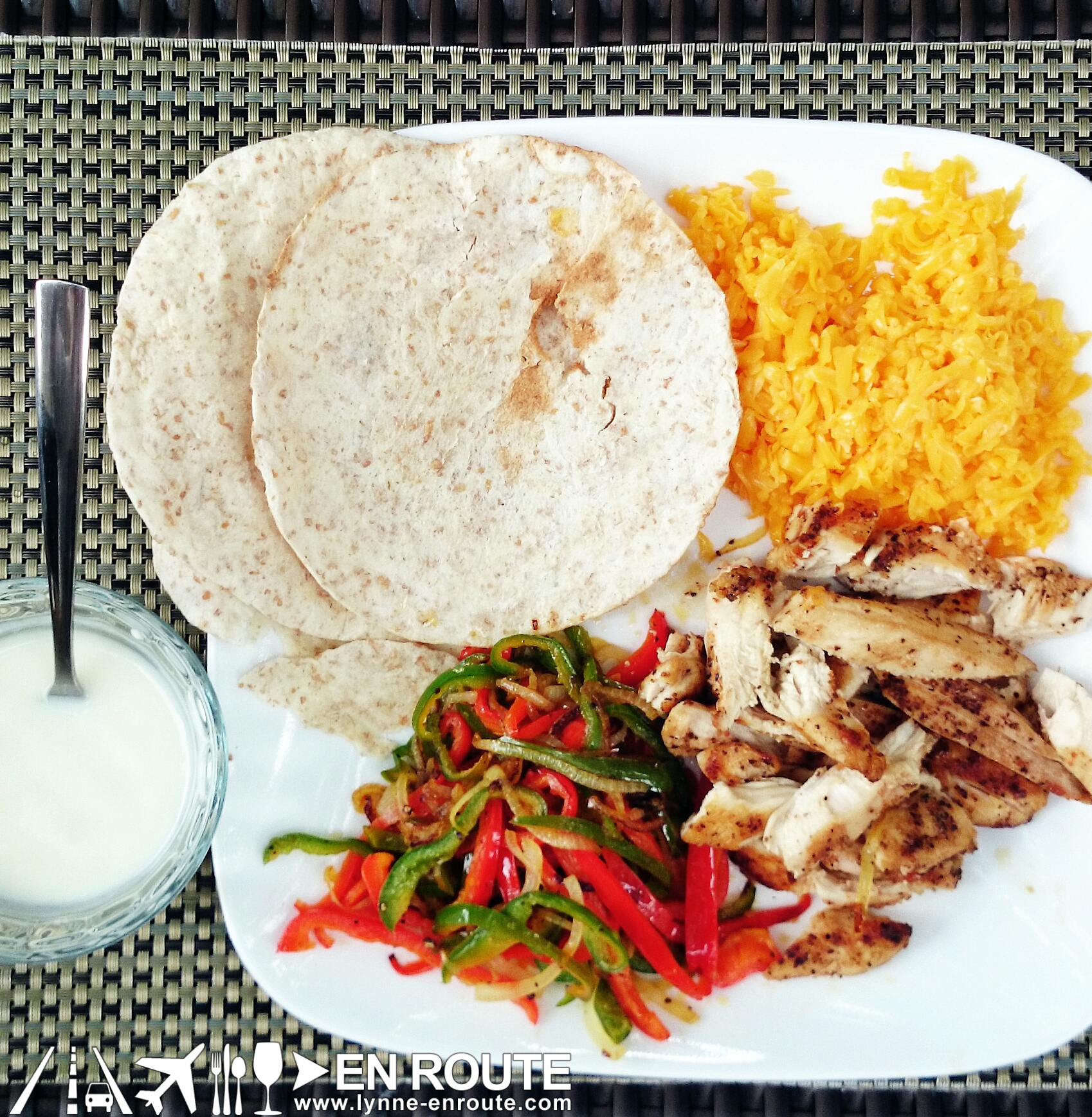 So people have been asking about this photo over the past couple of weeks ever since its posting:
"How did you make this?"
The great thing about this is it is unbelievably easy, that you ever wondered why you could not have done this Chicken Fajitas at home. It is also very healthy, with the plain yogurt as its dip and little other calorific ingredients as possible.
Chicken Fajitas (Makes for 4 wraps, good for two people)
Four tortilla wraps (we just bought wheat tortilla wraps from the grocery)
Two pieces chicken breast
One Red Bell Pepper, julienned (Check this video on how to julienne vegetables)
One Green Bell Pepper, juliennned
One small white onion (or half a big one), julienned
One cup of cheese. Preferably, cheddar, gouda, or american cheese. But run-of-the mill cheesefood is fine (add more if you are a cheesy person)
One plain yogurt (get the plain, unsweetened, sour kind if possible)
A dry rub mix (Strangely, after looking at this dry rub, it is very reminiscent of the Baby Back Ribs recipe less the brown sugar):

1/5 cup paprika
1 tablespoon black pepper
1 tablespoon salt
1/2 tablespoon chili powder
1 tablespoon garlic powder
1 tablespoon onion powder
1/2 teaspoon cayenne
In the event you are too lazy to make it, you can buy one off the grocery shelf. Or if such dry rubs are not available, plain salt and pepper is fine.
Directions:
Season chicken breasts with dry rub. If you can marinate for more than 2 hours or even overnight, the more flavorful it will be
In a frying pan of low heat, place the tortillas for toasting for about 2-3 minutes. Remove and set aside
Add one tablespoon of oil. sauté white onion, green and red bell peppers until onions are translucent, season with salt and pepper. Once done, take off pan and set aside
In the same pan, add two tablespoons of oil. Turn to medium heat. Add chicken breasts. Cook for about 4 minutes on each side. Remove from pan and let it cool.
While chicken is cooling, grate one cup worth of cheese
Place yogurt in a small container
Now that chicken has cooled, cut into strips
Place all in a plate and serve
Take a picture and share on instagram / Facebook (optional)
All done in less than 20 minutes, and makes for a healthy lunch. The main driver of flavor here is the cheese and the chicken, with the cheese's creaminess hitting your taste buds first before the flavors of the dry rub take over. Yogurt acts as a means to make it milder, while the vegetables gives a great texture and crunch.
This goes great for low maintenance dinner parties as guests will have a blast making their own wrap. Cheap, too!
Hot sauce? Add as much as desired. Mexican food just goes oh so well with hot sauce!
Drink pairings, you ask?
Comment on this and Share it on Facebook!
comments
Powered by Facebook Comments