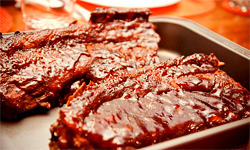 This has been a summer -long project in finding the right combination of spices, glaze, and cooking time. Some have even called it some sort of obsession
(Like the obsession for both finding the mojito mint and grilling steak. But in the end, people have found out that such obsession benefitted them when dinner was served at home).
Check out that mojito recipe here.
While it's a bit late in summer when barbecue meals are abundant, there's no specific time when to enjoy baby back ribs. Any time is the perfect time, and thus, this recipe.
Now, passionate barbecue goers may find some of the techniques here absurd, inefficient, or even revolting, and others may want their ribs flavored and cooked in some other way like in a direct charcoal grill, but this is how it was done here to save on charcoal, so it is baked in an oven.
The very important ingredient here: Patience.
This recipe is a combination of some of the practices done in America. You will find it on the sweet, tangy side with a hint of chili bite.
Oh, and the sauce and dry rub can work with chicken wings, too 😀 !
Baby Back Ribs:
Part 1: Source your ribs and wood chips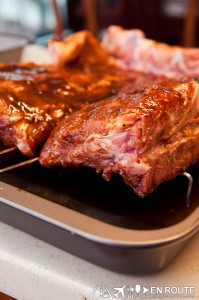 First thing to do is find a place to source the baby back ribs. Get about 3 kilograms worth for this recipe. In the picture, you will see that this one has the spine still in it, but try to ask ones that have no spine. That part does not hold any valuable meat anyway.
To ensure you get this cut, you can also ask for "American cut ribs". That's what they call it in the supermarkets (Particularly SM) here in the Philippines.
Interestingly, Manila car enthusiasts from Autoindustriya.com are also baby back rib lovers, and have suggested going to Unimart early Saturday morning, or in an SM Hypermart. Shopwise can also work, just ask them to chop off the spine. Santi's Delicatesen may have some, at a slight premium on the price.
Also, ask the butcher to take off the thin membrane of fat a the back that some people call silverskin. This gets tough as the ribs are cooked and no one really eats it anyway. If you want to do it yourself, check this video out courtesy of barbecuetricks.com:

Get wood chips. It will give that smokey flavor on the ribs. Hickory wood chips are preferred that can be bought in some high end groceries or hardware stores in malls, but any dried wood from any tree will do (interestingly, tamarind or sampaloc wood branches are a great alternative to hickory). You will need about as many as one large grocery bag.
If this is hard to get, you can buy liquid smoke from grocery stores. Get a small bottle. You will just need a very little amount.
If you can't source any of those, it's fine. You will still get baby back ribs anyway 😛
Part 2: Prepare your sauce:
Preferrably, prepare the sauce two days before cooking the ribs. That way, all the flavors will mold together and have a uniform taste. This is a modified Jack Daniels barbecue sauce.
(Yes. Jack Daniels 😀 !!!)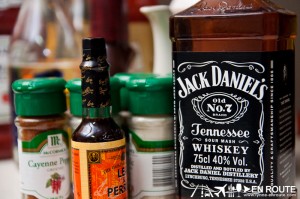 1 cup Jack Daniel's Whiskey (or any bourbon whiskey alternative like Evan Williams)
1 cup tomato ketchup (has to be tomato ketchup)
1 cup brown sugar
1/4 cup vinegar (Use cane vinegar. It has a sweeter taste. Not the very white one that is just like battery acid.)
1 tablespoon lemon juice (You can do without this)
2 tablespoon Worcestershire sauce
3 cloves garlic, minced
1/2 teaspoon dry mustard (or 1 tablespoon of mustard)
salt and pepper to taste
Directions:
Pour the vinegar first into a saucepan, then follow the ketchup, then the Jack Daniels (If you start with the Jack Daniels first, you get your saucepan to go on fire. This is fine if you got flair and showmanship, but best to be safe)
Stir it up and add all the other ingredients. Try to remove that artificial red color from the ketchup as it surfaces. Boil until it has thickened up (Normally takes 20 minutes). Pour into a container, wait to cool, and then seal and refrigerate.
If you are reading this until this point, you probably are interested in cooking baby back ribs 😛
 Part 3: Prepare your Dry Rub:
Dry rubs will penetrate into the ribs during the slow cooking process. This is where the hint of peppery/tangy/spicy bite can be adjusted according to taste.
Remember: just a little bit really goes a long way, so be careful not to turn your ribs into an infernal boneyard.
1/2 cup brown sugar
1/5 cup paprika
1 tablespoon black pepper
1 tablespoon salt
1/2 tablespoon chili powder
1 tablespoon garlic powder
1 tablespoon onion powder
1/2 teaspoon cayenne
Dump all the ingredients into a bowl and mix well until uniform.
 Part 4: Season the ribs:
With the silverskin off, the dry rub should permeate the ribs better. To make it go in deeper, you can pierce little holes into the ribs using a knife.
If you are using liquid smoke, use one teaspoon per rib and spread it evenly first before placing the dry rub.
Sprinkle and rub the dry rub afterwards and make sure to coat it evenly on both front and back.
Part 5: Time to Cook:
Preheat your oven to about 275 degrees Fahrenheit (or 135 degrees Celsius). Warm it up for 15 minutes.
While it's heating up, get a deep baking/roasting pan and place about half an inch of water and dump the wood chips. This will ensure that the steam has the flavor of the chips and prevent the chips from burning. If you used liquid smoke, no need for this.
Place a rack on top of the pan. If there's no rack, this is fine. The ribs will just get a bit soggy on the sides
Place the ribs and cover it tight with aluminum foil with a little bit of allowance at the top. Make sure to seal it tight so that the steam does not come out.
Cook it for about 2-and-a-half hours.
Take your Jack Daniels sauce and let it get to room temperature.
After three hours, take off the foil and coat your ribs with your sauce with a brush or the back of a spoon. Place it back in the oven, turn it up to "broil" (or the highest setting), and let it simmer for 15 minutes.
An alternative to this is to fire up the grill, put the ribs there for a good 5 minutes, and glaze the sauce little by little
Serve in any way you want (this pic was the very first try)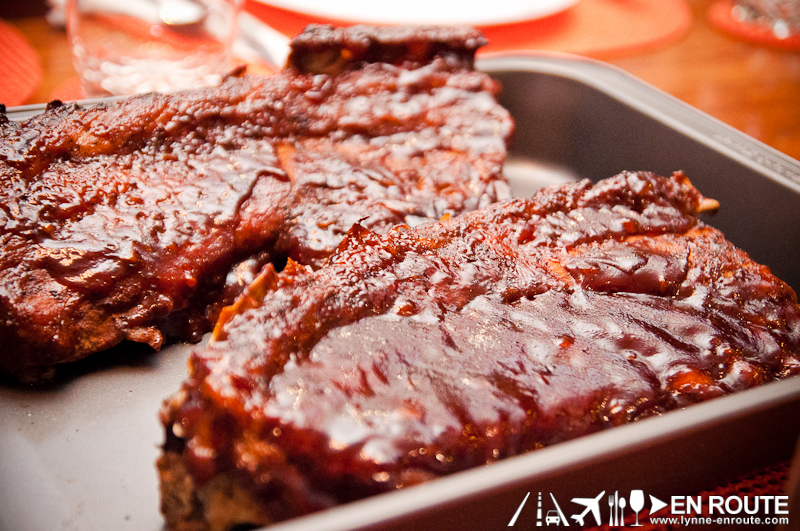 It does entail A LOT of work and time, but all good things really do take time, don't it 🙂 ?
Enjoy these ribs with other recipes cooked here in En Route:
Love this recipe? think you can tweak it to make it better? Shoot us some comments below 🙂
Comment on this and Share it on Facebook!
comments
Powered by Facebook Comments