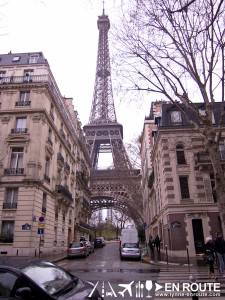 During our honeymoon, we walk into one of The World's 50 Best Restaurants with no prior two-month reservation. It seems unthinkable but, we did it.
It is April in Paris.  We can still feel the ebbing winter chill especially in the evening but, spring showers also ensured our tiny, folding, department-store-bought umbrella is brought out especially in the afternoons.
It is Tuesday, we're on our third day in Paris and we're flying off to Barcelona in two days.  One thing on our list remains unchecked: to dine in a Michelin-star restaurant.  We are in Paris after all!  It's now or never so, allons-y!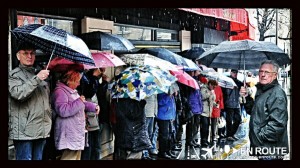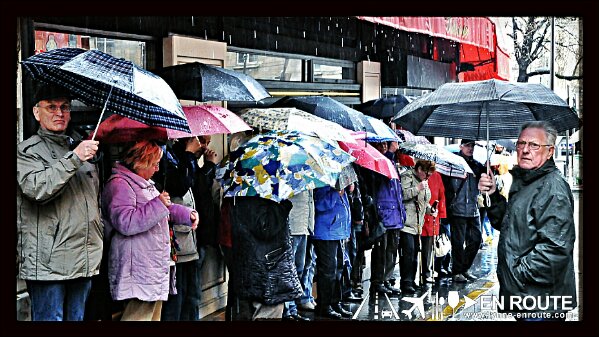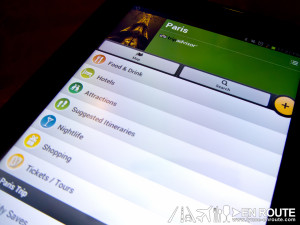 We had marked several restaurants on our nifty mobile Tripadvisor city travel guide and one of them was L'Astrance.  It has a great location and is an easy walk from the Seine.  They accept reservations through phone.  We tried that and, since our French was limited to counting and the alphabet, we really didn't succeed in understanding anything from the answering machine that kept picking up.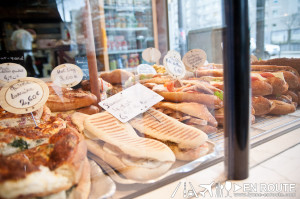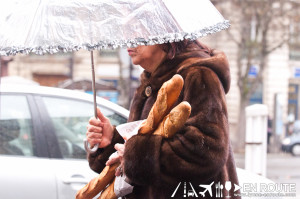 On that fateful day, we decide to just go for it and try our luck.  At 5:30 in the afternoon (still very bright outside), we walk over to Rue Beethoven and find it closed.  Planning our next course of action, we spot someone, a man in a black turtleneck, walking inside and he seems to be on the phone.  Mustering all our courage, we knock.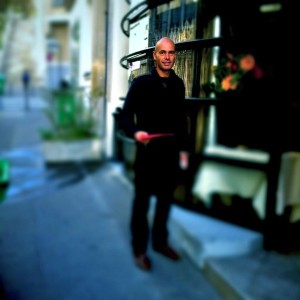 Meet our hero. (Photo courtesy of http://vivrelarestauration.com.) Thank goodness he speaks English!  This is where our limited French alphabet and counting skills come in handly so we can at least give our name and number.  We explain our predicament and our desperation desire to eat at their restaurant.  He thinks for a while (probably evaluates our sorry faces) and says he'll check with one of his friends if he was going to make it that night. They open at 7:30 and he will let us know by 7 if there will be a free table.
We troop up the incline of Rue Beethoven again and find a nearby cafe.  And there, we wait.  We spend a lot of time just people-watching and nursing our tiny cups of coffee (because they can be expensive).  Not all shops come with free wifi too so we really have to entertain ourselves while hoping and praying we'd get in to L'Astrance.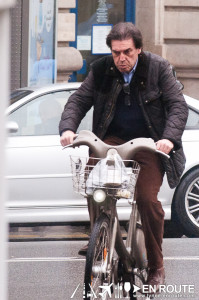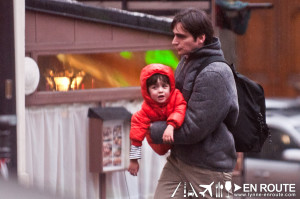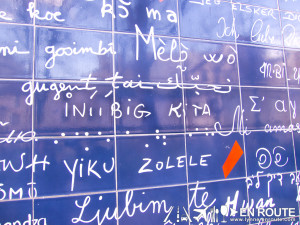 True to his word, our hero calls us at 7 to give us the good news that there will be a table for us.  We arrive promptly at 7:30pm, rain and all.
And we walk in to have the most unforgettable meal of our lives.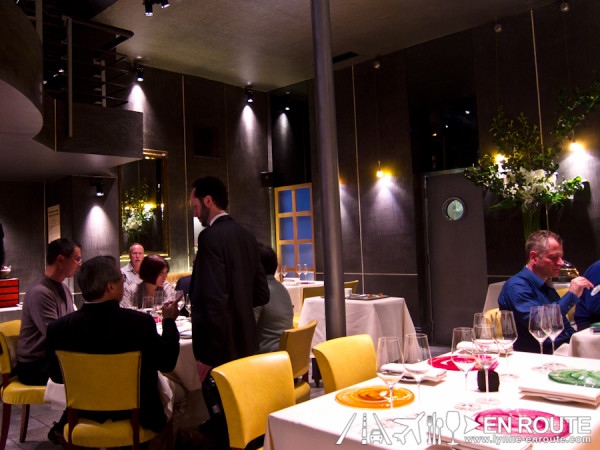 Well-suited men adorn the place as they greet you, take your coat, and usher you to your table.  The interiors are classic, simple, but surprisingly not intimidating.  They offer us their printemps (spring) menu, which contains several courses, a few amuse bouche, and a couple of desserts.  Because we are En Route, we opted for the version with wine pairing for each course.  (You can imagine how happy we were at the end of the night!)
Trivia: Only the men's menu contains the price per head (they think of everything in 3-star Michelin restaurants!).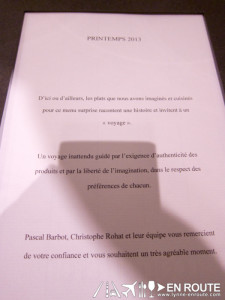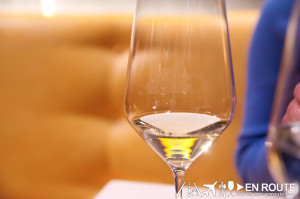 When the soup is served, our hero reappears.  He asks us to guess what the soup is.  All I could say was that it "tasted like breakfast."  He reveals that it is made primarily of bread. Imagine, bread as soup!  Amazing.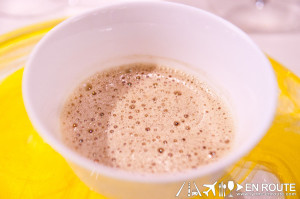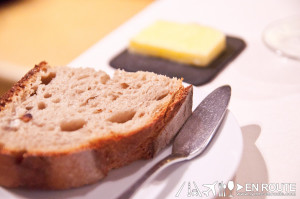 Later that day, we will discover that the man we call our hero is none other than Christophe Rohat, partner to Pascal Barbot and they are the two men behind L'Astrance..
L'Astrance opened its doors in 2000 and they actually earned their first Michelin star within five months.  They completed all three stars in 2007.  They have consistently been in The World's 50 Best Restaurants by S. Pellegrino & Acqua Panna, currently holding the 38th spot.
It's a gastronomic feast for the senses.  As expected, each course is plated beautifully and each offers a different set of tastes and textures.  It is one delectable surprise after another.  Our favorite will have to be the intricately-prepared slices of mushrooms.  It looks so pretty it could be mistaken as dessert!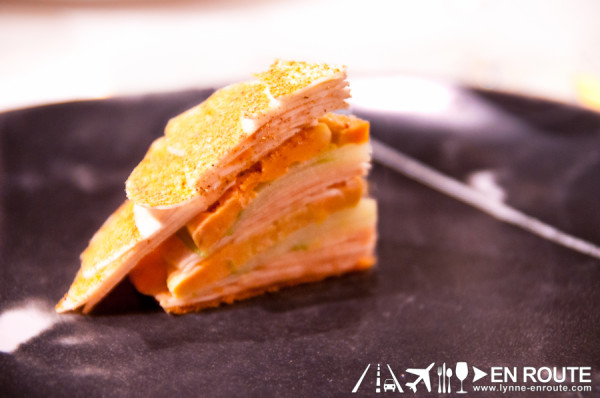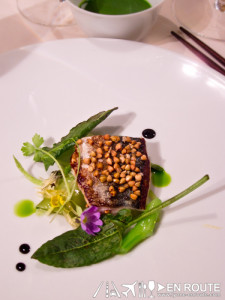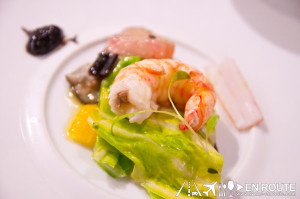 Every time a dish is served, their sommelier, Alexandre Jean, approaches us and explains why the next wine goes well with it.  We should have noted down our favorite wines but we were too busy swirling and noting how perfect all the pairings were.  While the stars were the food, the culinary show is made complete by the wine selection.
Other dishes we love include the turbot, a fish we don't normally encounter in Asia, and the serving of duck, perfectly seasoned, juicy, with a crispy layer of skin.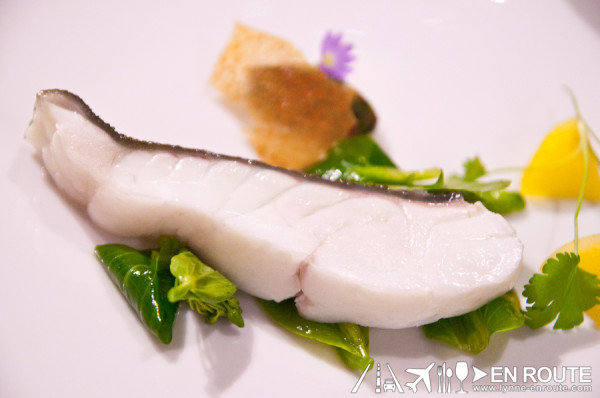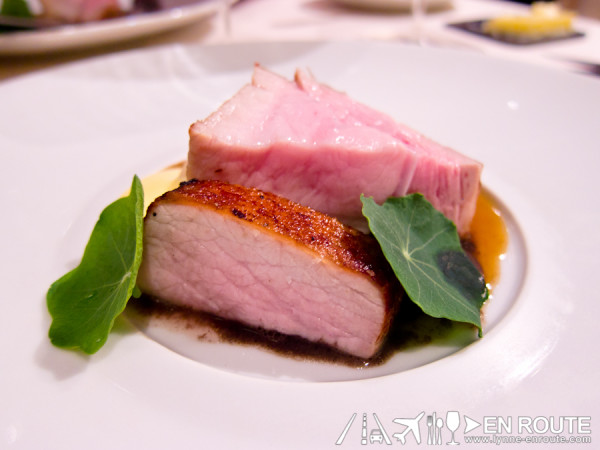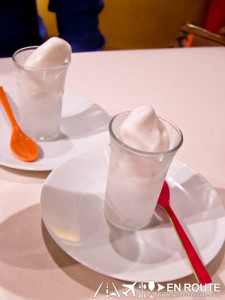 In between some courses, we have some sorbet (with what feels like zing from pepper), jasmine-infused eggnog served in egg shells, and some madeleines (at least I think they are madeleines).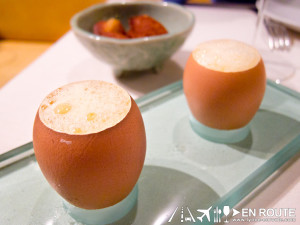 And then we get to dessert.  Three different kinds, each with their own unique twists.  In the end, we enjoy a mixture of ice cream, some brittle, a beautifully-decorated chocolate bar of decadence, and a platter of fresh fruits.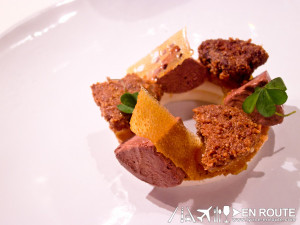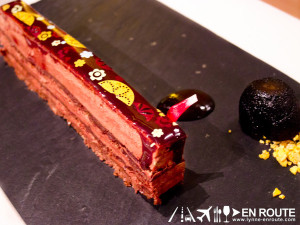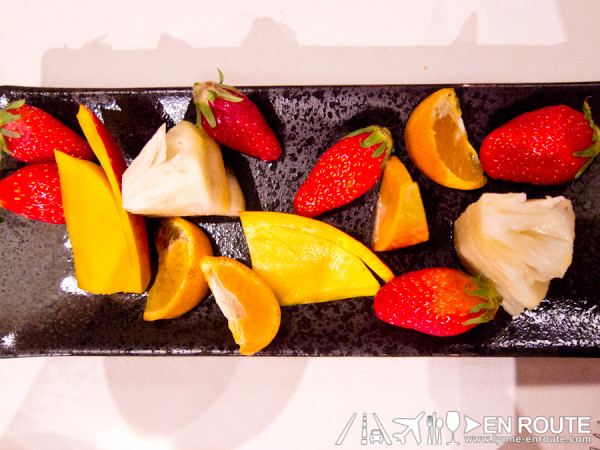 The whole dinner was elegant but relaxed.  The whole team of L'Astrance offers top service and a menu that boasts of a mastery of making flavors come out and dining more fun, an experience of French cooking you won't want to miss.  We are glad that we attempted that dinner inquiry.  We'll forever be grateful to Cristophe Rohat.  And we'll never forget that we walked into one of the best restaurants in the world and into one of the best nights of our lives.
Just to capture how perfect the night was, this is the view we pass as we scurry through the cold night in search of a metro station that's still open. Bonne nuit.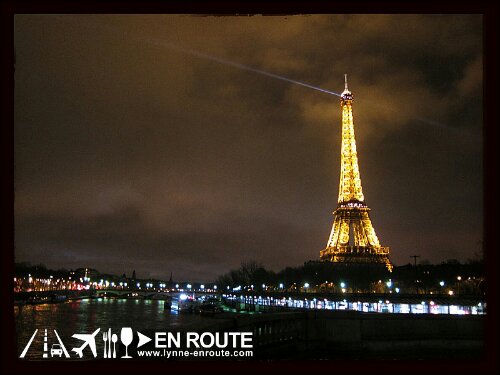 L'Astrance is located at #4 Rue Beethoven 75116 Paris.
The restaurant is open Tuesdays to Fridays and they accept reservations via phone on days that they are open, from 10am to 3pm and 7pm to 11pm.
Tel: +33 1 40 50 84 40
Comment on this and Share it on Facebook!
comments
Powered by Facebook Comments