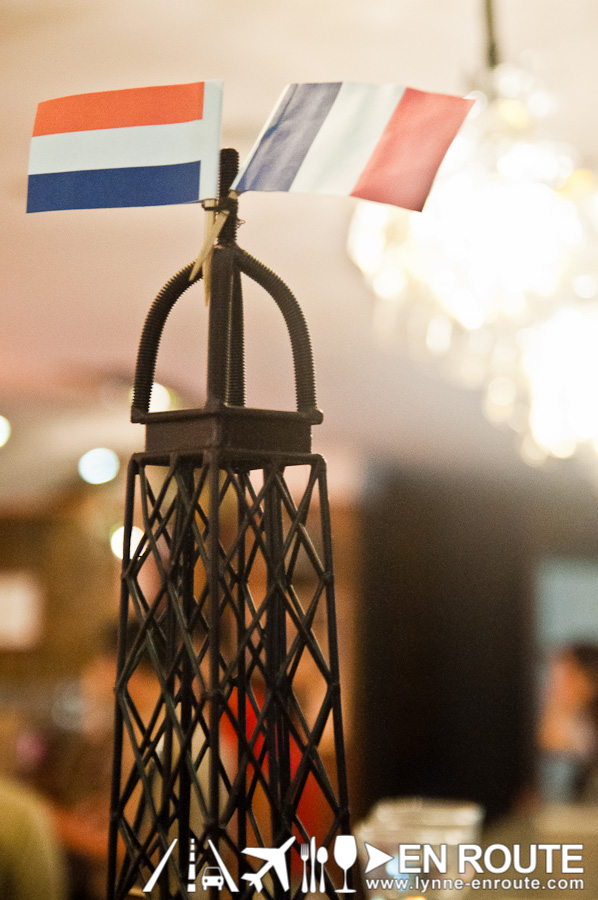 There really is so much more to learn about French cuisine.
Normally, people associate French cuisine with elaborate techniques and sticking to the classics passed on by world famous chefs, more haute cuisine (L' Astrance, anyone?). Some people adore it, while some feel intimidated with the idea.
Then that Paris trip showed how the Parisian bistro and cafes bring the charm of the city. Food is simpler, yet still breathtaking. And then there's more, especially when you go out of Paris. Take the city of Lyon, for example, and their world famous Le Bouchon Lyonnais.
Bouchon is a typical small restaurant that serves Lyonnais cuisine like sausages and pates. Patrons are usually families that have always gone there since time in memorial. It's a more noisy place, as family members tend to have higher voices when all strung alongside each other. Salad and charcuterie is normally the first course, and it all comes in a communal bowl, that gets passed around the whole restaurant when you have had your fill. Yep. One bowl and charcuterie plate gets passed on every table, and you can have almost as much as you want. Then you go on to your main courses, and afterwards, desserts. Quite intrtiguing.
And how interesting to discover that there is something similar to it in Manila: Brasserie Cicou.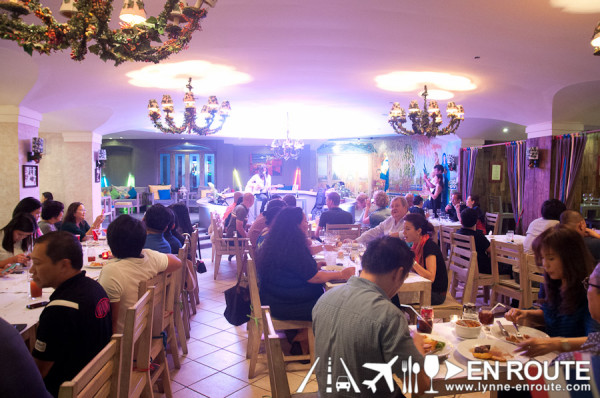 It's worth noting, though, that it will only be up for one month. It's still a great thing to try, though. Hey, maybe they might extend it depending on demand!
Basically for PHP 1,700.00 per head, you get it Le Bouchon Lyonnais style:
Unlimited salad,
Unlimited charcuterie,
One main course,
and a series of desserts
Oh yes this can get really filling.
And true to Le Bouchon Lyonnais style, the salad bowl (or bowls for this matter) arrive first: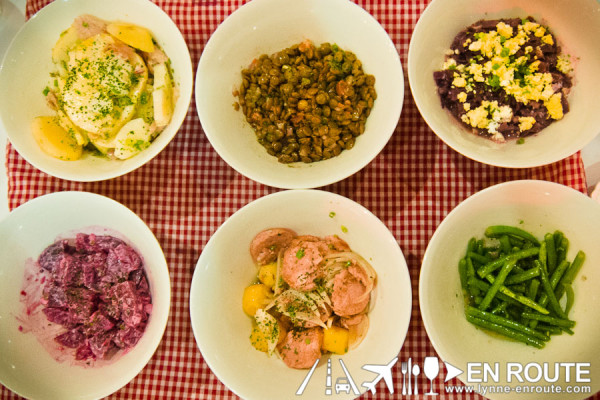 Potatoes in smoked fish in olive oil, Beetroot with sour cream, French green beans with vinaigrette, Pork sausage with onions and vinaigrette, Lentils with Shallots and Parsley Vinaigrette, and Red Cabbage Confit.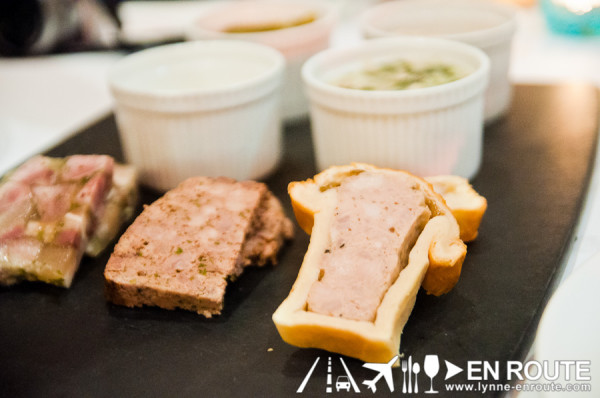 You've gotta give it to them. Meat lovers are not going to feel shortchanged as you can have those tasty sausages sweeted with shallots as much as you want. And for those who like it light, the French green beans are superb. The acidity of the vinaigrette cuts through any of the greens, including the red cabbage. As a tip, try getting a small sample of each into your plate, taste each one, and then get more of the one you prefer. You better get it soon, as that bowl will be moving around the whole restaurant.
But do not fret, as the charcuterie platter comes next. Now, this particular platter is somewhat different from the charcuterie you would normally see, usually filled with cold cuts and cheese.
These ones are more pate, with some having gelatinuous properties, like the Pork Head Pate. Quite exotic. For something easier, go for the Chicken Aspic. Feels like a chicken spread you know and love, this time you will love even more with an herby tarragon mixture in it.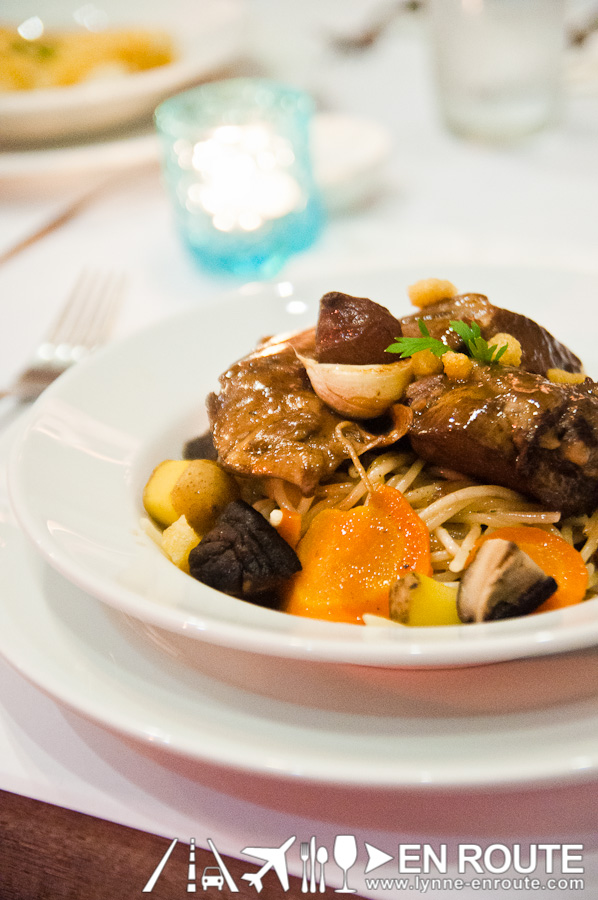 By this time, you will wonder how main courses are served Le Bouchon Lyonnais style. They are actually similar to some things you will like about home cooking, with hearty sauces on viands like Coq au Vin (It's chicken marinated in red wine, carrots, mushrooms, shallots, and croutons) and set atop a bed of pasta with cream.
There was one dish, though, that was truly exceptional: Home made Pork Sausage with braised lentils in red wine sauce. That bite in the lentils was just right, with a slight tartness from braised wine, flavoring sausage delicately seasoned and cut in little discs. For those who have watched the cartoon Ratatouille, it was like how the evil food critic Anton Ego felt after tasting that ratatouille dish: it brought back pleasant memories of childhood, and you just had to wipe out every single morsel of the plate.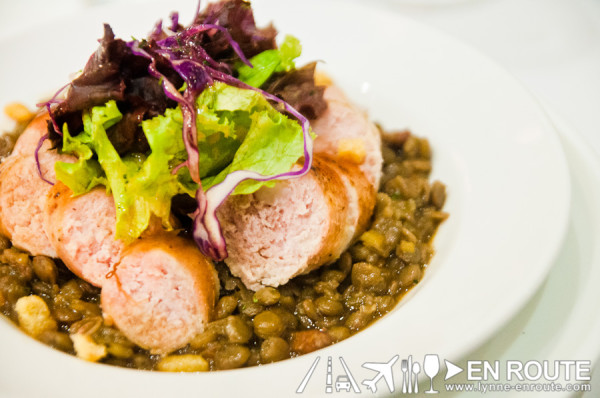 Can't believe there was still dessert to go through, with Crème caramel, Apple compote, Choux Chantilly (like a cream puff), and Tarte a la praline. The softer desserts like apple compote and choux Chantilly stand out among the four.
It's really amazing to know that people back in the days can eat all this food. I guess back then, when you are surrounded by family, food and copious amounts of booze, the merry making never stops and you just get engulfed in the revelry of the moment. But with a food ensemble like the one Cicou has laid out, a meal is a celebration of delicious Lyonnais cuisine.
Brasserie Cicou is located at 57 Annapolis St., Greenhills, San Juan (just at the corner of O.B. Montessori)
Tel. Nos. +632-661-9200 / +63917-885-8841
Comment on this and Share it on Facebook!
comments
Powered by Facebook Comments