Suroy is how they say 'go around' or pasyal in Bohol's local dialect.  It also pertains to a local music festival during the Christmas season.
This place is rich in things to feast your eyes on.  I'll share with you some of the places I highly recommend for everyone to go to. (And this is just part 1)
1. Chocolate Hills
Of course, no visit to Bohol is complete without seeing these mounds of limestone which they are known for.  Local lore, on the other hand, says that these hills were formed when two giants fought and threw chunks of land at each other.
The Chocolate Hills span the three towns of Sagbayan, Carmen, and Batuan.  Sagbayan and Carmen both offer the opportunity to climb one of these hills for a panoramic view.  For Carmen, the climb involved 214 steps.  There is also the option of a ramp that snakes down on the side of the hill.
They appear like giant Kisses in the summer because of their brown color.  Now, they are a bright green due to the rains that have come.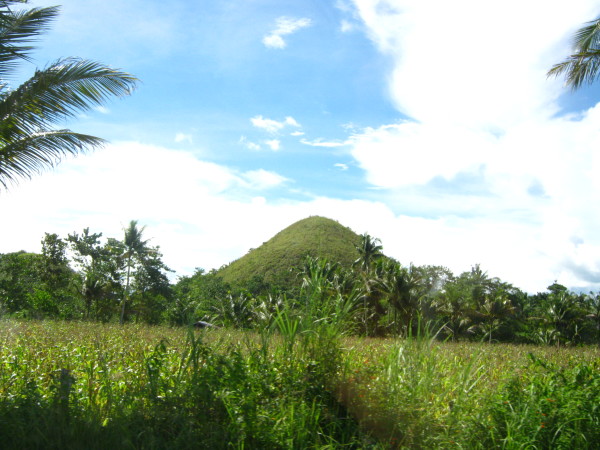 2. Panglao
My visit wouldn't have been complete without a trip to Bohol's beaches.  The most known stretch is Alona beach in Tawala, Panglao.  I learned from our bangkero, Kuya Jun, that the name came from Alona Alegre, an actress back in the 1980's who ran topless along that stretch, bringing fame to the area from locals and tourists alike.  According to Kuya Jun, she also helped promote the beach to her friends.
We were also able to discover another long and wide stretch of powder-white sand in a place called Sapa Bolod, Panglao.  (I'm just basing this on what's written on the side of a boat we saw docked there.)  The whiteness and fineness of the sand rivals that of Boracay.  The only difference is that the beach gets rocky after a few meters.
3. Bohol Eco-Tourism Adventure Park
Now, this place is new and exciting.  Bohol already launched an adventure park in Danao.  That's a separate tour altogether.  If you want to take the zipline or cable car ride without having to drive all the way to Danao, there's a nearer venue right in Loboc, which is just a few minutes drive from Tagbilaran.
For P350, you will feel your heart pound as you slide or fly over 250 feet with a view of the Loboc River as you cross it.  The experience was awesome.  The fear is only present in the beginning.  On your second slide (yes, because you have to cross back to the other mountain where you started), all you feel is sheer thrill.
I took a video of one of my trips across the river just so you can see the view from up there.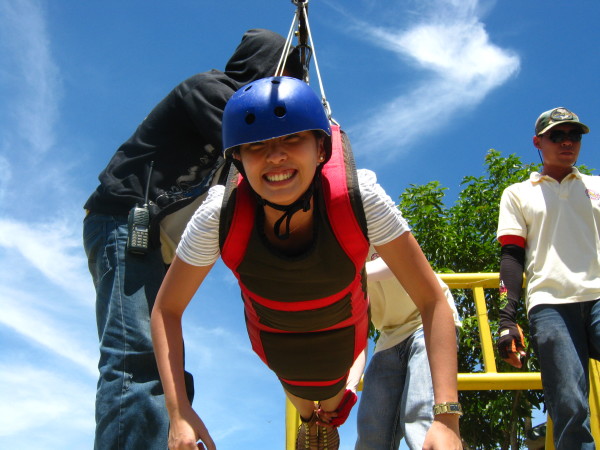 Bohol is so rich in beautiful places to visit.  You will never run out of things to do.
I love the Philippines. 😀
Comment on this and Share it on Facebook!
comments
Powered by Facebook Comments