Mercato Centrale in the Philippines has become one of the weekend foodie destinations where people who have a passion to satisfy more than just mere hunger come to sample the variety of local treats and creations. Food is appreciated by people of all shape, gender, age and culture, and the stalls in this Fort Bonifacio Global City site will surely provide experiences worth sharing.
Our curiosity has drawn us to check it out. From our understanding, they are open on weekends from 7am to 2pm and the stalls may vary depending if you go on a Saturday or Sunday. Plus, Midnight Mercato (same site, but this time open from 10pm to 3am of the next day) is a whole different animal, so what was gathered in the Saturday we went is just a small slice of the big foodie pie. Initial tour gave off some of the usual grilled/fried/baked/dried surf and turf but what is best tried are the unique products, a few of which are featured below:

It's Showtime!
Out in the open area where the stalls serving freshly grilled food are located is a showcase section with a live cooking demonstration. For this Saturday, it was conducted by Chef Myrna Prats of the culinary Institute of Aristocrat demonstrating a creamy chicken mushroom penne pasta.

We chanced upon her ordering the same burger we were attracted to try after the show (more on that later) and she mentioned she has been cooking and teaching aspiring chefs for over 35 years, running canteens and giving consultations to would-be and existing restaurant owners. On the show, she mentioned that what would be great is if all chefs or cooks can also share their secrets as this just increases the bar for quality and variety in the food service industry. So much that she will be giving free consultation next Saturday!

For more details, you can visit their site at http://www.ciaschool.org/ for some courses that may be of interest of for other consultations for your culinary needs.

Off the Beaten Track
The deviation from the normal preparation of a familiar meal seems to be the specialty of Offbeat Cafe. Have you ever wondered how a burger patty would fare sandwiched in a Krispy Kreme Doughnut? They are the ones to go to for you to try out. As much as that sounded tempting to try, there was another item on their menu: a chorizo patty with bacon and cheese inside an ensaymada. We have our first order for the day!
Offbeat Cafe Chorizo Ensaymada Burger is about PHP 180.00. Definitely a novel twist. Given the fluffyness of the ensaymada, it was quite difficult to handle as the oil of the chorizo, bacon and melted cheese seeped through the bread. On first bite, the ensaymada bun gives a sweet and buttery taste. Almost immediately, the chorizo flavor kicks in and takes over all your taste buds. Didn't get to taste much of the bacon and the cheese. Still, a must-try. One order can already be shared by two for sampling purposes.

Chicken, Twice Fried to Perfection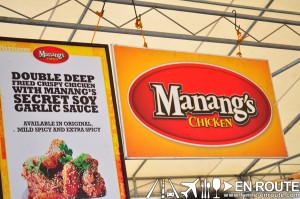 As I was waiting for the chorizo ensaymada to be created, I glanced behind me and saw a name I have heard garnering many raves: Manang's Chicken. Double fried chicken glazed in a secret sauce recipe. There may be lots of fried chicken around, but a sauce coating enhances the overall eating experience. Now this was not only good.
It was floor shakingly spectacular!
| | |
| --- | --- |
| PHP 120.00 for 6 wings. Comes in original, mild and spicy, and extra spicy. Combine any or all in one order. The chicken is sprinkled with sesame seeds, which we are not sure does anything, because once you bite in, it gives a satisfying crunch and juiciness, it is easy to lose your bearings. The skin crackles so delightfully that you may not even notice you are already biting on the bones.Original sauce is a bit sweet with some garlic notes. Mild and spicy is a good balance that will keep you wanting more. Have not tried the spicy hot but I believe this is bearable to the hardcore buffalo wing lovers. Definite must have in every Mercato Centrale visit. | |

Monstrous Appetite Required
MONSTER BURGER. This was the slogan that probably also attracted Chef Prats where we were able to chance to have some small chitchat about her culinary background. The patties did look fresh and lean, and are cooked only upon ordering. Sounds good to try.
PHP 90.00 for quarter pounder with extra P25 for american cheese. The guys at Monster Burger were asked to cook it at medium. True to its raw form, it was nice and lean meat. The vegetables used were some lettuce, tomato, and cucumber, all fresh and crunchy. They went a bit overboard on the ketchup and mayonnaise, but can easily be told to not put too much on it, or not at all. It can contend with other burger joints out there.
More to Come
There is just too much to talk about Mercato Centrale (we haven't even delved into Midnight Mercato yet!) Baby Back Ribs, Fish and Chips, and an addicting sticky cold dessert is in store for the next part. Plus, a concluding video about the joy of visiting Mercato Centrale. Stay hungry 😀 !
Mercato Centrale is located at  34th street and 8th avenue (across MC Home Depot) in Bonifacio Global City (Formerly The Fort). You can check out more details at http://www.mercatocentrale.ph/
Like our first feature of Mercato Centrale or have your own stories to tell? Share it 😀 !
Comment on this and Share it on Facebook!
comments
Powered by Facebook Comments