As mentioned in Part 1 of our Saturday tour of Mercato Centrale, we sampled some of the unique finds that we loved and would be worth a second trip. This second part actually has more. Let this video made by Troy Monsod show you 🙂
Check out our Digital 2.0 article to know more about his photography and videography classes

Ribbed Out
Baby Back Ribs has a soft spot for those who love grilled food. Not really one of the affordable finds, but if given the spending capacity, it gains high priority on people's lists.
Flamed Famous had quarter rack, half rack, and full rack ribs. Full rack was about PHP 440.00 (again, expensive). There's a chicken on the menu called Chicken Boracay. When asked as to why it's called such, the guy grilling in the booth wasn't familiar. Either way, looking at the sample in their display, it looks like a normal grilled chicken with a red type of spice. But this review was for the ribs:
Flamed Famous Barbecue Baby Back Ribs costs about PHP 249.00 for a half rack, with just extra sauce to complement it. This was soft meat. At first it tastes like Johanna's Grille but it has a more tangy taste afterwards. Also not as cheap, but I guess not everyone would be willing to make an impulsive 250 kilometer drive to the middle of nowhere to get cheap baby back ribs. I see this being satisfying with their baked potatoes that will be sampled in future visits.

Catch of the Day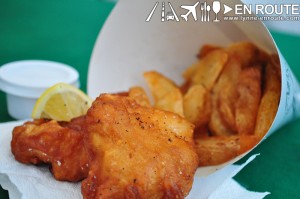 We noticed some patrons walking with white cardboard cones so it was mandatory to follow the paper trail.  The pursuit stopped in Chuck's Grubberie's Fish and Chips.
PHP 150.00 for Dory fish and chips (there are more expensive fish varieties on the menu). Normally, fish and chips are served in cones shaped out of newspaper on the streets of London. Since it may be perceived as dirty here in the Philippines, they had custom cardboard cones made.
The authentic way of enjoying it is with vinegar, so that was ordered. Fish was nicely battered, being only mildly salted making the fish stand out. Vinegar is not too sour so as not to overpower the fish. Chips are nice and crispy on the outside, but chewy on the inside. Australians and Englishmen have visited this stall and commended that it was a good knockoff of the real thing. A Mercato Centrale must try.

A cold, sticky treat
Dessert beckoned so it was off again to look for other finds. Ice cream/gelato stalls were all lined up, which became a blessing in disguise to discover that a few stalls were selling mochi ice cream!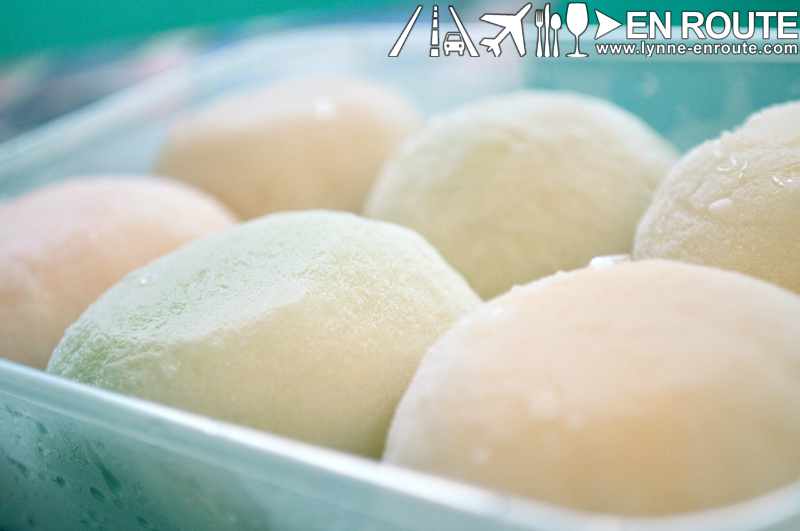 Mochi originated in Japan made of glutinous rice stuffed with iced milk. Now it's stuffed with ice cream and modern technology made it easier to fill up the cold rice balls. Dreyers used to sell these in packs of six at about PHP 150.00 in all groceries about nine years ago, but the Philippine market was probably not ready for it. Now with the growing adventure fix of Filipino Foodies, looks like mochi ice cream is here to stay. One of the stalls there was Dezato Mochi Ice Cream.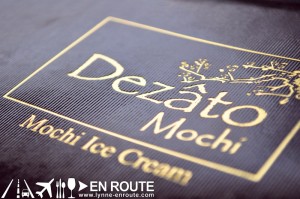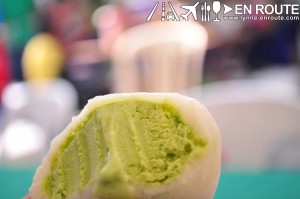 Available flavors are green tea, mango, strawberry, coffee, vanilla, red bean, black bean. Since it comes from a freezer, allow it to that for about three minutes. Go a bit longer and the ice cream turns into goo. Glutinous rice is soft and chewy. The flavors to try are green tea and coffee. Will try red and black bean in the next visit.

Food for the Soul
Eating is more than just the four senses of sight, smell, touch and taste. Music can be considered as food for the soul and Mercato Central satisfies this with an acoustic serenade by a featured artist to accompany you as you sample all the food you are about to partake.
For this Saturday, Lei Miserable strung his guitar to familiar pop or Orginal Pilipino Music tunes. Don't be shy to give requests. These are actually encouraged!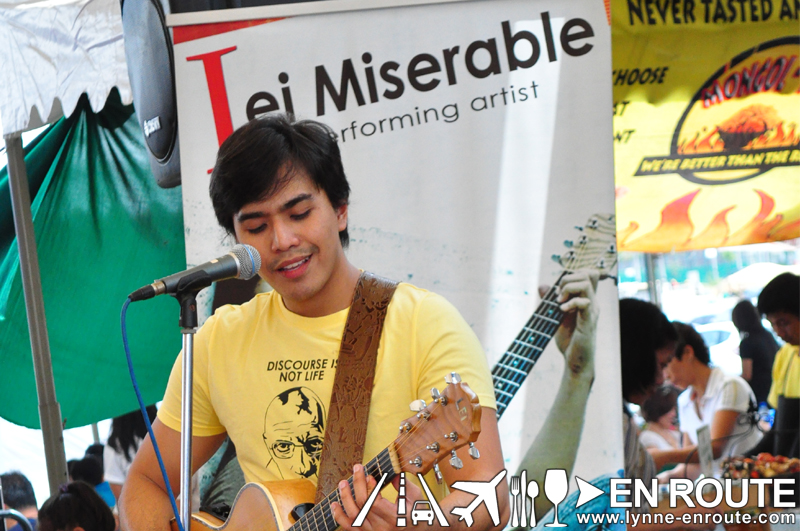 The life that is Mercato Centrale
Wether you fancy local creations, knockoffs of world famous staples, bizarre experimental recipes, or just have a sweet tooth, the foodie finds of Mercato Centrale on a Saturday (or Sunday) boils down to the continuous search for new experiences. Experiences that are shared with friends, family, or even just for personal fulfillment, with food becoming the medium for togetherness.

Stay hungry…. En Route to greater discoveries 😀

Mercato Centrale is located at 34th street and 8th avenue (across MC Home Depot) in Bonifacio Global City (Formerly The Fort). You can check out more details at http://www.mercatocentrale.ph/
View Larger Map
Loved our Mercato Centrale Specials or have your own memorable stories of Mercato Centrale? Share it on Facebook using the comment section below 🙂
Comment on this and Share it on Facebook!
comments
Powered by Facebook Comments