About fifteen or so years ago, the Ortigas area was the place to be.  It had all the bars and latest restaurants, and it was close to the likes of Megamall, Shangri-la Plaza, and Robinson's Galleria.  Now, you have your new hotspots like Bonifacio High Street and Greenbelt.  Plus all the hole-in-the-walls that have sprung up following what seems to be a never-ending foodie craze. (Not that anyone's complaining really. :P)
For the restaurants that have been around for some time, you can say it's a testament to how good and savvy they are in this overly-competitive industry.  This may require some sprucing up, some renovation, a new concept even.  As long as the good offering remains.  And in terms of good offerings, that goes without saying that it covers the whole experience — from the food to the setting and even the service.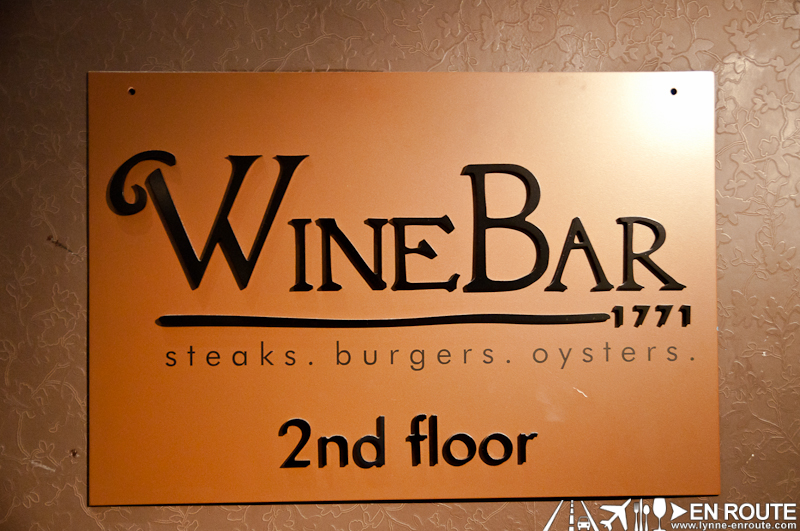 First Impressions
We were recently invited to The Wine Bar through the folks of OpenRice.  It's a place that we've been meaning to try, what with the brightly-lit doll-house like setting of Café 1771 on the first floor and the danceable beat we hear from Side Bar.  Once you walk up the stairs to the second floor, you immediately get transported to what seems like a gentleman's club.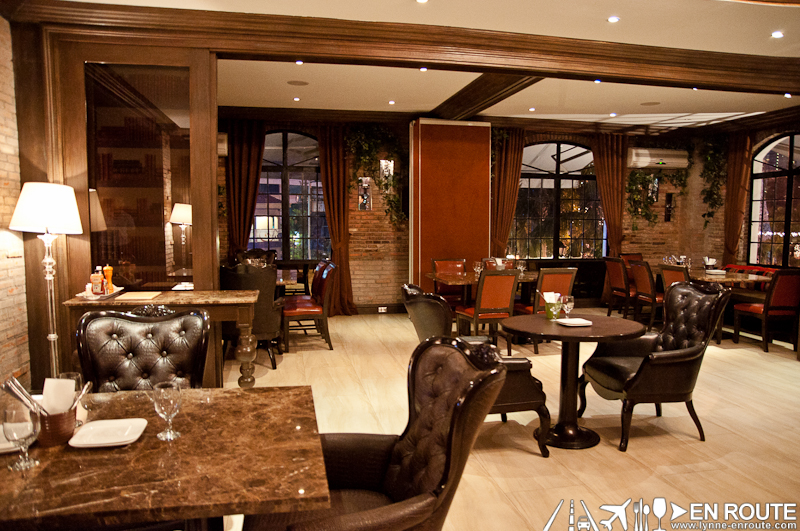 Red brick walls, dark wood, and leather seats juxtaposed against the bright chandeliers are nothing short of impressive.  What might appear intimidating at first is balanced out by chill house, soul, or funk music.  It's nothing too loud so the place is conducive for talking, whether it be for intimate dates or catching up with friends.  The classy feel is carried even to the bathrooms with big mirrors and interesting details keeping in theme with the browns, whites, and dark hues of the place.
The Courtesy Offered
The Wine Bar may share a kitchen with Café 1771 and Side Bar but that doesn't affect the quality of service or even the promptness of your order.  The servers know the menu well and they mention upfront if certain items from the menu are not available at the moment.  The floor is also staffed enough to ensure that the different tables are attended to.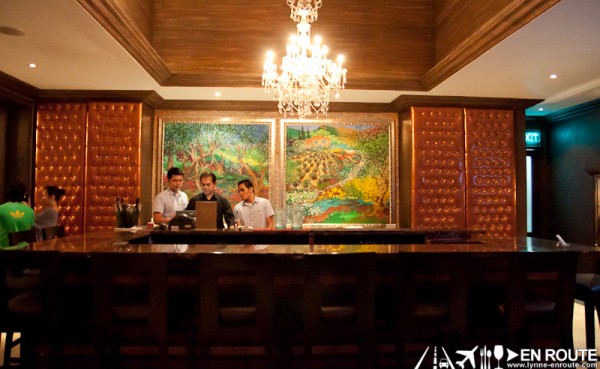 The Myriad of Palatable Wares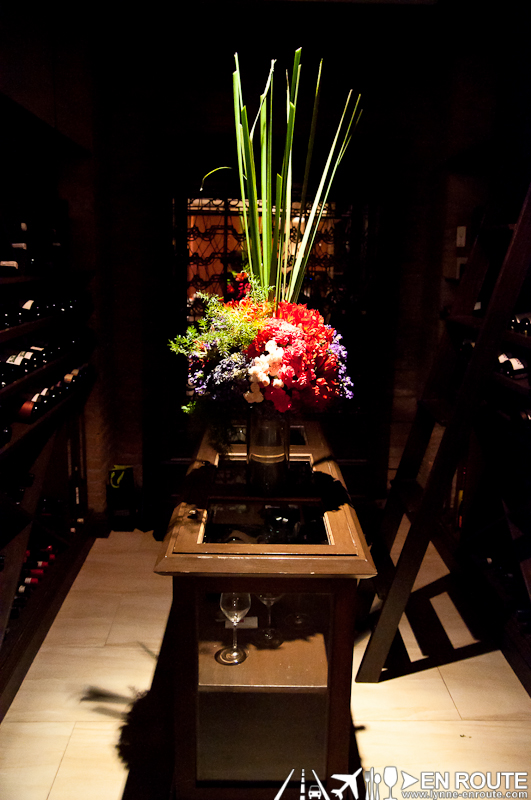 From the name itself, one of the main offerings includes different bottles of wine to choose from.  They also have a sommeliel that can help educate patrons about the different wines.  They also have a temperature-controlled room to store the bottles to ensure that the quality is preserved.  For those who are just beginning their journey into wine tasting, The Winebar carries enomatic machines that can give you tasting quantities to sample the different featured wines.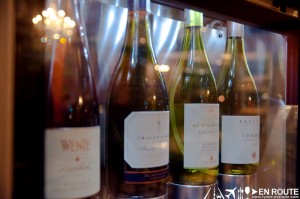 And when it comes to the food, it's not just wine that you will be looking at from the menu. There's something for everyone definitely but they pride themselves for their steaks, burgers, and oysters.  You can get your fill for as low as Php500 per head because most of the orders can be shared.  What's wine if not the best partner for good food and great conversations that go on for hours?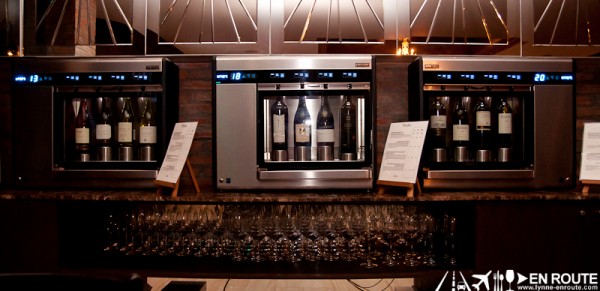 Start off with a plate of Oyster Rockefeller (Php550), a serving of 8 pieces of Aklan oysters with spinach, bacon, and oozing with cheese.  You can also get what I'd call a universal side dish of Sweet Potato-pumpkin Mash (Php150).  It's like a more solid form of pumpkin soup. Very good with practically anything you will order. 😀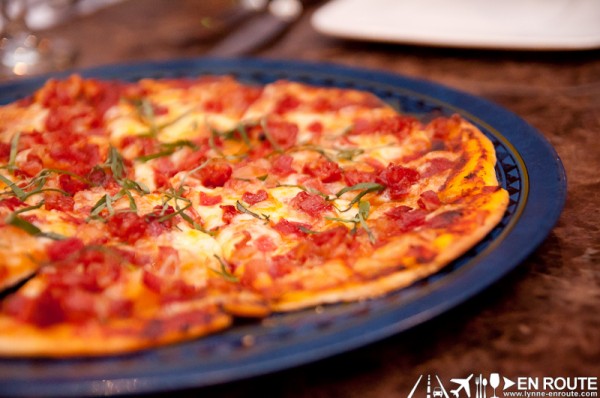 For the main dish, you can choose from among the different pastas pizzas, and burgers.  We were able to sample what they call the Salbacho pizza (Php380).  It's a play on Salami, Bacon, and Chorizo – almost like a tapas platter served on a pizza with cheese!
Their pastas span the familiar Spaghetti Bolognese (Php350) but also go gourmet-ish with Spicy Spaghetti Sardines (Php350).  The spiciness of the sardines pasta was done at the right level.  It gives you a kick but it also makes you want to go back for more.  The saltiness of the tuyo also gave a nice contrast to the different flavors.  They also allowed us an order of Pasta Chorizo (Php390), which can be ordered from Café 1771. (That's one of the perks of sharing a kitchen.)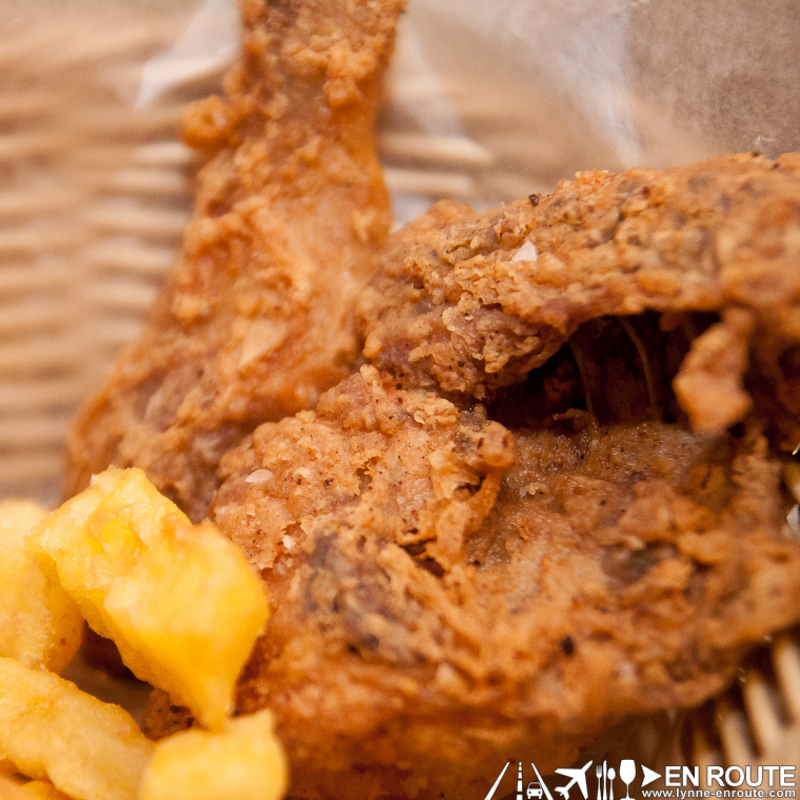 Moving onto the meat dishes, we began with a taste of the Crispy 5-Spice Fried Chicken (Php450).  It was definitely crispy.  I guess we were just looking for that oomph from what those 5 spices were. Or maybe it was the idea of burgers and steaks that got us distracted.  Hmmm…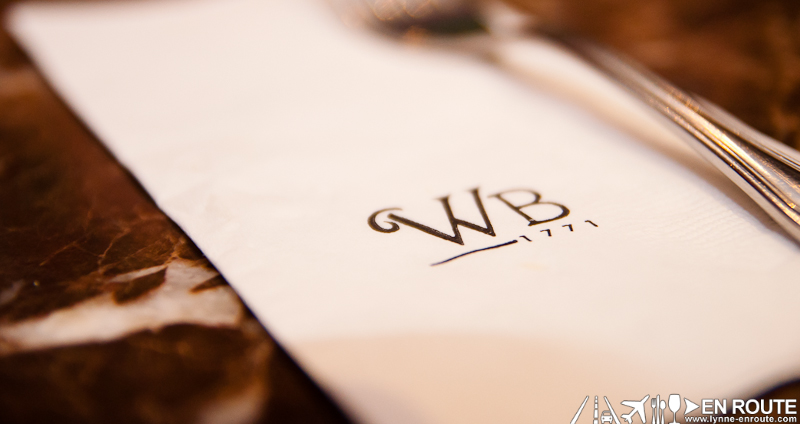 The Winebar Burger (Php410) is nice, fat, and juicy.  Served in freshly-baked buns with lettuce, tomatoes and caramelized onions, it also comes with gruyere cheese and sides of thick-cut french fries.  What makes it different though, is the piece if bone marrow that you can opt to smear on the burger for that added creamy flavor.  Maybe not for the weight-watchers or those with heart conditions.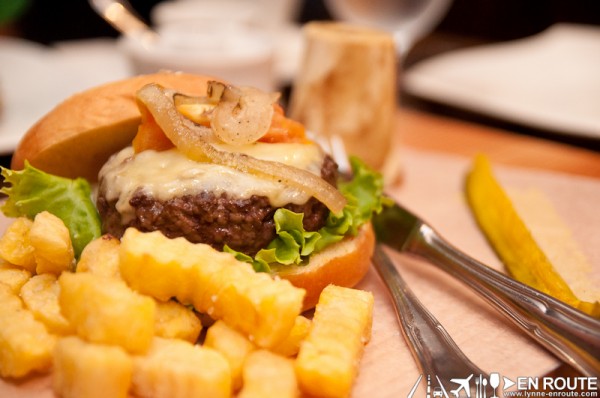 Now about that steak… (oh yes!)  The Grilled Angus Ribeye (Php1,300 for 300g) was in sum: perfectly done.  It was cooked medium so the steak was soft and tender.  It had a nice amount of fat to go with the meat and was good up to the last bite!  It comes with mushroom gravy but we normally like our steak plain.  That's when you appreciate how good it is.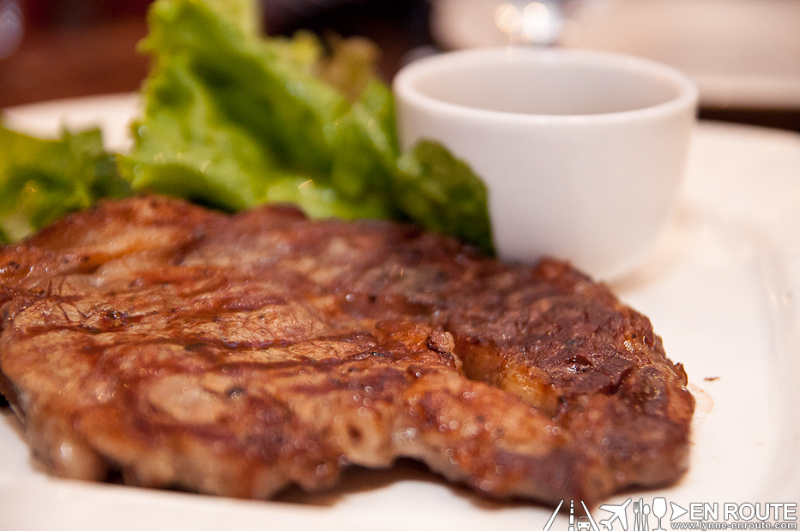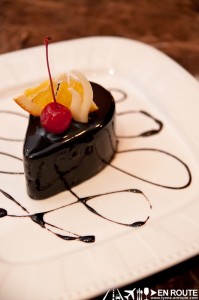 Now if you've had enough of all the food we've tried, wait 'til you see the desserts.  This is one place where I'd tell you to really save room for dessert.  Top contenders for us would be the Chocolate Excess (Php270) and the Rose Noire (Php250).  The Rose Noire actually reminds us strongly of our all-time favorite dessert, Restaurant 101's Louis XV in Enderun.  Both chocolate desserts go well with a glass of Chardonnay.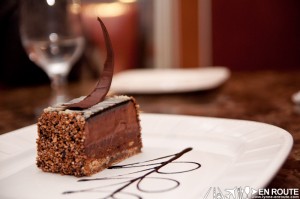 Other desserts worth trying include the Strawberry Cheesecake (Php220) and the Chewy Lemon Tart (Php190).  The cheesecake was so pretty to eat and the lemon tart, what it lacks in terms of color or pizzazz in appearance, it makes up for with its nice clean flavor so I'd suggest this as the final bite to cleanse your palate (or a final swig of wine could work too).
We were also able to try the Apple Crumble, Mango Tower, and Valrhona Chocolate Caramel Mousse Cake but they came second to the other ones we've mentioned.
Apart from wine, they also carry beer (local and some European brands), sake, soju, and fresh fruit shakes.  Take your pick.  Just because it's a wine bar doesn't mean everyone has to drink wine. 🙂
We'd recommend this to those looking for that intimate setting that's conducive to conversation and for those who want to relax and chill on those evenings with friends or family.
The Winebar is located on the 2F of  Cafe 1771, El Pueblo Real de Manila, cor. J. Vargas & ADB. Avenues, 1600
They're open Mon – Thu from 6:00 pm-11:00 pm and Fri – Sat from 6:00 pm-1:00 am
Numbers; 02 631 7340 / 02 631 7339  (Contact them for events also!) Check them out on Facebook or on their official website.
Comment on this and Share it on Facebook!
comments
Powered by Facebook Comments