I always love good food.  But I love a meal that ends in an absolutely incredible dessert even more.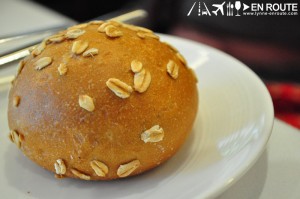 Related to our cooking demo experience and tour of Enderun Colleges, we had the awesome privilege of enjoying a lunch at Restaurant 101, Enderun Colleges' application restaurant.  I have always wondered what French cuisine really is like so I knew that this was my chance to find out.
French cooking seems to be one of the most elaborate and meticulous not just in terms of preparation, but also in terms of presentation.  (No, sorry, putting a sprig of parsley does not necessarily mean you plated something well.)  It's about the play of colors alongside the play of flavors in your mouth.
The meal began with Salmon in Caper-Herbed Dressing.  The fish looked like a candy bar and appeared too pretty to eat!  Once you cut through the green coating, you see the contrast with the pink salmon. To complement it, 3 small pieces of potatoes drizzled with olive flavored with the spicy-sweetness of onions were added.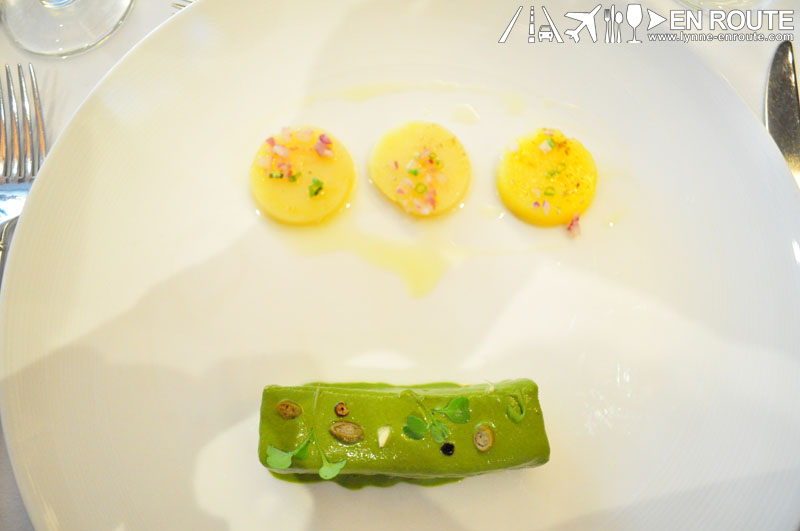 For the next course, I thought things had taken a Spanish turn when I hear the name of the dish wrong.  The dish was call Chicken Basquaise.  (I thought the waiter said Chicken Vasquez. :P) Basquaise, by definition means food that's prepared Basque-style typically with tomatoes and peppers.  Basque actually pertains to the border area of France and Spain on the Atlantic coast. If I were to describe it, the closest dish I can liken it to is afritada, which actually makes use of tomatoes and peppers too.  The roasted vegetables though, have a very strong ham flavor that I really liked. The meat flavor just leveled up the veggies ten notches.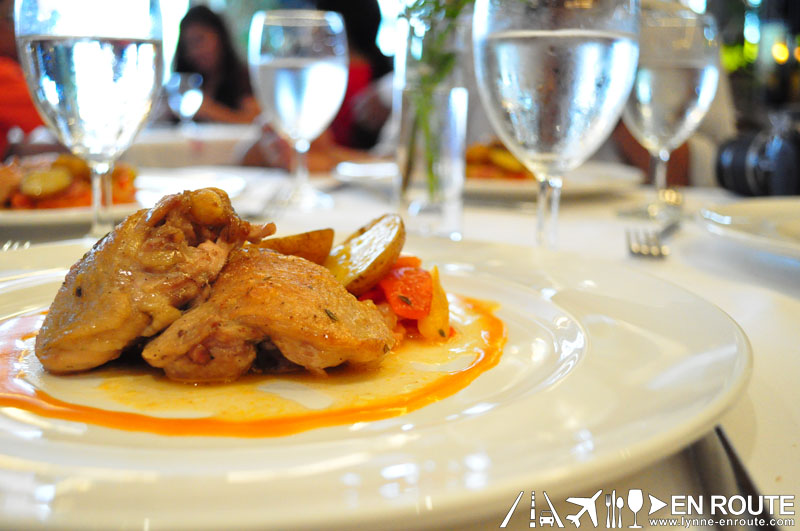 And finally, we come to the highlight of the entire meal.  Dessert.  Leaving room for the sweet ending was definitely one of the BEST decisions I have made in my life.  I mean it!  We were served a dessert they call the Louis XV.  If King Louis XV was known in history as Le Bien-aimé (the well-beloved) or well-loved by the end of his life, his chocolate ganache praline bar counterpart deserves the same title.  I will honestly troop to Restaurant 101 just for it!  The waiter mentioned that this dessert is only served in two places in the world: at Restaurant 101 and in Alain Ducasse's restaurant in Monte-Carlo, Le Louis XV.  It is composed of 58% chocolate and the rest is cacao.  The chocolate just melts in your mouth and you get a good crunchy texture from the crust.  All those who love Nutella, you have to try this!!! It's like Ferrero Rocher on steroids.  I highly recommend it.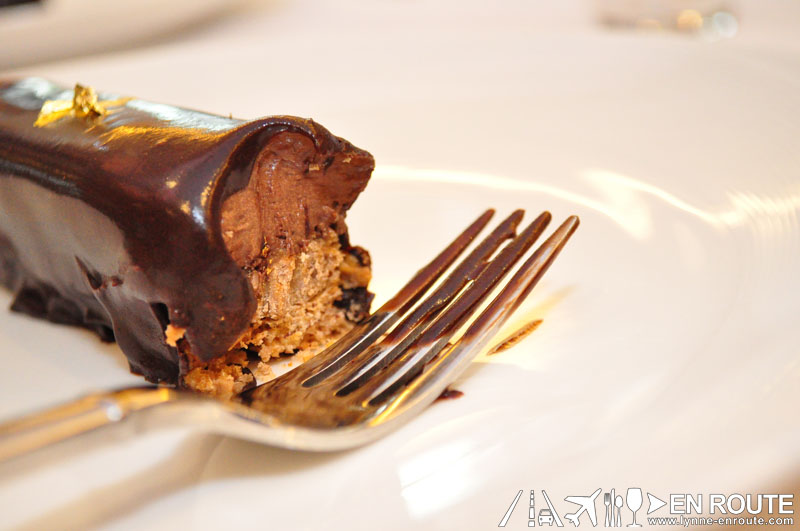 You'll definitely need to save up for this but I see it as worth trying at least once in a while especially when there's something to celebrate or you want a nice ambience for good quiet conversation.  And yes, I think it's still worth trying even just for the dessert.
Restaurant 101 is located at the Enderun Colleges in McKinley Hill, Fort Bonifacio Taguig.  They are open from Monday to Saturday from 11:30am to 2pm for lunch, and from 6 to 10pm for dinner.  They are also now open on Sundays for brunch beginning 11am.
Please don't forget to reserve.  Just call +632 856 5000 local 101 for inquiries and reservations.  You can also visit their website: 101.enderuncolleges.com to learn more about their menu.
Comment on this and Share it on Facebook!
comments
Powered by Facebook Comments