Who knew that somewhere just within the outskirts of the red light district of Makati City stands a good replica of an Enligsh Pub filled with all things sports complemented by some of the best beers in the world?
Howzat (A play on the Cricket term "How's That?") Sports Bar is situated somewhere in Kalayaan Avenue where most people rarely visit due to its sketchy neighborhood establishments. But probably English pub goers frequent the place due to one thing:
Guinness on tap 😀
It doesn't really help that the outside facade does not seem to scream sophistication. With its washed out banners and unkept surroundings, it doesn't seem like it holds something special inside.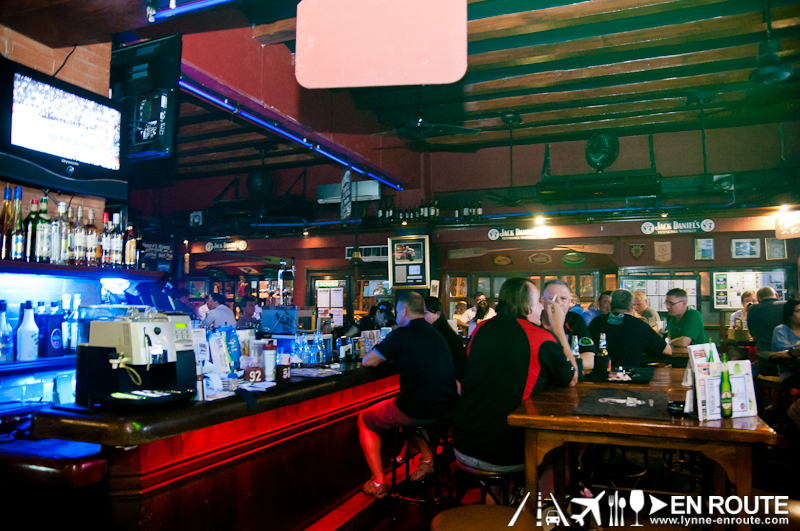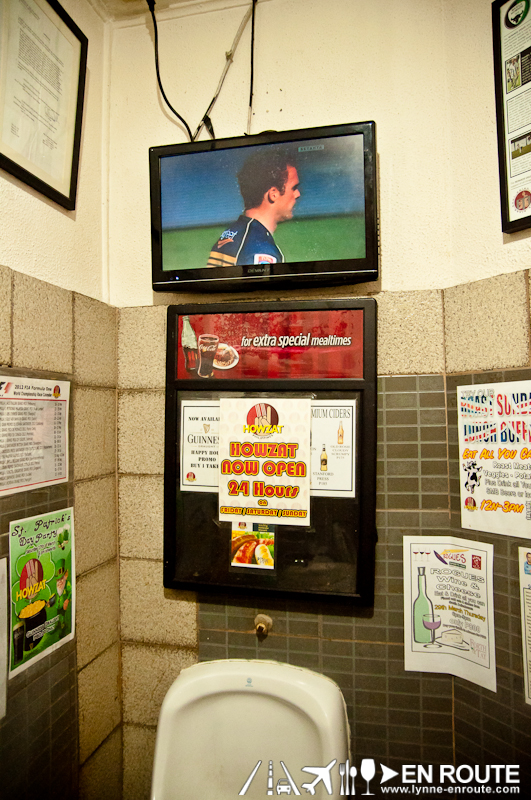 Step inside, though, and it feels like you were just transported from Manila deep into the heart of some old London pub. Chairs and tables made of tanned wood, plaques and banners of football and rugby teams and giant LCD screens showing all kinds of sports tuned to different channels adorn the place.
It is so much made for the sports oriented man, that they have even cared to place a TV in front of the urinal so that you won't miss one second of the action!
And what else adorns the place? English blokes! The place gets filled with them, especially during Happy Hour. Anyone can hear the accent and feel that distinct swagger yet gentlemanly behavior.
It can get uneasy if you are just one of the few ladies who enter the pub. Seriously, you can get quite the few stares especially during Happy Hour. Better enter with a man in tow.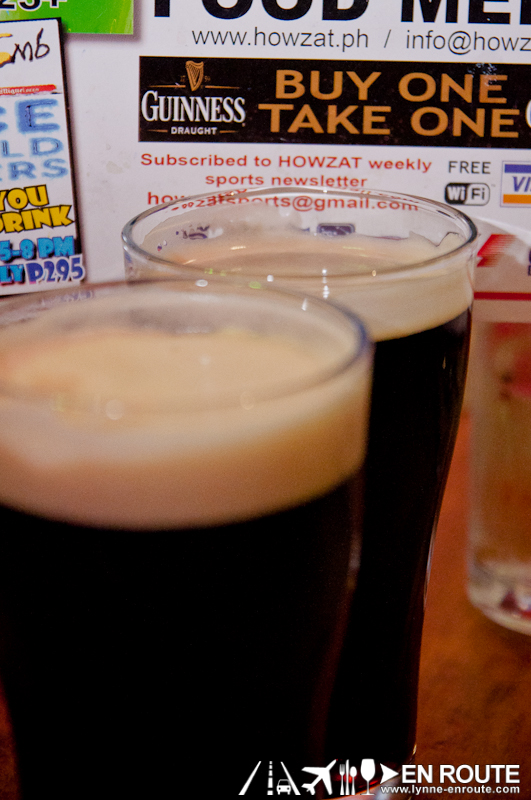 Speaking of Happy Hour, Howzat Sports Bar comes up with various promos for beers, and what they currently have is a Buy One take One of Guinness Draft! For PHP 160.00, you get two glasses of one of the best known brews in the world.
This draft stout (a kind of beer) has a creamy texture and chocolatey taste with little fizz to interrupt the smoothness, finishing off with hints of burnt caramel and a pleasant bitterness to balance the flavor.
The bias of this writer for Guinness is obvious, but quite rightly so. This is one of the most renowned beers in the world, and its complex taste proves it. Acquiring different tastes of beer is like being a wine connoisseur or oenophile.
Beer just seems to be more fun 😀
And it becomes more fun when you begin pairing beers with some of the different bar chows:
The staff recommended to start with some Fried Calamares (PHP 230.00). Coated in light batter and crumbs, the freshness still stands out. This was starting to become a great night….
And then came the Nachos (PHP 220.00). For the price, this was one of the value-for-money snacks in the pub. The picture only shows 2/3 of the serving, and it was a deep bowl. The spicy meat sauce is the star of this dish. Even with its tastiness, it's rare that a group can finish the order. Yes. It's that plenty.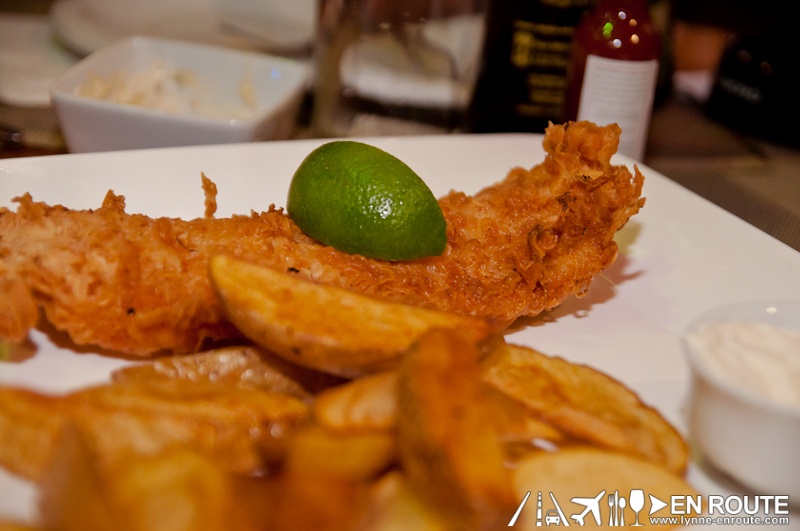 For heavier stuff, it can't get any more English than Grimsby Fish and Chips (PHP 395.00). The creamy batter coating the fish will be a crowd favorite, and its crunchiness will garner great cheers. It's served with tartar sauce, but vinegar should be available on request for that authentic Fish and Chips eating experience.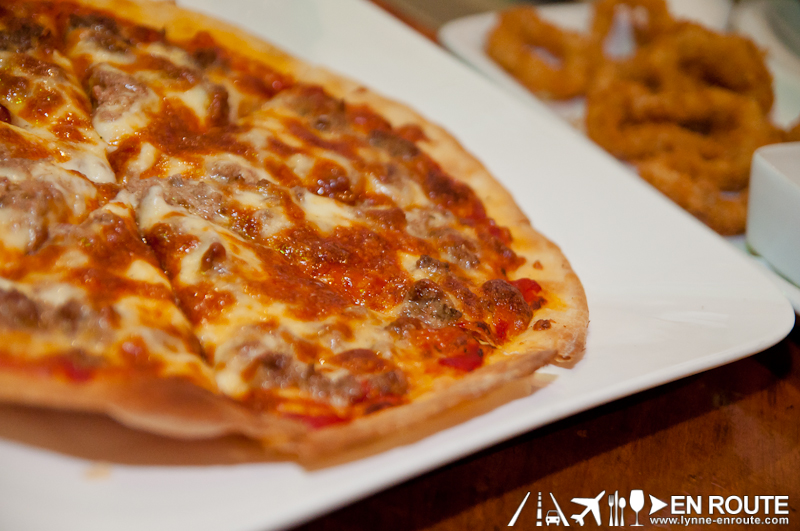 One more thing worth getting would be the All Meat and Four Cheese Pizza (PHP 400.00). It's a meat lover's and cheese maniac's dream come true. And if you are addicted to both, you will not want to pass on this. Worth mentioing is the very thin crust that gives a satisfying crunch.
So with all this food on the table and only one beer mentioned so far in an article about an English pub in the heart of the metropolis, where are the other sophisticated beers? Let's start with the very one that will catch everyone's attention and may even offend the readers who drink beer: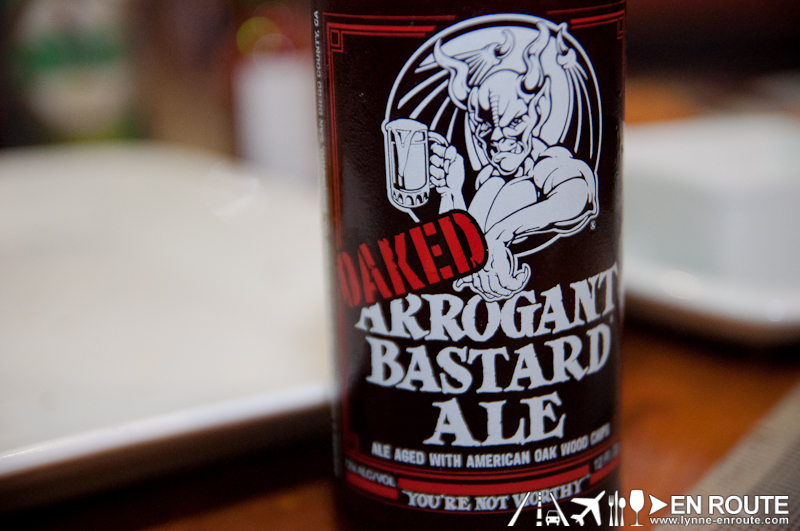 Oaked Arrogant Bastard Ale (PHP260.00)
Why does it say at the bottom "You're Not Worthy"? Here's a transcription on the back of the bottle: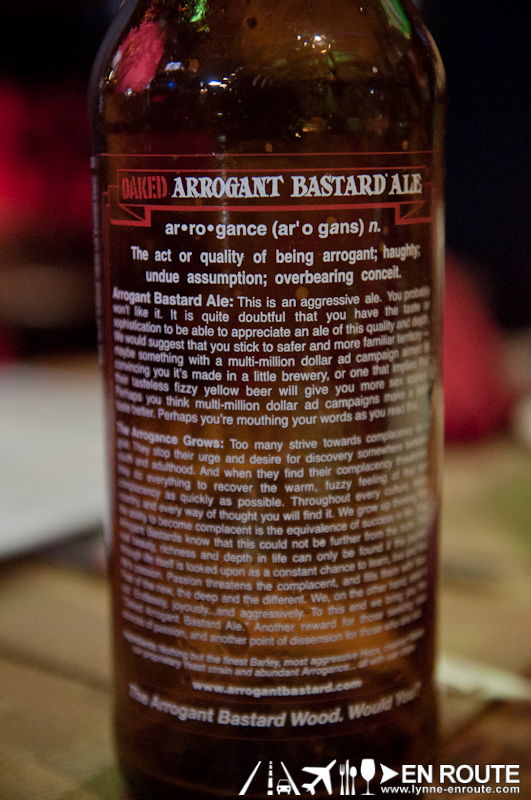 This is an aggressive beer. You probably won't like it. It is quite doubtful that you have the taste or sophistication to be able to appreciate an ale of this quality and depth. We would suggest that you stick to safer and more familiar territory — maybe something with a multi-million dollar ad campaign aimed at convincing you it's made in a little brewery, or one that implies that their tasteless fizzy yellow beer will give you more sex appeal. Perhaps you think multi-million dollar ad campaigns make a beer taste better. Perhaps you're mouthing your words as you read this.
Too many strive towards complacency as a goal. We grow up thinking that the ability to become complacent is the equivalence of success in life. True Arrogant Bastards know that this could not be further from the truth. The real beauty, richness and depth in life can only be found if the journey through life itself is looked upon as a constant chance to learn, live and find life's passion. Passion threatens the complacent, and fills them with fear. Fear of the new, the deep and the different. We, on the other hand, seek it out. Endlessly, joyously…and aggressively. To this end we bring you the "OAKED Arrogant Bastard Ale." Another reward for those seeking new sources of passion, and another point of dissension for those who are not.
Ales are a type of beer that are exceptionally bitter in aftertaste, and this one takes it all they way up there just right to your jugular. Not everyone will like it, but the beer connoisseur will appreciate the impact of the oak taste and bitter hops. One search on their website and you will see they won't even reveal the hops variety they use on this. Not for the faint of heart.
But who said passion for food trips was to stay in your comfort zone, anyway 😛 ?
The following brews might be one of the best ways to start appreciating the ale variety of beer:
The Rogue Dead Guy Ale (PHP 220.00) and Stome Pale Ale (PHp 220.00) offer less bitterness that might just be a great baptism of fire for those who want to take a crash course in tasting bitter beers. The playful yet somewhat edgy characteristics of the illustrations cater to the intriguing and taboo. And no other way to find out than to taste it 😉
This place is not only a pub, it's a deli, too 😀 ! It brings some international items, mostly catering to Englishmen here in Manila. Sausages, cheese, and beans are all over the walls. Craving for marmite? They have it here 🙂
Pair the beers with a few of the food offerings and deli treats (some say the burgers here are great, too. This calls for another trip) and savor the experience of tasting great brews inside an English Pub right in the middle of metropolitan Manila. Take a few steps just right out of your comfort zone and find Howzat Sports Bar.
Howzat Sports Bar is  located at Kalayaan Avenue, corner Fermina St., Makati City.
Tel. Nos. +632-897-3335. Look for Ms. Linda Dellosa
To learn more about Howzat and see the map and menu, check out their website http://www.howzat.ph/index.html
Love these interesting finds? Think there should be more that we are mentioning here? Shoot us some words on the Facebook comments below 😀
Comment on this and Share it on Facebook!
comments
Powered by Facebook Comments