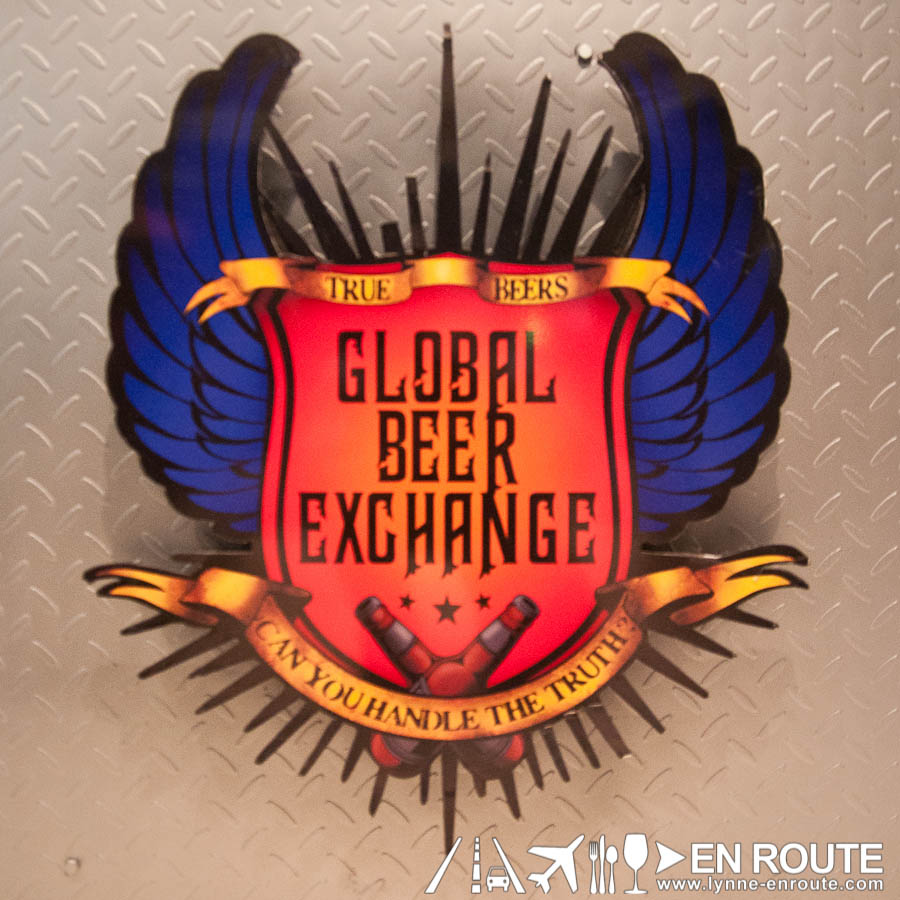 One of the leading purveyors of quality craft beers in the Philippines has opened a bottle shop for a laid back in-store experience on the finer dimensions of beer.
Global Beer Exchange bottle shop in Magallanes is the brainchild of Jim Araneta, whose aim is to share a more refined experience of drinking high quality beers in the Philippines, and at the same time introduce the heritage and culture of beer drinking.
The Philippine market sees beer as a social instrument for merrymaking with the intended result of becoming overly imbibed with the bubbly brew with mixed, and oftentimes, intoxicated results. Global Beer Exchange stresses, however, that while beer does provide some stress relieving qualities, there is more to beer than its alcohol content.
The craft beer culture is beginning to grow in the Philippine market, with tasting sessions such as the one in Offbeat Cafe in the Collective, and some of the aspirational watering holes like Draft Gastropub in Fort Bonifacio.
Beer actually has a very rich history, comparable to other lifestyle indulgences such as wine and foie gras. It is just that beer seems to strangely be more appealing to a larger market, and drinking it seems to be more fun and less snobbish.
UPDATE: GLOBAL BEER EXCHANGE NOW SERVE CRAFT COCKTAILS, TOO!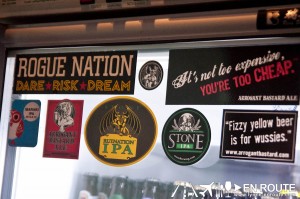 The bottle shop is very simple. Various benches and picnic style tables where people can sit and swap stories of both good times and worries. Stories of worries which may eventually turn to merry moments once you see the wall of some of the best tasting brews of the world.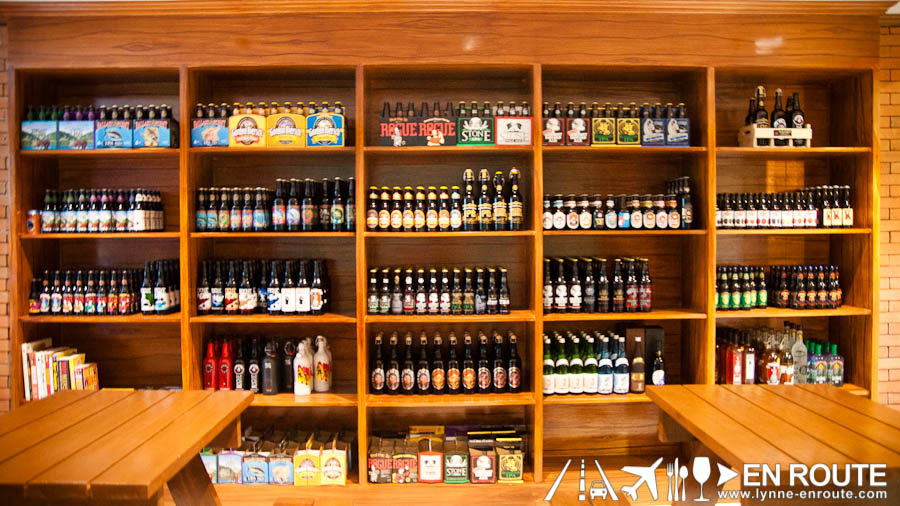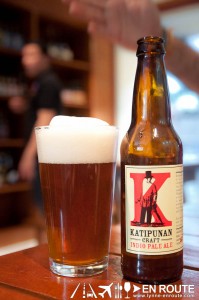 And what is part of these best tasting brews? Surprisingly, there is a small craft brewery in Manila that makes one fine ale: Katipunan Indio Pale Ale.
Most of the beers out in the market have a more crisp taste with a relatively faint bitterness. The ale kinds of beer have a general characteristic of having a sharp bitter flavor (Beer aficionados call this kind of bitterness "hoppy"). For an ale, Katipunan Indio Pale Ale is very smooth, sweet. and somewhat creamy to drink.
Ale lovers will find this surprisingly easy to drink and Filipinos can be proud that this beer can actually compete with some of the best craft beers in the world.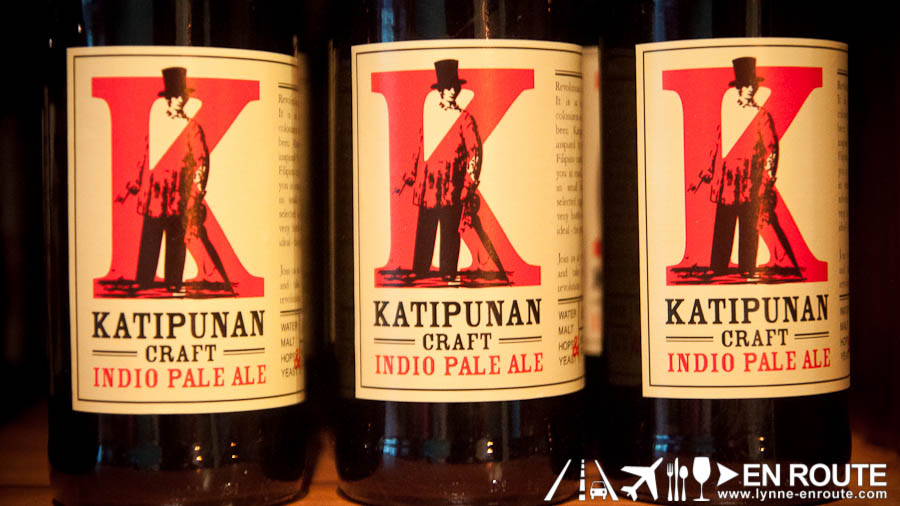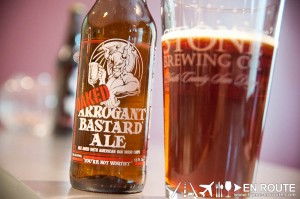 And if manly ales are what you are after? Then it is hard to beat the famous Arrogant Bastard Ale from Stone Brewery of San Diego, California. This beer has been a constant feature here in En Route, with its first appearance in the Howzat Sports Bar and then again in Harvest Gastropub.
The love-hate-love relationship for this ale can be described as always having a repulsive first sip encounter, and then strangely coming back for more conscious punishment into the system like a helpless crack addict. Acquiring the taste of this beer is a milestone for most people.
An afternoon with the people of Global Beer Exchange will be quite enlightening and make you realize that there is just so much more to beer than what is being marketed out there, and you will want to take home a few bottles yourself.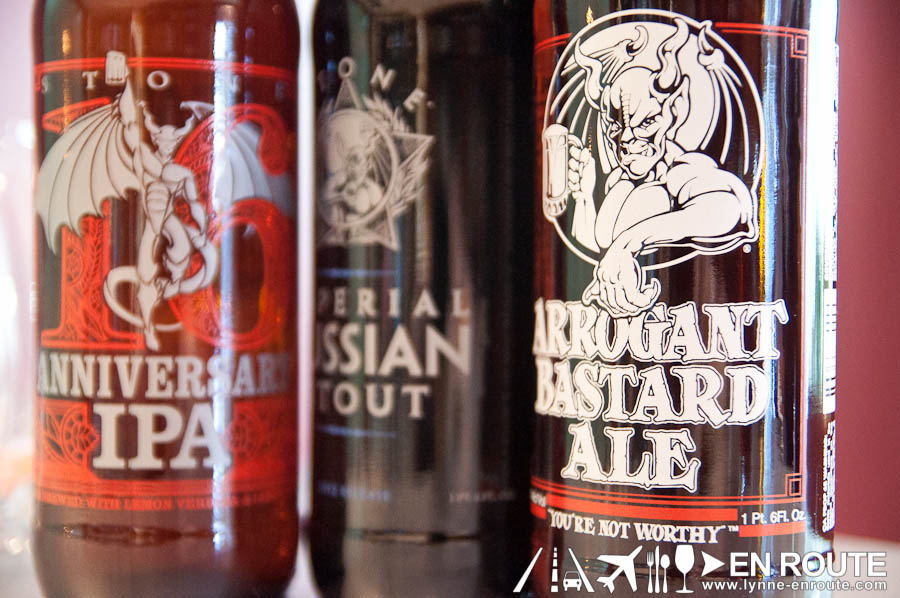 Just a word of advice: These beers are not going to be as cheap as the local commercial varieties. As these are imported and come from small batches made with tender loving care, they carry a slight premium that can cost a minimum of PHP 80.00 for a bottle. Best to ask Global Beer Exchange what kind of experience do you want from your brew so that they can make a suggestion on how to go about your beer experience.
Drop by and get an education on what it means to be educated about finely craft beer by sitting down and having a perfectly poured beer for your drinking pleasure.
TIP: Since there is no existing kitchen for food, The people of Global beer Exchange are getting partner restaurants around Paseo de Magallanes. One of them will be Kublai's Rock just a few doors to its left. They have a mean Chorizo Sisig.
Also, you may want to take on further reading from a post by Eye On Wine. This is another account of the opening of the Global Beer Exchange bottle shop, told with more intricate detail on people with greater knowledge on beer and wine. You'll also see how much fun it can be once the brews begin to pile up!
Related Posts:

Global Beer Exchange Bottle Shop is located at the Ground Floor of Tritan Ventures Bldg, Paseo De Magallanes Makati, Philippines. Opening Hours: 11am to 12 mindnight, Monday to Saturday.
Fan of craft beer? Think that craft beer is overrated for the Philippine market? Send in your comments below.
Comment on this and Share it on Facebook!
comments
Powered by Facebook Comments