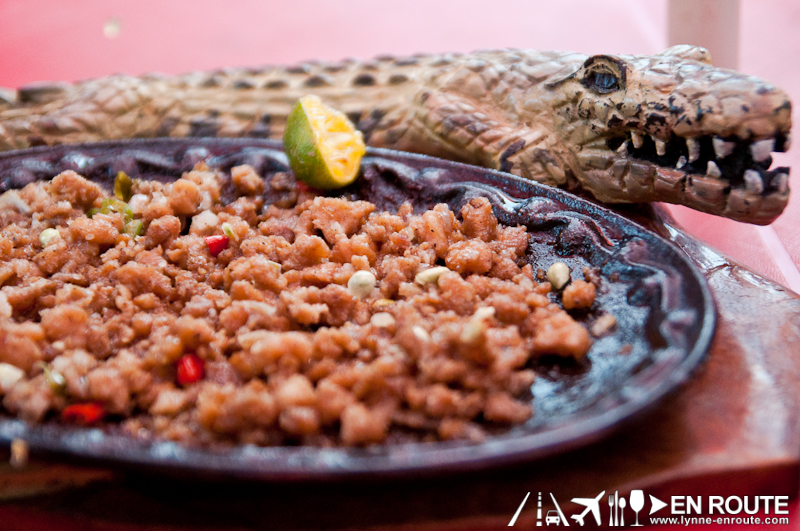 This was one of the highlights of the tour in the Crocodile Farm in Palawan: The chance to try something unique and realizing that this is one of the best food finds that everyone should really enjoy.
Interestingly, crocodile meat is very tender and has a flavor and consistency similar to pork. Because of it, any spices mixed into the croc meat enhances its flavor.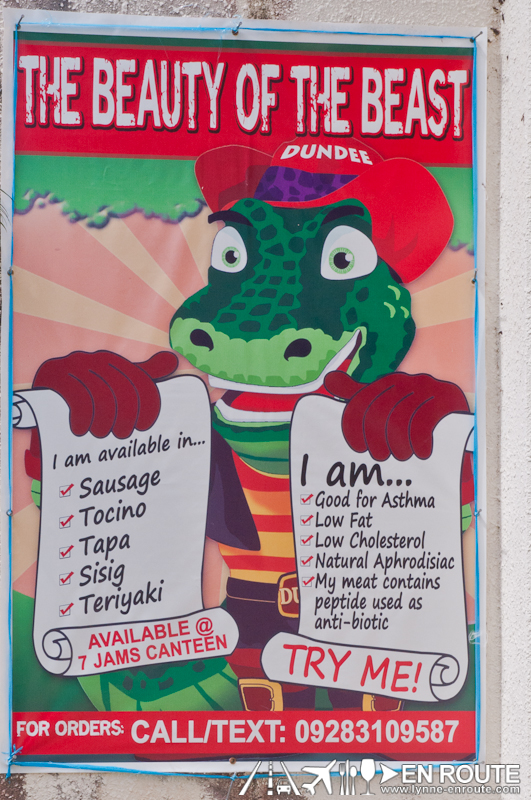 It may look a bit oily, but it actually has a low calorie and fat value. As explained by Dundee the croc mascot drawing, it's got more than that, too!
In the mood for some romance? Get some croc meat to spice up your love life 😛
The croc meat shines when it is turned into the Filipino bar chow favorite Sisig. The naturally oily meat sizzles well with some chopped chili peppers and drizzled with calamansi. Goes well with a crisp cold beer.
A vacuum sealed pack of these costs about PHP110.00, and can be brought back home. Quite expensive but definitely a good treat. In order to curb the craving, everything was bought from the Palawan Crocodile Farm, all ready for the trip back to Manila 😀
Give it a try when you visit the Palawan Crocodile farm, or in some of the few restaurants in the Philippines that already serve these exotic delicacies.
Related posts:
Comment on this and Share it on Facebook!
comments
Powered by Facebook Comments