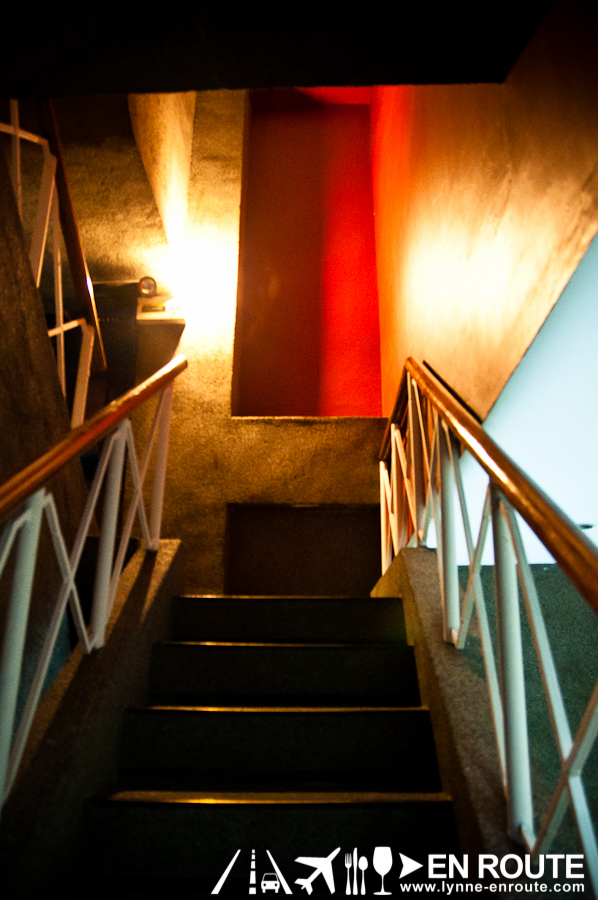 .
If you are a restaurant owner that wants to get a lot of foot traffic and public buzz, it is unconventional that you would hide your food service establishment from people as you significantly hurt your chances.
Only those who are confident that what they offer is special can hiding a restaurant become a novelty that people desire to visit it. Such are some of the hidden bars and restaurants in the Philippines. Elbert's Steak Room is part of this little pack.
Elbert's Steak Room shies away from the common and crowded areas of restaurants in Makati, and elects to keep itself hidden on the third floor of the Sagittarius Building. No one knows its reason, but the lovers of steak know that there is no flight of stairs high enough to keep succulent chunks of well cared bovine from salivating sapien taste buds.
And they make you work for your meal, too. Six sets of these stair-island combination totalling three floors is what you need to conquer before you even reach Elbert's Steak Room.
Upon reaching Elbert's Steak Room, you are greeted by a view of whiskey and wines stacked unevenly on shelves. Be careful not to bump your face at the glass as you ogle at these finer things in life.
Feels like 2nd's Restaurant in Fort Bonifacio, except that this one takes three floors to reach, and the other one just needs two.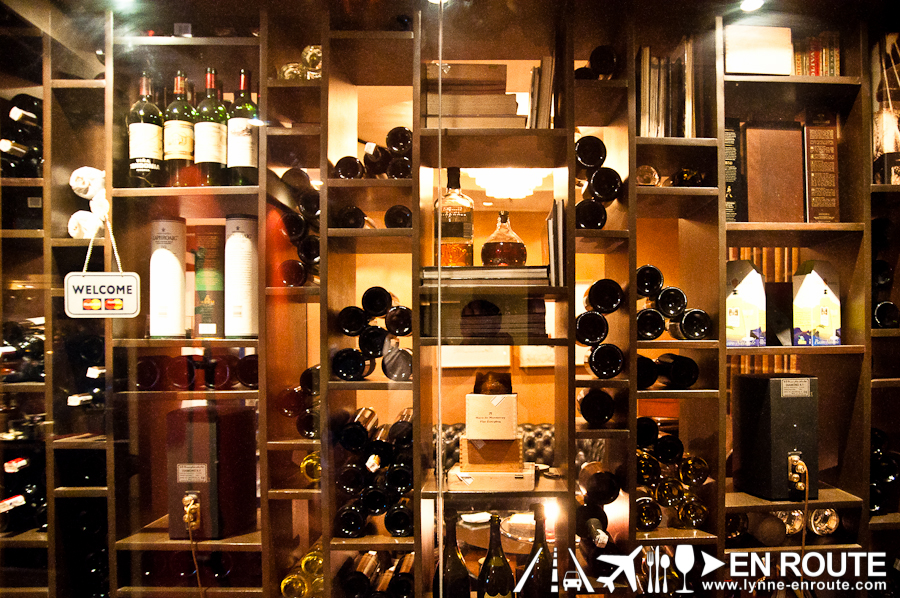 Turn towards your left. There is a red door that you slide open. Enter in and give your reserved name. You will be led to your seat. If you choose, stay by the bar and have a drink or two, or lounge a bit in the little anteroom that houses those shelves of liquor. Sink in those supple leather chairs as you play with a glass of whisky.
Climbing up three floors may be quite a task for a few of the patrons, so a holding cell filled with booze is just the right way of making it up to them.
After catching your breath, take a look around. Elbert's Steak Room is a throwback into the old Chicago and New York style steak houses that allegedly are run by mafia families. Think of Morton's or Gallagher's of New York. While mafia inspirations may sound sketchy to some, it actually sounds quite dashing and romantic. This is a good romantic restaurant in Manila as well.
So what is in Elbert's Steak Room's menu? What else? Steak. This is pretty much the only thing that is in their menu aside from side dishes to complement the meat. A little research revealed that their steak is sourced from Wisconsin and has USDA ratings depending on the kind of cut and grade.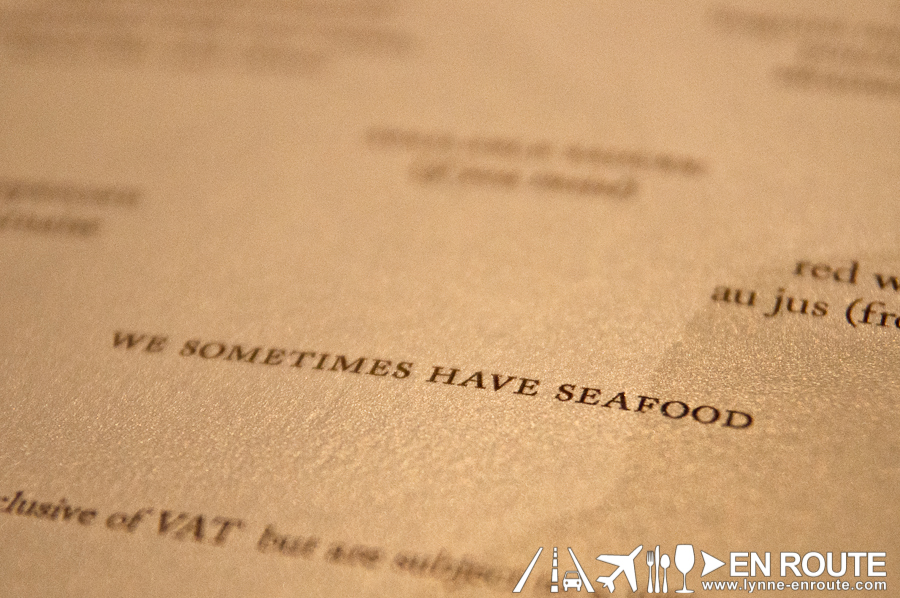 Oh, and to quote them: "We sometimes have seafood". Personally, if you will eat seafood in a place explicitly stating they are a steakhouse, you are in the wrong place.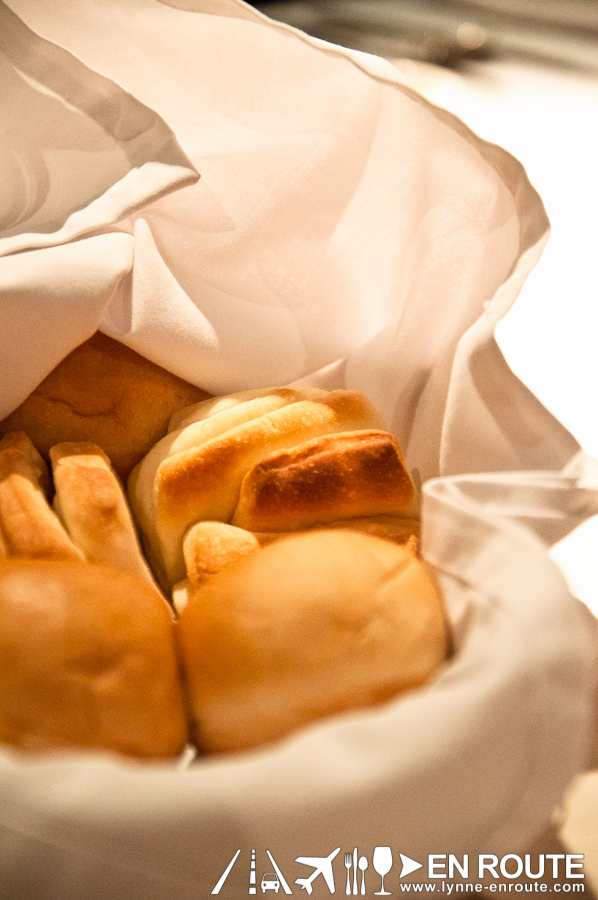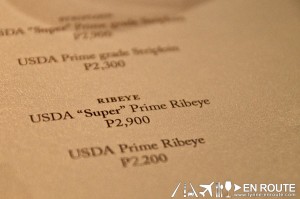 Now, there is one particular steak that can catch your attention: The USDA "Super" Prime Ribeye (PHP 2,900.00). The price can catch your attention, too, as such numerical figures can normally feed a family of four at a casual eat-all-you-can buffet.
To appreciate such extravagance, visualize a cow finely matured and properly fed oblivious of its fate, and then sacrificed for your palate's satisfaction. It may help justify the cost.
Elbert's Steak Room recommends to eat their steak medium rare. They are confident of the quality and aging process that the normal association of a steak bloodbath will not happen. As a matter of fact, if you ask to cook it medium well or well done, they will advise you that you may scorch your steak given the high content of marbling (synonym of fat, but sounds classier). Sounds so much like they will ask you to sign a waiver in case you ruin your own steak from your own ignorance.
Besides, with such kinds of steak, no other way to eat it except medium rare.
It already comes with an order of soup, salad, and a choice of sides. There was a side named Potato Wedges cooked in Duck Fat, which of course in all logical thinking sounds awesome. Breeze past the salad, take a sip of some fine red wine, wait for it, and prepare for its arrival.
Freeze for a moment, and witness this magical result of nature's creation and man's carnal (yet necessary) indulgence. This product looks, smells, and tastes as good as it costs. It was not a mistake to have it cooked medium rare. The tenderness of the meat with its succulent flavors will make you forget some table manners. It may have been so great that the duck fat cooked wedges seemed like a lackluster performance. However, forget about that. This is about you, the steak, and that short-but-sweet relationship between you two.
The evening ends, and you are left all alone to reflect on the experience. You begin to share and rave about it with your companions, yet at times pausing for a moment to see if your taste buds can still remember what has just transpired. Were all that flights of stairs before the beginning of dinner worth this? To many who still troop to this place that still stays hidden, it seems like it is so.
Related Posts
Elbert's Steak room is located at the 3F Sagittarius Building III, 111 HV dela Costa St, Salcedo Village, 1227 Makati City, Philippines.
Tel. Nos. +632-339-3363, +632-88-STEAK
Reservation required.
Been to Elbert's and loved it? Think something else is better? Share it in the Facebook Comments Section below.
Comment on this and Share it on Facebook!
comments
Powered by Facebook Comments