Name a dish you grew up with.  It will typically be something your mom or grandmother makes.  I know my mom's pork sinigang will always be a champion dish in my heart (and belly).
It's very brave how some restaurants venture into Filipino cuisine where service and flavor  actually compete against childhood memories.  Everyone will have their own way of preparing adobo, so how do you make yours stand out?  How can one Filipino restaurant still end up differentiated from places that serve comfort Pinoy fare?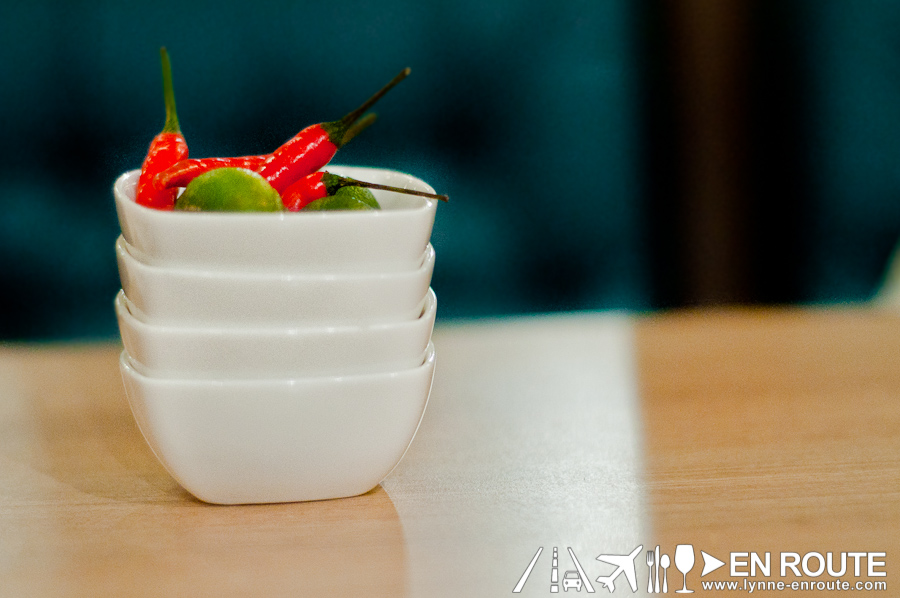 Namnam was able to find a way.  A play on the Filipino word for delicious (malinamnam), Namnam is another restaurant under The Moment Group, the same people behind the wonders that are Burger Bar, Cue Modern Barbecue, and 8 Cuts Burger Blends.
They serve up their versions of the "Classic" Filipino dishes you already know so you can be sure that when you crave for some kare-kare, they will have it.  But what they also have are their "Twists" to every recipe.  We made sure to sample more of these twists from their extensive menu.  What's great is that Namnam offers every item on the menu in Small (S), Medium (M), and Large (L) sizes.  Since we wanted to try more items, we kept all servings small.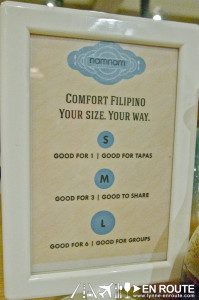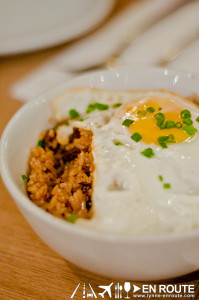 Our choice of rice staple was the University Fried Rice (tapa, garlic, and fried egg, S-Php135, M-Php245, L-Php460).  This immediately brought back memories of college days.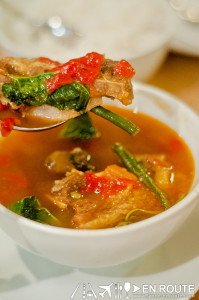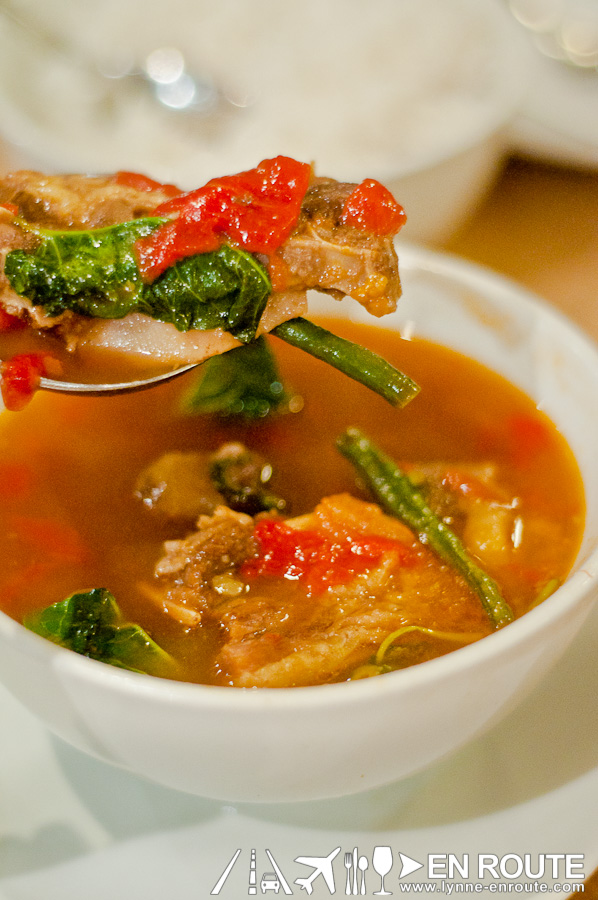 To pay tribute to my beloved sinigang, we tried the twist of Sinigang na Beef Short Rib and Watermelon (S-Php215, M-390, L-Php720).  The sour note characteristic of sinigang was still there.  The initial sips did somehow feel cleaner or fresher on the palate.  What we thought were chunks of tomato even happened to be bits of watermelon.
Another item we loved was the order of Caramelized Patis wings (S-Php155, M-Php285, L-Php515), pieces of perfectly fried sweet and salty chicken wings.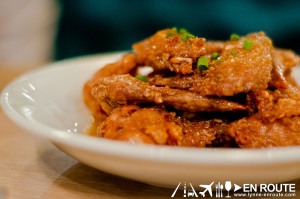 We also tried the Ensaladang Namnam and Pinsec Frito with Tomato-Aligue Dip.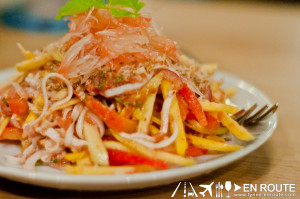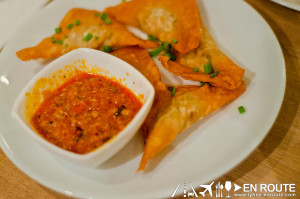 But the best dish we tried was the kare-kare twist of Lamb Curry-Kare (S-Php365, M-Php665, L-Php1,225). The lamb was very tender with no hint of that gamy taste at all.  And the curry worked wonders for the flavor.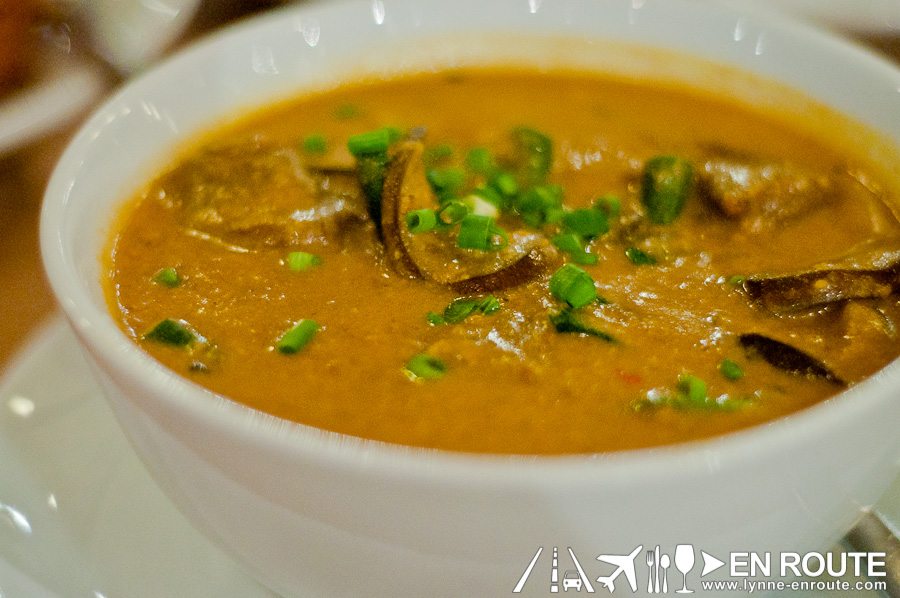 For drinks, they have interesting concotions, like their own take on a mojito.  For non-alcoholics, the menu is not limited to your typical sago't gulaman.  Try this Mango-Pomelo-Coconut-Sago shake and it's like having a fruity meal on its own.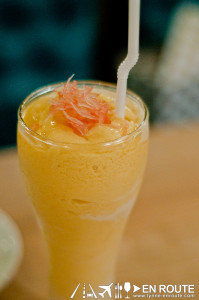 Even if your meal ends up with different twists on flavor, do end it on a sweet note.  You can't go wrong with their Pan de Churros con Tsokolate (Php205).  It's only served during merienda though so why not have that afternoon coffee with it?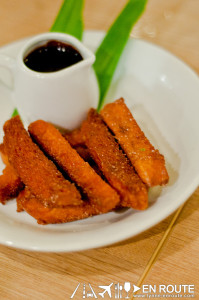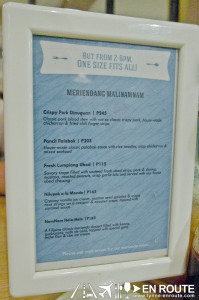 No matter where your menu choices take you, classic or twist, all trips to Namnam will leave you nothing less of satisfied.  Get inspired from the flavors and try your own twists at home, takes on classics that could make your own mom proud.
Namnam is located in Greenbelt 2, Makati City, Philippines, just below Burger Bar.  They're open from 11am-11pm, Mondays to Sundays.
You can also get in touch with Namnam via their phone +63 2 625 0515 or the Namnam Facebook page.
Comment on this and Share it on Facebook!
comments
Powered by Facebook Comments