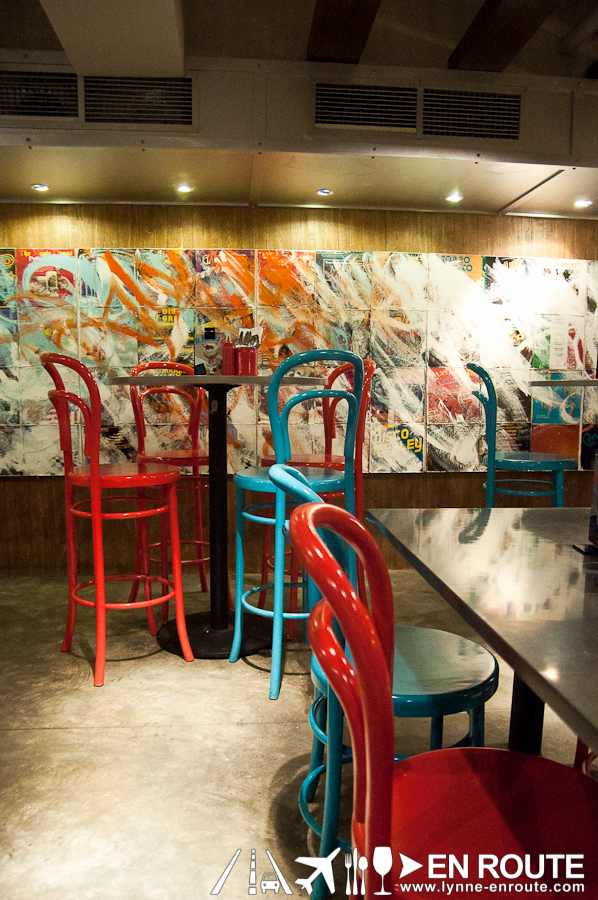 It's been quite some time since a burger joint has been in topic here. While there are some that has its fans, it will be BRGR: The Burger Project and the sadly closed Boulevard Diner ( which has now morphed into Burger Company in Quezon City. Gotta schedule a visit ) where loyalties will lie.
In all the searching in Makati, one name kept on blipping on the burger radar as of late, begging that maybe loyalties can be swayed. Burgerbar in Greenbelt 2 has a seductive proposition if it will be based on the converts it has gained from a few friend. Time to scout it out.
Burgerbar is situated on top of Namnam Comfort Food ( and judging from the logo of 'Cue of Fort Bonifacio, I say they seem to be associated). Entering it feels like entering a small New York style casual eatery: Smoothened concrete floors, cheap materials personalized with touches of paint and pizzazz. It's like a hipster burger solitude, sans the pretensions.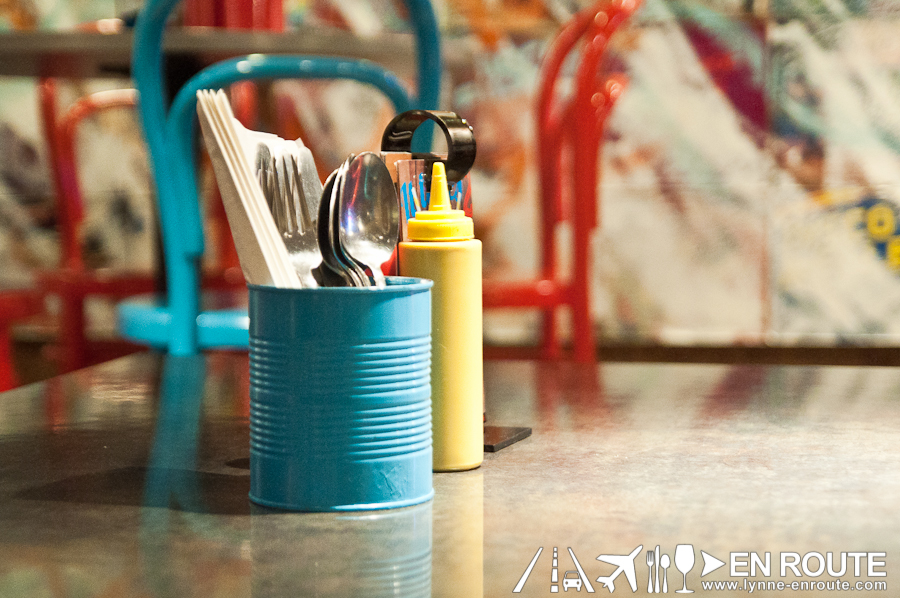 Opening the menu, Burgerbar has some complimentary items to their main burger features. What is apparent in their burgers, though, is that aside from being able to customize the contents and the bun (and even how many patties you want in your creatoion), you can even customize the kind of ground beef you will have in your burger. From sirloin, to chuck, to hanger, to short rib, and to brisket, it seems that Burgerbar has given much thought into their burgers without making it too cumbersomely scientific.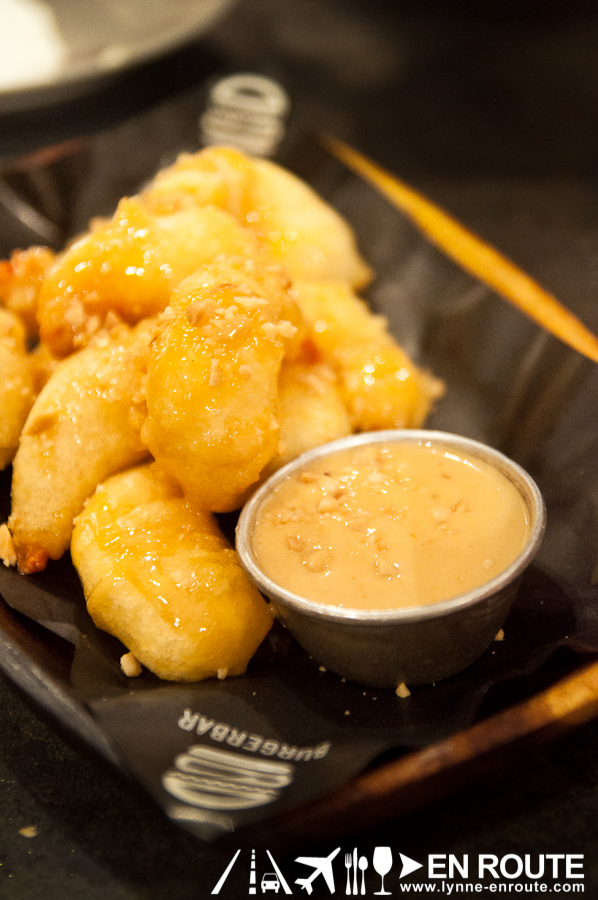 Before the burger, though, time to get some appetizers. Maybe some Chinatown Rock Shrimp Poppers (PHP 260.00)
This was a great start. The batter is coated evenly, cooked with enough crisp without burning the dish, and the shrimp was plump and tasted fresh. It comes with this dip, but given the freshness of the dish, you may not even need it. Freshl tasting shrimp is becoming somewhat of a luxurious treat as of late and restaurants that keep it fresh and tasty deserve credit.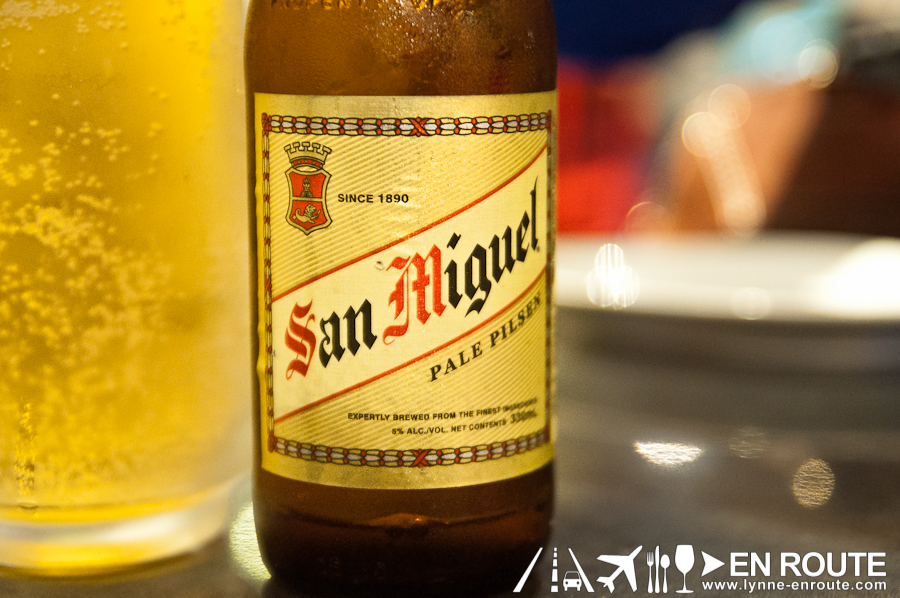 As for the burger: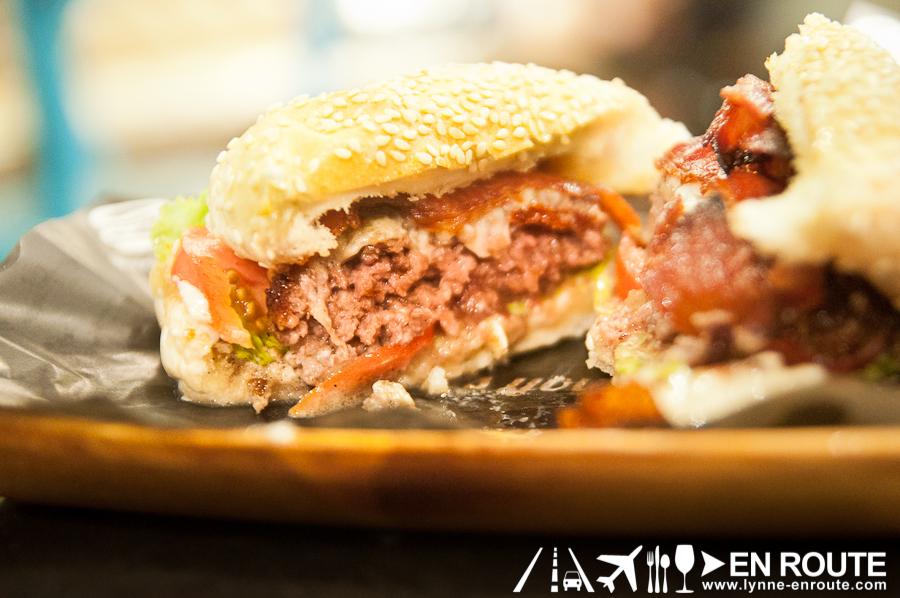 This one here is called The Piggy (PHP 245.00). It is a chuck and short rib combined patty with mozzarella, bacon strips, bacon jam, greens, all packed into a sesame seed bun.
First off, it probably would have looked prettier if it wasn't sliced in half. This is not the fault of Burgerbar. It was requested to be cut in half. Cutting it in half, though, did reveal that the patty was cooked just right. A slight crunchy char on the surface that hides the meat inside, locking in all the juices.
The burger test for an establishment like this has always been to taste the basic cheeseburger, and this may come a bit skewed, but nothing was going to stop the succulent and juicy taste of that patty from reaching the taste buds and give a silent "Wow!" coursing through your brain on how the meat tastes oh so good without the seasoning or other toppings overpowering it or compensating for any shortages.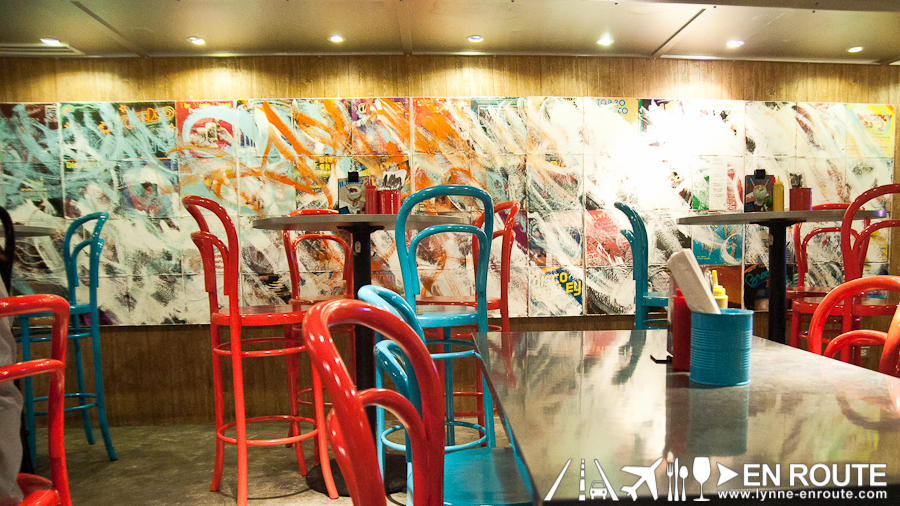 This place was quite a revelation. Burger joints can still exist in the Makati area without charging exuberant prices and give the quality of the typical, honest-to-goodness, burger on a bun. It goes wihtout saying that this place is worth a return trip, or maybe even more.
Do loyalties change? No one said you had to be loyal to just one, at least when it comes to burger joints. Burgerbar in Greenbelt can sit comfortably right beside the others. It's in these cases wherein if you have more, the merrier it is.
Just don't take this as a marital advice.
Burgerbar is located at the ground floor of Greenbelt 2, Makati City, Philippines.
Tel. Nos. +632-625-2792; +63917-539-9661
Comment on this and Share it on Facebook!
comments
Powered by Facebook Comments