A fresh breeze from the sea, the soft lapping of the waves on the rocks below, and no-nonsense Filipino food.  Whether you want a romantic dinner venue with a special someone or you're looking for a more special place to have lunch or dinner conversation with your friends while in Bohol, Casa Filomena will not disappoint.
They are open for lunch and dinner and the menu is mostly Pinoy food like sinigang and lechon kawali.  During the day, they even allow swimming in their pool for a fee.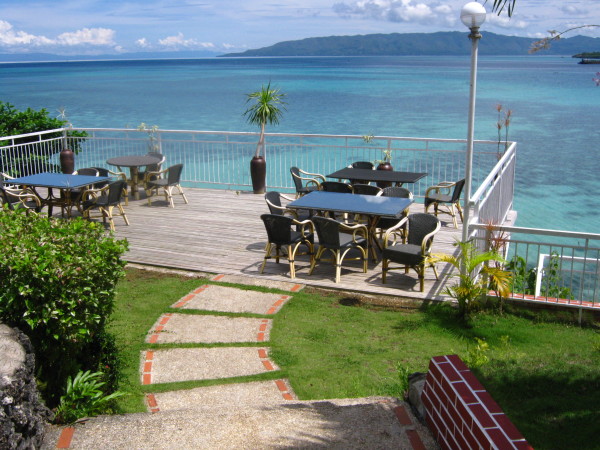 Casa Filomena actually has two villas that you can rent for P3,000 a night.  A villa is big enough for maybe as much as 8 people (with extra beds).   While I recommend dining here at least once, I don't recommend it for the overnights.  This isn't Panglao yet.  You're still in Tagbilaran, just a bit further so might as well just stay in the city proper itself because it will be cheaper by a good P1,000.  If you're after a place with a pool and a beach to swim in, go all out and stay in Panglao already.
Casa Filomena has a boutique hotel counterpart in Tagbilaran called Soledad Suites.  Now this place, I HIGHLY RECOMMEND.  It has free-wi-fi, includes breakfast in its rates, has a restobar and coffee shop (Brewpoint) on the ground floor, and offers outstanding service.  Rooms are nice, simple and clean.  I love it there so much in fact that it's my peg for the kind of boutique hotel I'd love to run someday.
To contact Casa Filomena or Soledad Suites, you can use the following contact details:
Tel. Nos: +63.38.411.3074, +63.38.501.7421
Fax No.: +63.38.411.2117
E-mail: [email protected], [email protected]
You can also try getting in touch with Ms. Leony Mendoza, the GM of Aurora Travel and Tours through +63917-3200422.  She's based in the lobby of Soledad Suites and also helps arrange accommodation and tour packages for guests.
Comment on this and Share it on Facebook!
comments
Powered by Facebook Comments