It's becoming a conscious effort to try and keep up with what's happening in the food industry.  And, given the whole fascination with food, the only logical progression I can see for myself is to eventually learn how to cook. 😛 I constantly flatter myself with the thought that I can probably easily follow recipes but, let's save my lack of kitchen know-how for another post, shall we?

When Yummy Magazine announced their Yummy Eats event at the NBC Tent last May 21, it seemed like a good place to search for food that's not your run-of-the-mill kind.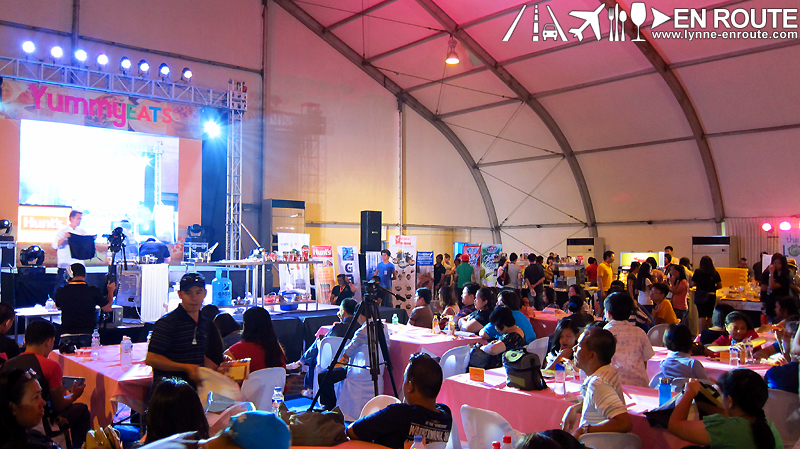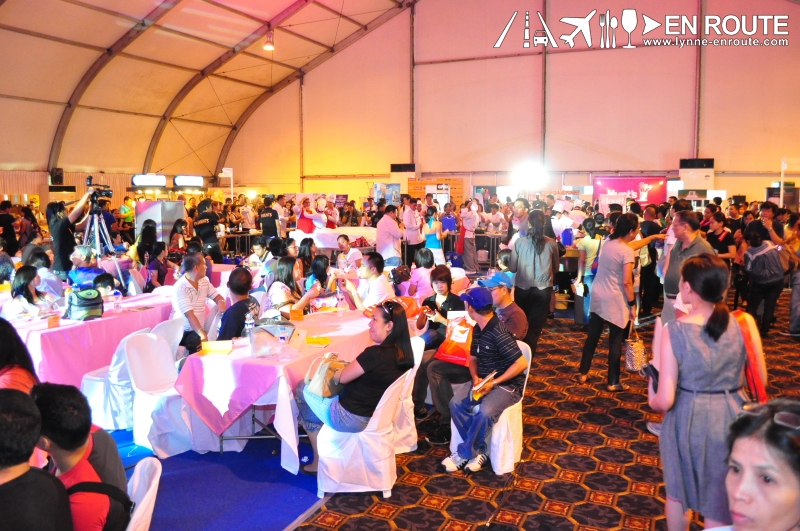 Reviewing the list of concessionaires and looking at the cooking demo schedules, the P150 entrance fee seemed fair. Everything inside the venue was practically free!  Simply present your ticket and it served as a stub for you to get a sample from each booth. While they have products ready to sell, it was generally a sampling of their wares. It was a myriad of flavors ranging from the sweet, peppery, healthy, to experimental and interesting, and back to the sweet. I think this just shows how much of a sweet tooth we Filipinos have as the dessert booths dominated this congregation of foodies yet again.
Of course, I had my favorites at the end of going through all the stands.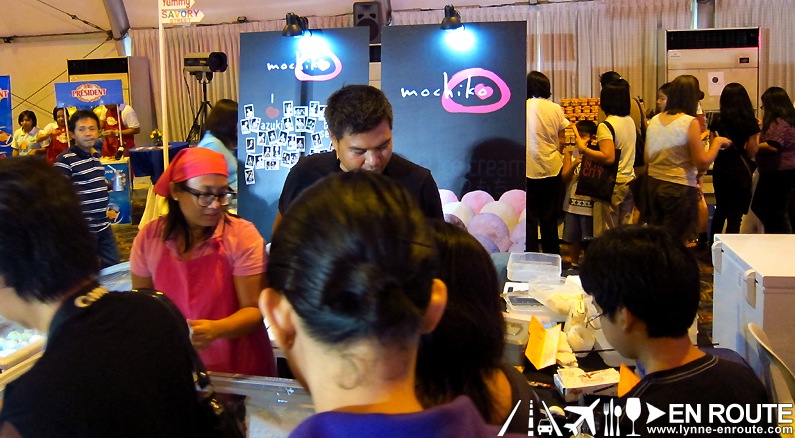 MOCHIKO
I consider this one of the greatest finds this year.  I first encountered them in Midnight Mercato and now, I see they have quite a following and are very much in demand. I love Mochiko because the product, in all their flavors are really good.  We get frequent cravings for this, especially the green tea and coffee flavors.  It's admirable the way they really promote the product.  Not all good products are marketed well.  But the people behind Mochiko definitely made sure that they would build up the brand properly. Kudos to them.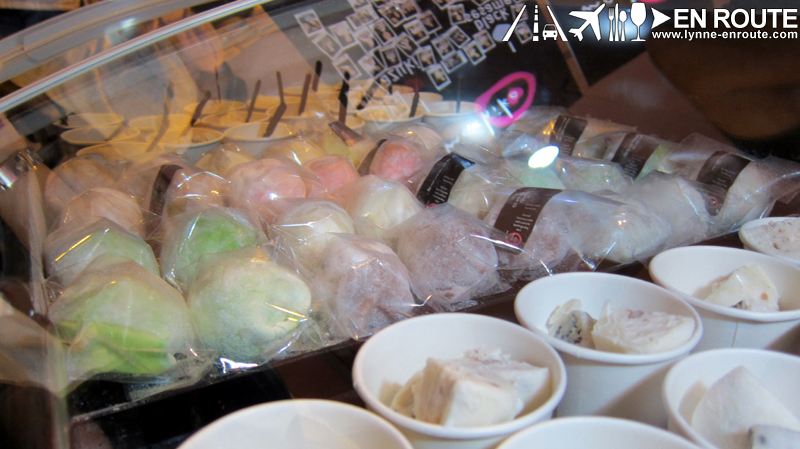 To contact them, get in touch with Nowie Potenciano through +639998840624, [email protected], or the Mochiko Facebook page.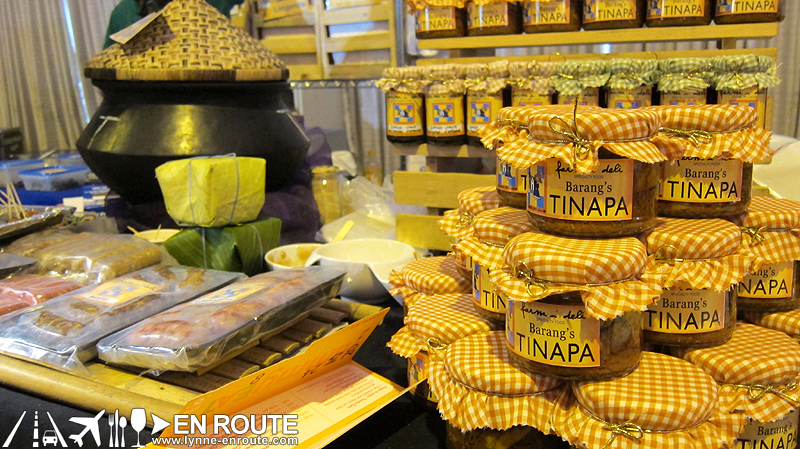 FARM N DELI ENTERPRISES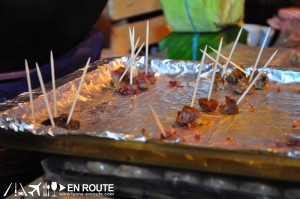 They have a really good Tinapa flakes that you can eat with crackers or mixed with rice.  It starts off salty and sweet but there's a spicy kick towards the end. Nothing overpowering. I liked having the spiciness sort of punctuate every bite. They also sell good longganisas. My favorite is their Cabanatuan variant. It's the garlickiest of the bunch! 😀 I got to try a sweet kind also which, they call the Batotay (or something like that).
Get in touch with Cynthia Torres through +639175548180 or [email protected] if you want to find out more.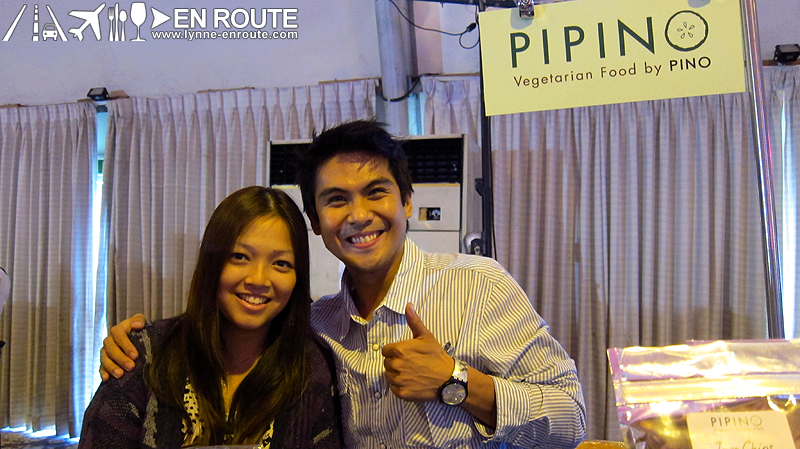 PIPINO VEGETARIAN FOOD BY PINO
A quirky name makes healthy and vegetarian food more fun! Pipino is brought to you by the young couple, PJ and Alessa.  Try out their vegan chocolate chip cookies made from whole wheat and cacao.  That one I really liked! They were sampling out their taro chips as well.  They now deliver through Quick Delivery (2121212).  Check out their menu from their site to see the wonders they can do with food.  Pino is also the group behind Muruve Wine Bar at the Ortigas Home Depot.
To find out more, simply contact Alessa Libongco Lanot through +639175253772, [email protected], or [email protected].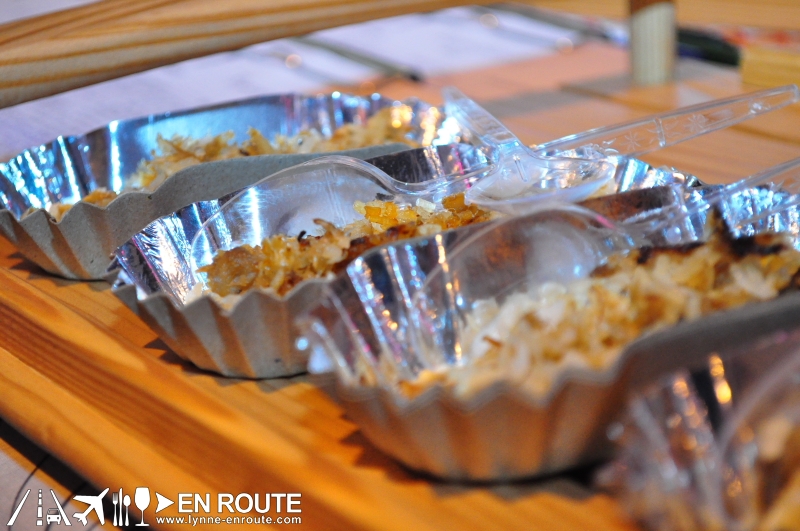 PINOY EATS WORLD
More than anything, I placed them here because I like that they organize food tours and guerilla dinners.  It's an interesting way to meet fellow food-lovers.  They document their trips as well. The video they had playing during the event was shot by no less that Jason Magbanua.  They were sharing servings of rice with adobo that has their own vinegar and some chestnut bits.  Pretty interesting but I like my food generally nut-free. 😛
Look up Pinoy Eats World on Facebook to be part of the group or contact Namee Jorolan through +639178968698.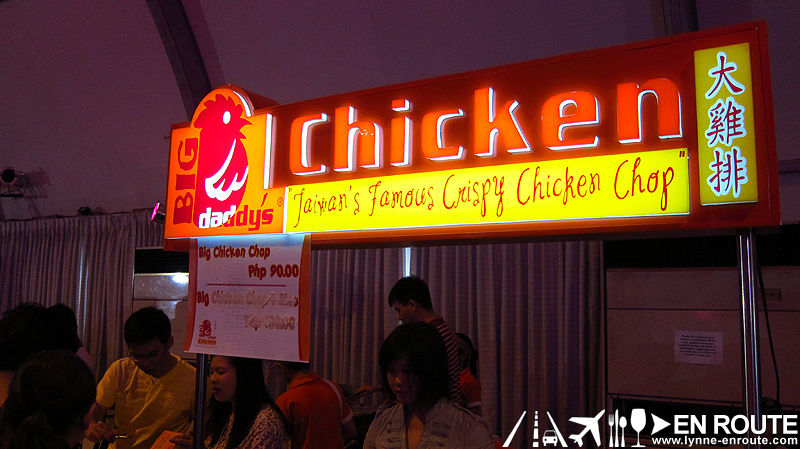 BIG DADDY'S CHICKEN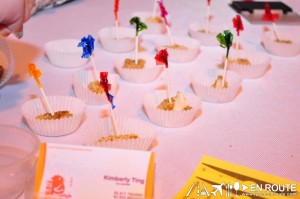 This is where sampling sizes affect me, when I want more of one product. 😛 Big Daddy's Chicken was one of the stalls that was not giving out desserts.  Up to now, I'm still confused. Is it chicken?  Is it a pork chop?  But since chicken is in the name, I believe it's save to assume chicken. 😀 I liked how the bread crumbs covered the meat completely but it wasn't too thick.  It also had a peppered flavor to it which was good.  Not sure if there were supposed to be other flavors but thinking about it now is already making me imagine myself nibbling on a much bigger piece.
Their website is currently under construction but you can also look up Big Daddy's Chicken on Facebook or contact Kim Ting through +639228924878, [email protected].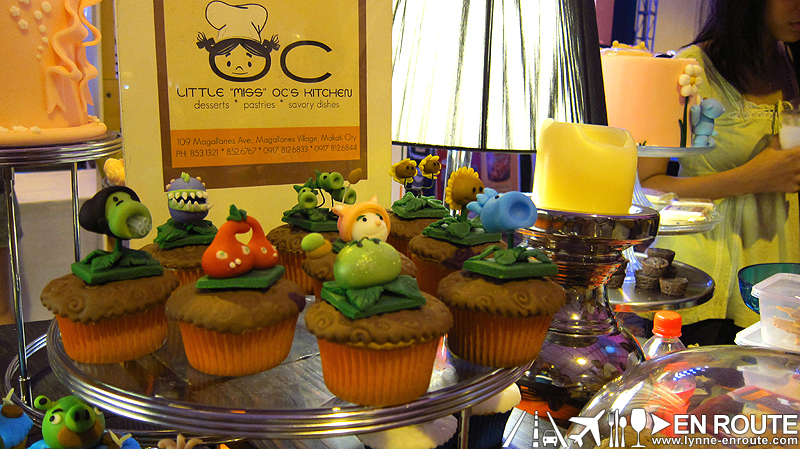 LITTLE MISS OC KITCHEN
This caught my eye because of the super cute designs that they had for their cupcakes.  They took inspiration from the minions in Despicable Me, Angry Birds and Plants Vs. Zombies.  Too bad I didn't get to taste any but my sense is telling me they probably taste as good as they look!  I wouldn't have a bunch of these for a kids party.  They'd be an instant hit.
To talk to the people behind the OC Kitchen, you can contact Anna Sarmiento/ Aleth Ocampo through +639209512343, [email protected], or [email protected].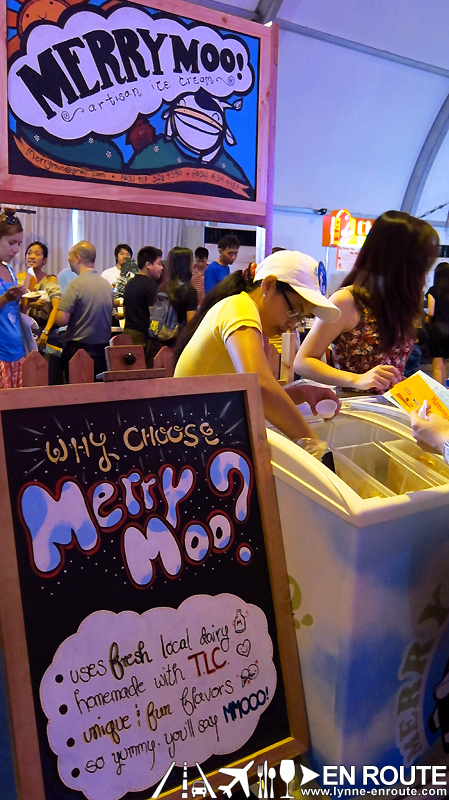 MERRY MOO
And lastly, I added Merry Moo to the list because the idea of "artisan ice cream" intrigues me.  I feel there's more possibility to be bigger in the future.  We got to sample the Earl Grey and Sea Salt Caramel flavors.  I found the sea salt more salty and bitter than sweet.  While I don't like Earl Grey tea normally, I found the clean and refreshing taste of the ice cream really nice.  I'm glad those tea properties were carried over to the ice cream.
To learn more, connect with them on Facebook.  You can also get in touch with Kelvin Ngo through +639175289590 or [email protected].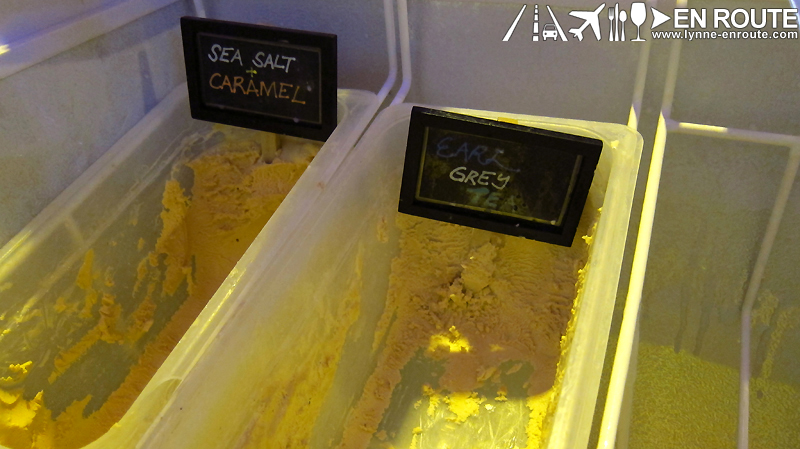 After a food-filled afternoon, it's nice to see how diversified our choices as food lovers now are.  You see a lot of business owners who are hands-on with their promotions and it also inspires you to work hard at whatever it is you do.
Now, back to kitchen know-how, I think I should read more of Yummy Magazine now.  I wonder what other events they have in store?
Learn more about En Route by Liking us on Facebook!
Comment on this and Share it on Facebook!
comments
Powered by Facebook Comments