As of December 21, 2012, this place has already closed.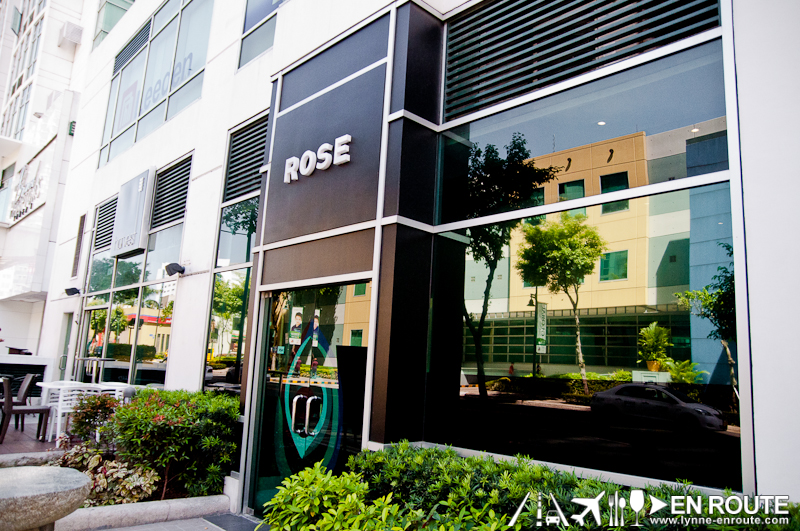 From the outside, anyone can mistake this for anything. A furniture shop, some exclusive club, or some high end flower boutique as the name may suggest. But it is actually a sleek styled Japanese restaurant that fits the lifestyle trends of Fort Bonifacio.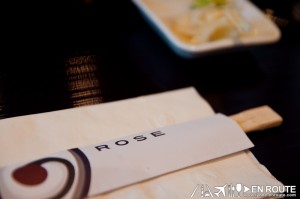 Rose Modern Japanese Cuisine opened around October of 2011 presenting the Filipino taste buds with their rendition of modern Japanese cuisine, and a little modern novelty on sushi serving.
It's actually quite the entrance the moment you open those heavily tinted doors. All of a sudden, everything from the outside seems to be just that: left outside.
This is what greets you once you enter. A half-oval bar table where customers can eat and converse at their own delight. There are also small table spaces on the side for those who come in groups. But even then, you may want to stay in the middle bar because of this contraption:
.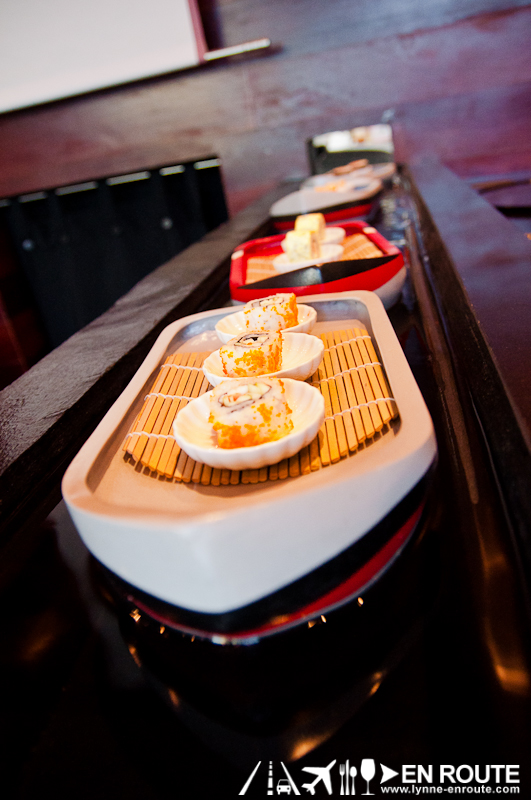 Running along the bar is a makeshift mini river. And out of the little cave from the back that conceals the kitchen, sushi on boats sail through for your picking. This float parade and their clever choice of music makes the whole experience strangely mesmerizing 😛
The idea of a sushi rolling out in a line may not be original, but the creations of Rose Modern Japanese Cuisine are worth mentioning.
There is no need to take the whole boat. You can get them individually in their cup. One sushi costs about PHP 40.00 each.
It is on the pricey side and with the amusing boat parade and the sound of streaming water whetting your appetite, you can't be faulted if you go through 6-8 cups in a few minutes.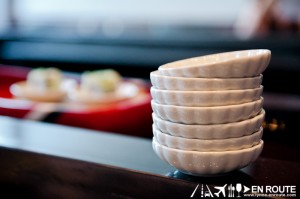 The sushis worth trying are the Salmon Crepe Roll (Braised Norwegian Salmon, spring onions, and sushi rice wrapped in thin Japanese omelette), Dragon Temple Roll (Sea Eel and Cream Cheese rolled with Wasabi Flying Fish Roe, Black Sesame Seeds and Salmon Roe), and the crowd favorite California Maki.
Little treats floating on a boat right in front of you always goes well with some beer.
😀
A vegetarian? They have a Vegetable Futomaki as well. Partner this with their special iced tea.
It's not the sweetened iced tea most Filipinos are used to. It's a brewed mountain black tea with lemon slices. Adjust the sweetness with the syrup that comes with it. The combination is refreshing given the clean taste of both vegetables and tea.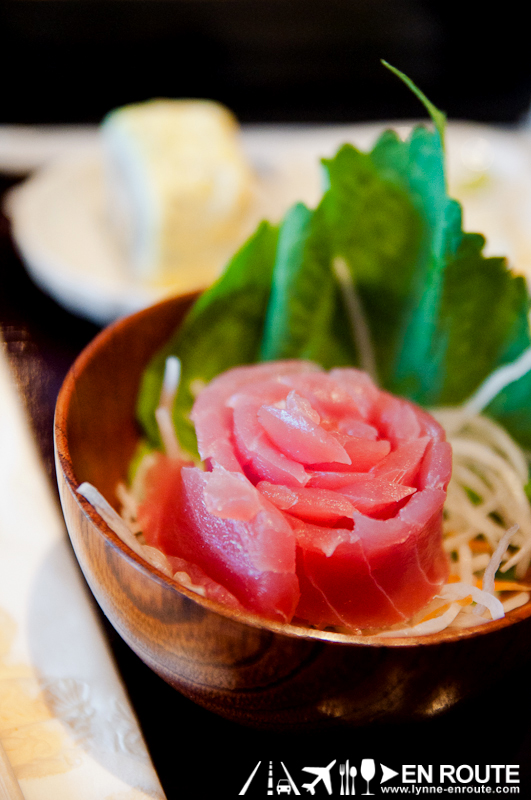 .
In the event that you enter here and are not a sushi kind of person, there are other items on their menu like Sauteed Free Ranged Chicken (PHP 595.00). It is on the expensive side, but there's something tastier about the white meat of free range chicken.
There are also salads on the menu, as well as other viands of pork, beef, and seafood. The servings are good for two light eaters, and it can keep them coming to try more.
Sashimi can be ordered too like the Tuna Rose Sashimi (PHP 100.00)  selected fresh everyday from the market.
.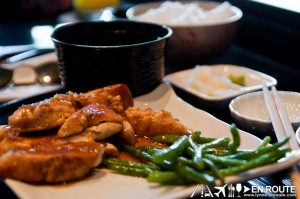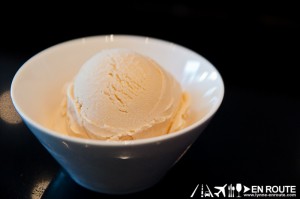 To slide everything off in a cool sweet finish, try their home made ice creams. They come in interesting contrasting flavors like chocolate mized with a bit of chili, or their best selling caramel with sea salt.
Now, if you think the Magnum Ice Cream Bar would start a class war with its PHP 50.00 price tag, This one ends it and widens the divide with a whopping PHP 125.00 per scoop. Not everyone can justify eating ice cream at this cost, but such is normally the price for non machine manufactured ice cream.
If Rose feels a bit on the high side, then you would want to visit their establishment from 5-7pm on weekdays for Happy Hour. Sushis are then at 50% off and you can chug down unlimited draft beer for PHP 199.00 😀
There is merit to steering off the edges of Fort Bonifacio with this. Pay them a visit and sample the sushi river. It is quite the treat 😀
Related Topics:
.
Rose Modern Japanese Cuisine is located at 31st St. cor. 1st Avenue, Ground Floor, Grand Hamptons Tower, Bonifacio Global City, Taguig.
Tel. Nos.: +63917-597-2573
You can also learn more by visiting their Facebook Page.
Have you tried this? Or just have something to say about pieces of rolledd fish floating on a river? Make sure to leave your comments below 😀
Comment on this and Share it on Facebook!
comments
Powered by Facebook Comments