Summer's officially arrived!  What are you doing about the heat?
We were going for some sexy poses while eating Selecta's latest addition to their ice cream collection: Magnum.  Using the name as inspiration, Ray and I were going for sultry and mysterious to showcase the indulgence you get from each ice cream bar.
We failed miserably. (Well, we tried…)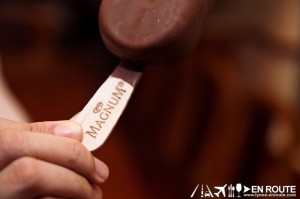 I commend those who can bite into food and look great at the same time, especially those who can look sexy while biting into a cold ice cream bar – a chocolate one at that. Oh well, maybe we just need more practice. 😛
Magnum Ice Cream is Selecta's latest offering, perfectly timed for summer.  A collaborative effort between Unilever and RFM, Magnum gives you an indulgence in single-serve packs. Perfect for those pick-me-up moments or the mini-celebrations you encounter in your day.
Choose your Magnum.
Arm yourself with any of the three available variants: Classic (Chocolate-covered vanilla ice cream), Almond (Vanilla ice cream covered by chocolate with almond bits), Chocolate Truffle (Chocolate over chocolate), seriously, how can you go wrong?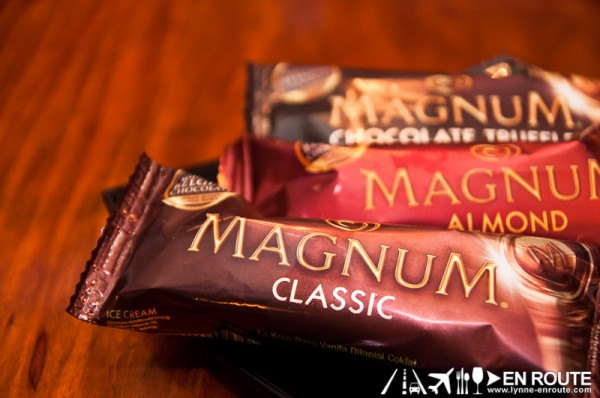 What makes this better than other ice cream bars out there?  The chocolate coat is not just any cocoa mixture.  It's made from Belgian chocolate.  (Doesn't that mean it's like Michelin-star rated in the world of chocolates?)  There's a creaminess to it once it melts in your mouth and the chocolate flavor's just oh-so decadent!
If I had to choose, I'd go for the Classic because the sweetness and creaminess of the ice cream goes well with an almost bittersweet taste from the coating.  Go for the Almond variant if you like a bit of crunch.  And the Chocolate Truffle bar is just pure indulgence in every bite!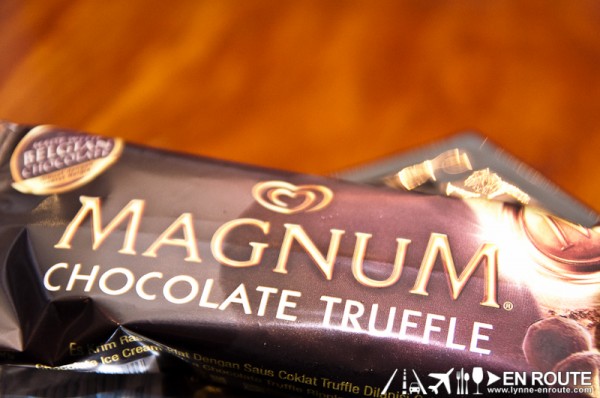 Magnum is available in all major supermarkets for Php50.  Get them at Php55 in Mini-Stop and Php60 in 7-Eleven. A little steep for an ice cream bar maybe, but relax, it's a reward you've most likely worked for. Enjoy every bit of it.
Maybe you can even take a better shot of biting into it.  Remember, the brief is indulgent, sultry, and mysterious. (Remember, you're a tiger…:P)
In the meantime, we'll gather our self-respect and look at another article we can feature a photoshoot of ourselves in. 😛
Comment on this and Share it on Facebook!
comments
Powered by Facebook Comments