Admittedly, after doing some research on the average rate of comfortable but value for money hotels in Dumaguete City, Go Hotels was not one of the priorities on the list given it seemed too over-commercialized a choice. This was also after hearing some not too commendable stories on the build quality and comfort of stay of some friends from abroad in the Go Hotels in Mandaluyong City.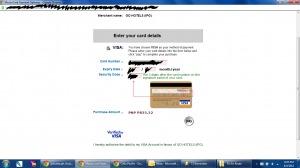 Still, after agreeing that maybe the Sumilon Island trip would make up for whatever experience in staying in a Go Hotel (Oh you should see the Sumilon Island. Coming in an En Route post real soon!), it was probably just a matter of setting expectations.
Besides, paying PHP 835.52 for a one night stay for two, complete with airport transfer and inclusive of an optional PHP 88.00 toiletry kit, it was hard not to think this might not be too bad, at least for the price alone. Yes. Click the image. It really just costs PHP 835.32 for this booking
Please note that the price of the hotel rates seem to change like airline fares, depending on what time you book during the day. So it can still go higher (or even lower 😉 )
So after Sumilon Island, it's straight to the charming Dumaguete City just for a day. This is what greets us: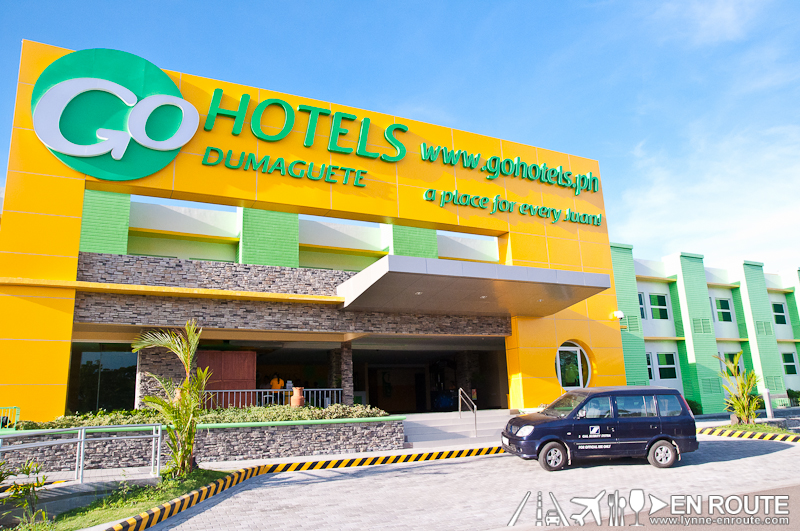 Ok, so it doesn't really blend too well with the local architecture, with colors reminiscent of bright banana and citrus flavored jellybeans sticking out in a clear sky. The lobby is not air conditioned as well, but being a budget hotel, this probably is their business model.
Once you head to the front desk and confirm booking, they lead you to the rooms: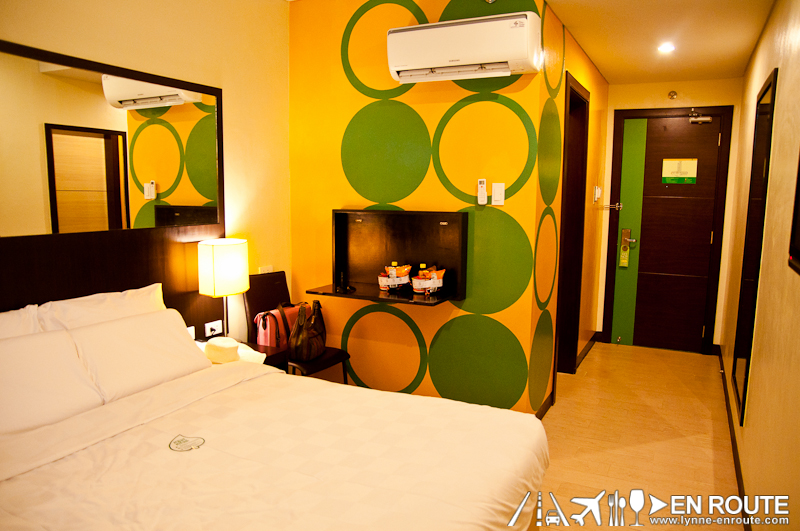 Honestly, not bad. Aside from the said jellybean color theme, the room is spacious enough to move about, with television, air conditioning, hangers, security safe, place to iron clothes, and the whole place is rigged with free Wi-Fi :).
Just no refrigerator, but most budget hotels don't have such, either.
The build seems to be that of light material, so it is easy to hear the sounds of noisy people in the hallways. Otherwise, the room, bed, scent and appeal is relaxing and comfortable for sleeping.
The bathrooms are not too shabby, either. It actually has a more subdued apperance that people would probably have wished was the whole color combination of the hotel, or all the Go Hotels for that matter.
Oh, and it doesn't show in the picture, but the shower head is one of those overhead rainshower systems that just soaks you in mere seconds. It felt good value!
Things were looking quite great, alongside the PHP 88.00 toiletry kit that was orderd just to satisfy the curiosity as to what PHP 88.00 bucks can get you. It's complete with toothbrushes and toothpaste, bath essentials and a razor. No lubricating strip, though 😛
Interestingly, there were complimentary snacks also given. If hot water was needed, the cafeteria can give it for free. No eating on the rooms, though.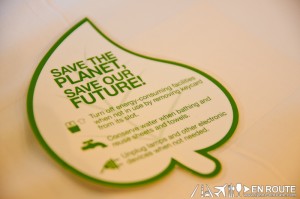 Overall, for the price paid, and it being beside their own mall for any emergency purchases of other essentials and medicine, this Go Hotels in Dumaguete may be a great option for those  budget conscious businessfolks or leisure travelers.
From here, explore the city and feel good at the fact that your hotel is relatively comfortable.
Just get over the jellybean colors 😛
Related Posts:
Go Hotels in Dumaguete is located near Robinson's Place Dumaguete City, Nergos Oriental Philippines. Visit their website at http://gohotels.ph/
Have you had your experience in a Go Hotel in your travels Is it any different from this? Are there better hotels in Dumaguete at this price? Share it on the Facebook Comments below 🙂
Comment on this and Share it on Facebook!
comments
Powered by Facebook Comments