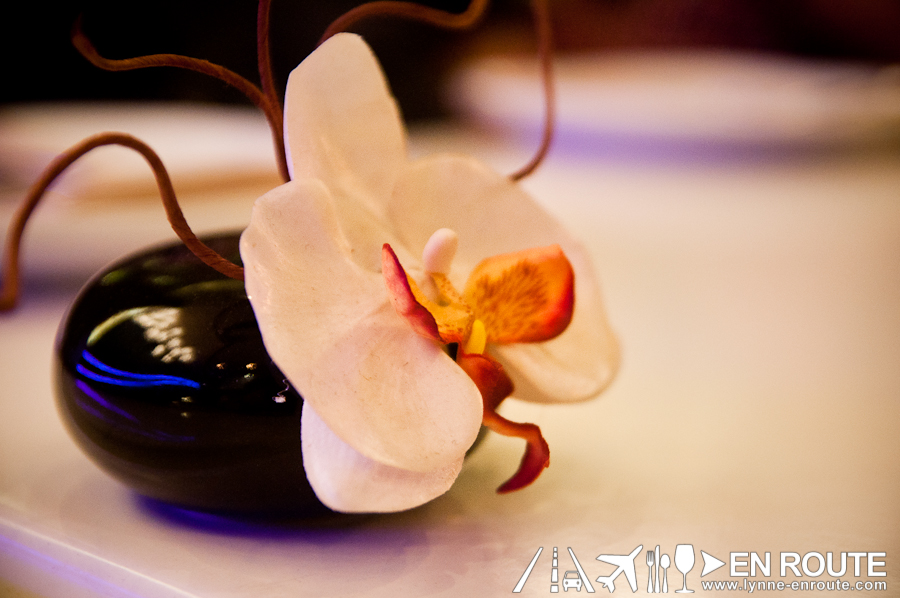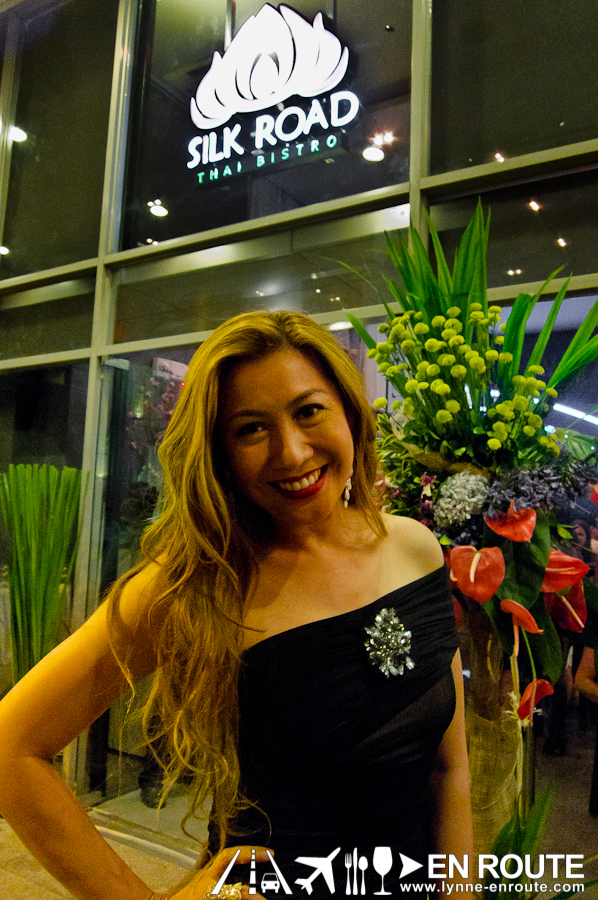 October 25, 2013. The newest darling of Thai cuisine in Manila opened with much fanfare. Silk Road in Fort Bonifacio is the newest creation of Thai Cuisine Queen of Manila Cecille Chang.
And wow was everyone excited and elated at this new restaurant. Chef Cecille has made her mark in the Manila food scene by continuously refining the base Thai dishes and coming up with something new that just hits the right notes of an appreciative palate.
This is actually a first time to walk along Chef Cecille in her many restaurant concepts. It's like her reputation for great food precedes her, and now, it was time to find out why.
Here was one night's journey into the Silk Road of Fort Bonifacio, accompanied by glasses of wine, cocktails, and great stories: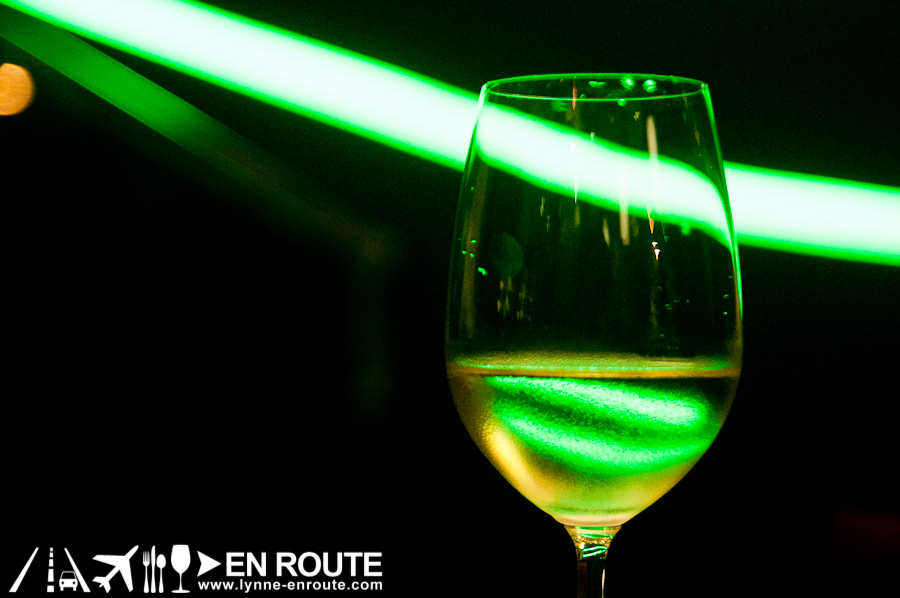 Start off with some Mheng Kham (PHP 195.00)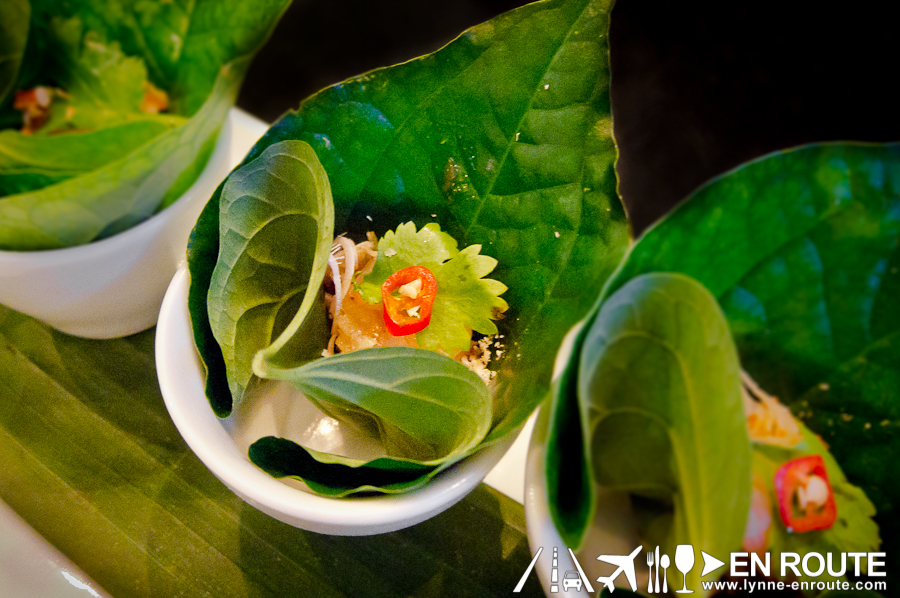 Mheng Kham is like a little firecracker wrapped in betel leaves. Shrimp, ginger, shallots, garlic, lime, peanuts , and a sliver of bird's eye chili make for a great first step into the dynamic flavors of Thai Cuisine. Chili might be too hot? You can just set it aside, and the rest of the dish still packs a wallop of flavor.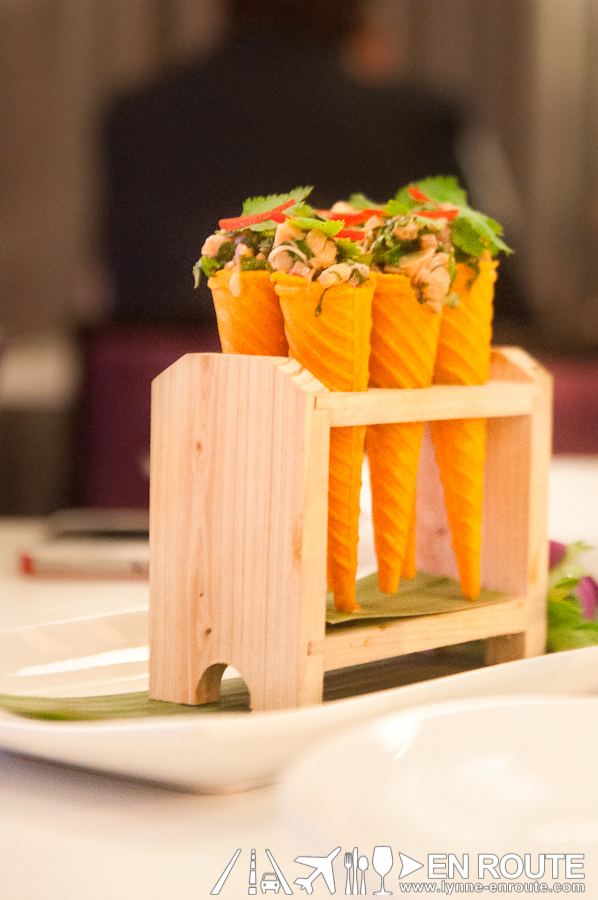 Journey on and we come across One of the more popular starters, the Son-In-Law Eggs (PHP 195.00). While its etymology is somewhat debatable, everyone will agree that the creamy hard-boiled eggs go well with the thick, sweet, tangy tamarind sauce lathered all over it. Oh, and wrap it around those leaves and take a bite.
Don't move on yet. There's some Salmon Cones (PHP 295.00), to try out. Salmon infused with lemongrass, lime, and other secret herbs, served inside a crispy cone. Eat it quickly. The juices form the salmon can make the cones soggy. That crispy texture also lends to the balance of the dish.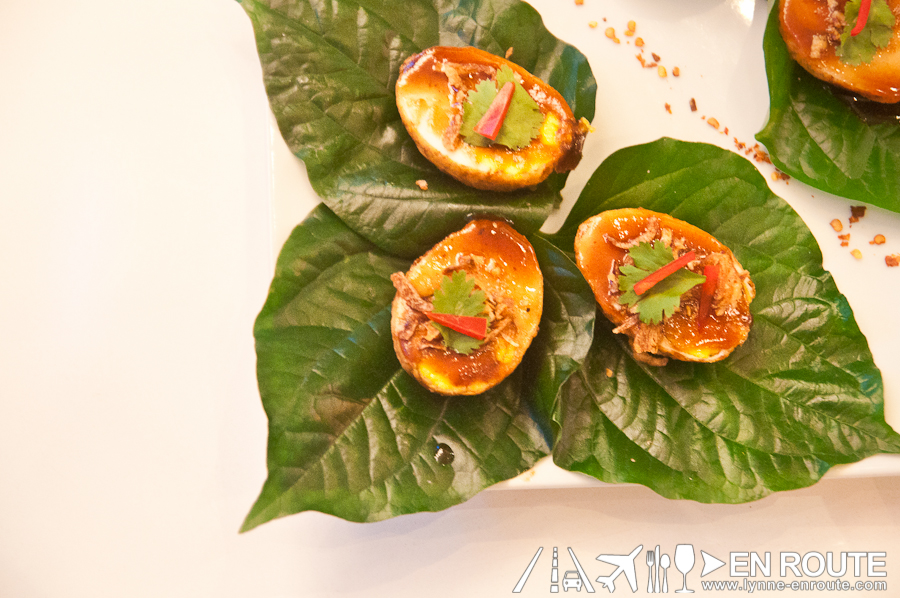 The journey has only begun and the taste buds are already captivated by the flavors:
Get led towards the coast. You find a Crispy Tilapia with Sweet Tamarind Puree (PHP 75.00 per 100grams). Several visits to Silk Road have made this one of the no-fail dishes to impress any company during that night.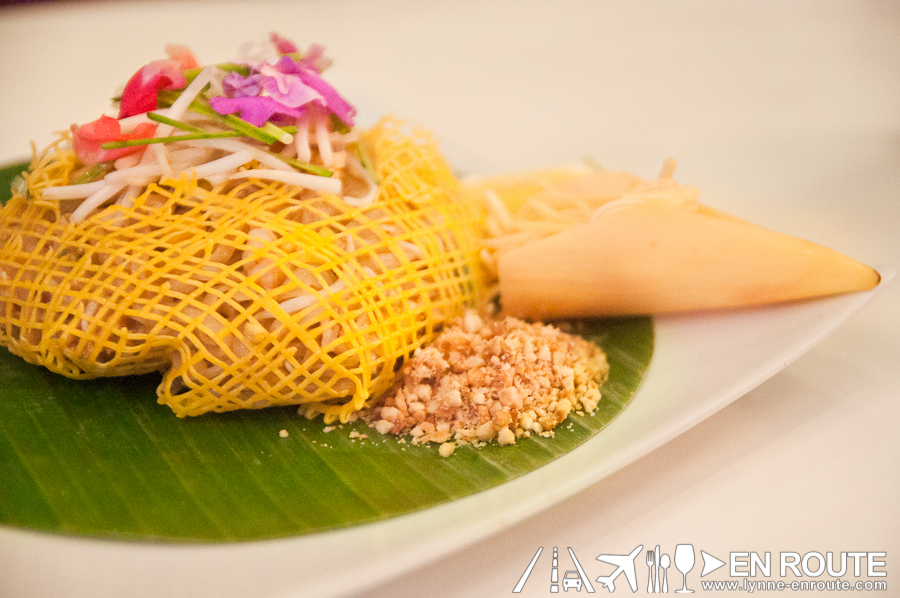 What was also impressive were the size of the mussels in the Moules Thai (PHP 320.00). These mussels were imported from Chile, and it looks like the waters there made sure you get large, meaty mollusks fitting for Silk Road's menu.
Back towards land. You see a beautiful rendition of Pad Thai (PHP 340.00). That egg net holding the noodles together looks too pretty to deconstruct. But you have to in order to mix the other ingredients and pair it with what is to come:
A tender, flavorful Lamb Shank Massaman (PHP 120.00 per 100 grams). No need for a knife to cut this lamb shank. It is incredibly soft that driving a spoon will suffice, and while you're at it, get a dabble of that rich sauce. Oh, and crush that crispy noodles and mix it into the sauce in the process. Take a spoonful. Close your eyes and enjoy that ecstatic moment.
Open it up again. Something new just right up before the trail ends. Is that the scent of barbecued pork being grilled as it moves to your table? Yes it is. Siamese Pork Ribs (PHP 310.00). If the lamb was tender, this was close to melting soft. It is served with a bit of heated coal underneath it as it drives your sense of smell wild. Pierce it with a fork, take it in with some rice or Pad Thai. Yes. That journey was worth it.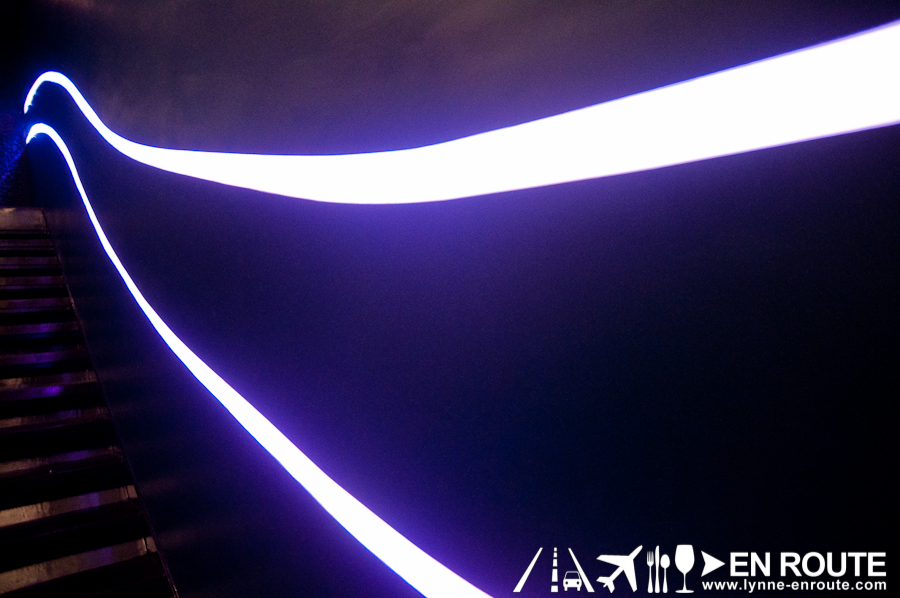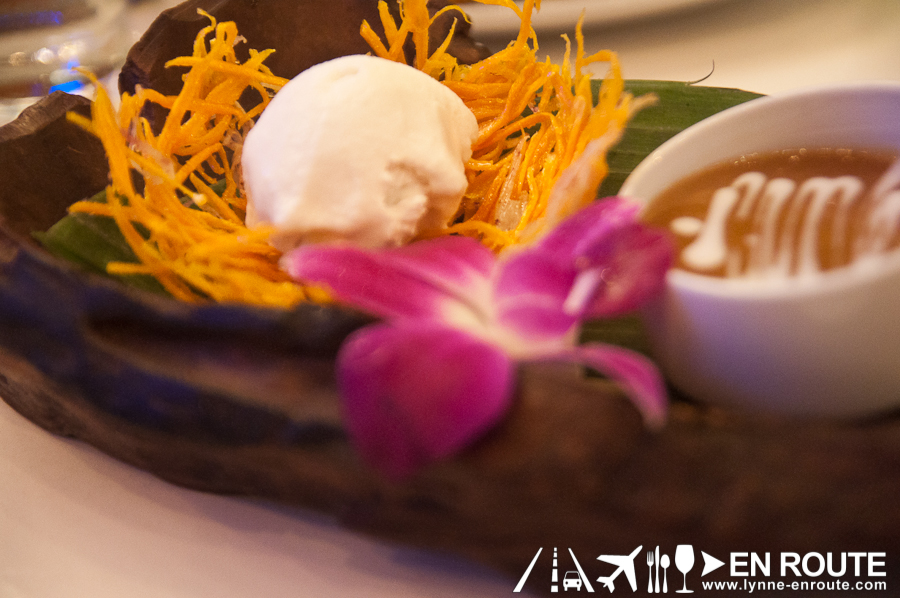 A reward at the end of the road with a sweet note, a Silk Nest (PHP 240.00). Slivers of taro and sweet potato turned into a nest, embracing a scoop of coconut ice cream, accompanied by some thick and sweet coconut syrup. Drizzle it over the top, take some ice cream and crispy taro.
If there is one thing that is evident on that journey, is that each and every dish is a masterpiece both in visual appeal and the execution of the flavors. While Thai cuisine is pretty much gaining ground in the Philippine Food Scene, the creations of Chef Cecille Chang become one of the standards of Thai dining.
Come for the food, and stay for the drinks. It is going to be one pleasant trip.
Congratulations to Chef Cecille Chang, and expect everyone to follow this journey of flavors along Silk Road.
Silk Road is located at the ground floor of Net Quad Building, 4th Ave. corner 31st street. Fort Bonifacio, Global City, Philippines.
Tel. Nos. +632-824-1678/+63923-421-8294
Comment on this and Share it on Facebook!
comments
Powered by Facebook Comments