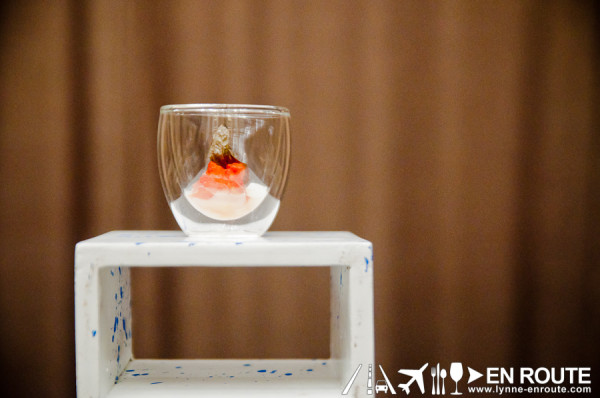 This has got to be one of the sweetest things to happen for Makati Shangri-La this year of 2014.
Joining their ranks is a world famous pastry chef. Romain Renard brings with him about 20 years of experience, most of it working in Michelin-rated restaurants and world renowned five-star restaurants. His portfolio extends practically everywhere around the globe, from his birth place in Paris, New York, London, Dubai, and Florence.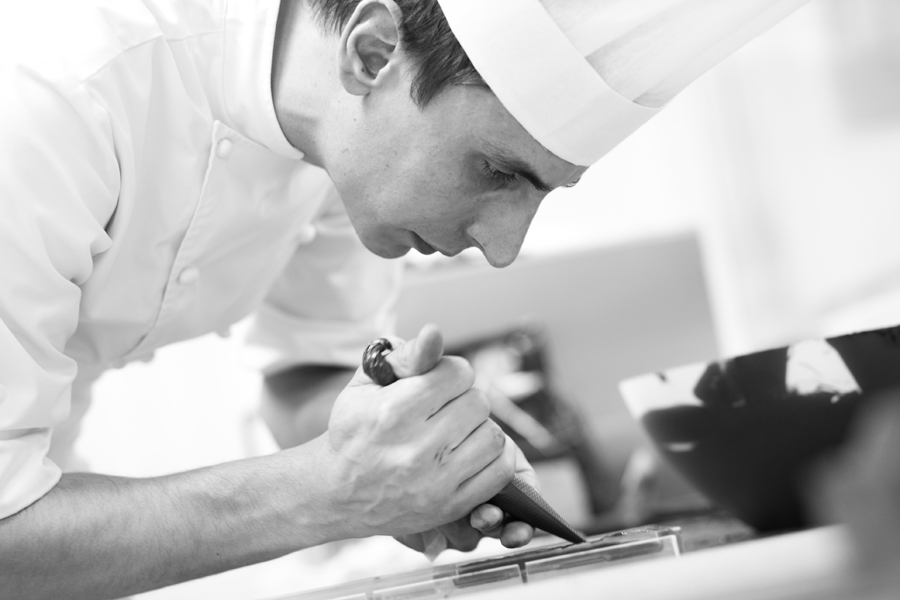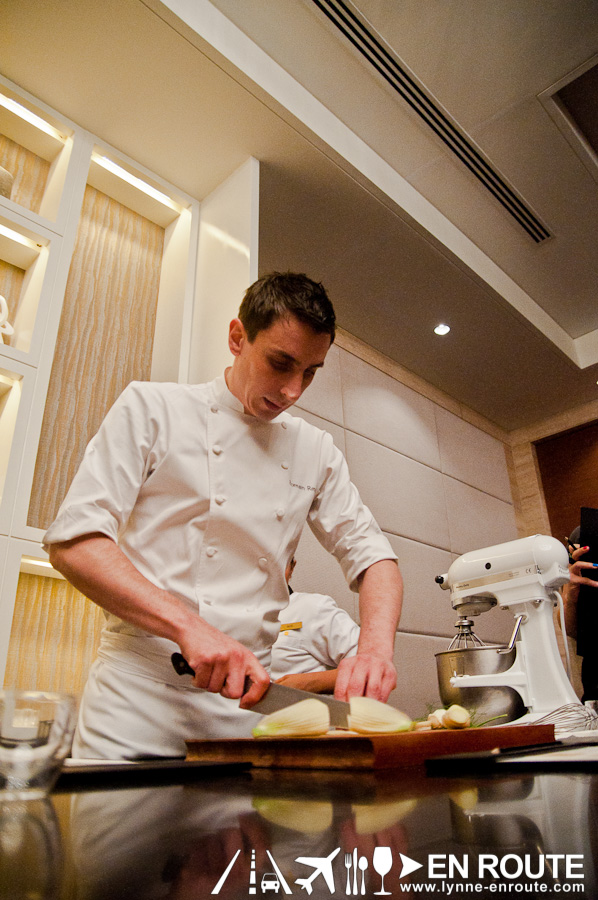 Sounds intimidating? Only if you just read the resume.
Ironically, though, he is one of the most relaxed chefs who can easily start some chit-chat with his guests and students-for-a-day, taking a swig of bubbly prosecco before the class begins and sharing his razor sharp knives from Tokyo, all the while cracking jokes and making the experience fun.
And as a result of this? That Temptation for Two that was supposed to be a two weekend Valentines only affair has achieved so much clamor for his class, he is booked all the way until May.
So what makes his class so much in demand? Let this "He said, she said" edition of En Route of each of the desserts he has taught one weekend show you.
What is great about this particular session, is that the desserts are so easy to follow, and the greatest thing that can be learned from this is to just give the appropriate preparation and focus that the desserts truly deserve. It will be all worth it.
Dessert #1:
Basil Panna Cotta Topped with Green Apple and Fennel Salad.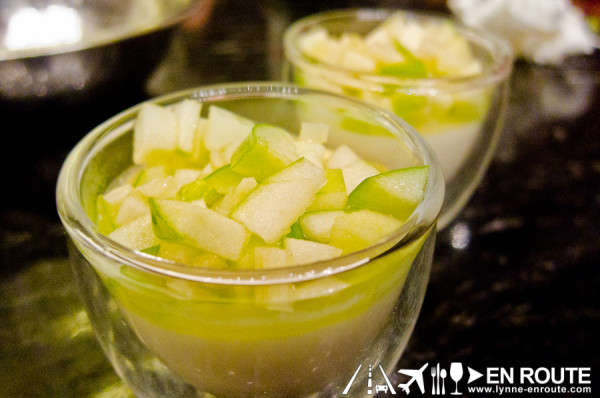 Lynne: 
I have to admit something as delicate as panna cotta was a bit scary as a first task.  The last thing we want to hear is, "Okay class, this is how you NOT make the recipe."  Only to find out, it wasn't as hard as we thought it was.  Of course, we did have a very experienced chef guiding us.
In terms of flavor profile, imagine a combination salad and dessert in one.  Unbelievable but that's what every bite of the delicate panna cotta tasted like.  A spoonful felt healthy than sinful because of the basil, fennel, and green apple. Although that probably just leads people to order seconds.
Coming from this class and our exploits in infusing alcohol, we can apparently infuse flavors into cream as well!  What to put, what to put…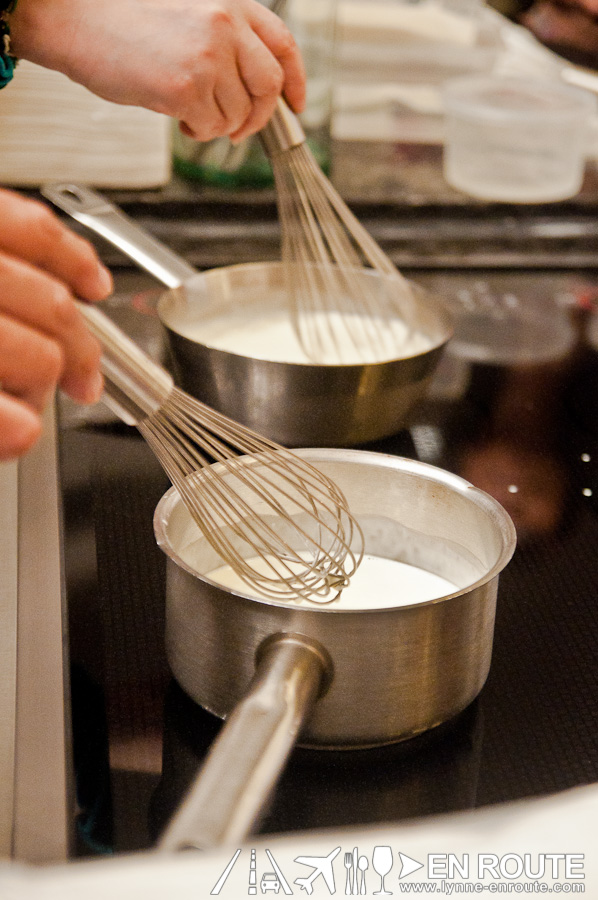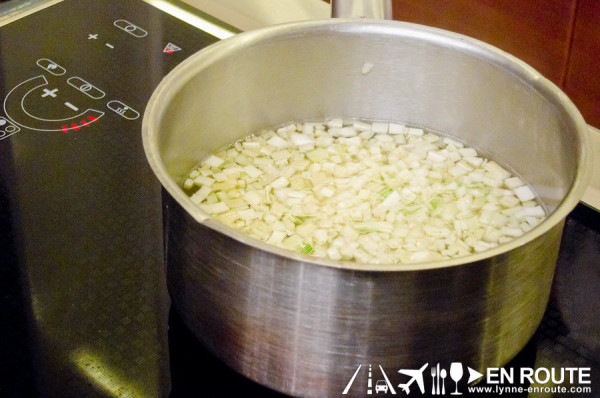 .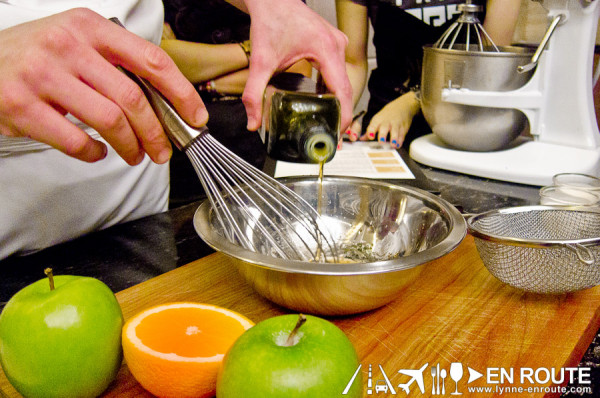 Ray:
Those knives are wicked sharp! Not that I cut myself, but just gliding the pointed edge and turning the green apple into minced little cubes was a piece of cake. The Japanese characters engraved into them were a nice touch, too! Wonder if these came from techniques passed on by samurais to their descendants.
Oh yeah. About the dessert: The potential of one basil leaf to change the whole flavor profile of cream is fascinating. Just place it there overnight, and you get a nice, fragrant base for the panna cotta. Fennel was never something we have worked with before, but its aroma is balanced by the acidity of green apple. One of the easier desserts to make and can still impress.
Dessert #2:
Chocolate Mousse, Malteser and Mikado
Lynne:
We were definitely leveling up fast in terms of recipes to accomplish!  Now we know we need a very good mixer at home to do all the whipping for us.  We had to wait a few minutes to get the right consistency.  And we know a mousse is very dependent on the consistency and temperature of its ingredients.
A lot of us had fun decorating our own glasses, even eating some of the chocolate beforehand.  We only featured our handiwork because, you will see by comparison just how less imaginative we were.  What we lacked in creativity, we made up for in appreciating the desserts and drinking the prosecco. 😀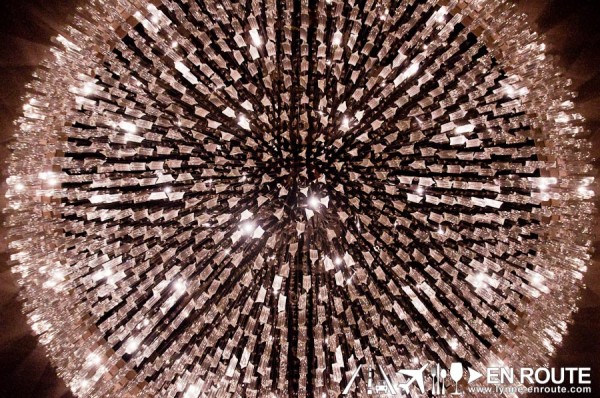 Ray:
Get creative! This was, personally, the most fun dessert to make since there is so much room for originality (read: Go berserk on the Maltesers ). Luckily, that zen inspired look came out pretty ok. Can't get enough of the Maltesers. You can eat those on your own. Oh wait, yeah they were originally designed to be.
Key lesson here: It pays to have a good thermometer that can get the temperature at the exact 50 degrees celsius for the milk. You go higher, and you might make the fat of the milk rise up and ruin the flavor of the mousse. And we don't want bad tasting mousse, do we?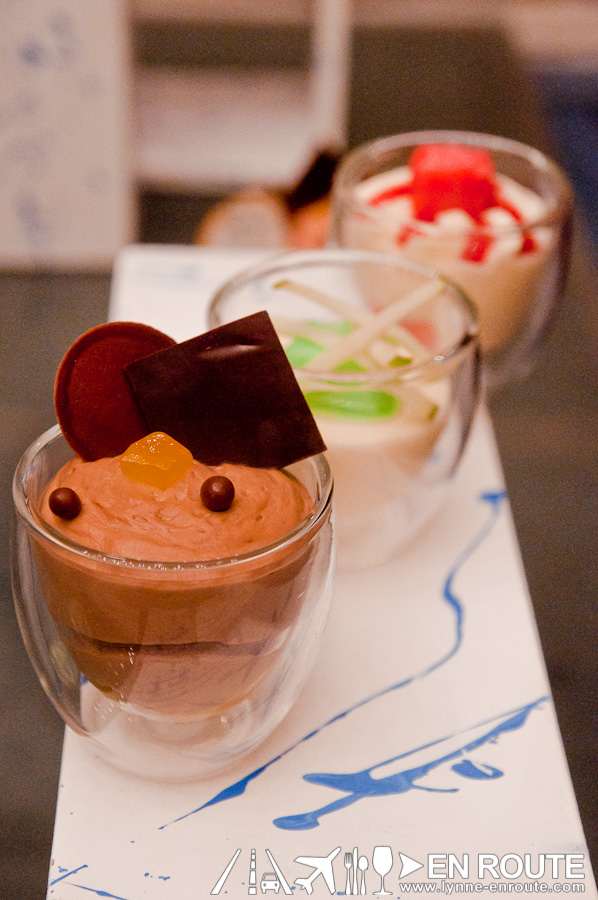 .


Dessert #3:
 Chocolate Cremeux, Olive Oil, Toasted Bread, Maldon Salt
Lynne:
Chocolate on chocolate, how can you dare refuse?  By this time, we were more used to watching out for certain temperatures and ensuring our mixes had the right consistency.  From putting salt in sweets to enhance certain flavors to tips of using a ziplock back in place of a piping bag, apart from the actual recipes and techniques, the practical knowledge you get helps a lot too.
For that task of piping the cremeux on our glasses, we get A for effort again.  Never mind that it was the first time either of us held a piping bag ever.  We would have piped that directly into our mouths if no one was watching.
Ray:
Best dessert of the whole class. Probably because there is something about that twist when you munch on a crunchy crouton dashed with a drop of olive oil and topped with a sprinkle of salt, then scooped up with a bit of the chocolate cremeux. It is also, the one that needs the most focus in making, but still simple enough for even a novice baker. What really helps? Using the best ingredients. It just makes things easier and the end result more rewarding.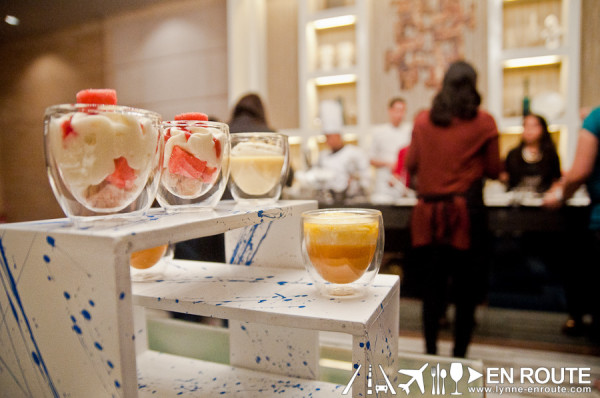 It was quite the afternoon just going through all those sweet treats and two bottles of bubbly white wines in the process. While one can get to learn things by reading the cookbooks, it is just different when you see the actual chef in action as there are techniques in knife holding, cooking, stuffing, that can never be imagined easily. And for Chef Romain Renard, making the course as easy as possible for beginners is a testament to how some chefscan be great teachers as well.
Especially if the class comes with bottles of booze. Those things were just fantastic!
Learn more about the Makati Shangri-La Manila thorugh the following:
Twitter: @MakatiShangriLa
Instagram: @MakatiShangriLa
Comment on this and Share it on Facebook!
comments
Powered by Facebook Comments