Your normal get-together with friends usually consist of either a night out with fine food and drinks, or at home, also with fine food and drinks.
How about a gig where you get to cook some fine food? Yes, you can still have drinks while doing so.
And it is quite fun and relatively easy as well, as Marmalade Kitchen shall demonstrate.
Marmalade Kitchen is located at that the relatively new Forum complex in Fort Bonifacio (It has a new McDonald's, some restaurants like Sarsa and Koko Buri as well). Chef Aileen Anastacio of Goodies n' Sweets fame runs this ship.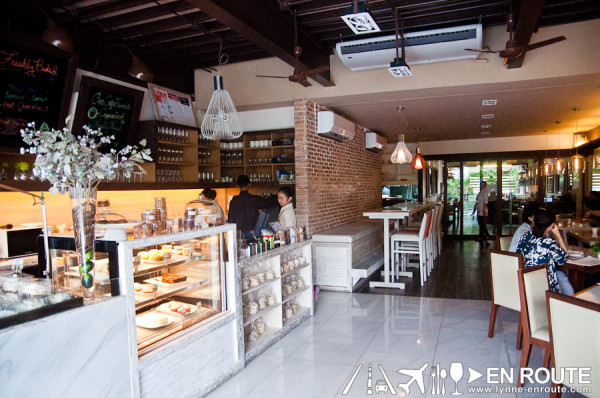 While famous for decadent desserts from their experience with Goodiesn' Sweets, Marmalade Kitchen can cook up homey, simple dishes in their restaurant to nourish your body and soul. It's all straight-up simple dishes that are easy to understand and appreciate.
And while you have the restaurant at the front…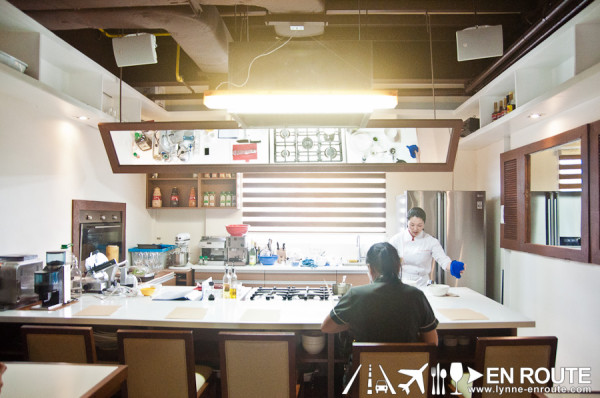 … you have the show kitchen at the back, complete with several tables for groups to watch and learn. Marmalade Kitchen has hosted quite a lot of cooking classes, both observational and hands-on. It has become quite popular with the kids.
Part of it also is because Chef Aileen demonstrates it in a methodical way wher eyou won't get lost in the process. And from previous experiences such as Michelin Star worthy dessert making, nothing can be as fun as cooking and having a few glasses of wine as well (Of course, if it is a kid's cooking class, we can't let them have any of that).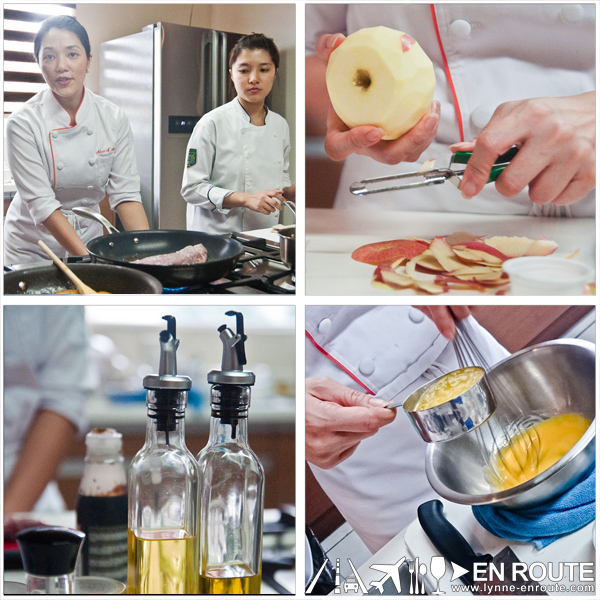 Emulsifying butter, peeling fruit, caramelizing sugars, and the proper way of placing a piece of viand on a searing hot pan, all of this taught step-by-step at a pace that is easy to follow and enjoyable to execute. All the tools will be given, and taught how to use.
And the results? Quite tasty:
Stuffed Chicken Breast Stuffed with Sundried Tomatoes and Mozzarella,
Seared Salmon Fillet with Capers and Lemon Butter Sauce,
Pork Tenderloins with Caramelized Apples,
and a Coffee Rub Encrusted Steak (this one was quite special)
All of it are very easy to do, and done within three hours! Yes. Five delicious plates in three hours. Heck, if you pick up the pace, you can probably even reduce it to two! But since this is a cooking class, it is shown step by step. The rest, as you return home with the recipe in tow (yes, they give the recipe, too!), is all up to you.
Marmalade Kitchen is located at the second floor of The Forum South Global, 7th Avenue, Fort Bonifacio, Philippines
(This is near the Fort Strip, and located across what used to be the NBC Tent in Fort Bonifacio)
Tel. Nos. +632-622-9196
Call and begin arranging on what cooking class packages there are.
Comment on this and Share it on Facebook!
comments
Powered by Facebook Comments