Did you know: Aside from Singapore, the only other country that has a Wee Nam Kee is the Philippines? Yep. Due to passionate Filipino foodies, Wee Nam Kee of Singapore has determined that this is the best place to test their franchise system before expanding to other places around Asia.
With several branches under the Philippine arm, it's pretty much safe to say that the brand has been received with open arms. It was to their surprise that a lot of Filipinos have actually heard about them even before they set foot in Manila. Probably because some of the establishments here have been quite the Hit-And-Miss, and there was an opportunity to give a true and authentic taste of the real thing.
And now, they try something new yet again. You see in Singapore, Wee Nam Kee is known specifically for Hainanese Chicken Rice, and they are pretty darn good at it. And given that they are a Singapore based company, it probably made sense to bring in through their marque some of the other culinary treasures from the Lion State.
This is really great! Some of these are actually something seen in the famous No Signboard Restaurant, and from experience, people will love these.
But to begin this taste of Singapore, drinks are in order: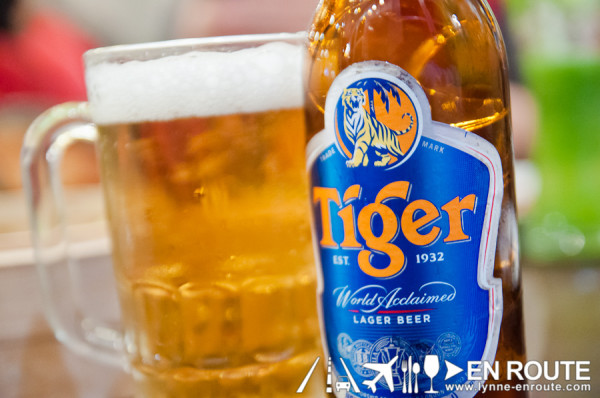 Refreshing juices come in the form of cucumber-lime or mango shake. Great for those spicy Singaporean dishes. And if fruity taste isn't enough, chocolate sweetness will do: The Milo Dinosaur. This isn't the first encounter with a Singapoerean cold Milo drink (but that first one didn't have powdery goodness topping it off), and it's pleasing to know more Singaporean restaurants in Manila are offering these in the menu. Great for kids.
And for the bubbly brew, it has got to be Tiger beer.
With drinks all set, here are a few of the popular ones during this dinner:
The most flexible dish? It's Crispy Mantau bread. Why? You can practically eat this with everything else. Dip it in the condensed milk that comes with it, dip it in sauces, eat alongside viands, or stuff it inside. The bread's inherent sweetness and crispy texture will complement all the other flavors. Always get this.
There was an intriguing dish,, though: Prawn Paste Chicken Wings. Chicken has its own flavor profile, and prawn paste will practically take over anything. But it is probably the mixture of a starchy, crispy breading that mellowed it down for people to still be able to get the chicken taste and the briny-sweet prawn paste at the same time. Not a bad appetizer
And speaking of chicken: The boneless chicken in a salted egg batter just got everyone all excited. Oh, and these are best with beer.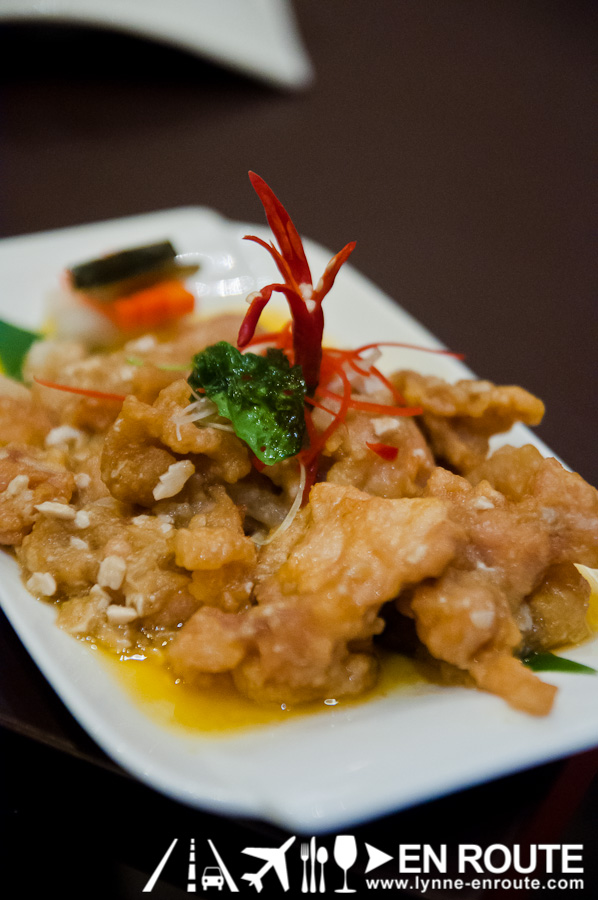 Other things good with beer? How about something spicy?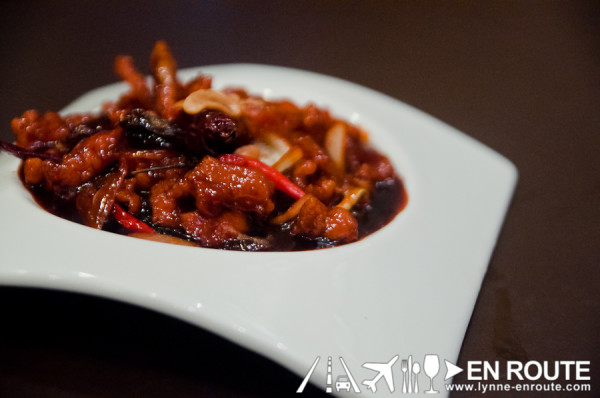 You guessed it: more chicken, this time chicken in sun-dried chili sauce, sautéed with cashews. It just goes well with a crisp beer. And for something fuller, the Hainanese chicken noodles with Curry sauce will offer that embracing warmth… probably even make you sweat in the process. Feels like Hawker Center all over again.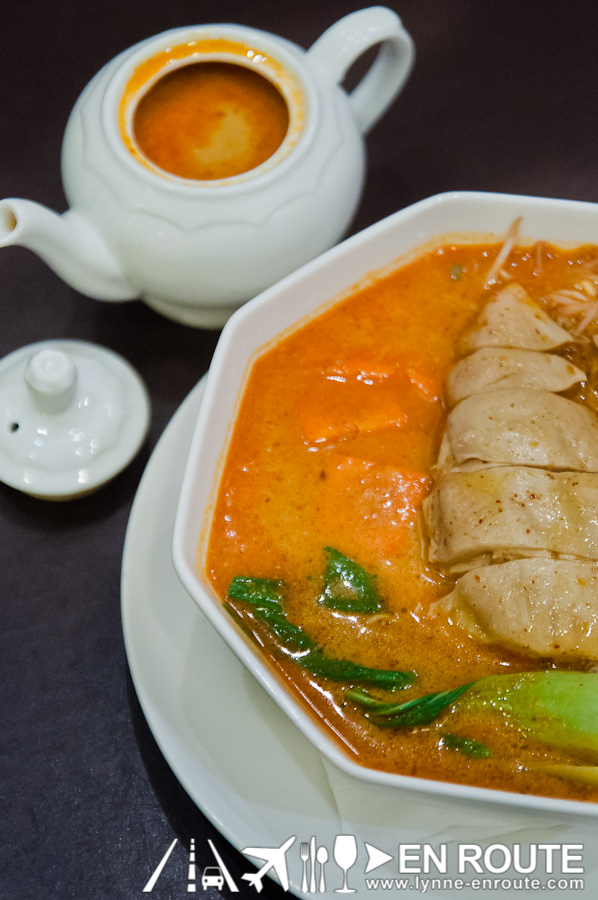 Ok. Enough chicken. Beef, pork and fish time: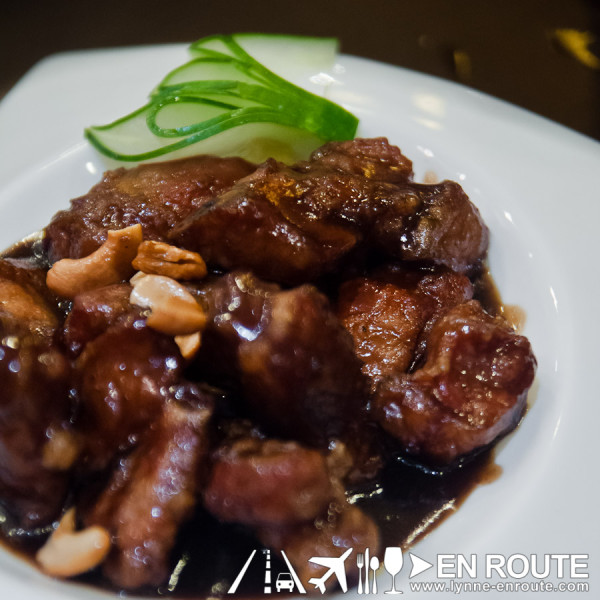 This coffee crusted beef with cashews was reminiscent of that first No Signboard dinner (although that one was pork). Beef gives a more robust flavor, and works spectacularly well with the sweet coffee tasting glaze.
Pork? Delectably soft stewed pork belly is the answer. Look! The mantau makes a comeback, this time in steamed form. Stuff in those bad boys in the bun and add some crushed peanuts and parsley. This is great for sharing.
And for fish, the tilapia in tamarind sauce is an eye catching presentation. Get a piece, swirl it around the sauce, top it off on rice or those crispy mantau, and you are all set.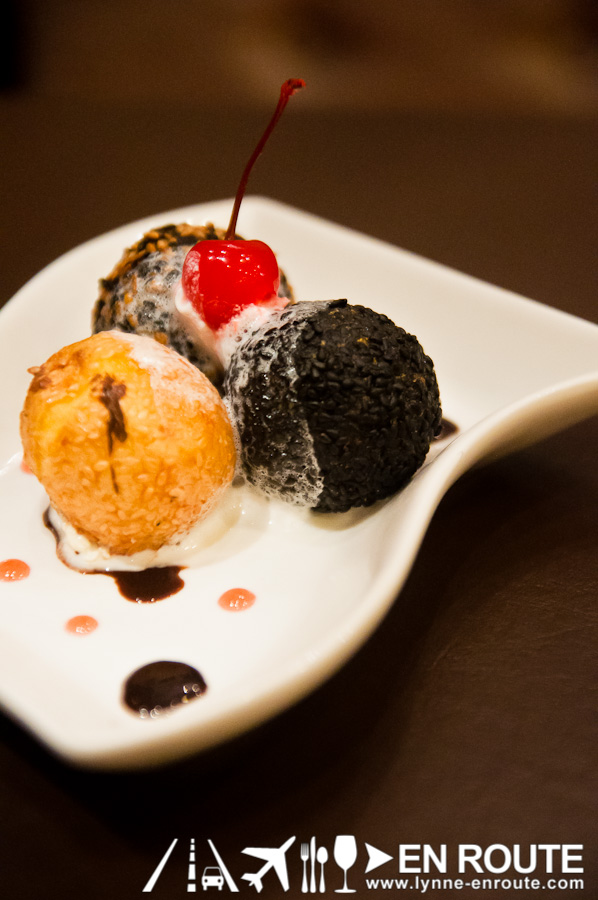 You will need to remove all that overpowering taste with a trio of sweet buchi. One is filled with milk chocolate, the other dark, the other white. What better way to end this feast?
Just like that, it's like you took a flight to Singapore, gorged on a food trip, and took a plane back, all in one sitting. You've gotta give it to Wee Nam Kee in the Philippines and their desire to bring the flavors of Singapore to the streets of Manila.
Wee Name Kee Philippines can be found at several areas:
Promenade 3, Greenhills, San Juan
Ayala Triangle Gardens, Makati City
Glorietta 2, Makati City
Serendra Piazza, Fort Bonifacio Global City
Trinoma Mall, Quezon City
Shangri-La Plaza, Mandaluyong
Alabang Town Center, Muntinlupa
The District, Cavite
Comment on this and Share it on Facebook!
comments
Powered by Facebook Comments