Foodies have probably heard of what a burrata is. And if you haven't, and you are a lover of cheese, then you need to have one as soon as possible.
It all looks quite simple: It's like a giant ball of buffalo mozzarella.  But the treat lies the moment you pierce that gummy "skin", and out oozes combination of molten buffalo mozzarella and delicious cream. Normally in most countries with high Western influences, this one can easily be bought at various groceries.
In the Philippines, though, this one is a bit uncommon. Even rarer, someone who even puts an effort into making a Burrata.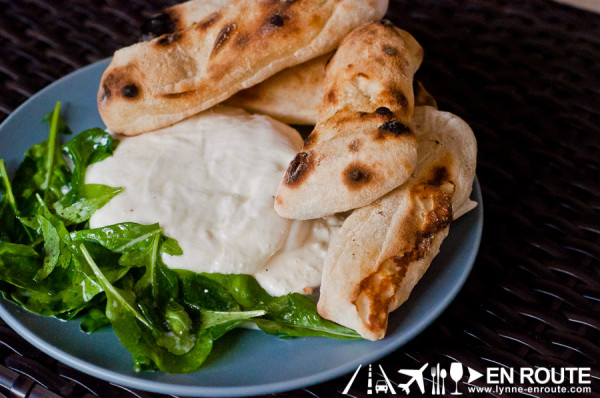 It is essential to be eaten with bread. Spread that goodness all around and savor the delicate saltiness mixed with extra virgin olive oil. Want to make it even more special? Have it with slices of well cured prosciutto. Oh, and then finished off with a glass of your favorite wine.
Burrata is just what Italian cooking is all about. It's a lot simpler than it looks, but, as we discovered in some Roman food trip, it is all about Ingredient, Ingredient, Ingredient. Italian cooking philosophy was never about to mask anything bad with something good to balance it out. It is all about the effort to get the best, so that you can bring out the best in the simplest of things.
As of now, the most accessible (and quite honestly, best value-for-money) to get Burrata would be the branches of Gino's Brick Oven Pizza. Yes this is the Nth time we have written about this home-grown pizza wonder, but can you blame us if we are big fans? As of this writing, there is a new location opened at The Podium in Ortigas Center.
Gino's Brick Oven Pizza Facebook Page.
Comment on this and Share it on Facebook!
comments
Powered by Facebook Comments