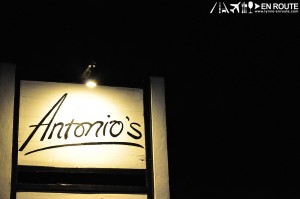 Much has been said and written about Antonio's in Tagaytay.  I have been seeing various articles about this place for the longest time. I guess, I was just waiting for the right occasion to try it out.
So finally, I got my taste of how the Antonio's experience was. I had zero expectations, only an overall positive outlook as I kept in mind the numerous reviews and photos I had filed in my memory. If I were to capture the evening in a word, it would be…magical.
The Drive up to Arrival
The whole drive out to Tagaytay for dinner was like an introduction in a story that will slowly unfold. There was a constant gentle suspense in the air because you never knew what you were going to see next. At least that's how I felt once we turned that corner from the main road.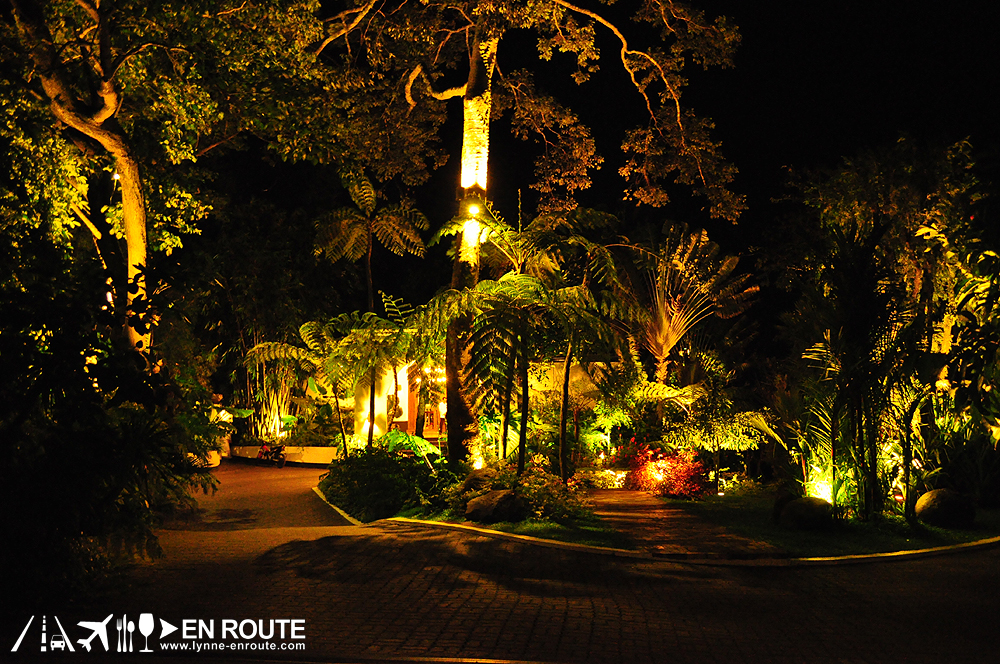 Antonio's has this big and elegant gate that welcomes you to the premises. You'll take your time in walking to the restaurant as you take in garden landscape before you. I'm sure it also has its own charm in daytime. The driveway is like a preview to what the interior holds for you. Beautiful black and white tiles already line the steps leading to the doorway.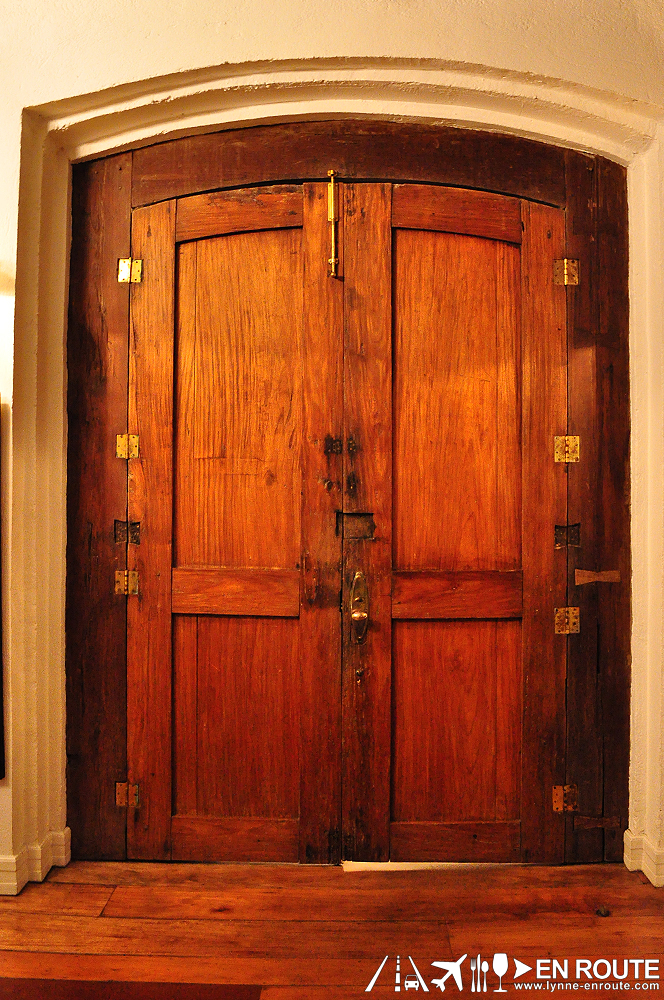 The welcome foyer is perhaps the most adorned portion of the restaurant with photos lining the wall and little details like statues and other sculptures placed here and there. And then, once you descend to the dining area, you have to stop and catch your breath. I can't put my finger on it but it is just beautiful. It feels serene and welcoming yet alive and bright all at the same time.
The Interiors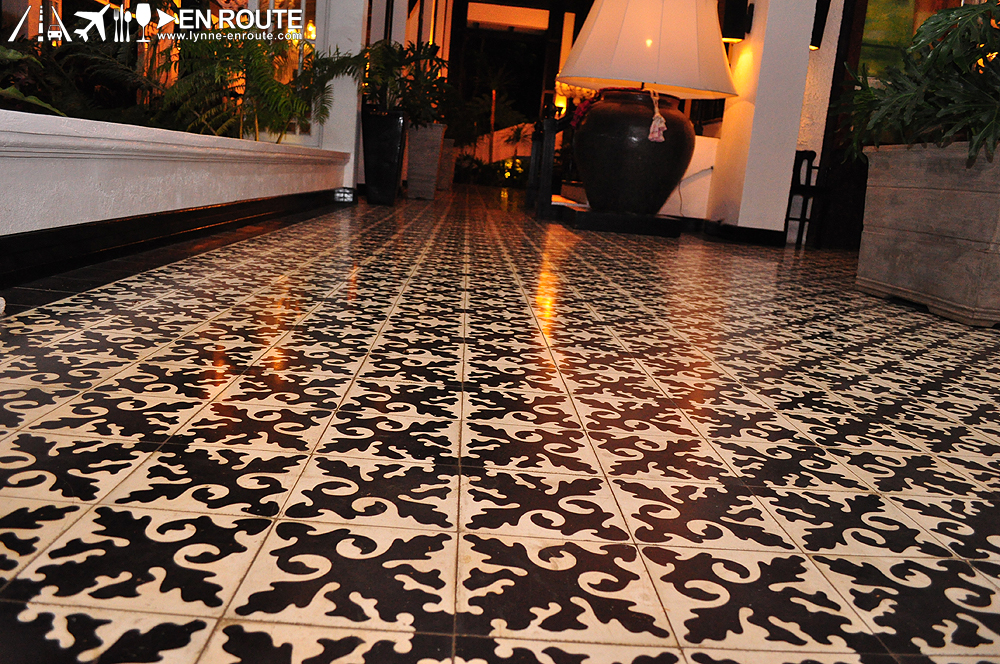 I am absolutely in love with the floor tiles of Antonio's. The black and white tiles just appear so elegant. Who needs decorations when you can just feast on the details at your feet? It was definitely an impressive sight. Paired against the clean lines of the pillars and the high ceilings, it's like a modern-day castle ballroom. You can already imagine the waltz playing. No wonder it's quite popular for weddings.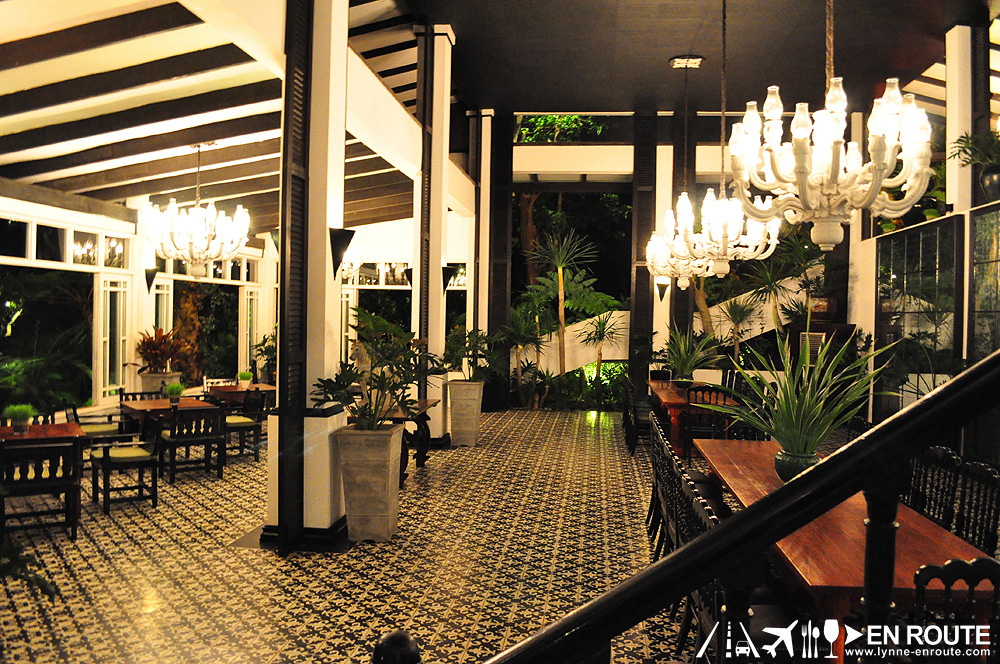 The Dining Experience
Now, on to the gastronomic indulgence. Antonio's has been consistently recognized as one of the best restaurants in Manila. It's currently part of The Philippine Tatler's Luxe Dining compilation for 2010. At the rate its going, this won't change even many years from now. The service was prompt and friendly. They know their menu well and they even helped us select a good wine to go with our meal.
Our menu began with an appetizer of Prawns with Allioli. The garlic flavor of the allioli just enhances the flavor of some juicy pieces of prawns. The lightness of the appetizer is followed by a hearty serving of Antonio's House Salad – fresh picks of arugula with walnuts, cranberries and a nice vinaigrette. After all those clean flavors, we get a nice hot Cream of Sauerkraut soup that has a full and meaty taste. While everything was plated simply, you know that it went through a lot of meticulous finishing before it even reached you. And all throughout, the quietness of the place, with little splashing sounds from the pond and soft chatter from nearby tables, allows you to enjoy good conversation between bites.
I think it is no secret that we are fans of meat so our main courses consisted of Herbed Roasted Rack of Lamb w/ Cardamom Beurre Blanc and Antonio's Trio, a sampler of three different meat dishes on the menu: Beef Fillet on Plancha w/ Black Pepper Sauce, Grilled Beef Fillet Gratinated w/ Wild Mushroom on Mashed Potato, and Honey Glazed Lambloin Gratinated w/ Goat Cheese. It always pays to eat lamb at a place that knows how to cook it properly, just because lamb is so easy to mess up. This one was cooked just right. We didn't even look for mint jelly. As for the Trio platter, the presentation was just too delightful to mess up at first, but I also couldn't wait to try out the different "steaks" before me. I highly recommend this if you can't make up your mind. They have a seafood sampler option also. In the end, I found it hard to pick a favorite. Maybe I'll go with the one with wild mushroom and mashed potato just because I have fond childhood memories of steak with mashed potato. But everything was good.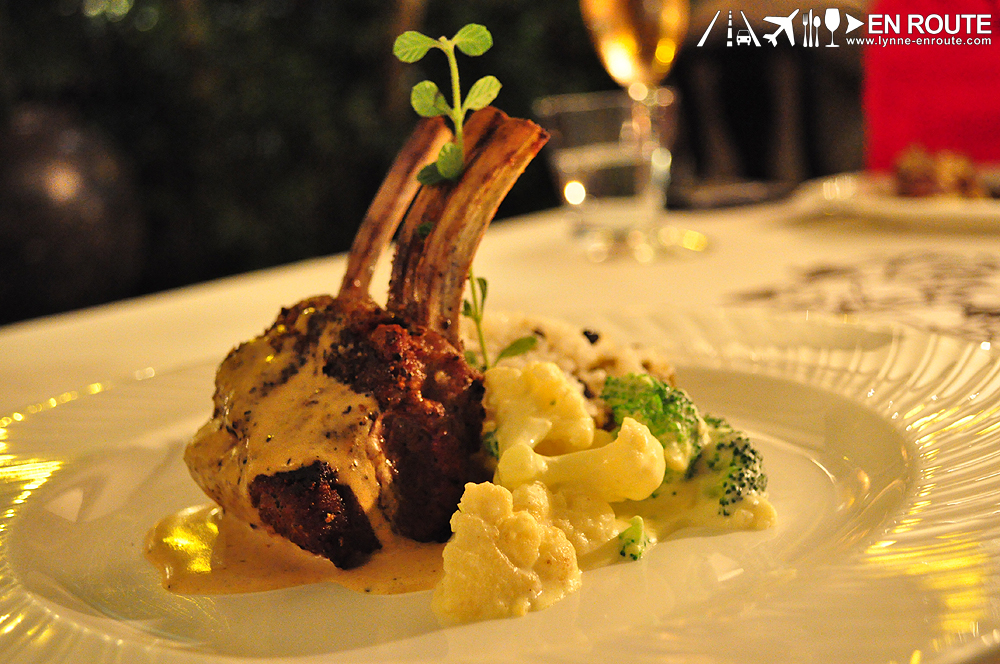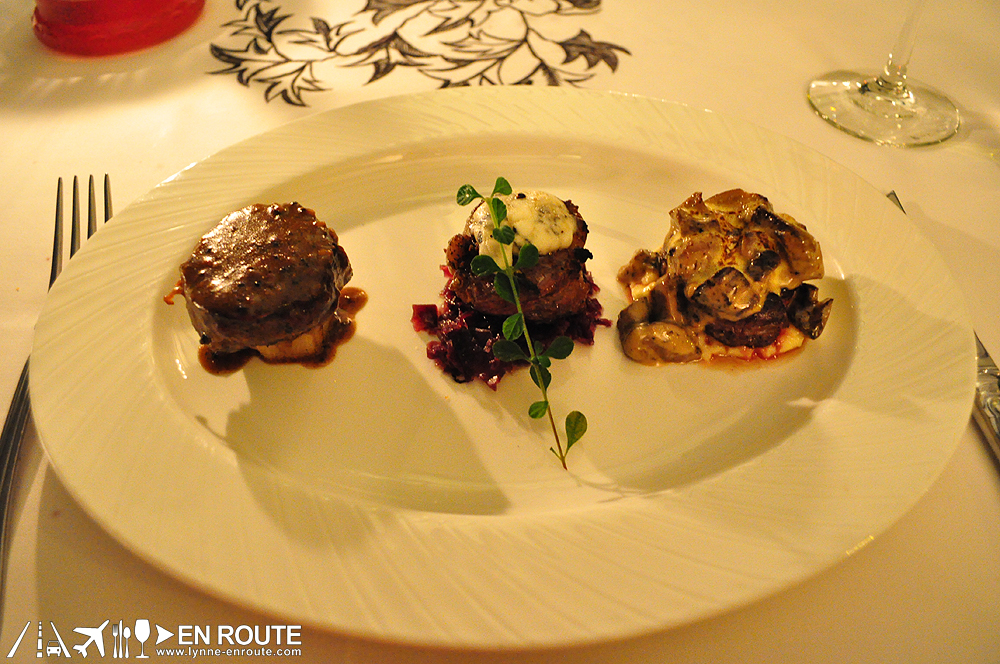 By then, we had had several courses, but I didn't want to leave without a taste of dessert. The sweet ending to our meal was a serving of their Dark Chocolate Soufflé w/ Cardamom Crème Anglaise. By then, I was too sold on how fantastic a place and an experience it had been so every bite of the warm soufflé was just added satisfaction.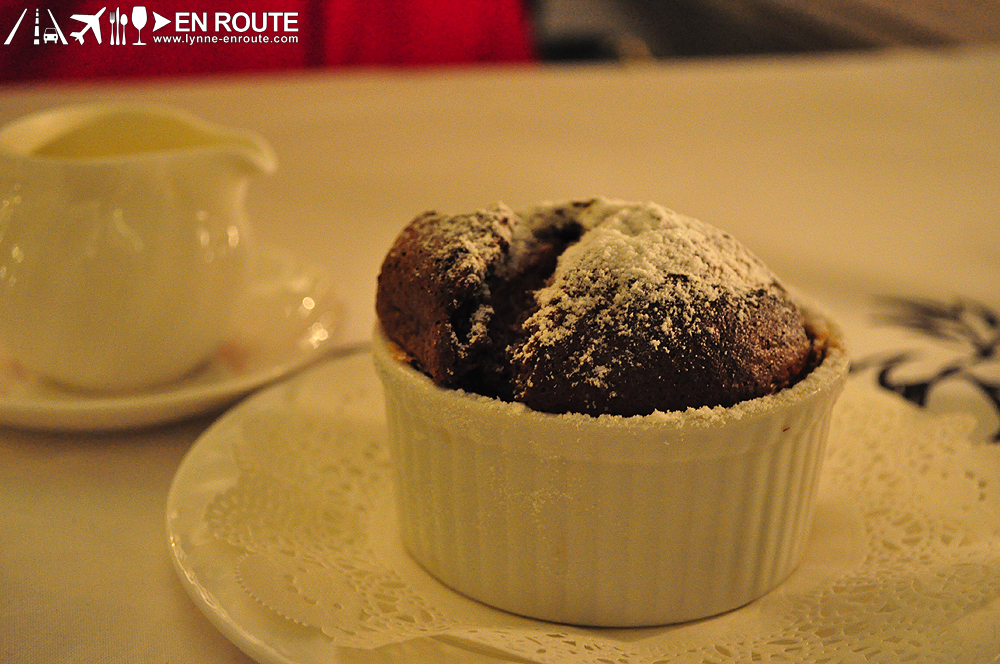 It's a story worth experiencing all over again. I'm happy to say that now, I know what all the fuss is about.  I wonder what else Tagaytay has in store next.
Contact Details
For reservations, you can reserve online through their site, www.antoniosrestaurant.ph or by calling +63917 8992866.
Antonio's is located at Purok 138, Barangay Neogan, Tagaytay City, Cavite, Philippines.  Here's a map I got from their site with directions.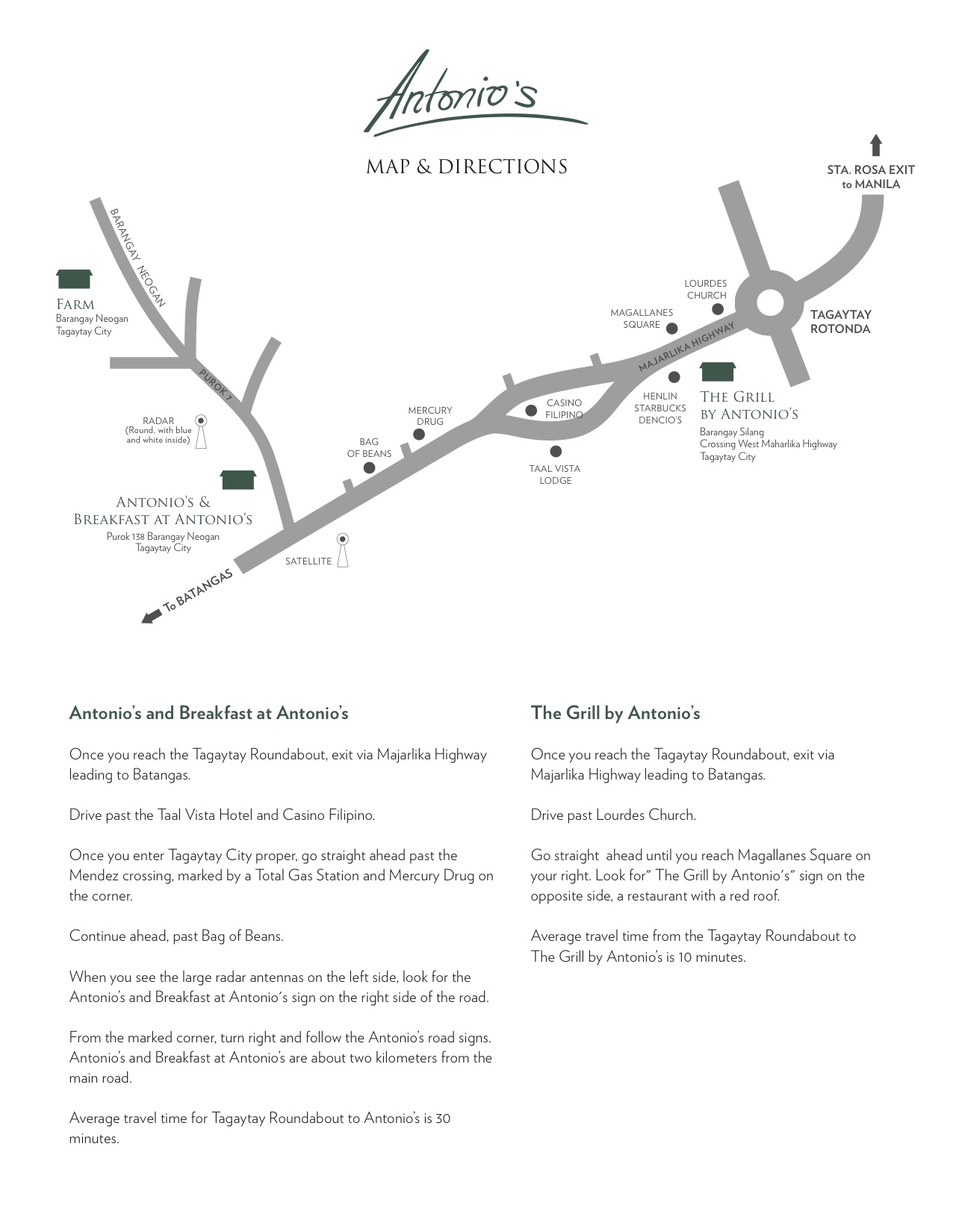 Comment on this and Share it on Facebook!
comments
Powered by Facebook Comments