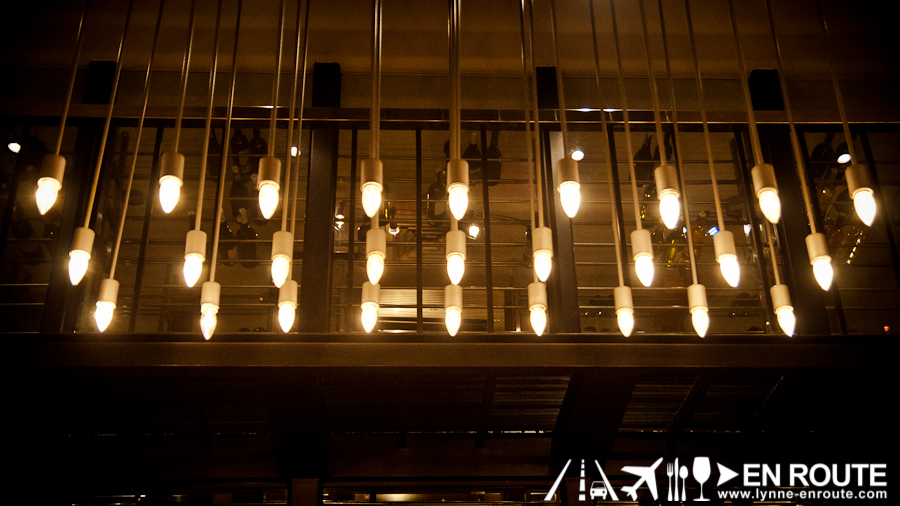 Finally! After so long…. Aubergine.
Aubergine (French for eggplant) has been in Fort Bonifacio for quite a few years already, quietly hidden on the second floor of the 32nd and Fifth commercial complex. While everything around it has been constructed at a staggering pace, it's been here all this time, quietly serving great haute cuisine.
Sometimes it feels like a guilt trip to have tried younger places in the area like Beso Cucina Vinoteka, or even far flung Harvest Gastropub, while not paying attention to some of the other fine things this side of Fort Bonifacio.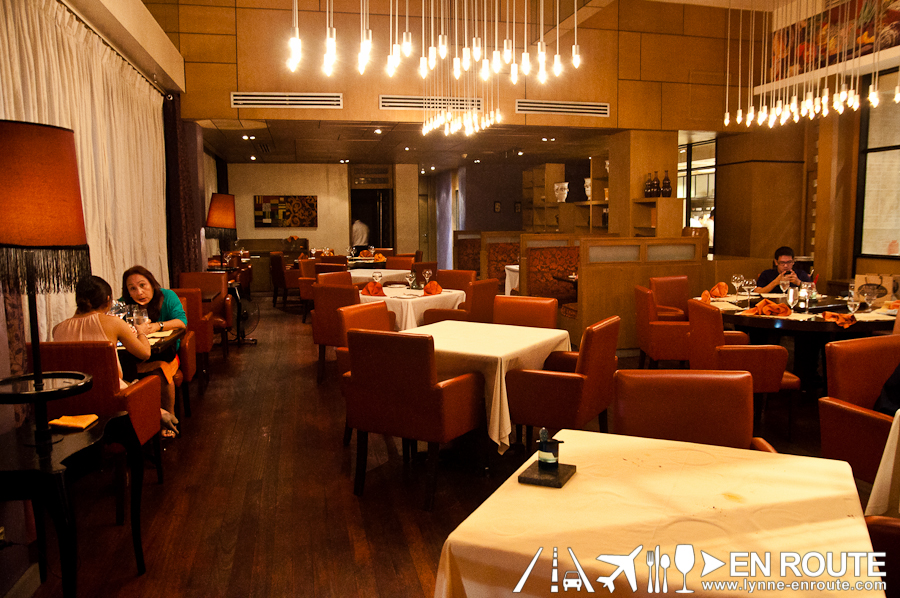 Entering Aubergine is like entering a more upscale bistro: While the large seats and spotless table cloths give the impression that the place requires you to be in your best behavior, the bar and modern looking wine cellar encased in glass and aluminium beg you to take it easy and have a glass or two.
Oh, and yes, there's the presence of an open kitchen: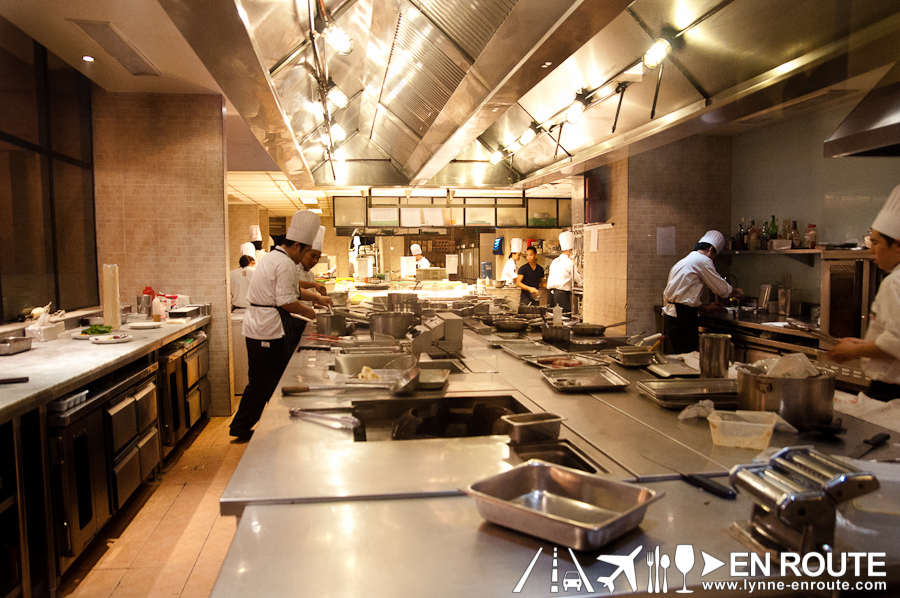 The size of the kitchen is impressive. Stations and stations for food preparation are in good order, with chefs handling soups, sauces, bread, pastas, grills, and a center plating area that you can watch all along. It is these kinds of presentation that give you a better appreciation that moving in a kitchen is damn hard work.
But the fruits of the chefs working in Aubergine are a testament of how good this restaurant is. Part of the regionally acclaimed Miele Guide, along the ranks of Hill Station of Baguio, Lolo Dad's Cafe of Malate, and Antonio's of Tagaytay. With that list alone, you will know what kind of food is in store: simply some of the best in Manila.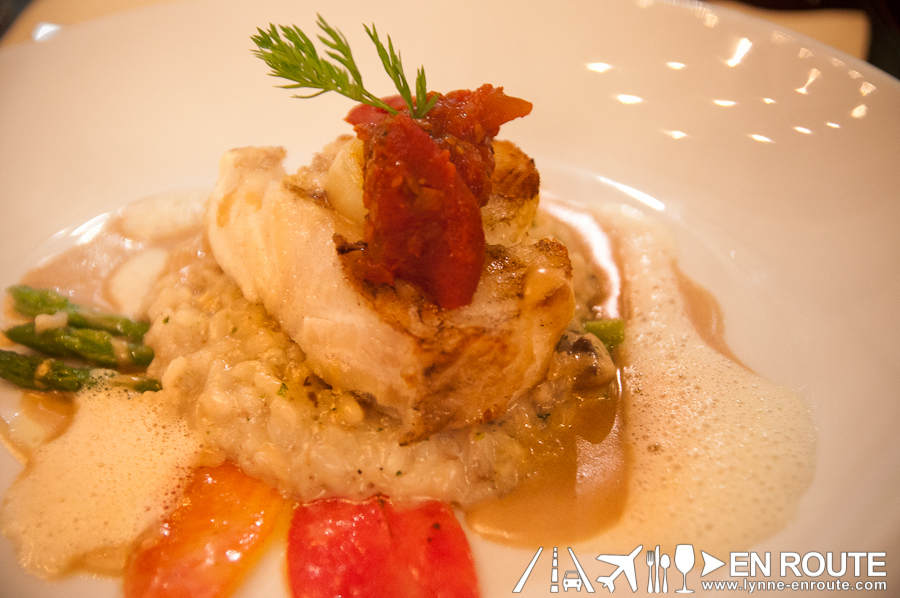 Aubergine has a set menu, and some seasonal items that are normally formed as part of a Degustation Menu (PHP 2,250.00, if you get a steak option, increases to PHP 2,950.00) no other way to go through this sample degustation menu but to describe the dish one by one (It's like The Goose Station! God bless these degustation sets) :
Note: This was their menu for June 13, 2013. Some things may change depending on the date of your visit:
Amuse-Bouche:
This was a pimiento-cashew with somewhat rice-cracker chip. Cheesy, semi-salty, with the pimiento adding that distinct flavor to complement a nutty texture.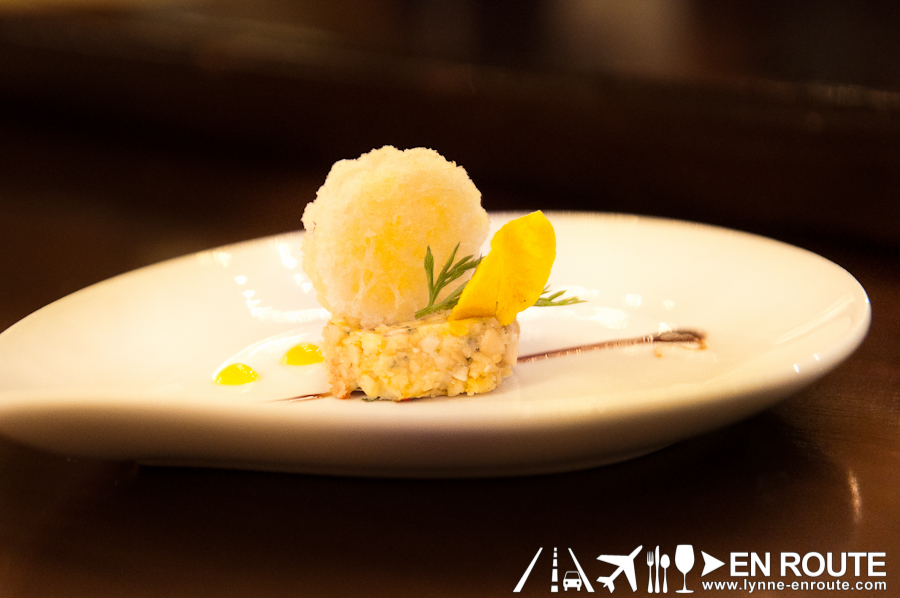 White Asparagus and Champagne Froth Soup:
The froth is a great way to add dimension to its presentation. The qualm about this is that their soup seems to be quite watery. But flavor-wise? No compromise.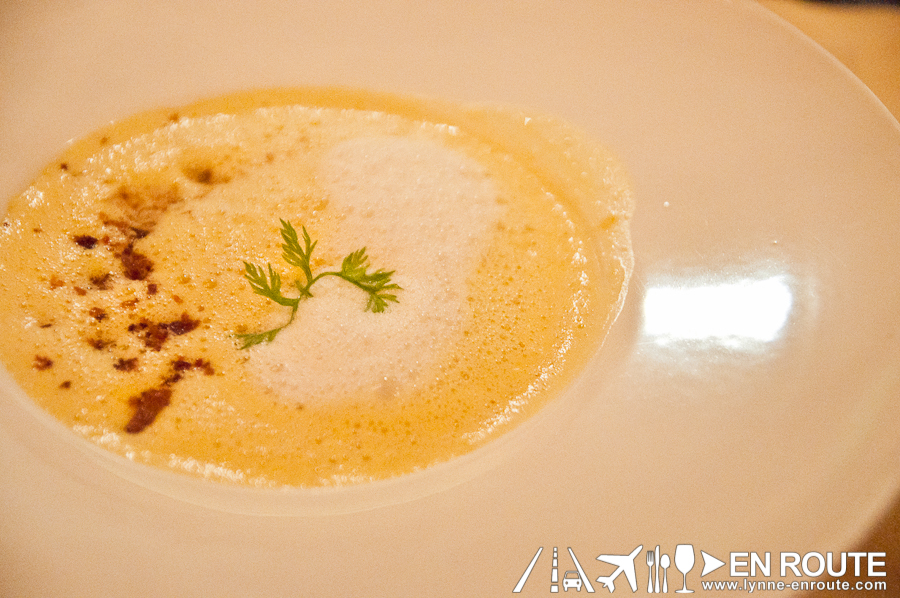 Premium cold Smoked Norweigian Salmon Variety Accompanied by Garden Greens, tossed in Raspberry Dressing:
Strangely, not much salmon taste on this one. Loved the concept of turning it into croquettas, though. Very reminiscent of Spanish food trips!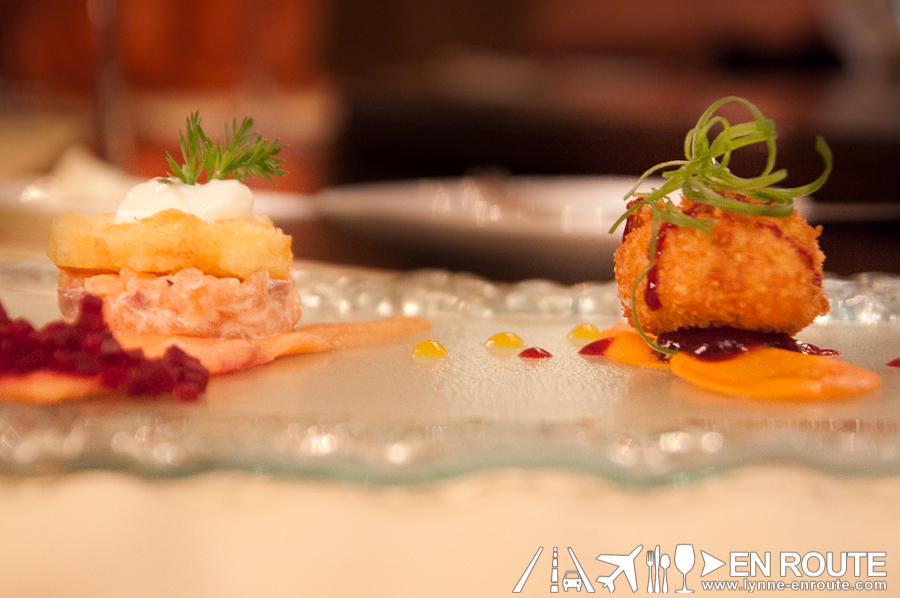 Pan Seared Duck Foie Gras on Celeriac Puree in Apple Cider Jus:
Ah. Foie Gras. If you read any post about foie gras here, there have been no apologies for the carnal desire to devour as much of this as possible, whatever the moral or calorific costs. Take a small piece, let it linger in your mouth. To die for. Spread it on some bread, and forget everything else in the world. Take note for this, though: Don't use too much of the smothered apple cider jus. It might remove the taste and whole foie gras experience.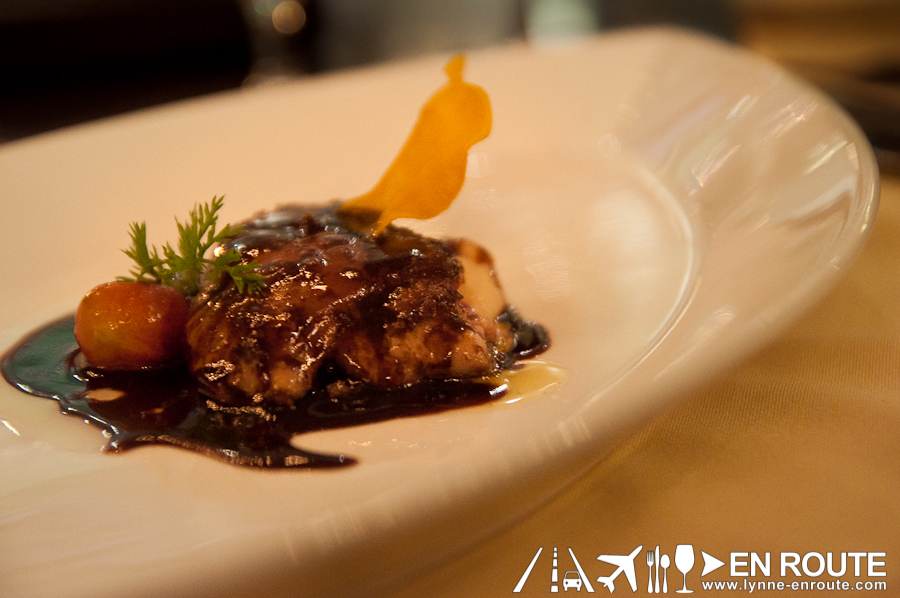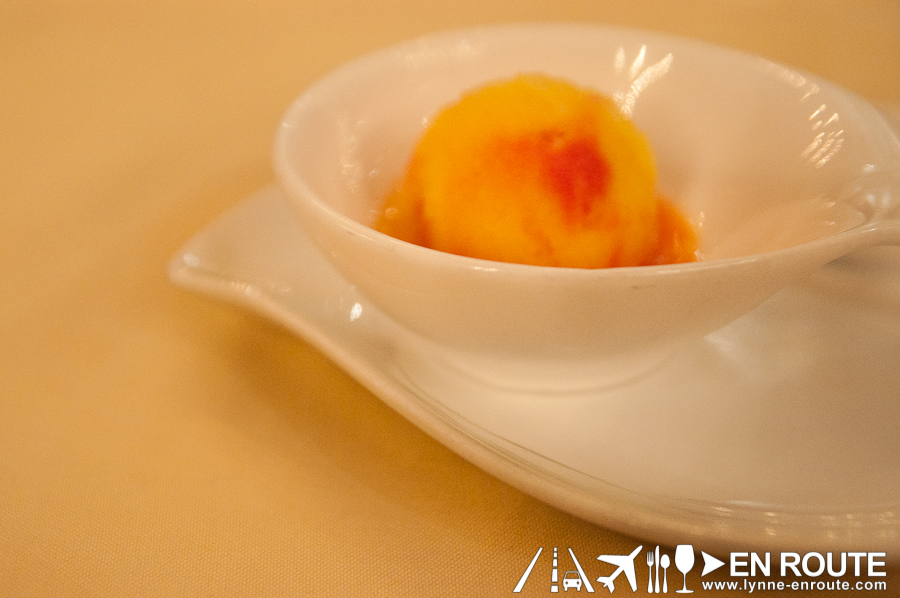 Black Cherry and Passion Fruit Sorbet:
You'll need this to cleanse the palate because the foie gras will linger in your taste buds well beyond the time when you have consumed it (of course for some people, that is NOT a bad thing at all.)
This was the lamb option of the Aubergine Degustation Menu:
Oven Roasted Australian Lamb Rack and Portwine Braised Veal Cheek Served on Potato Confit and Mousseline, Ratatouile, Green Beans and Sauce Piquant:
That ensemble sure was a mouthful. And when the dish came out, it sure looked pretty. The lamb seemed smaller than expected, and was a bit on the tough side even if it was cooked medium. The good part is that it's cleaned up with just a faint gamey taste distinctive of the meat used. That braised veal cheek was soft to the cut, and vegetables cooked just right. Might make you go back to try the steak option.
Mango Delight: White Chocolate and Mango Mousse, Mange Crepe and Mango Ice Creme:
What an ode to the Philippine mango, and a sweet ending at that! The mango crepe was soft, thin, and fantastic! Eat this while having a bit of the mango mousse. For the Mango ice cream, it had no sign that ingredients were spared. It was creamy with no icy particles or artificial flavors.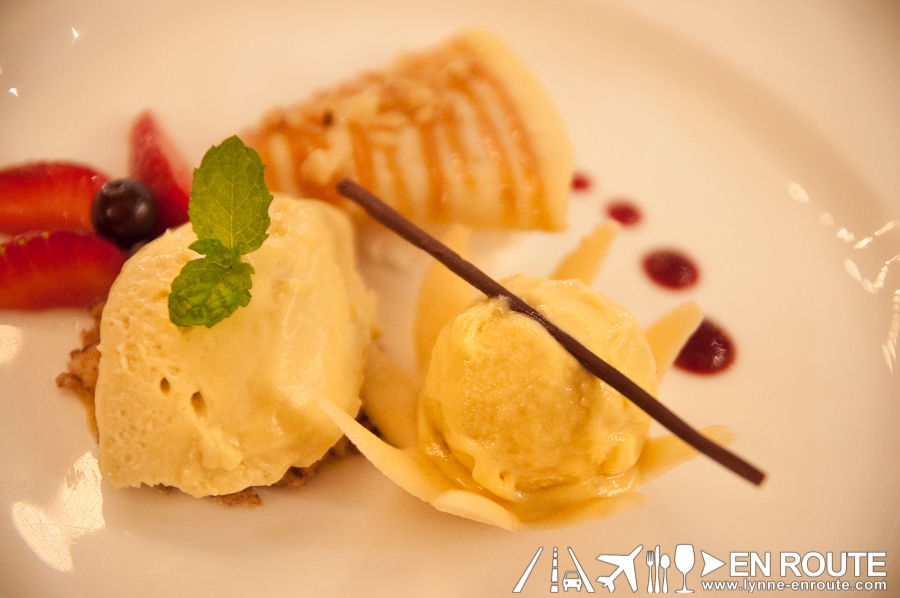 For the price of PHP 2,250.00, this set is one great bargain. Pair this with a wine of your choice, and you got yourself a great place for a romantic dinner, or a good, leisurely meal with your family. It really is one of the best places to sample the skill of the culinary prowess of fine dining Manila, and not breaking the bank, at that.
Definitely worth returning to, and with what Aubergine has offered countless times over the years that it has been in its place, shying away from any unnecessary limelight, it can be relied upon to be there when you come back for more.
Related Posts:
Aubergine is located at the 2nd Floor of The 32nd and Fifth, Fort Bonifacio Global City, Philippines
For reservations, call
+632-856-9888
+63917-557-1675 / +63949-641-9468
HINT: Parking is at the back below 32nd and Fifth building behind HSBC, and it is free!
Comment on this and Share it on Facebook!
comments
Powered by Facebook Comments