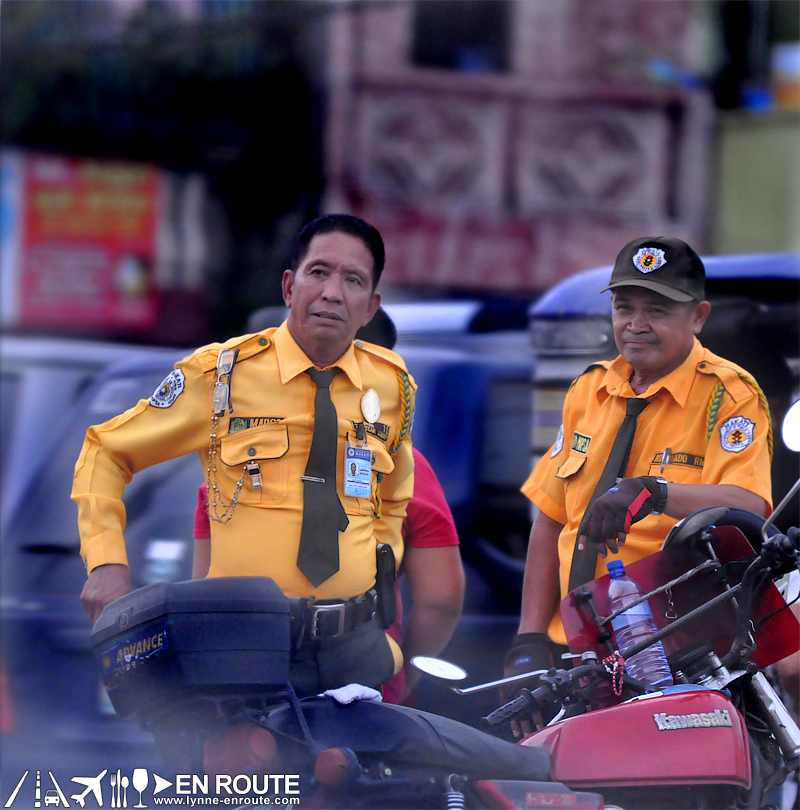 In the Philippines, one of the strictest places enforcing traffic rules is the Makati City Business District.
With ever-changing One-Way routes and overly eager towing trucks (add to that a no number coding window unlike the rest of Metro Manila), you can get caught off guard. One wrong move, and you have the local traffic cops (with mango ice cream colored uniforms) pounce with ninja-like agility.
It doesn't matter also if it is late at night. They patrol the streets 24/7, knowing that there will be a few hapless folks who are either unaware or will try to pull a fast one.
This was something learned the hard way when our group, after a fun dinner, turned left from Paseo de Roxas to Dela Rosa Street (Something no one in the group knew was illegal. Lights were too dark to see the signs, too).
It was all cool even if traffic apprehension is one of the worst motorist banes. To their credit, they were quite the courteous, sympathetic and professional folks who didn't seem the kind who can be bribed. Must be the inspiring influence of the newly elected President.
So now, your license is confiscated and you have to retrieve it. How do you do so? Here's a documentary on how one license retrieval went. Apologies in advance for any bad photos, as this was done at the most discreet way using phone cams
(God knows what other violations can be slapped or unwarranted stares you can get inside the retrieval office).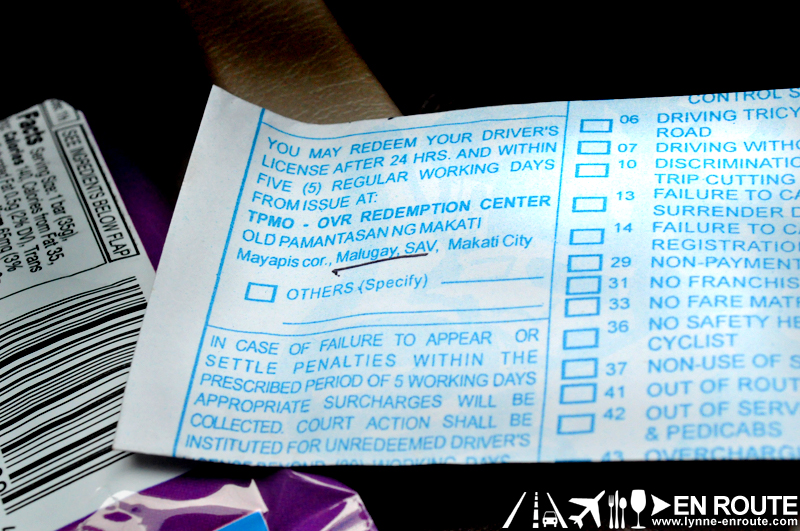 Step 1:
It starts with the traffic ticket. It clearly states where the license can be retrieved. In this case, the friendly cop who apprehended us even gave directions and the date when you can claim it (Mayapis, corner Malugay). Give it about 2 days lead time before heading there. Your ticket can work as a license while it is not yet retrieved.
(Not confirmed if this holds true outside Makati. If someone has been caught outside Makati with this ticket, let us know. Also, we feel sorry for your predicament 😛 )
Check out this map to find out where it is:

View Larger Map
Here is a view of the front of the office taken across at Wingman Buffalo Wings (They have good buffalo wings! You may want to time your retrieval during lunch time)
UPDATE: All of these have now been transferred to the Annex Building of the Makati City Hall. Venue might have changed, but the procedure is still the same.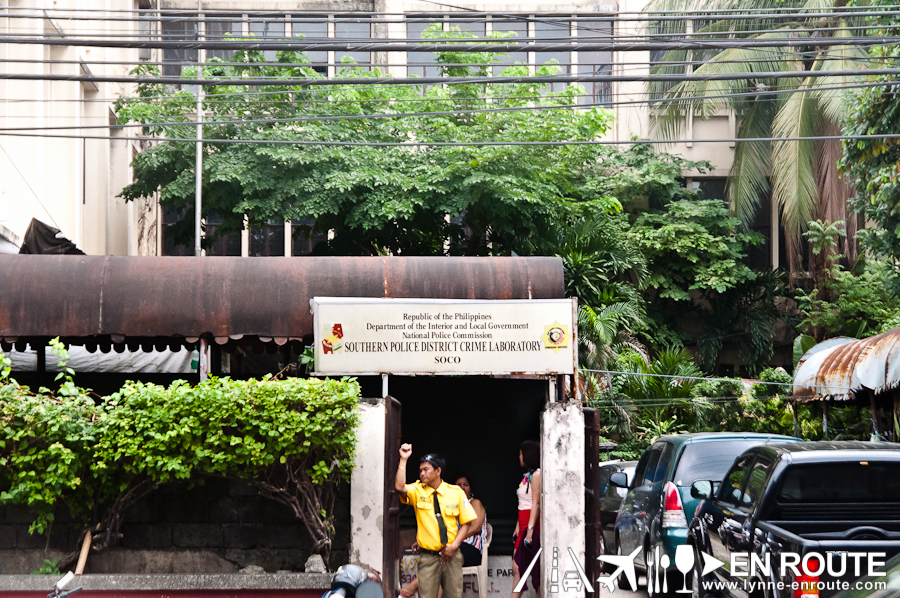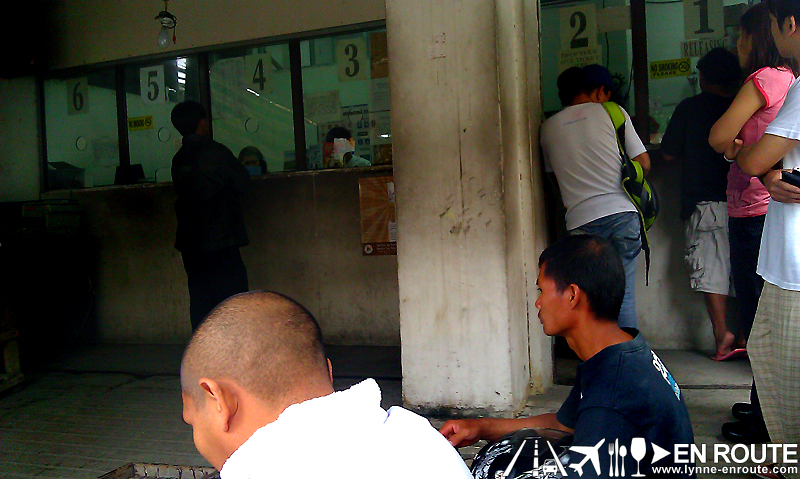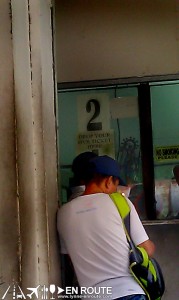 Step 2:
Make your way to the office. Upon getting there, it didn't look too much like the office one would expect. Felt more like the Land Transportation Office line for new applicants.
You enter the place and you see several windows. It says in one window to drop your ticket and they will compute your fine (In this case, it was Window 2). Drop it and wait for your name to be called. It usually takes about 10-15 minutes. In the meantime, buy a candy or soda from the small shack beside if you wish.
Once they call your name, proceed to the window they direct you to and pay the fine.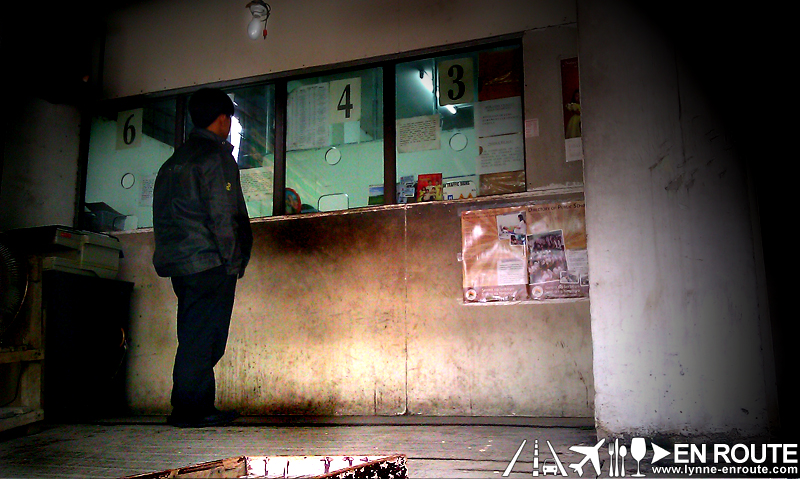 Step 3:
Move close to the window, and the scent inside the office whiffs out. It is a mix of sweat, old sampaguita garlands and 3-in-1 coffee. It's reminiscent of funeral parlor chapels. Adding to the ambiance were the Sto. Nino and Virgin Mary statuettes holding those mentioned garlands, giving you a stare-down.
Nice….
You'll soon forget all of it once they read out the fines to you (for this case, about PHP 500.00). Just dish out the cash, and a receipt will be issued together with your license.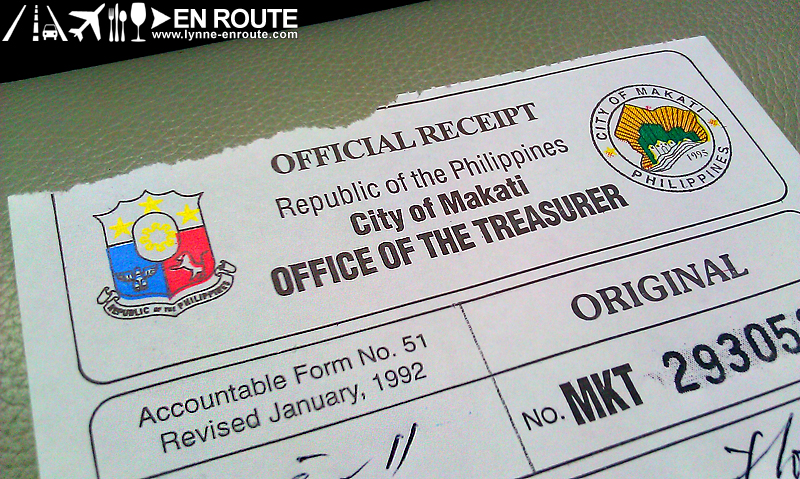 And that's it!
Surprisingly, it was a more pleasant experience than expected. Quick, professional (except for the smell reminiscent of a funeral home), and a bit more motorist friendly compared to other cities that apprehend you (Who would want to go through a 2-hour seminar where they probably will just ridicule you for getting caught?). Here's to hoping other local and national agencies can get their service done for you in 15 minutes as well.
Have questions? Have something to say about this? Wish to share your own shenanigans? let everyone know through the Facebook Comment Window below.
Related Posts:
Comment on this and Share it on Facebook!
comments
Powered by Facebook Comments