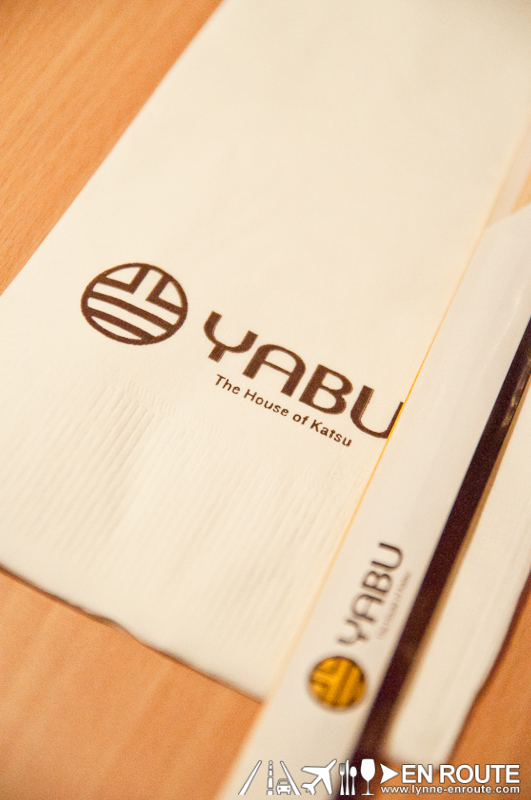 Everyone has been raving about Yabu: the House of Katsu that you would probably think that another post from En Route is not going to matter.
But it does. This is reaffirming that Yabu: the House of Katsu really does deserve all the raves from everyone else who has recommended, commented, posted, tweeted, or checked-in here.
So one Saturday filled with errands for wedding preparations, hunger strikes, and knowing that everyone has been talking about it, the most sensible thing was to try it out: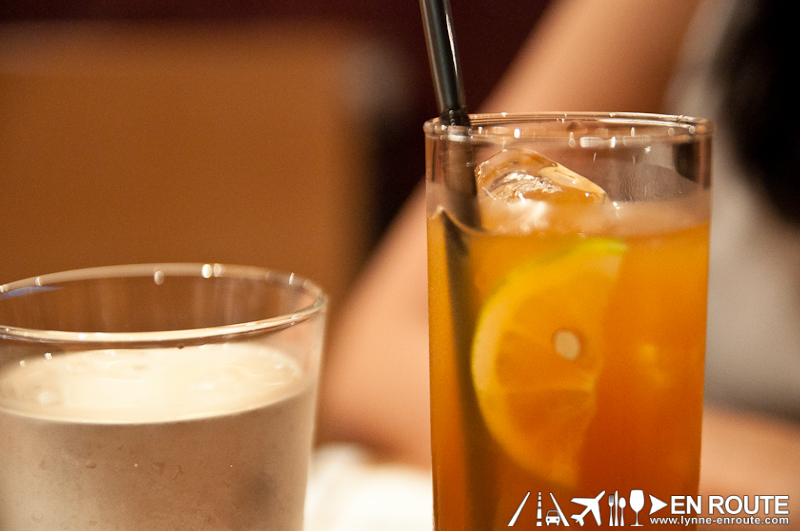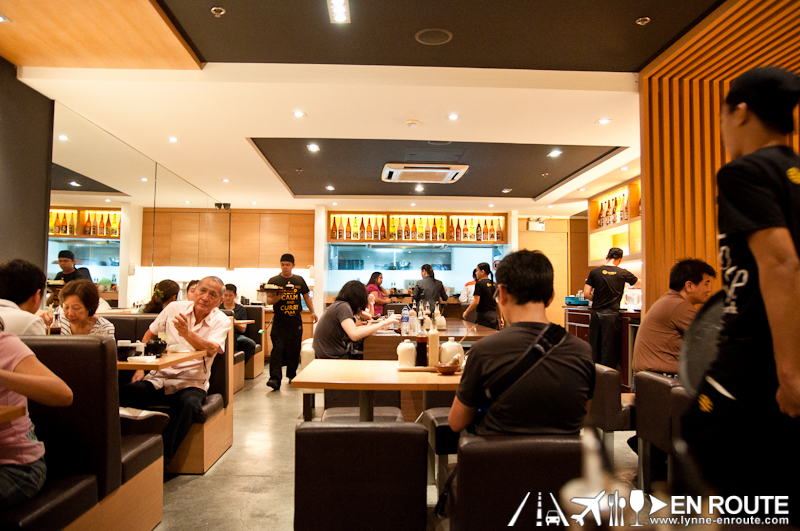 This picture shows the old size and seating arrangement. As of this writing and after a few more visits, Yabu: the House of Katsu has already expanded to take the adjacent tenant space. What was in there before probably didn't matter much.
It looks like a clean place with practical and sensible arrangements to get people and staff around with minimal disturbances. What was fascinating were all the sake bottles displayed on the topmost shelves. En Route loves booze 😛
Their specialty of the house would be the Kurobuta Pork Set (PHP 575.00). You can be taken aback by the hotel-like price tag for a piece of pork. But with a description that simply puts it as the "Kobe Beef of Pork" You will be curious to try it out. Besides, it comes with unlimited cabbage. More on that later.
So after a serving of hot towel comes a little dish filled with sesame seeds and a grinder. This is a component of the katsu sauce to enhance the flavor.  Simply grind the seeds (a circular motion pressing them on the ridges seems to be effective), and take about two spoonfuls of the katsu sauce. Mix well.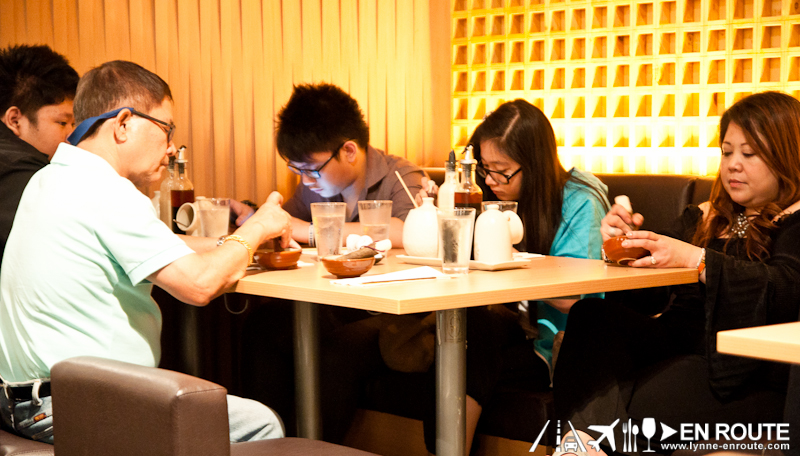 It appears that it has become quite the family sport, too 😛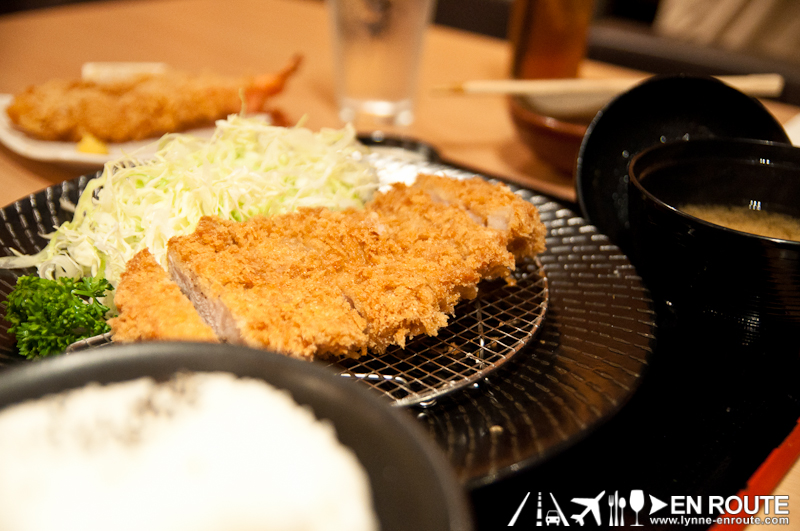 And then comes the katsu cutlet, with its entourage of miso soup, rice, cabbage and a few slices of fruit. For the light eater, this can actually be good for two.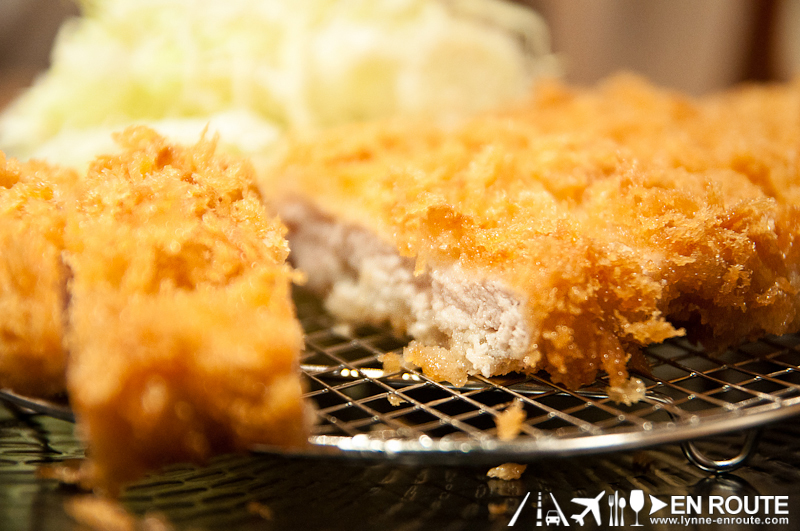 One bite and you will feel the magic: The delicate crunch of the bread batter coating gives way to soft, lightly salted pork meat that is close to the softness of sponge cake. There are comic drawings on the wall of a kid yelling about how it melts in his mouth, and it does feel like it.
It may be that only five star hotels serve something this good, and as of this writing, it is even quite difficult to name one that does. Makes you also wonder if they can at least replicate such breeding of pig here in Manila so that there is more of these in every corner. Everyone deserves a treat like this once in a while.
Speaking of treat, the unlimited cabbages also give a great neutral complement to the pork katsu. There are a variety of seasonings displayed on the table, but the one thing recommended would be the Goma Sesame Seasoning. It may take a bit of patience and technique into getting it to pour out of the spout. But just tilt it for about 30 seconds with a little tapping at the base, and you'll get it drizzled over your cabbage.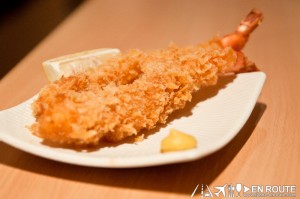 As much as it is also tempting to always get the Kurobuta platter, their other fried items are worth commending also, each with almost that melt-in your-mouth feeling. The Japanese Tiger Prawn (PHP 140.00 per piece) is how tempura should be made. And if you want a sampling of other battered and fried stuff, various katsu platters are for the picking.
Haven't tried it yet? Hope you are hungry for pork. Yabu – the House of Katsu is the place made for such people, as well as non-pork lovers who would like some seafood, chicken or fish deep fried in that melt-in-your-mouth goodness. Here is to hoping they last.
Related Articles:

Yabu – the House of Katsu is located at the 2nd Floor Mega Atrium, SM Megamall, Mandaluyong City, Philippines
Tel Nos. +632-576-3900
Love Yabu – the House of Katsu? Or just a fan of anything Japanese? Make your comments in the Facebook Comments Section below 😀
Comment on this and Share it on Facebook!
comments
Powered by Facebook Comments