There are a few places that become a mainstay for people. Something like a default place to go to if nothing special or unique comes to mind. Here at En Route, there are quite a few:
One other place that becomes a default watering hole is Mr. Rockefeller in Greenbelt. Probably it is by chance, but there has never been a bad experience in the over 10-15 visits here, which seems really peculiar that some have actually had bad cases of slow cooking or bad food as per the comments in the old Mr. Rockefeller article. One was even commenting every ten minutes while waiting for the food. Wonder if he has gotten his meal by now?
Probably the only bad time was when they ran our of their home-made strawberry beer. Yes. They brew their own beer now. And this is what this post is all about.

It seems that with the change in look into an old-style English/American Pub, Mr. Rockefeller has decided to make their own beer, and the appeal of the place seems to draw in a new type of crowd: the older yuppies with a more sophisticated taste, or the increasing number of tourists and foreign businessmen looking for something familiar to their place of origin.
The beers come at a premium price compared to the bottled local varieties (About PHP 90.00 for a pint and PHP 120.00 for a quart). It comes with having a smaller production line where economies of scale can't be achieved. As for the taste? This will depend on what you wish out of your beer:
The two pictured above are their Pale and Dark beers respectively. The Pale beer has a less bitter taste than the San Miguel Pale Pilsen, but is not flat like the San Miguel Light. There's a slight hint of bananas in the scent and the head (the foam on top) doesn't fizzle out as fast, keeping the refreshing taste longer.
The Dark beer, on the other hand, has a more robust taste, but not as much as the popular Guinness. There's a slight sweet caramel flavor in it as well. It doesn't have a foamy head but a swirl here and there can stir up some sweet notes.
For those who cannot distinguish the taste of various beers, this might come out as an expensive experiment. It may take some time, and even once you do, you may not see how much different it is from the bottled local beers. For that, you may want to go to their more popular flavor: Strawberry flavored beer: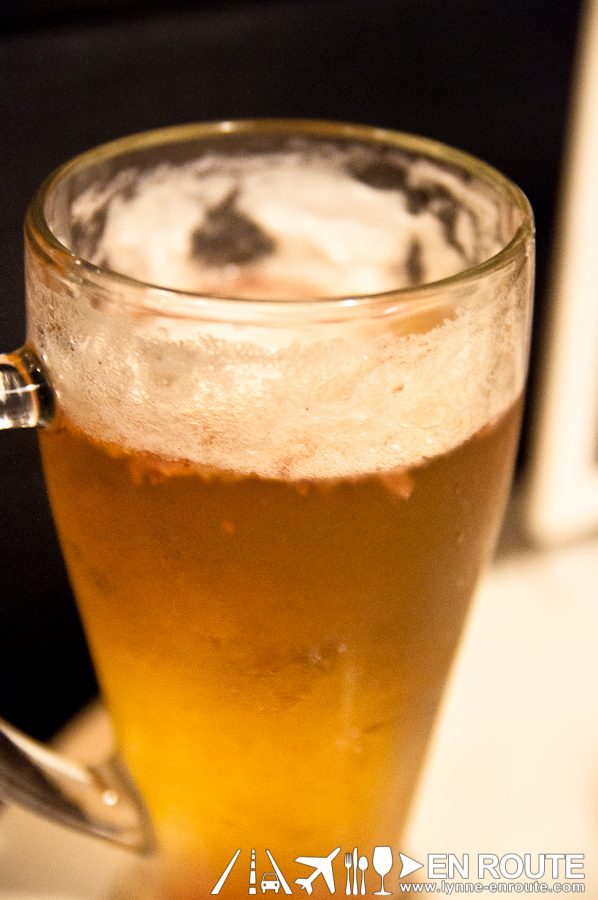 This one may come out looking strange and may throw you off a bit: In the beer, there are muddled strawberries that float up and down as it catches a bunch of bubbles. It does not look that palatable if you want your beer crisp and clean.
The taste is pretty good, though. Crisp effervescence mixes up with the freshness of strawberry flavors. It is quite easy to drink and the hit is not too hard to compromise your senses. It is a nice good treat once in a while, and having fresh strawberries for flavor is better than the synthetic strawberry flavored beer. But that other one can't be beat in terms of price.
If the beers here interest you, then some of the food to pair with these beers might just keep you coming back.
There are a few hidden gems in the menu of Mr. Rockefeller. Patrons will swear by their cheese puffs and quesadillas. But here are ones that may go well with your beer: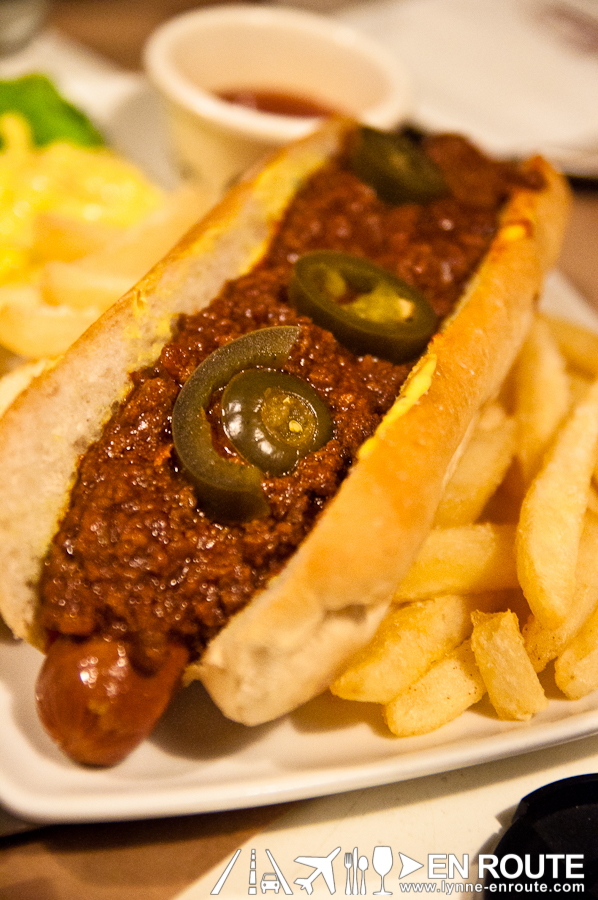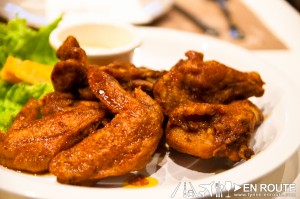 .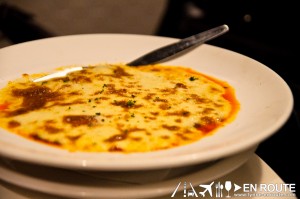 Mr. Rockefeller's Chillidog is one of the best tasting in Manila. While the sausage is actually composed of two German franks, the spice and savory flavors of the chili more than make up for it. It will keep you chugging that cold brew as you go about your dinner.
For more spicy selections, their Buffalo wings have a decent kick. Nothing too spicy that you cannot taste anything else anymore. You still get to taste the chicken and its seasonings.
More of the meat sauce kind of person? Their Meat Lasagna is a winner. The picture may look deceiving, but that is a deep serving dish, good for two hungry blokes or a party of three that has ordered an extra dish. The cheesy-meaty sauce seems to also have a hint of butter taste. It is American comfort food if you ever see one.
With their transformation into an English style pub, offering their own crafted beers along with local and international brews, and mixed with tasty food, It looks like Mr. Rockefeller is asking everyone to make them the come-to place. It seems to be how they are marketing themselves with the pasted words in their windows:
"If all else fails, drink with us."
It seems like an inviting offer, after all.
Related Posts

Mr. Rockefeller is located at the 2nd floor, Greenbelt 3, Makati City, Philippines.
Love Mr. Rockefeller? Or hate it? Maybe there are other better beer places? Send you comments in the Facebook Comments Section below.
Comment on this and Share it on Facebook!
comments
Powered by Facebook Comments