Back in the launch of Trufflefinder, it was a treat to find out that there is more than one speakeasy in Manila.
But before that, there was one place that has been in our hearts, and in the hearts of the CNNGo people that featured this place.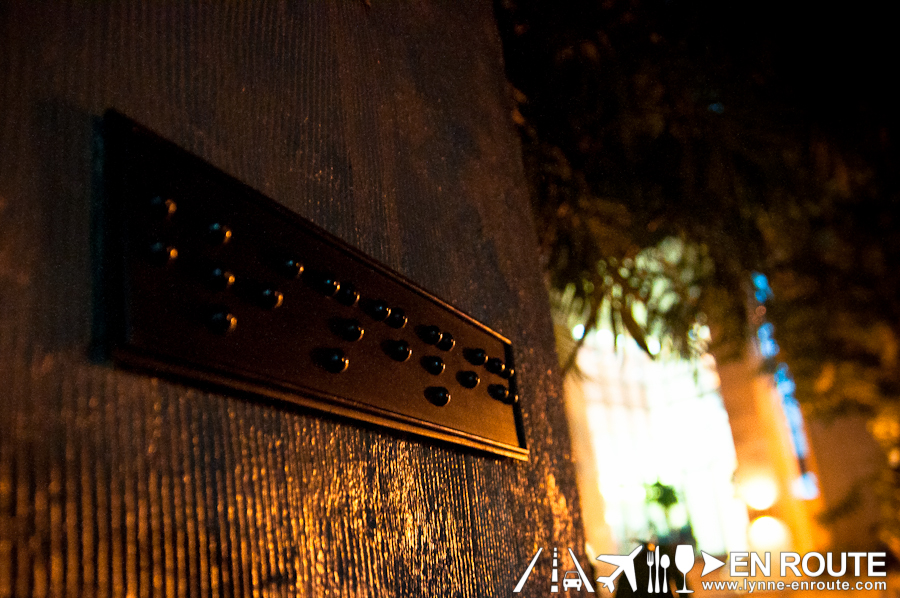 Blind Pig in Makati is probably one of the more known speakeasy-style bars around. With an entrance in some nondescript building and the only marker is a black sign in Braille that is smaller than a license plate (plus the chance that you can even be rejected if you do not have a reservation), this is the true speakeasy experience.
Update: Blind Pig has a sister bar now just a few blocks away called Exit Bar.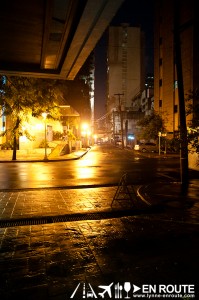 .
So one rainy night, after being here once and luckily getting a chance to enter last summer, En Route finds its way again looking for Blind Pig Speakeasy.
Searching for it already gives a whole secretive, adventurous and romantic feel, as if you will be let on to a secret only a few knowledgeable of Blind Pig will ever find out. It sets your mind into expecting you will be swept away, both with excitement and a hint of fear and anxiety running through your skin.
Knock on the door, wait for someone to open the small sliding peephole to ask your name. If you have your reservation and made it in time, you will hear the click and be ushered in by the hostess.
And just like that, the expectation of a time warp turns to reality….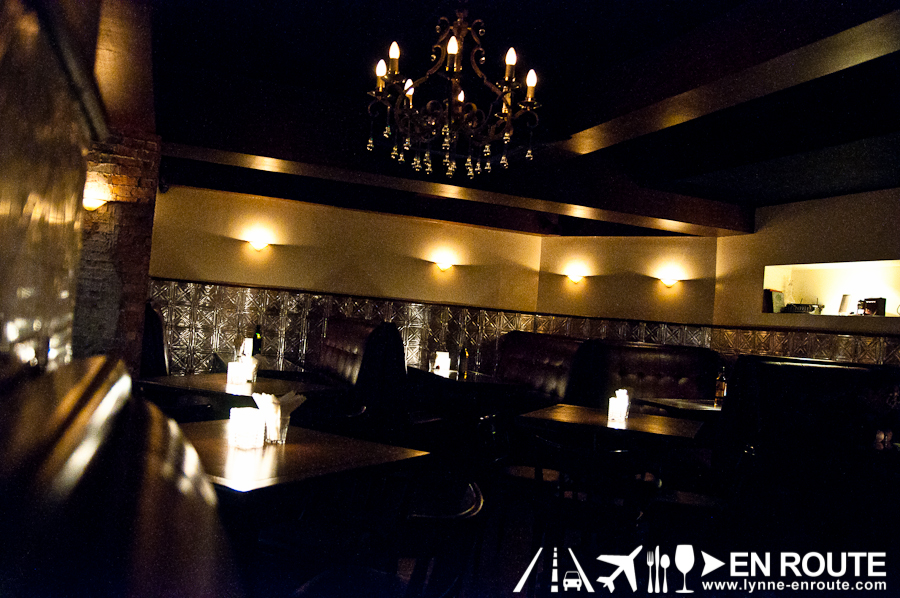 You are sucked into a time and place filled with darkness, only illuminated by candles, accent lighting, and a dimly lit chandelier smack in the middle. The textured walls and soft leather couches surround the sides. Little trinkets and antiquities adorn the corners. And the music? An ensemble of wind instruments, sultry bar singers, where the noisiest instrument playing may be a saxohpone. You are transported into the Prohibition Era of the 1920's.
The hostess takes you to your seat. Welcomes you, and asks for your name. You will be remembered by name for the rest of the night, as if they asked you to stay and don't want you to leave. The level of personalized experience can make you giddy and scream with delight. But remember, you are in a speakeasy. So there are a few house rules to be followed: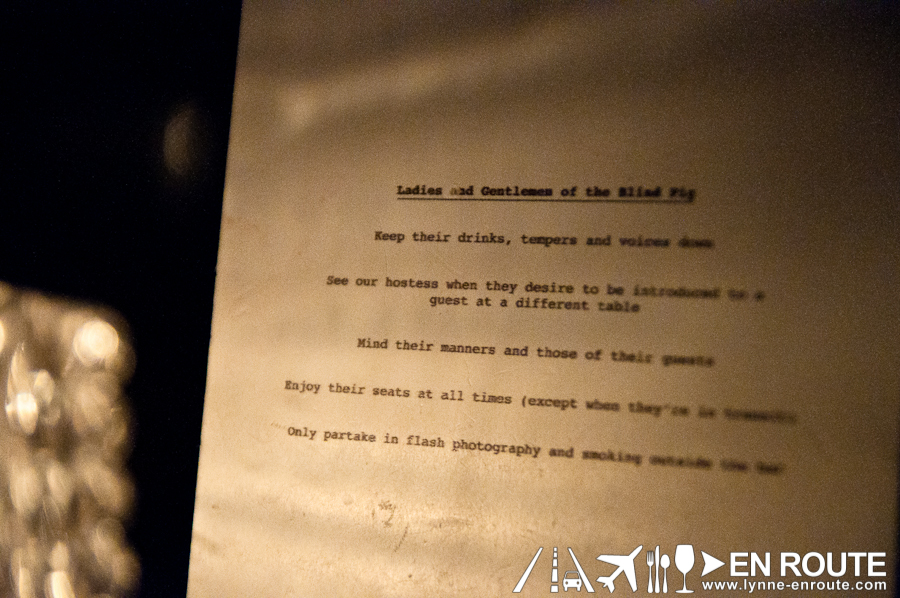 The role your play when you're here is: "No one can know you are here, while you're here". It is a place of escape from everyone, probably including the authorities. Just sit back, relax, and get some of their signature drinks or cocktails, or have your favorite one made.
And speaking of the cocktails and the bar: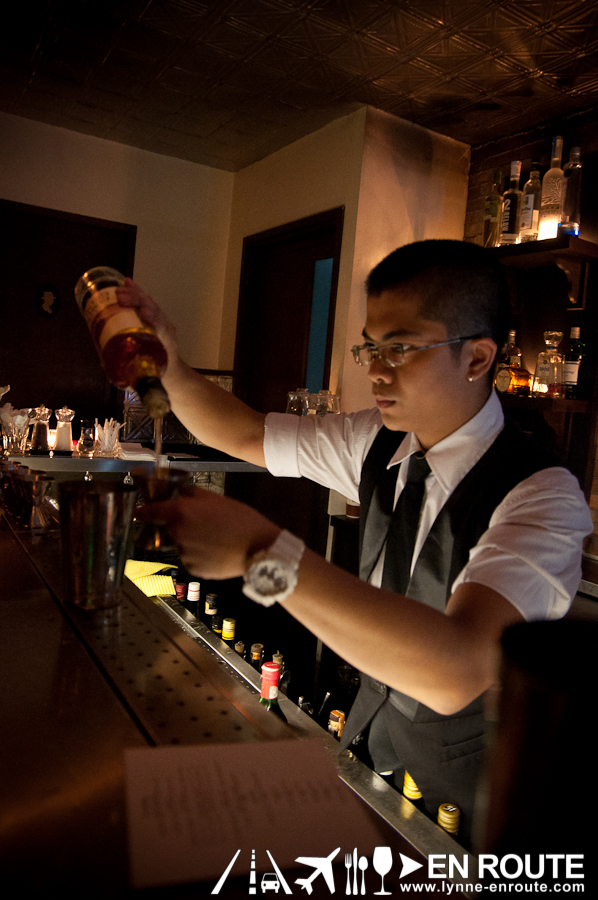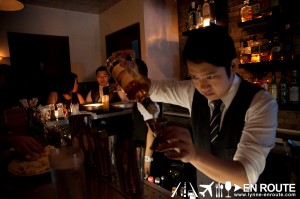 Blind Pig has probably some of the best bar tenders in Manila, being skillfully trained in their craft by consultants from the Milk and Honey Member's Club of New York and London. They know their drink, as much as they know how to converse in well structured English. These are learned men (celebrities in their own right) with great stories to tell if you decide to hang out in the bar to watch them put on a show.
Bullet Rye Whiskey served Old Fashioned style with a twirl of orange and lemon rind? They can make one for you, and even explain to you how your drink is made and mixed as it is being served.
Which then brings us to the kinds of cocktails and drinks they conjure up in this exclusive hole…
The level of drinks and cocktails in Blind Pig Makati can put some five star hotels or upscale bars to shame. Craftsmanship is not only how it tastes, but how it looks and how ingredients are used as well. Lime juice and lemon juice here are naturally squeezed. None of the grocery shelf bottled variety. Top class whiskeys adorn the wall. Vodkas are exquisite and exclusive. Even the ultra popular Absolut is scoffed at here for being cheap and mainstream. We joked that there is no vodka that will go below 42 Below (It's a brand).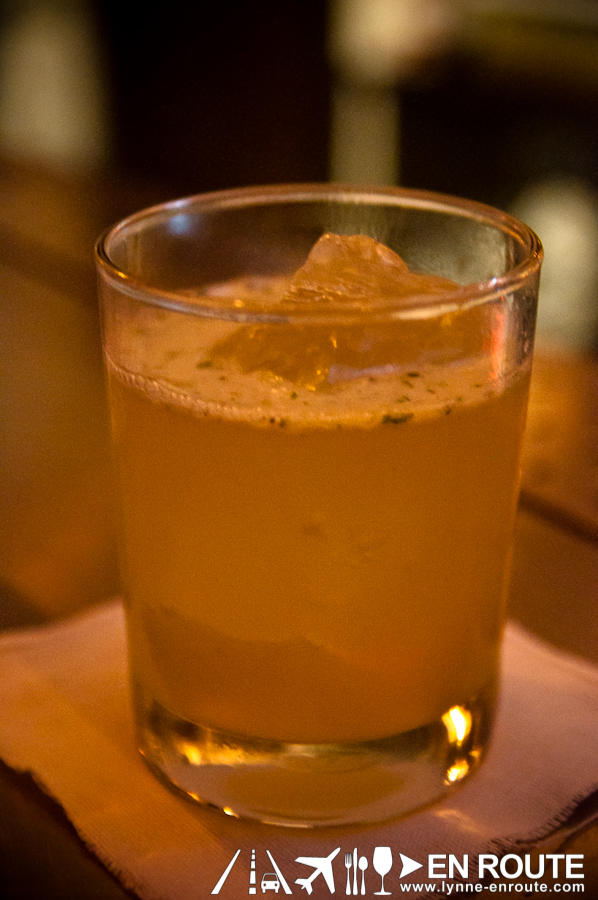 Expect the drinks here to be not of the cheap kind. Expect to pay a minimum of PHP 350.00 for your drink, but you get your money's worth. Fresh strawberry caipiroska? They have fresh strawberries here, muddled and mashed with fresh lime with a generous amount of vodka. Adjust sweetness with syrup if you wish. This drink is popular with the ladies.
Another popular drink here for the discerning ones is their Mint Julep. Bourbon with newly picked mint, syrup, and tons of crushed ice, this will be one of the most refreshing and life changing moments when you mix up and take a sip of these two cocktails.
Being a speakeasy, it will have its own set of signature drinks. Indulge in their popular Smokey Old Bastard, or be refreshed with the Gold Rush. There is a lot to pick from, along with a few craft beers like Hitachino White Ale.
Blind Pig is not all about the drinks, but the bar chow, too!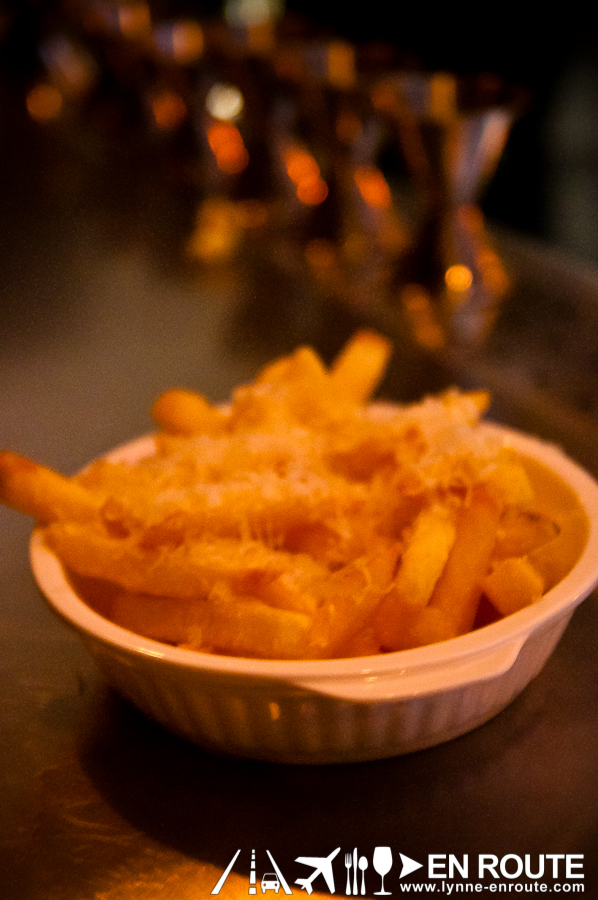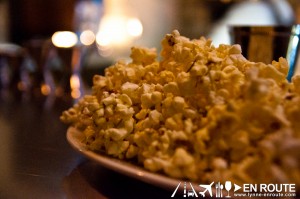 Rosemary Popcorn has great butter taste with a faint hint of rosemary that may not be detecable until you sit down and let the flavors simmer a bit. Feeling starchy to help with the drinks? Their truffle fries baked with parmesan cheese will be a good call.
Not pictured here, but Blind Pig serves one of the best – if not the best – Sheperd's pie in the metro. Ground meat with tomato sauce, peppered with rosemary, and packed tight by a thick layer of mashed potatoes is an ultimate indulgence only made tastier knowing only a few know of this secret. Allow about 30 minutes for making, though.
It if is sounding like they don't want you to leave, probably it is so.
Take that stroll along memory lane, on a time when things are slower than today's fast paced world, yet dashed with a bit of excitement brought about by the idea that there is a secret only a few discerning and capable of Manila's distinguished would go when they say they quite literally, want to hide from it all. And it is not some sort of publicity stunt. Blind Pig will be here for those moments, as long as you keep it a secret as well.
Related Posts

 .
.
Blind Pig Speakeasy is located at Salcedo Street, Makati City Philippines.
Number currently is +63917-549-2264 (It changes)
Reservation Required. And be on time. Blind Pig will reject people if you are late or if you have no reservation and there's no empty seat. Foreigners and even influential people have been booted out and Blind Pig will not be apologetic about it.
It is a true speakeasy adopted from a time when people keep their word and establishments value their customers almost like family, so reserving here and coming in late like a dashing diva will be scoffed at.
Love Blind Pig Speakeasy? Too snooty for your taste? Hit up on the Facebook comments below.
.
Comment on this and Share it on Facebook!
comments
Powered by Facebook Comments