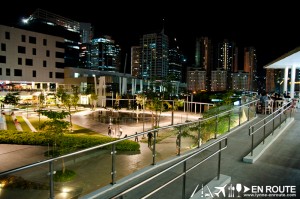 It seems like the Metro Manila foodie landscape is starting to appreciate the finer and more upscale gastronomic experience. What with the opening of the Bonifacio High Street Central, sparking an appetite to try something new while living out the cosmopolitan lifestyle that the relatively young working class work for through their hard earned money.
The splurge all pays off, though, with a demand for exploring deeper into already known cuisines mutually supplied by the local chefs who are eager to show what else is in store for the taste buds.
Such seems to be the case with Spanish tapas bars and their latest offerings of a variety of sangria blends. In the Bonifacio High Street Central, Beso CucinaVinoteka stands out for such offerings.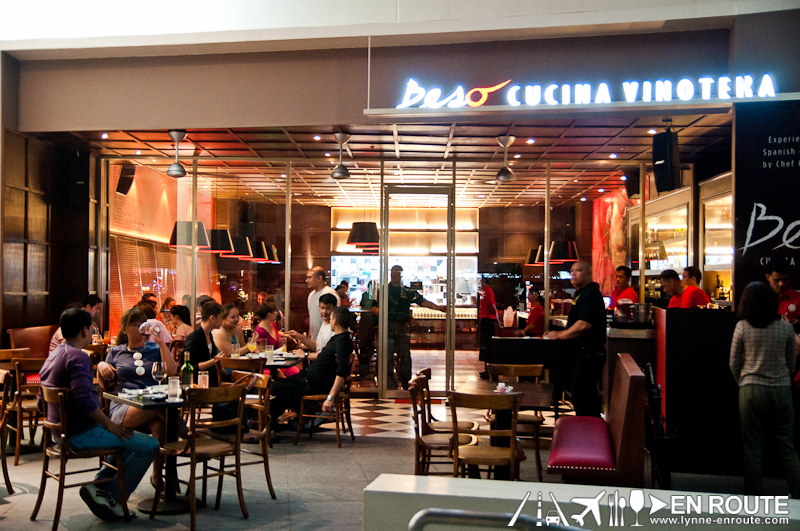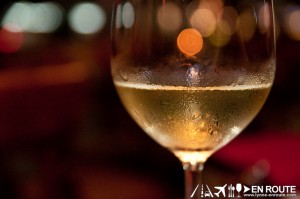 Beso Cucina Vinoteka promises to be the modern Spanish version of a sophisticated watering hole, with wines, cocktails, spirits, and food creations.
While there are other wine places and tapas bars within walking distance, the new ambiance of Beso will probably be what will attract the crowd.
Now these pictures were taken quite early in February of 2012, so a lot of things may have changed, like their wine list which was promised to be respectably extensive over the coming months.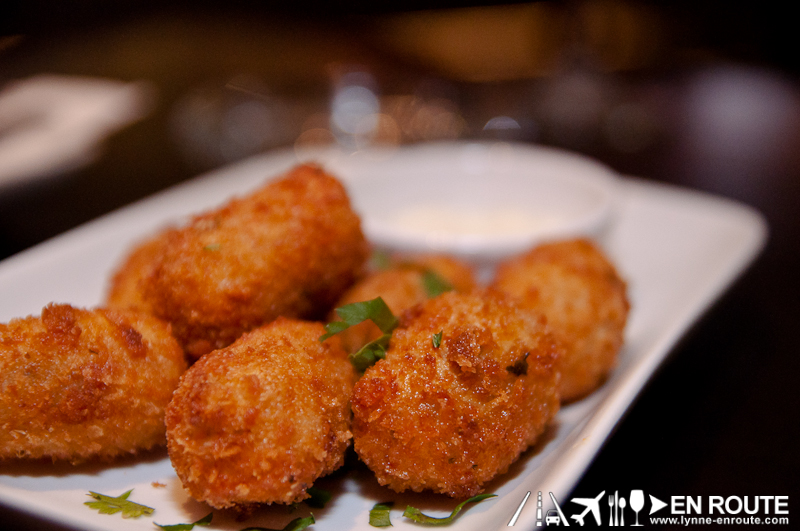 It was proving to be one of those nights where not much food is on the table to leave room for more wine and other cocktails (which is really the norm here in En Route) and croquetas was ordered to fulfill the cheesy fix. This one in particular, a Jamon, Chicken and Manchego Croquetas (PHP 410.00) had the savory flavors of Jamon Iberico, complemented by a filling texture of chicken into the creamy finish of manchego cheese.
Light meals are associated with fish such as the Crispy Skin Salmon Fillet with Cauliflower Puree, Zucchini, Raisins, and Pine Nuts (PHP 520.00). This one was quite ok. It is recommended to try to other main entrees as each one gives a different flavor when paired with a certain wine.
And for dessert? This one can pique your interest: A twist on the familiar sight of leche flan, but this time made with chocolate with sherry contained in its syrupy glaze (PHP 250.00). It can be difficult to justify such an amount for what some may consider just a fancy leche flan.
Still, remember that such gastronomic varieties using more than the usual ingredients is what makes its flavor interesting.
If you are not here for the food, then defnitely be here for what they do best: The Sangrias. Beso Cucina Vinoteka offers a few of their own mixes, and this one containing a vodka base instead of the traditional brandy based sangria is one of the most refreshing ones out there. The heaviness of brandy is replaced by the neutral flavor of vodka with some squeeze of fresh fruits. It's like a Spanish summer breeze with every sip.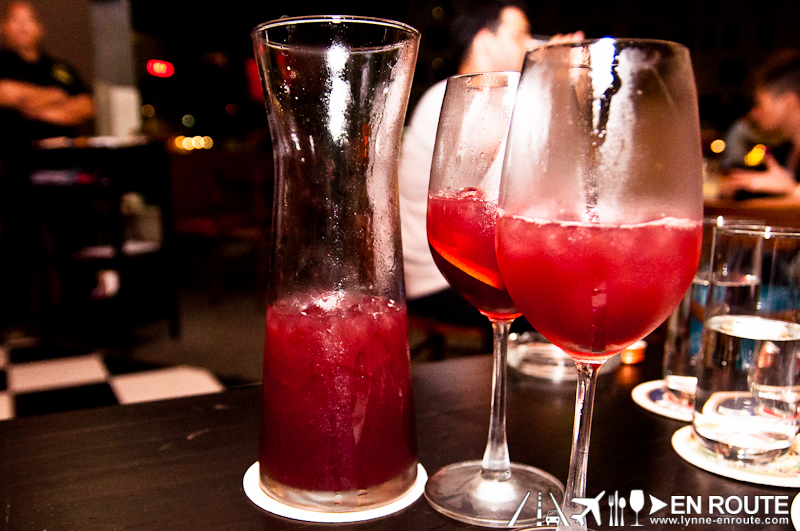 Be careful. It is deceptively addicting. The refreshing fruity taste can mask its alcoholic properties. This particular order was gulped up in nothing more than 25 minutes, so imagine the comical antics of an imbibed couple, where polite greetings of acquaintances seen along the way are replaced by condescending lectures that their sports car is illegally parked along the curb of Bonifacio High Street.
True story 😛
You can see how the lure of Beso Cucina Vinoteka, with its fresh take on Spanish cuisine and even livelier mix of wine and sangrias can become the mainstay choice of the goers of Bonifacio High Street. Give them a visit and see where the experience takes you.
Related Posts:
Beso Cucina Vinoteka is located at Bonifacio High Street Central Fort Bonifacio Global City Taguig Philippines.
Tel. Nos. +63926-614-9695
Have you visited Beso or already made this one of your favorite hang out spots? What else is good to get here? Share it on the Facebook Comments section below 🙂
Comment on this and Share it on Facebook!
comments
Powered by Facebook Comments