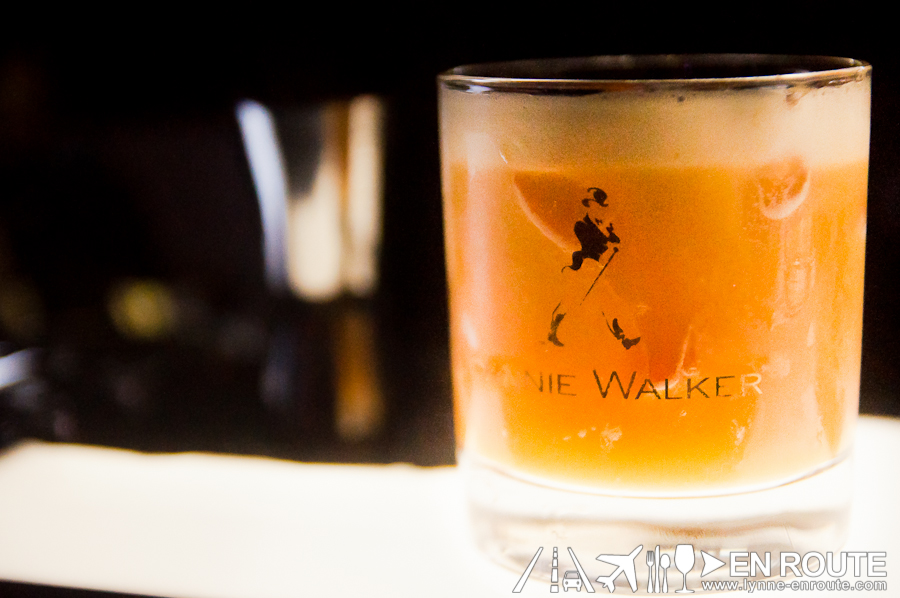 Recognizing bartenders as much as world class chefs has always been an advocacy here. More than being nameless John Does at the other side of the bar churning and shaking up a concoction for inebriety, there is more to being a bartender. You ingrain to yourself the basics of being precise in your measurements to make complex flavors. You study and experiment the infinite permutations of ingredients to make an original you can be known for. And lastly, you  practice learning how to read people who sit by the bar and give them a drink that is perfect for that given moment. And that is just a few of the things you have to learn.
You are more than just a mere cocktail servant, you are a people person.
That is why it is really great that the makers of fine spirits give opportunities for these people to shine and push the craft even further, especially in a country like the Philippines where this fine are of making craft cocktails has not been seen in a long time.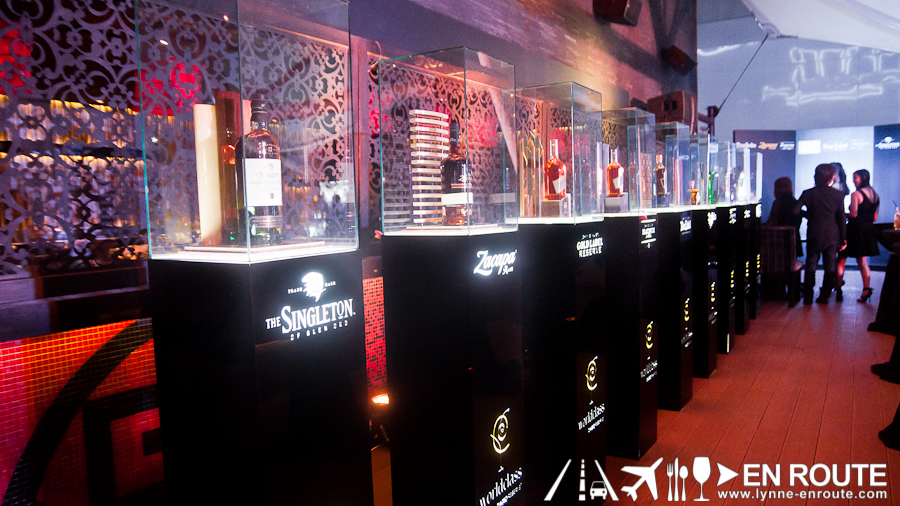 Enter Diageo, one of the largest companies that brings these liquors and spirits to every part of the globe. You will probably be familiar with some of their wares: Johnnie Walker, Ketel One, Baileys, Captain Morgan, Tanqueray Gin, Guinness. Those are just a few of a long list of fine brews and spirits under the Diageo marque.
Diageo kicked off 2014 with the event to find the World Class Bartender of the Year for 2014 in the Philippines. On the third floor of the Buddha Bar of Manila located in Makati City, bartenders from some of the best places to get a good tipple in Manila showcased their skills, flaire, and knowledge of mixology, all the while being surrounded by sultry voices followed by heart-racing beats.
It is not just the bartenders who get a good name out of this. The winner also brings honor to the bar where they are located, representing them in the global contest on cruise lines and famous bars around the world. Take last year's winner for the Philippines Allan King (known among his peers as A.K.) Roxas of Dillingers in Makati City. It brings prestige to their shops and gets people coming.
And for this year, no surprise that some of the bartenders actually represent some of the best bars that are currently in Manila: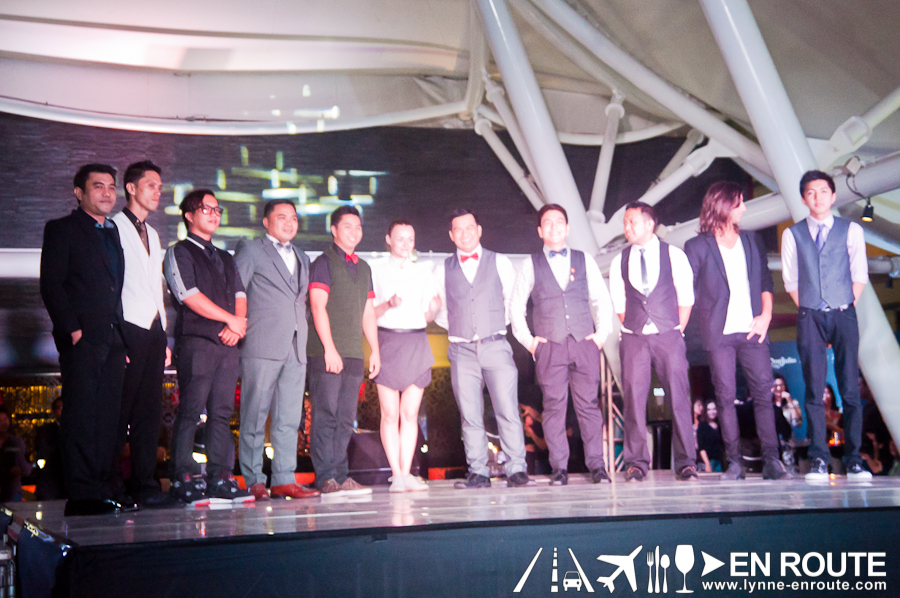 Christopher Bayon – Black Sheep
Joma Rivera – The Curator
Ernie Andog – EXIT Bar
Alber Salvador – Las Flores
Erad Joseph Adriano – Museum Café
Eduardo Yonzon – Niner Ichi Nana
Jerry Miranda – Privé Luxury Club
Samuel Alcantara – Prohibition Liquor Lounge
Rian Asiddao – Raffles – Long Bar
Syrian Ebdane – Sofitel Philippine Plaza
Alyona Jeffery – Speakeasy
This band of craftsmen are actually a tight-wound group that fellow bartenders attended this event to cheer on their colleagues that join such contests. Fancy meeting Larry Guevara of Global Beer Exchange fame here, cheering on the contestants and giving support.
Some celebrity bartenders joined the fray, too, including previous year's winner A.K. King Roxas. Joining him for a celebrity shake-off were husband-and-wife tandem Time and G Toengi-Walters, Erwann Huesaff, and Hannah Waters, ambassador for World Class Southeast Asia.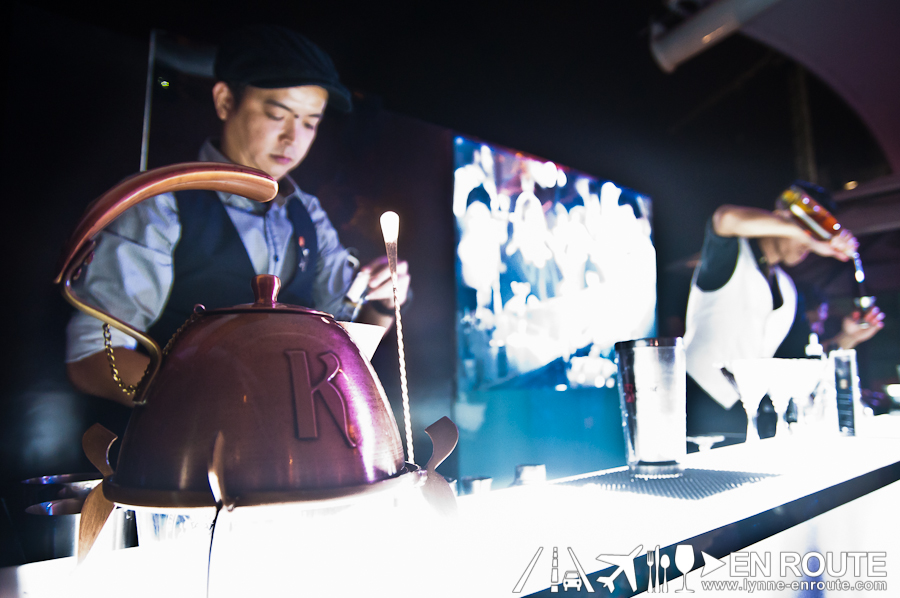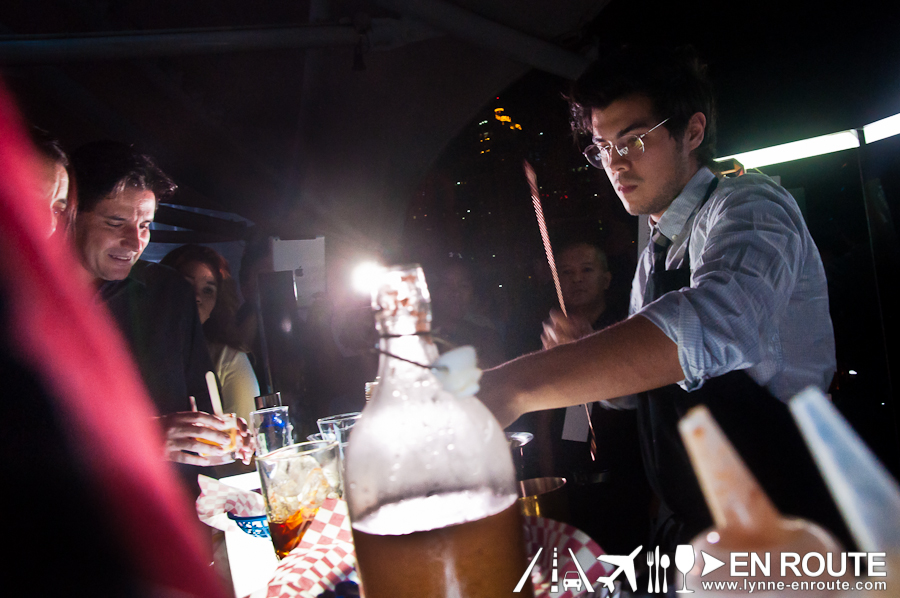 While cocktails are really much a personal preference depending on someone's exposure to the craft, taste profile, and even the mood for the night, here were ones that personally stood out and the factors that made them do so:
Christian Earl Asiddao's "Julio's Ex Girlfriend":
This uses Don Julio Tequila as a base and muddled strawberries to give it that refreshing, fruity kick great for the Philippine palette. While tequila is always known as taken in one gulp shots popularized by rappers and other people in the party scene, tequila, when used as a base in a long drink, can be tricky. To be able to mask that sting while releasing the distinct flavor profile of tequila is what makes Julio's Ex Girlfriend the drink you should get when visiting Raffle's Long Bar.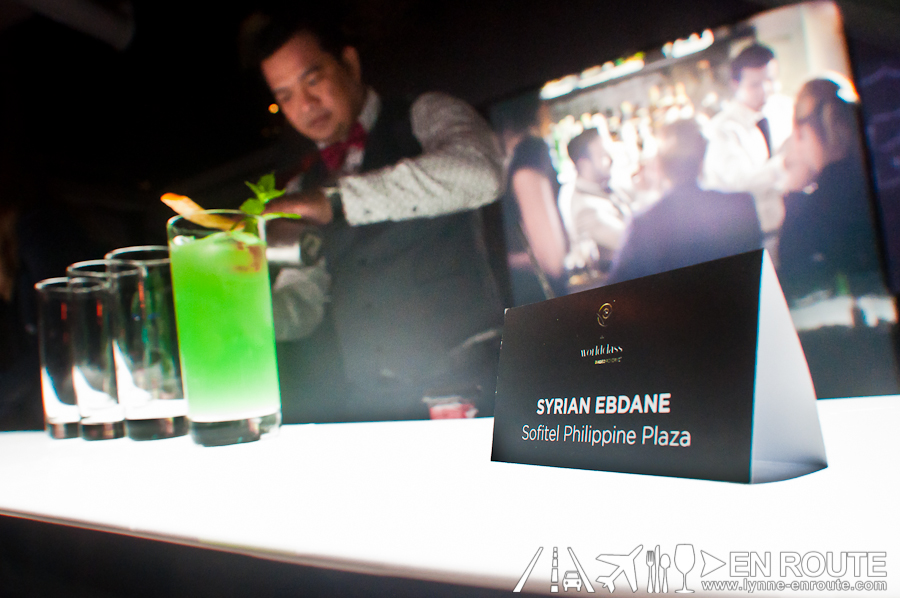 Syrian Ebdane's "Mocking Bird":
Another tequila based drink, this time looking like it is drawing inspiration from the Caribbean with its glowing greenish-blue hue and amazing contrast in lively colors. Fruity, and will be well greeted in a tropical country like the Philippines.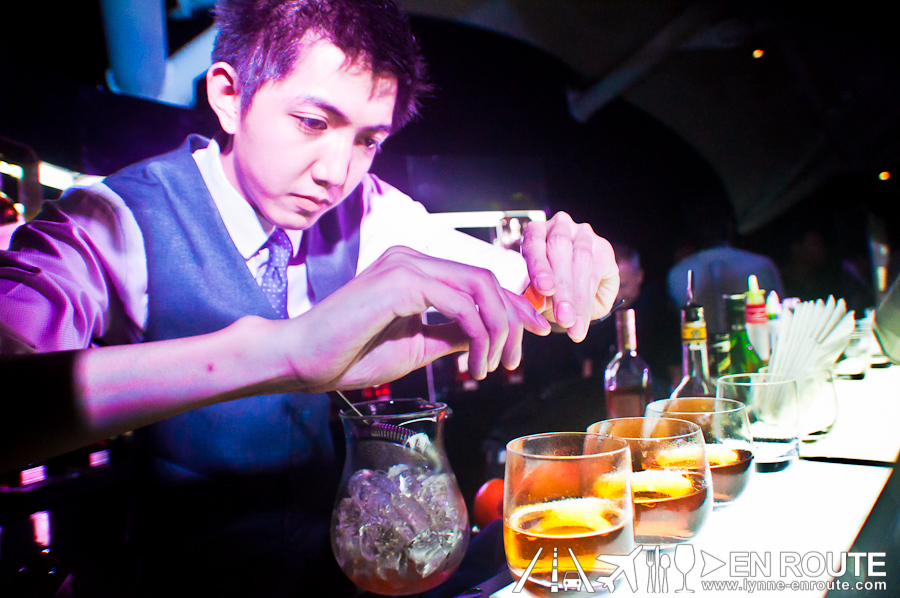 Joma Rivera's "Golden Obsession":
With a name drawn from its Johnnie Walker Gold Label base liquor, this particular pays homage back to the times where cocktails are widely used to stimulate the appetite for a lavish dinner. With Bitter notes thanks to the addition of Campari, it is balanced off with a peel of orange to greet your nostrils as you draw that glass closer to your lips, fired off by that Johnnie Walker Gold Label. These days, though, with bitter cocktails taken a little bit later in the night as a "one-for-the-road" kind of drink, this takes on a role now as one of the best night-cap drinks especially for those learning more about the fine art of mixology.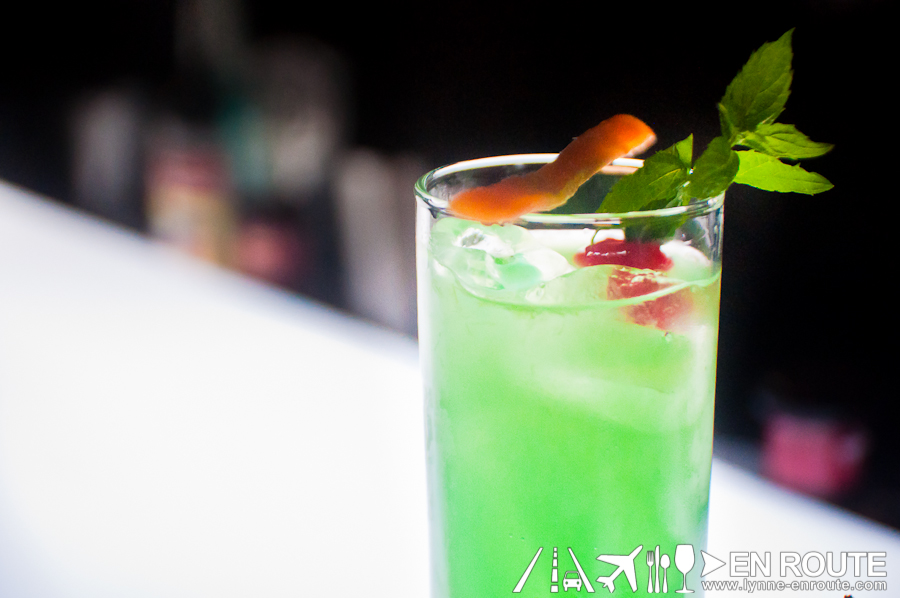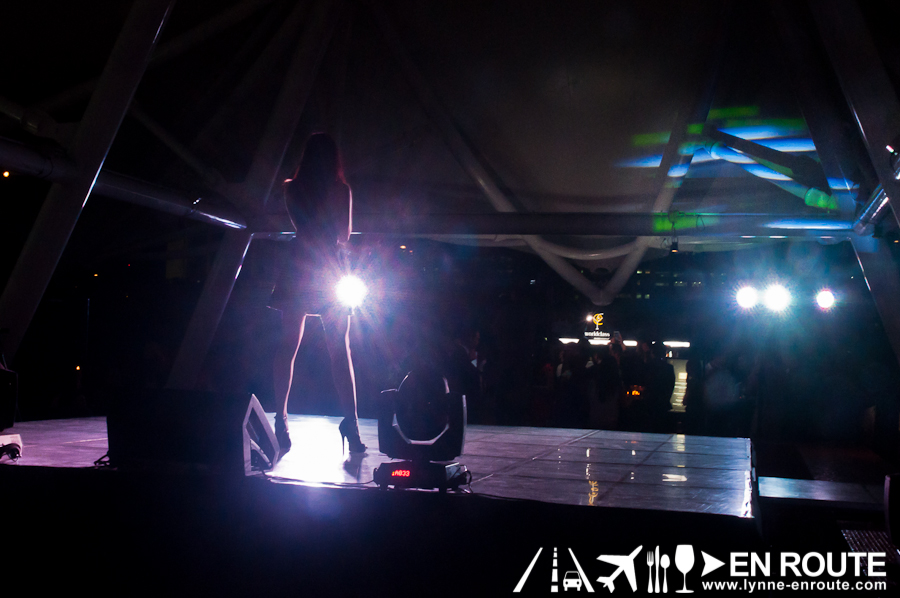 Exciting times for the industry where there is a shift to going back to the fundamentals of mixology instead of plainly using style and flair when making a generic alcohol laden drink. And with events like these recognizing the creativity of the Manila bartending scene, you can expect people to begin discovering more of the fine art of mixing cocktails.
Learn more about Diageo World Class in their Facebook Page.
Comment on this and Share it on Facebook!
comments
Powered by Facebook Comments