Chuck's Deli in Serendra located at the Fort Bonifacio Global City in Taguig has become quite famous through word of mouth. Their specialty: fantastic sandwiches of all size, shape and flavor!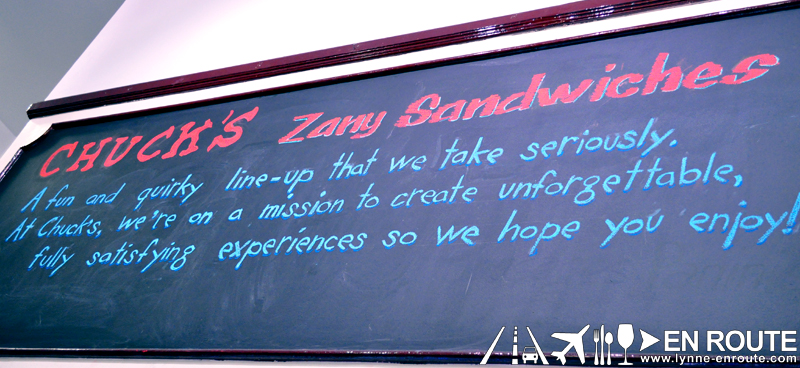 There are a few places in Manila that have a varied selection of sandwiches. And truth be told, they really sell more of what is familiar. In this joint, however, creativity and quality of ingredients is packed together in a fun and cheery atmosphere. I am betting the owners would not mind if you would want to create a sandwich out of your own imagination.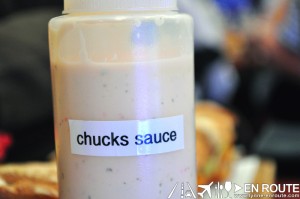 Depending on the sandwiches ordered, half or full sized portions can be selected, and you can opt to have it smothered with their patented "Chuck's Sauce".
While branding it in this way lends it to various ridiculous jokes as to where does Chuck's sauce really come from, the sauce itself is quite flavorful reminiscent of the spicy-hot garlic mayo served in Persian restaurants. You can have the option of not having it in your sandwich or just not think of any silly ideas as you're having it 😛
Extra chips can be ordered too! The crunchiness of these freshly fried chips complements any sandwich ordered. From two visits to the place, we found it always fitting to partner it with Chuck's Burger.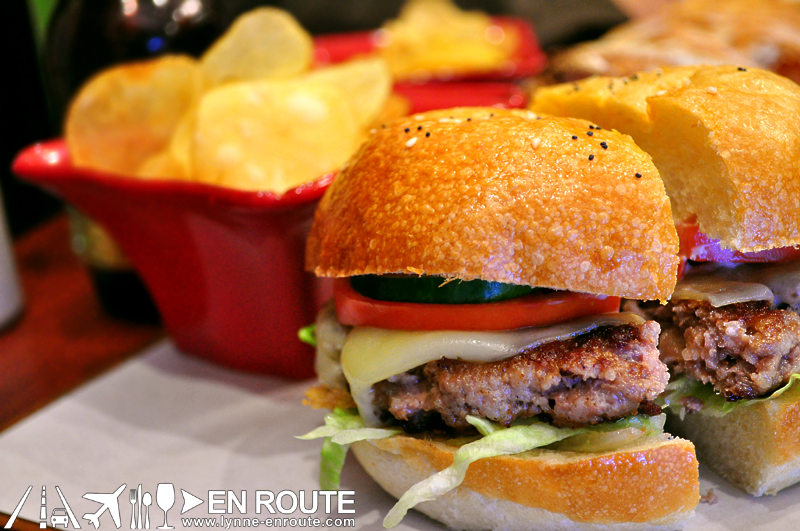 PHP 265.00 and can be added with extra cheese (PHP45.00) and/or extra bacon (PHP45.00). This is a 1/3 lb. angus beef patty cooked to your liking. We prefer to have it cooked medium. The beef was soft and savory and the vegetables were fresh and crunchy. It is so soft it feels like you're only eating a fluffy slab of meat. You don't feel heavy not until a wee bit later. Definitely one of the best burgers in Metro Manila.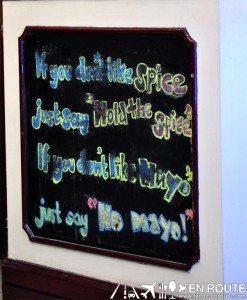 Majority of their menu consists of these giants on buns called Slabwiches. To put it simply, Slabwiches are large 1 lb. sandwiches. You can choose a variety from the menu. One slabwich, however, caught our attention: The Buffy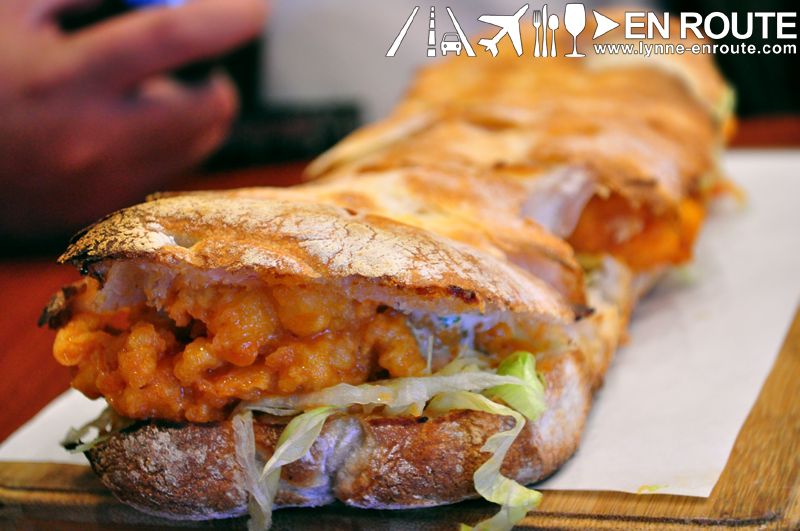 The Buffy (PHP 445.00 for a full slabwich) is a 1 lb monster stuffed with boneless buffalo chicken tenders, garlic sauce and coleslaw. Coming face to face with it feels like looking at some undiscovered carnivore species, straight out of a Man Vs. Food episode.
One of the reasons that it caught our sights is that there is a running Chuck's Challenge to "Slay the Buffy!"
Finish The Buffy in under 5 minutes, and you get your name immortalized in colored candy-like letters on a blackboard and a free t-shirt for bragging rights. From the looks of things, many have tried and many have failed. While we were there, we did see a group try to take on the challenge, but was slain by the sandwich instead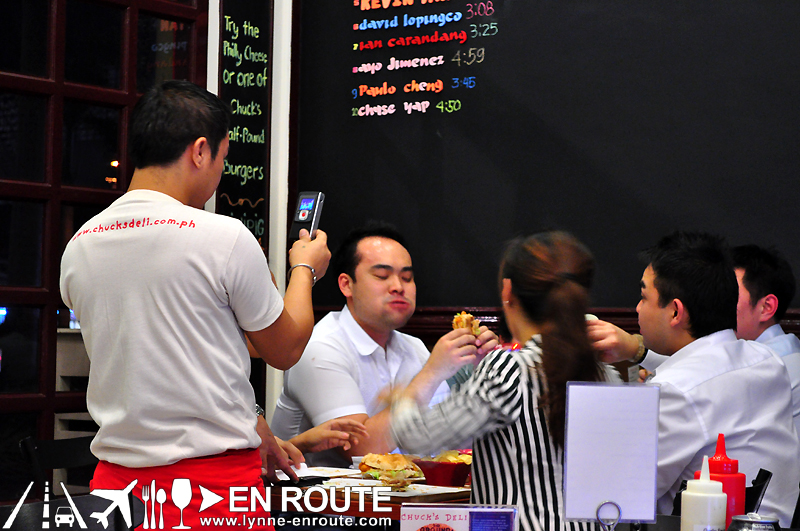 It may seem easy at first, but the scrumptiousness of the slabwich hides its most deceiving trait: its size. If you put a reference to it, one will discover that it is as long as an arm and a almost twice as thick. For the not so big of stomach, this is suicide in a bun. Can actually feed four people.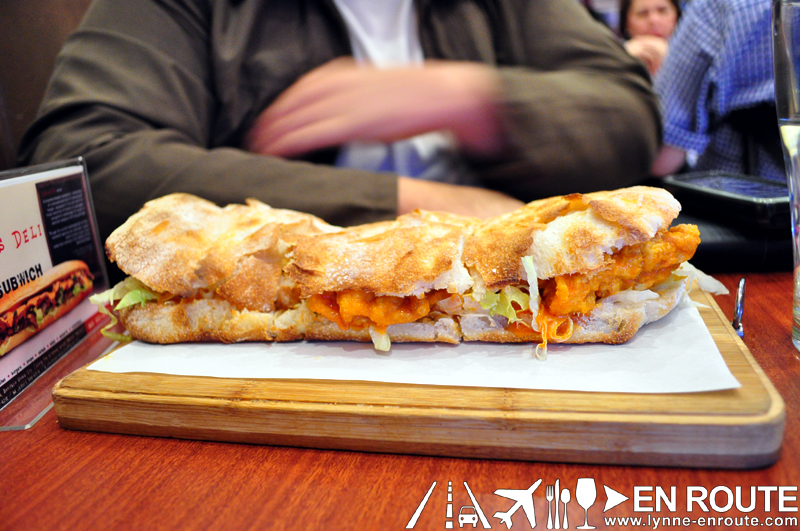 The Buffy will have to be slain at some other day as this needs some physical, mental and gastronomical training and preparation. In the meantime, savoring the slabwiches and angus burger is worth another trip into Chuck's Deli.
Chuck's Deli is located in Piazza Serendra in the Fort Bonifacio Global City. It is one of the shops facing the Market! Market! Mall
To see more pictures of the antics inside Chuck's Deli, like us on Facebook and view the Chuck's Deli album!
Have your stories about Chuck's Deli or other sandwich places worth telling the world? Share it 😀 !
Comment on this and Share it on Facebook!
comments
Powered by Facebook Comments