The Internet sure has made it easy for people to steal or illegally borrow other photos and works of art, and then claim it as their original creation.
We see it a lot. People brandishing artwork or photography as their own. They would normally get some image, erase watermarks, and sometimes place theirs in exchange.
However, it's sad to see businesses steal or borrow without permission others' work, and not give due recognition. It may actually become discouraging for writers, bloggers, artists and photographers to further their cause given that their own creation is used in a way that is not prescribed by them, and at legitimate businesses at that.
If this post is starting to sound like a whining, wounded animal cornered in the woods, feel free to move on. But if you feel like there is merit because you yourself may be a victim, or would want to read on as this does serve as a message to be ever vigilant for your own or a friends' or loved one's property, or are just a fan of such scandalous stories ( 😛 ) keep reading.
.
We have encountered a few cases where some images from this site were used without permission and labelled differently from how it was supposed to be.
Take this case for example: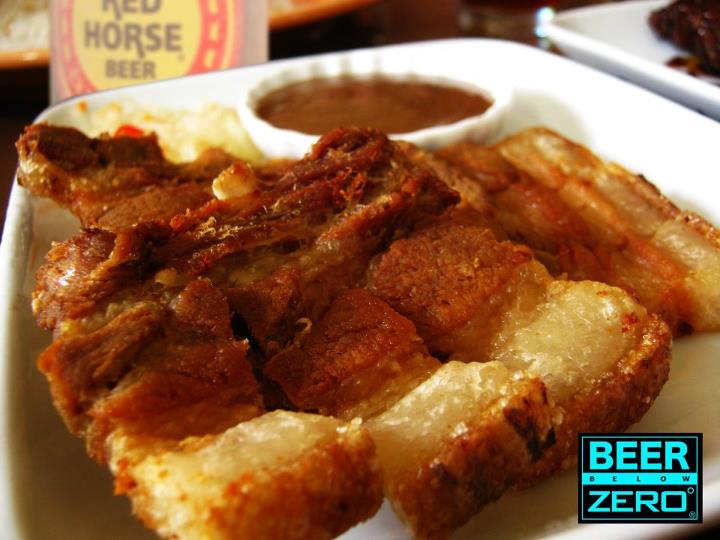 This was discovered a few days ago. Looks tasty, right? Nothing goes well with a nice beer than good ol' lechon kawali. And nothing wrong with putting a company logo on the image.
Unless it was an image borrowed without permission.
Upon closer inspection, that lechon kawali looks strangely familair (Yes. We remember the images and sometimes give them pet names *sarcasm* ). It seems to have come from one of En Route's earlier posts where a watermark on the image didn't exist yet, particularly the post about Johanna's Grille in Bauan, Batangas.
The original image from the post is the one below: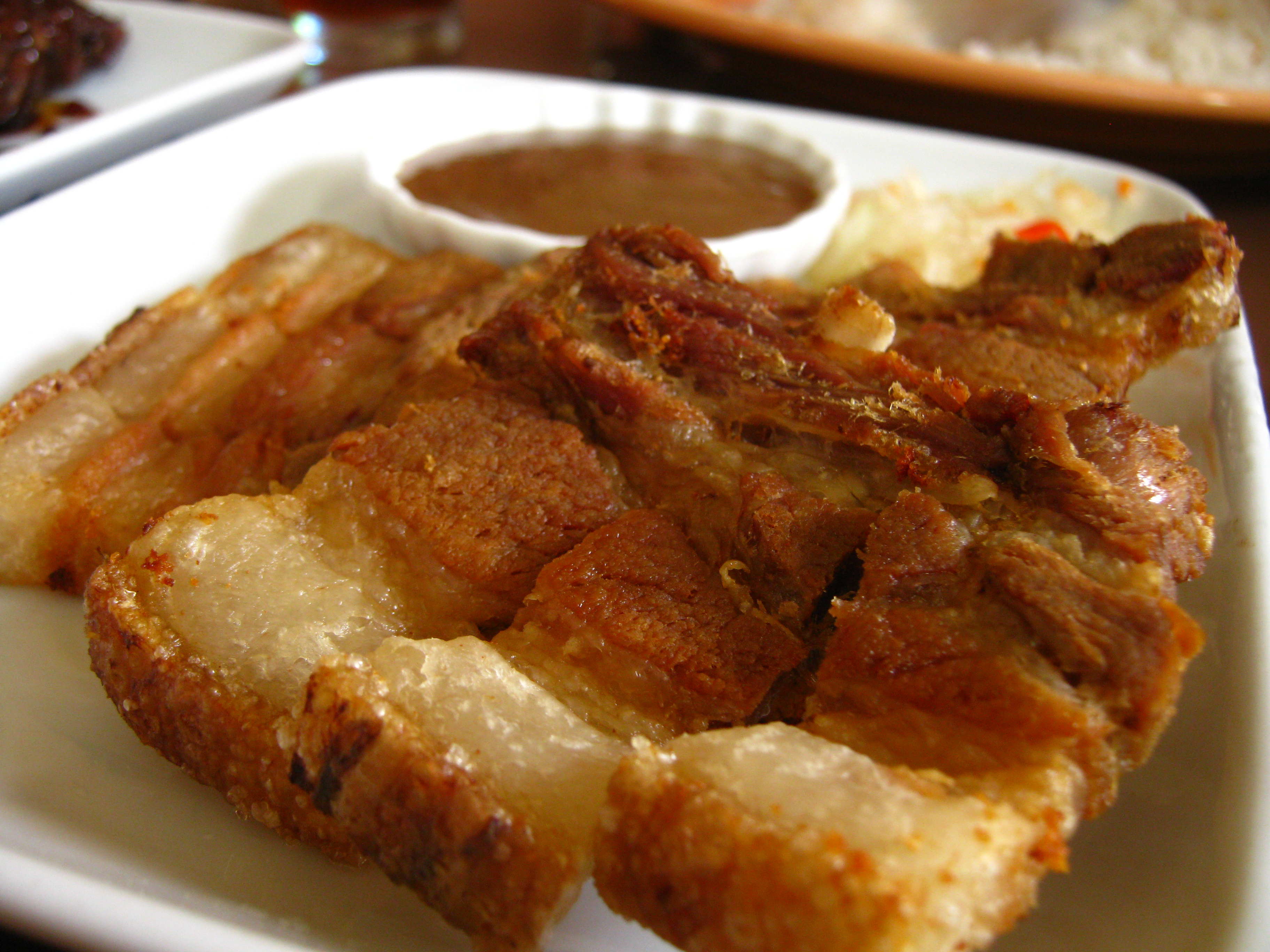 Now, it may look a little bit different, so with the limited Photoshop skills we had, we tried to methodically recreate the whole process.
First off, just Flip the Image Horizontally as shown:
Looking familiar already? Yeah. Then just darken and sharpen it a bit, photoshop in some frozen looking beer, paste your little brand in the lower right…
And there you have it:
It's quite shocking. Arguments over if it is just mere coincidence are welcome. But based on the image, just the placement of the lechon kawali, the little red dot that comprises the "atchara at the end", the scorch marks on the fatty part of the lechon kawali, the plate of baby back ribs at the far corner, and the orange plate of rice at the other far end just renders any arguments as coincidence as farfetched.
And it's not like this was done without trying to reconcile and maybe reach a mutually acceptable agreement: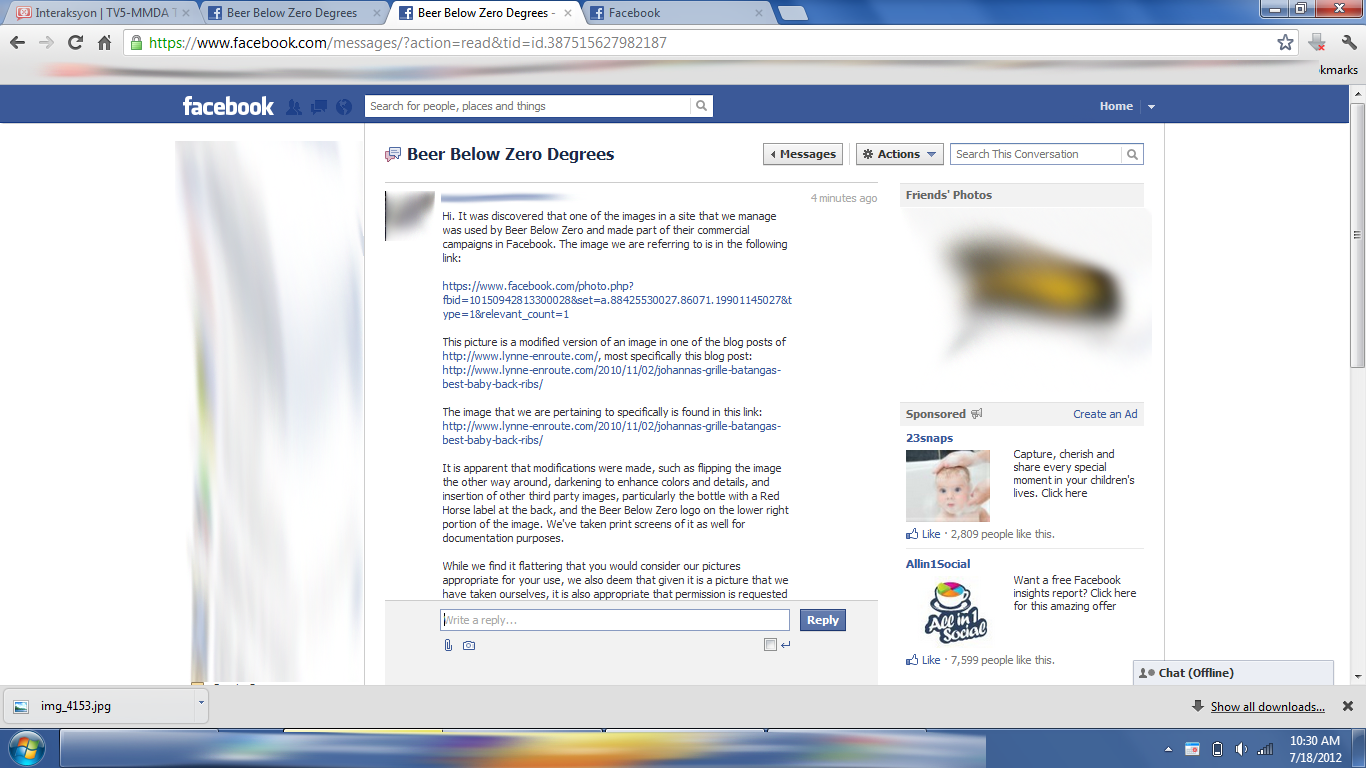 If anyone is interested in reading the whole letter, check it out here:
And efforts were given again: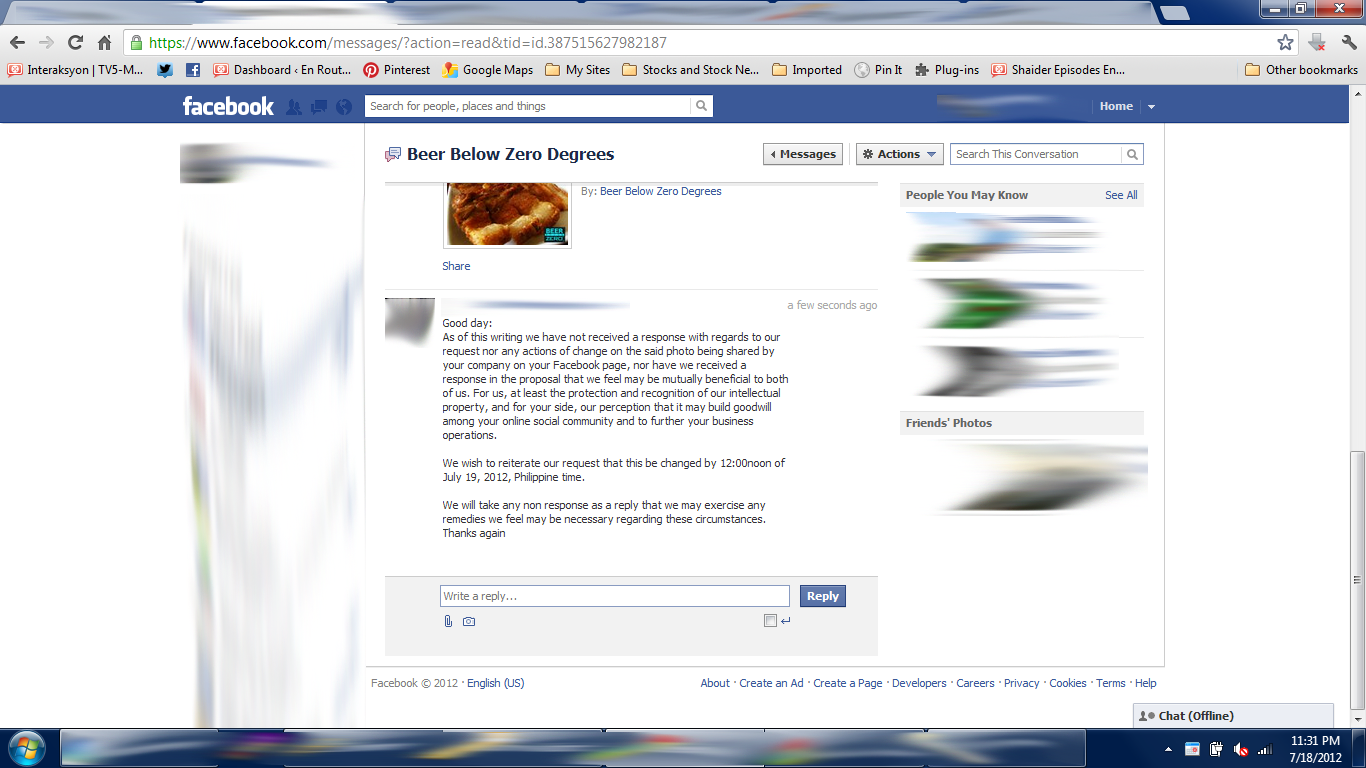 .
And, even through open forum, in case they don't know how to read their private Facebook messages: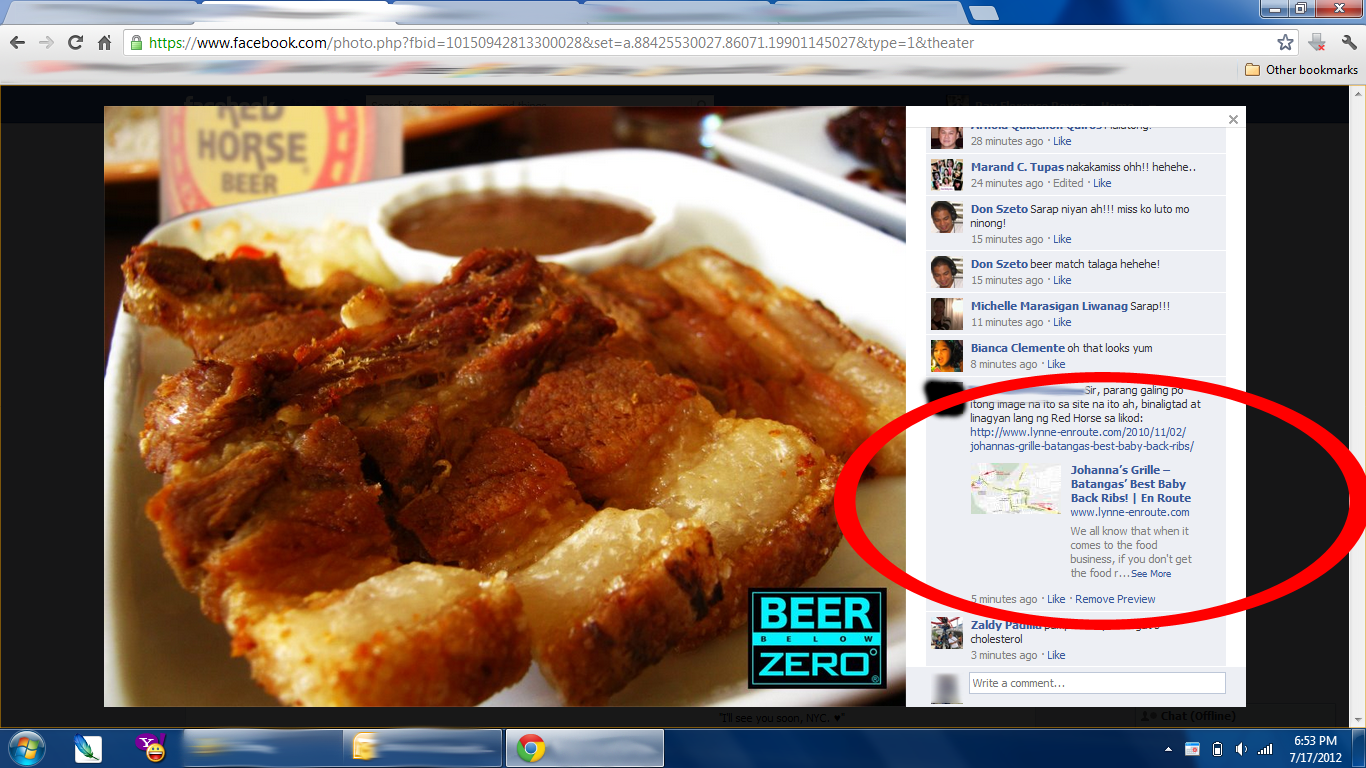 Here is the link to that image (if they have not removed it yet):
https://www.facebook.com/photo.php?fbid=10150942813300028&set=a.88425530027.86071.19901145027&type=1&relevant_count=1
UPDATE: As of August 2, 2012, this link does not work anymore. Looks like it has been taken down already.
UPDATE as of July 26: no response from text messages by number provided by friends. Also, a few strangers have begun pointing it out: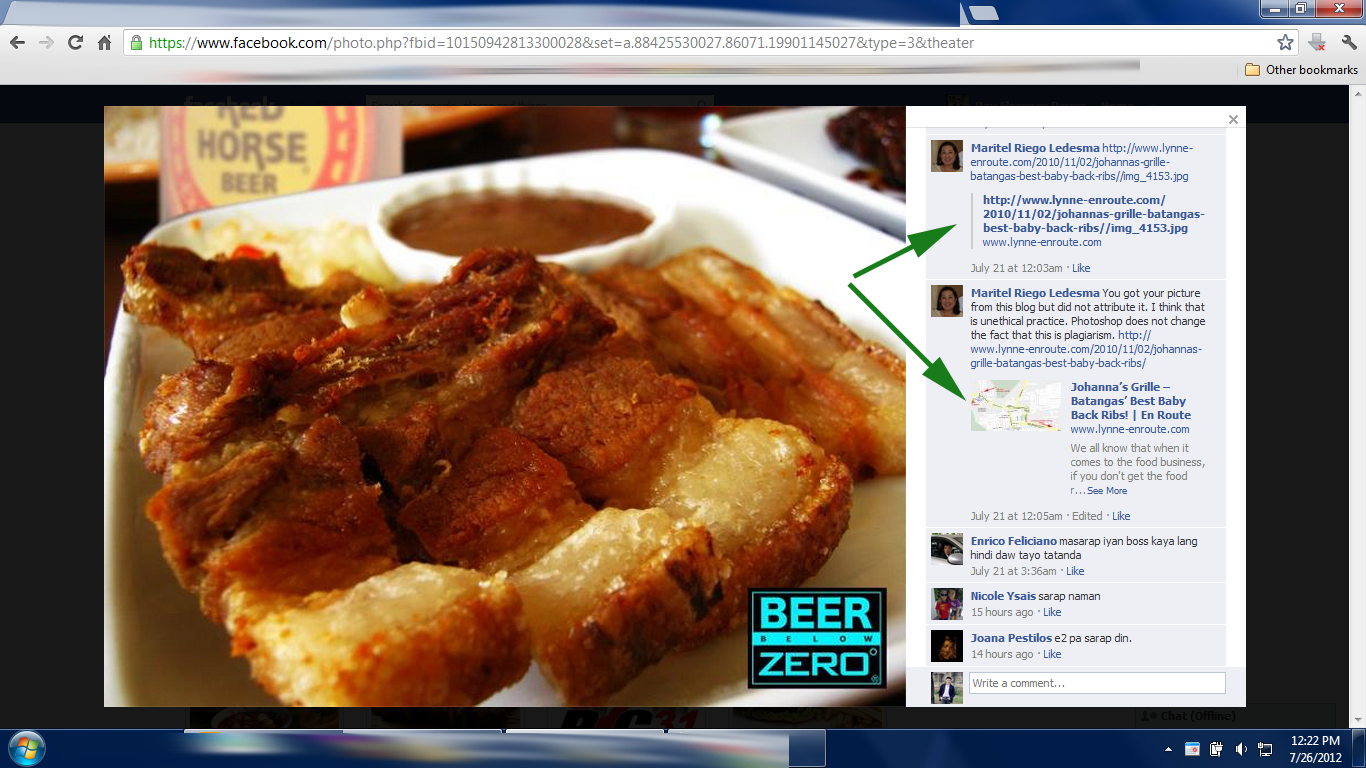 And so with all this, it has come to the point where the very source of discovering such things is used as a remedy to gain public opinion on the matter: The Internet.
Never thought that such an amateurish photo using a point-and-shoot camera of ours would actually be deemed worthy for advertising campaigns of profit-oriented organizations. While it is flattering, all that lowly, private individuals are asking is that permission be asked before the pictures are used. If you read the letter, you will see that suggestions on compromise where the pic can be shared for their benefit was given, as it may promote goodwill for their own product.
Well, their pic ended up being shared here anyway 😛
This wasn't the first. The very first one actually involved a relatively new restaurant selling double fried Korean Chicken that is branching out all over Metro Manila and other adjacent provinces. That one is still being discussed. In the event that no response is received, check this page again for updates.
Lesson Learned: Watermark the hell out of all the pictures, and place them in areas that will affect the overall composition of the images.
We could have just let it go. After all it seems harmless. Pretty much as harmless as someone stealing something from your house and selling it.
So what is your take on this? Words of advice are actually very much welcome, especially to professionals on photography, intellectual property, or legal matters. There is a high chance that such people encounter this more often, so your feedback in the comments section below would be great.
If you have friends who are in the same line, or just do not like the idea of people stealing things that are not theirs, please do share this experience of ours. It may help a friend and hopefully stop these kinds of things from happening.
Comment on this and Share it on Facebook!
comments
Powered by Facebook Comments