Our love for travel and trying new things eventually brought us to Hong Kong.  Apart from discovering what else can be done when stuck in the Hong Kong from a delayed flight, what's a vacation without trying out the food?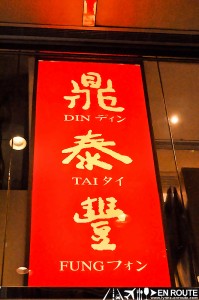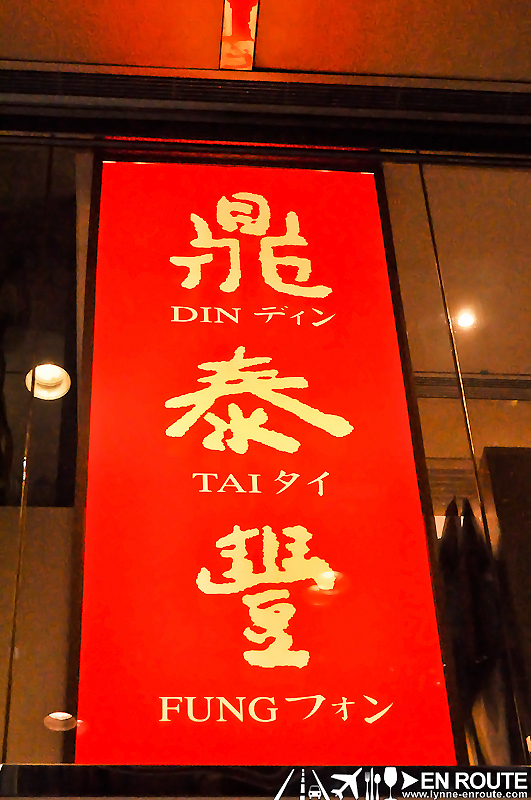 After an overnight stay and sumptuous buffet breakfast in Hong Kong Disneyland's Hollywood Hotel, it was of to the streets of Hong Kong in Tsim Sha Tsui.  We were in search of really good Chinese food.  There was a suggestion in mind already but we also tried researching on the internet for nearby places with good food.  And even Google seconded our suggestion: we were off to Din Tai Fung!
Din Tai Fung began in Taiwan through a man named Bingyi Yang.  The name of the restaurant is the coming together of DinMei Oils, where he bought oils wholesale, and HengTaiFung, where he got his first job when he went off to Taiwan from China.  And the rest, as they say, is history. Now, Din Tai Fung is known for having one of the best dumplings in the world – with a Michelin Star to boot!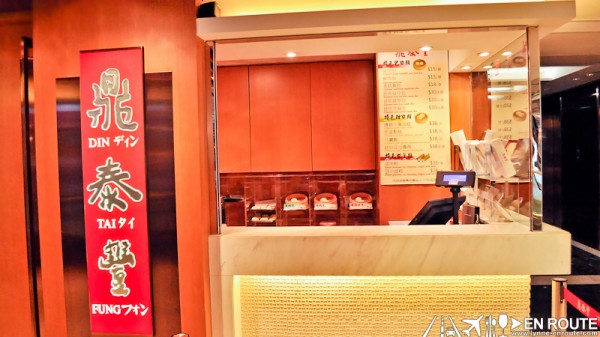 Din Tai Fung in TST is located inside Silvercord mall, a few minutes walk from the TST MTR station (D1 exit along Nathan).  It's on the 3rd floor so don't go down to the Food Republic floor.  Instead, take the entrance going up where you should see a Sassa outlet.  Normally, you'd have to get a number and wait in line to get a table in this place.  We were just lucky that all we had to do was walk in despite us being a group of nine people.  It helps that we decided on a late lunch of 3pm so it was an odd hour in the day.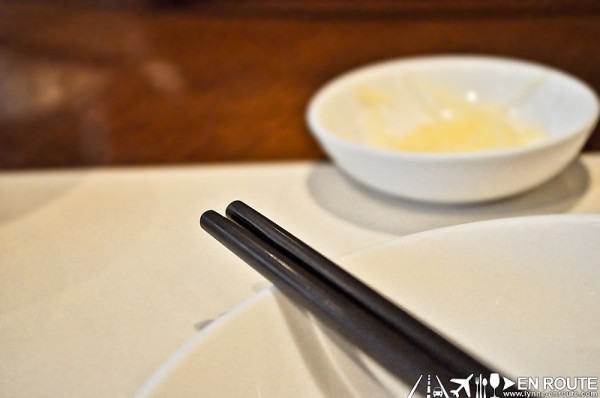 Big circle tables of ten are available for big groups while there are also some booth tables available for smaller parties.  Kids are automatically given plastic utensils to avoid any ceramic spoons and bowls from flying around. 😛
They have an extensive choice of dimsum, dumplings, noodles and rice fare.  Where to begin?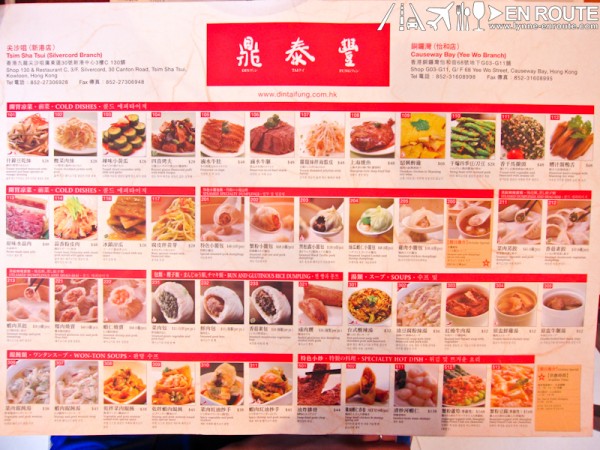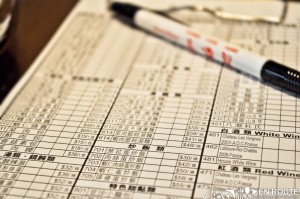 Since it was the middle of the afternoon, we ordered everything at once.  You are given a checklist with corresponding numbers that you will hand over to the waitress once you're done selecting.
Appetizers and main dishes collided and just landed on our eagerly awaiting table.  Everything we got was so good!  And we're not just saying that because we were famished because we weren't.  We just did a lot of walking that morning so we needed sustenance to recover.
The fried rice with egg and fried pork chop was perfectly done.  The pork strips top the big cup of rice underneath.  The rice in itself is a meal already because of the generous amount of egg, ham and veggies stirred in. You can also order just the fried pork chop without the rice and pair it with an order of plain noodle soup. 🙂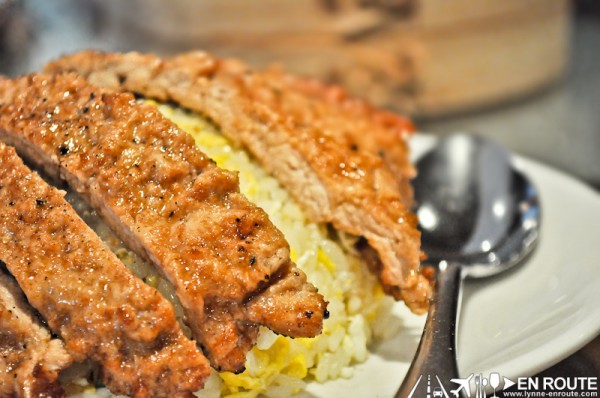 If you're a fan of noodles, you'll have a hard time choosing from their noodle items.  From the plain to the toppings-laden versions, they have it.  Choose from among noodles like braised beef, shrimp and pork wonton, or vegetable and pork wonton.  What we finally opted for was their steamed chicken noodle soup.  These can actually be good for two especially if you will be trying out the dumplings.  They serve the noodles separate from the broth.  You'll be the one to pour it all in as you inhale the aroma of the soup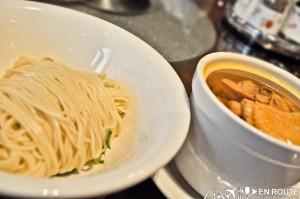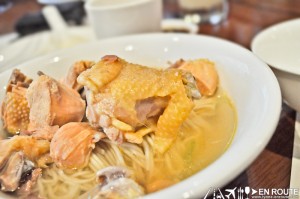 .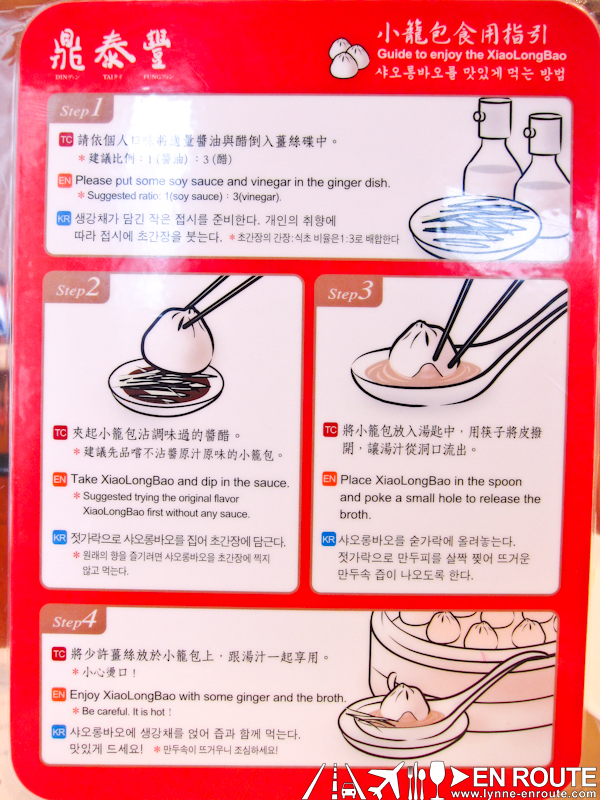 Now for the main event: the dumplings!  They actually have a method of how you should prepare your dip for their famous xiao long baos.  You begin with mixing soy sauce, vinegar, and ginger.  The suggested ratio is 1 part soy sauce to 3 parts vinegar. Dip the xiao long bao in the sauce, place it on your spoon, poke a whole in it so the broth comes out.  Then, add some ginger and then, enjoy all the flavors as you finally take a bite!  Their dumplings come in servings of about 10 pieces so we got 2 different kinds, the pork dumplings and the personal favorite now, the shrimp and pork shao-mai.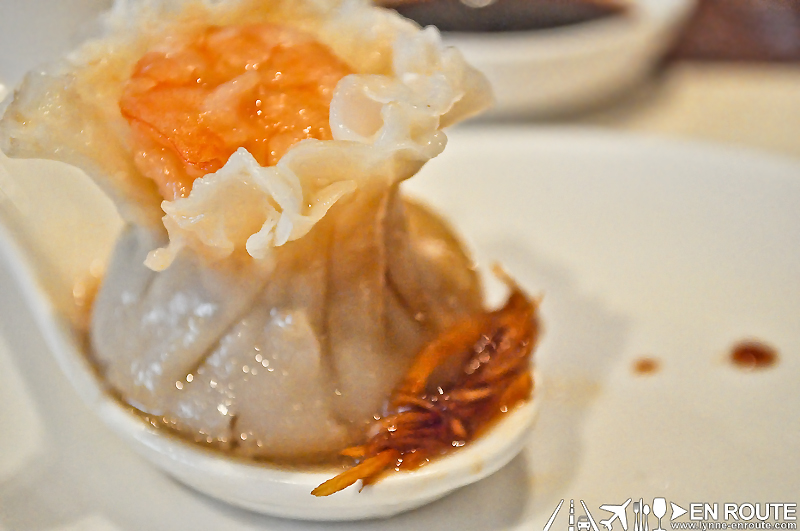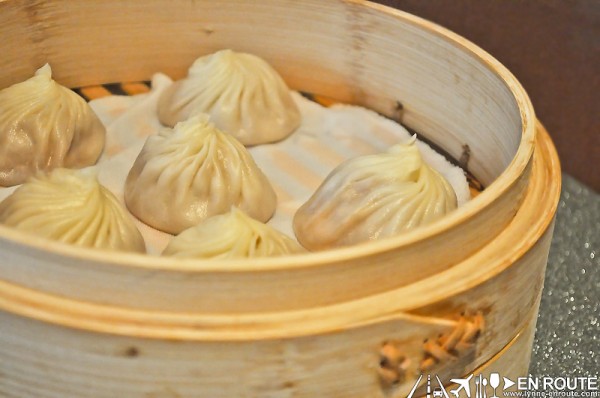 For refreshments, they offer pots of Chinese tea.  We also got fresh soya milk (the best!!!) and the beer-lover in us made us taste a bottle of Blue Girl beer.
There's nothing super special about the venue.  It's simple and clean with lots of light coming in through the windows.  It is clear that Michelin star restaurants definitely have food as the main thing to boast about.  A queu outside the restaurant is always a very telling and positive sign.  And our actual experience of the food was a validation of just that.  Don't miss out on the dumplings!
Din Tai Fung has two branches in Hong Kong.
Hong Kong,Silvercord Branch 
Shop 130, 3F, Silvercord, No.30, Canton Rd., 
Tsimshatsui, Kowloon 
TEL:2730-6928
Hong Kong, Yee Wo Branch 
No.68, Yee Wo St., Causeway Bay 
TEL:3160-8998
Comment on this and Share it on Facebook!
comments
Powered by Facebook Comments