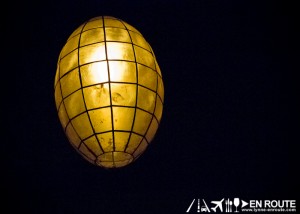 So there was that story talking about getting stuck with a dead battery, saved by Motolite's 24/7 Battery Delivery Service at 1:30 in the morning in some casual restaurant, thanks to some good food and margaritas good for four. This is now the story that talks about that restaurant.
Pino Restobar is one of the many restaurants that are scattered around the Maginhawa Street area of restaurants, specifically in Malingap Street.
The people running Pino (and the aptly named vegetarian restaurant Pipino) are the same group that runs BRGR: The Burger Project in Maginhawa Street and Barangay Bagnet located in food courts of popular malls.
.
.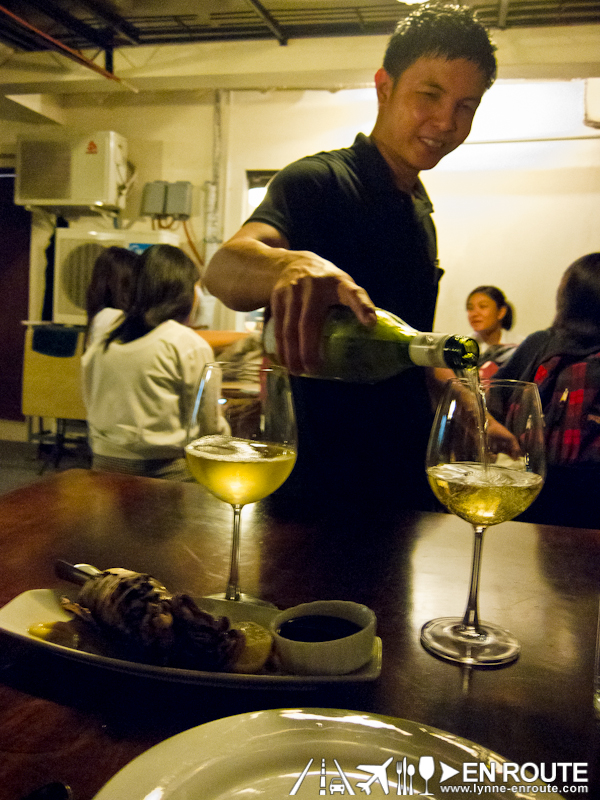 Pino Restobar specializes in creating new takes on traditional Filipino dishes (Pretty much like Bistro Filipino at Fort Bonifacio but with a more attractive price range). It appeals to students and casual diners given its location and easy going setting.
It's a great hangout place that draws a younger crowd. And with familiar home-style cooking with a little creative twist from the chefs at Pino, I can see why people do come back here very often.
It probably is also because of the homey service as well. The waiters were attentive to the needs of everyone, even if they have to split between the indoor and outdoor area of the restaurant.
One thing quite pleasant about this trip was how the gentleman attending to our table mentioned that he recognizes us from some restaurant where he served before. And he reminded us where:
He was one of the staffs of Laya in Antipolo! Since Ricci and Irene had to move to Seattle, he scouted around for a new place to call home and found it in Pino. It was great to meet him again and that just made the evening a bit more enjoyable given the more friendly connection with the staff at Pino Restobar.
It was going to be one of those nights for long conversations over light food and wine, so after selecting a white wine from their list, it was off to get some of their wares: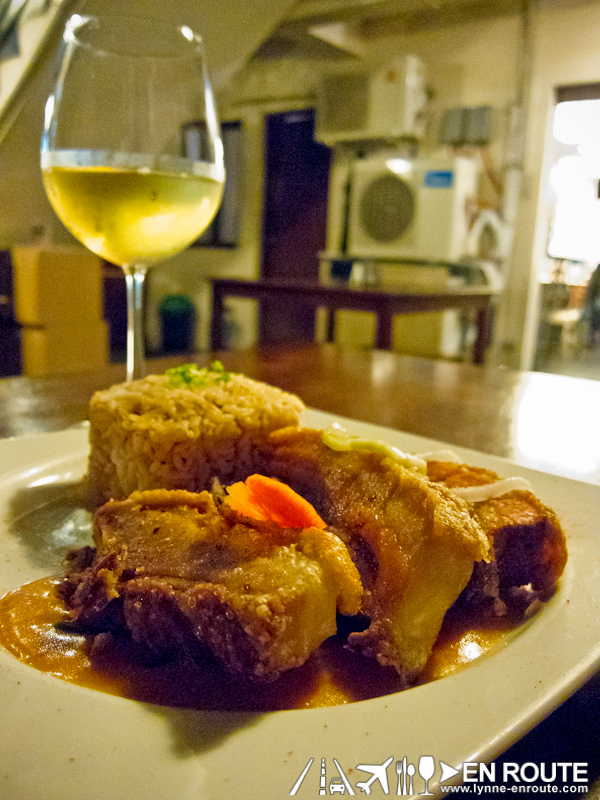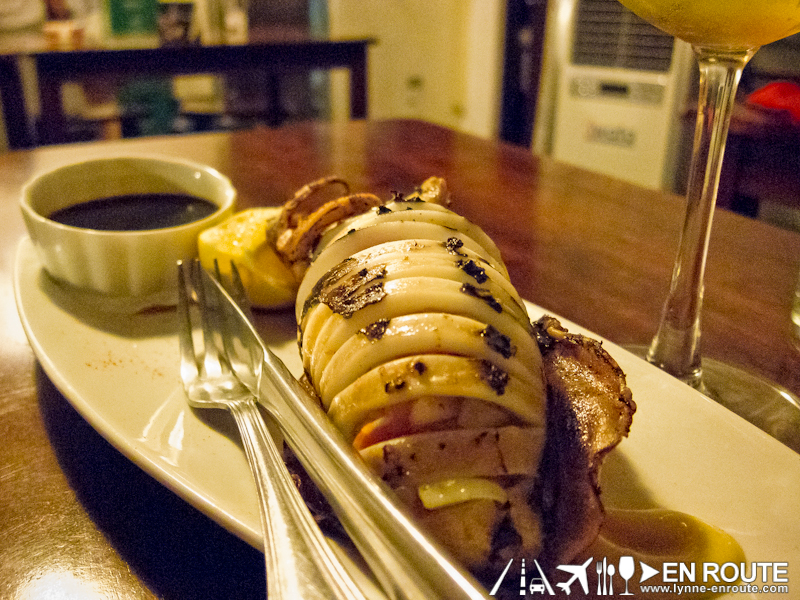 The Binusog na Pusit with Kesong Puti (PHP245.00) was the first of two dishes. While the squid was a bit tough, the filling of the native white cheese and mango salsa gave an interesting yet complementing flavor and texture. Creamy white cheese with mild saltiness and a refreshing taste from the tomato. So far the night is going well.
Second dish came: Kare-Kareng Bagnet (PHP245.00). Twice fried pork belly sits atop a deconstructed Kare-Kare with a side of bagoong rice. One of the ingenious combinations that will have its fans. Sweet kare-kare sauce initally greets the taste buds, then the crackling of a twice fried prok belly gives a delicious finish that is properly eaten with a spoonful of bagoong rice. Without a doubt, this was the dish of the night.
The night proved to be too fun to end, so one way to extend while keeping the revelry was to order more alcohol. And the Margarita Bowl seemed to beckon. Our caring waiter cautioned that it was for four people.
But this is En Route, so it means it's just good for two 😛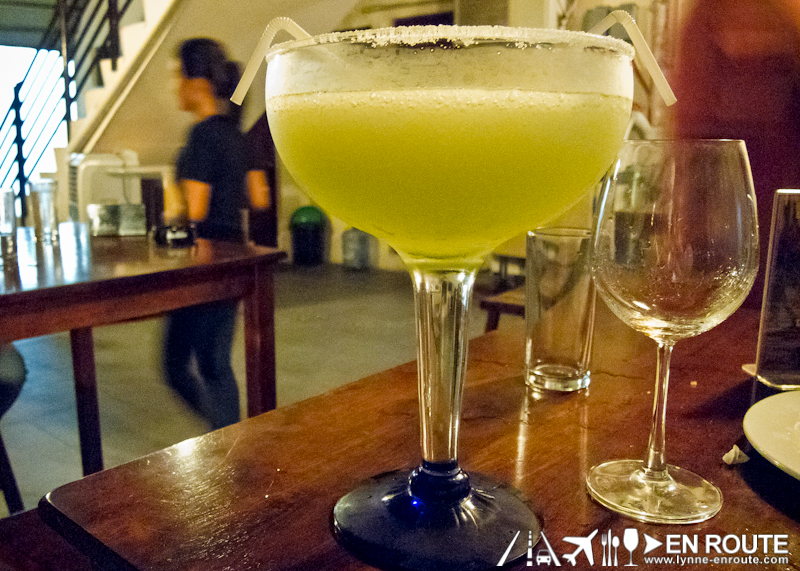 True enough a bowl sitting atop a glass stem came. It was as big as a man's face and holds probably four times the fluid volume. It dwarfed the wine glass and woooed pretty much every table nearby (either that or they got wooed by the fact that this was to be finished by only two people). The bowl had enough tequila that did not overpower the contrasting sour lemon-lime taste. Great to order with friends, passing the night away over good stories.
There actually is so much yearning to return to Pino Restobar. It is so much an integral part of the area and its food are true crowd pleasers. Probably it can be mixed with a little bit of its vegetarian sister Pipino, that is just situated on the second floor. Time to head back here.
And hopefully, the car battery holds up this time 😛

Pino Restobar is located at No. 39 Malingap Street near Maginhawa Street Teacher's Village Quezon City Philippines.
Tel Nos. +63915-811-6666 or +632-441-1773
Love Pino or other great food finds in the Maginhawa Street area? Share it on the Facebook Comments below 😀
Comment on this and Share it on Facebook!
comments
Powered by Facebook Comments