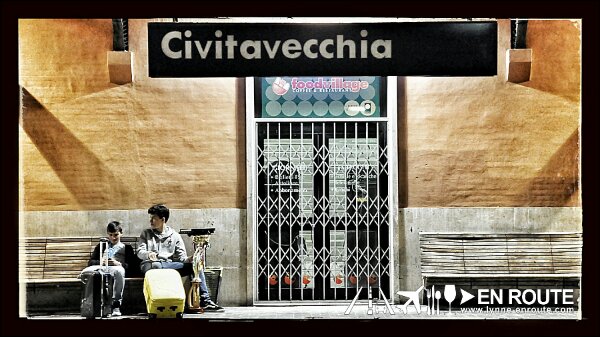 Ray:
8:30pm in the Civitavecchia train station, eating reheated margherita pizza, waiting for the train to take us to Rome. That's part of figuring out your way around as travelers, I guess. It's not so bad at all. We get to practice our Italian in asking for directions 🙂
We keep on mentioning this Chee-vee-ta-ve-kia place since this is the port where the ferry docks. Rome isn't a port city, after all. There is a train that regularly stops here, and takes just about 45 minutes.
The Eurail pass that I have cursed for being useless has worked here! We get on the regional trains for free just by showing it. Has it been worth all that money? We will find out at the end of the trip.
We have reserved a place to crash in a Bed and Breakfast place that looked quite charming on the Internet. It's close to the Vatican, so it should be quite convenient.
What we weren't prepared for was the view we get so close to the St. Peter train station where we get off….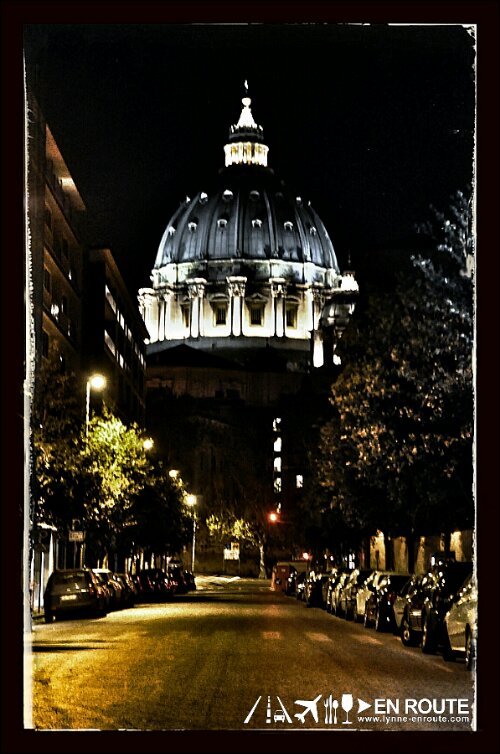 Lynne: It really helps to know at least a wee bit of whatever language the country you're in speaks. However, Italy has welcomed us with a helpful bus driver who helps us get a free ride to the Civitavecchia train station from the port. Things were looking up.
Ray and I say "Grazie" and the man replies with, "Prego!" (complete with hand gesture!) That's the first word we search the meaning for. Our handy phrase book translates it as, "Don't mention it."
People on the train answer their phones with "Pronto?" i'm really excited about our Rome accommodation because it's a bed & breakfast type, not a hotel, called B&B MalkaVacanze. (I've always wanted to own and run one.)
When we finally got off the Stazione de San Pietro station near the Vatican, the first thing we saw just made us think, "Perfecto."
I think I'm going to love Rome.
Comment on this and Share it on Facebook!
comments
Powered by Facebook Comments